the Zipline ride @ Camp Sabros ;-)
Digos Travel Blog
› entry 1 of 1 › view all entries
From one densely forested mountain to another (best zipline experience)
The best way to go to Kapatagan from Digos City is by motorcycle and so we hired two to take us to Camp Sabros.
I especially love the feel of wind in your face while in the motorbike plus you have the best view of the place while going up to the mountain. Fresh air, lovely green all around you, promise of excitement up ahead - it was a ride to remember ;-) On the way to the camp, we saw direction signs pointing to Mt. Apo National Park and Mt. Apo Mountaineering Trekkers Information Center. Yep, Kapatagan is also an entry point to the highest peak in the country - Mount Apo.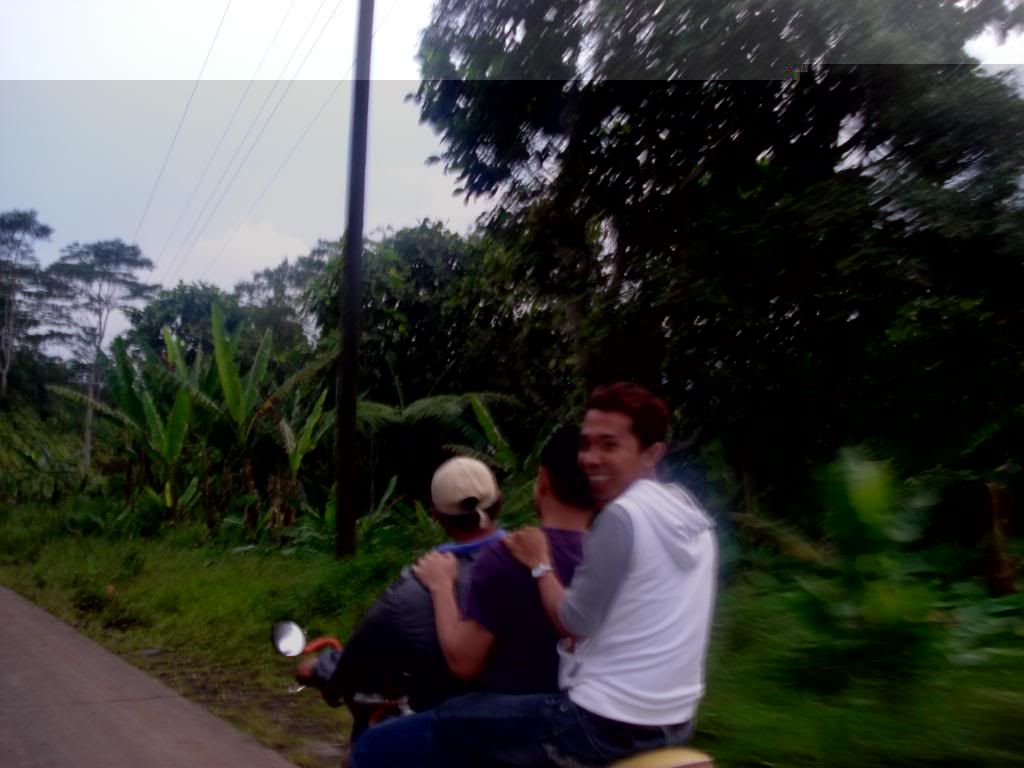 love the ride
After 30 minutes or so (am poor in estimating time, haha), we arrived in a military checkpoint in Sitio Baras which is the last point where our hired motorcycles can take us.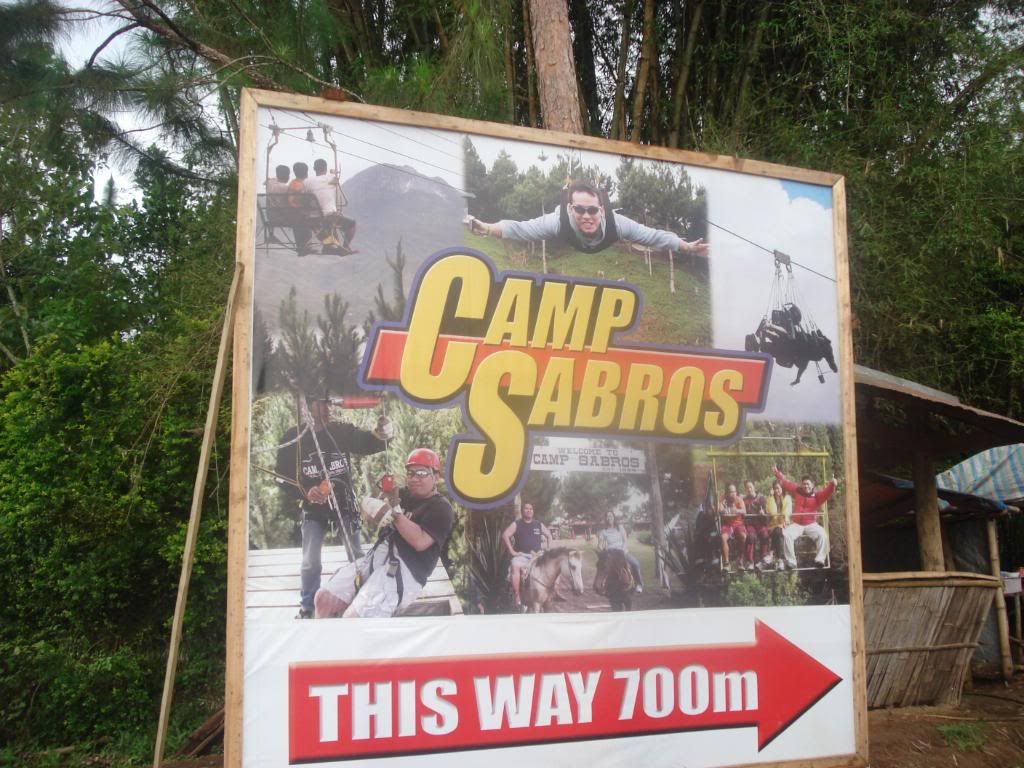 just some meters more
From there, we trekked all the way uphill. We thought it was easy but our shoes were not ready for lots of mud, haha. I even had doll shoes on. Yeah, am poor in planning trips as well. But, we had great laughs trekking the area. Plus, the view was awesome!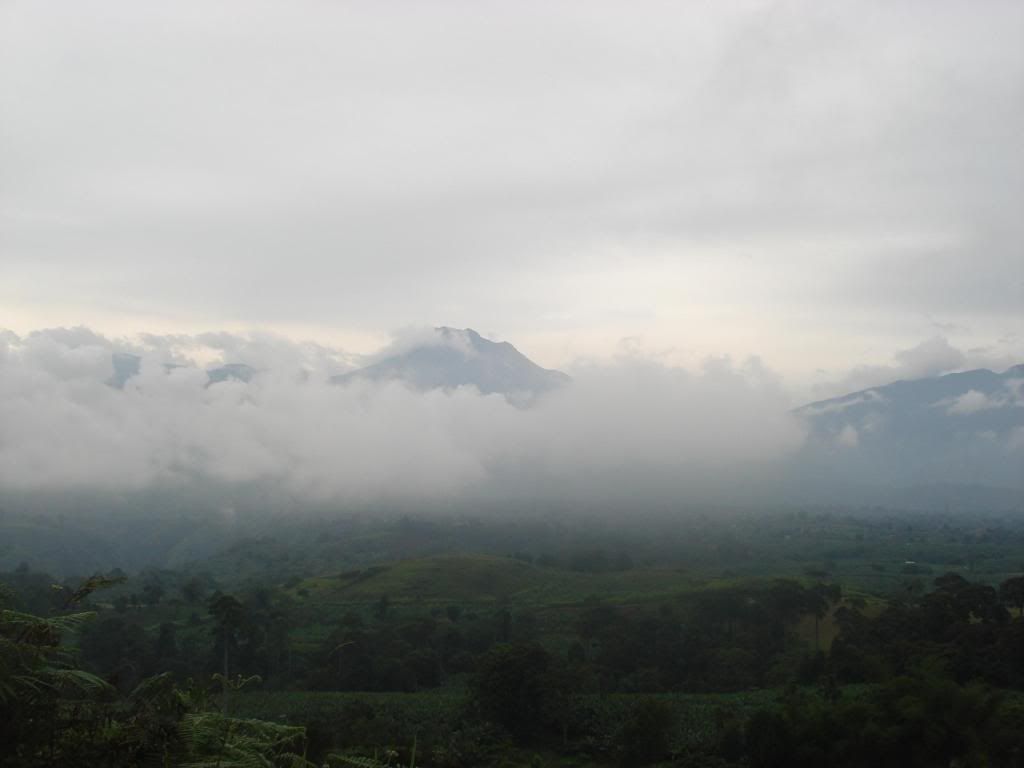 great view
Finally, we arrived Camp Sabros sweating and full of mud, hahaha.
It was foggy that time and we can't see the end of the 'zipline'. But that added to the excitement. I was ready to fly ;-)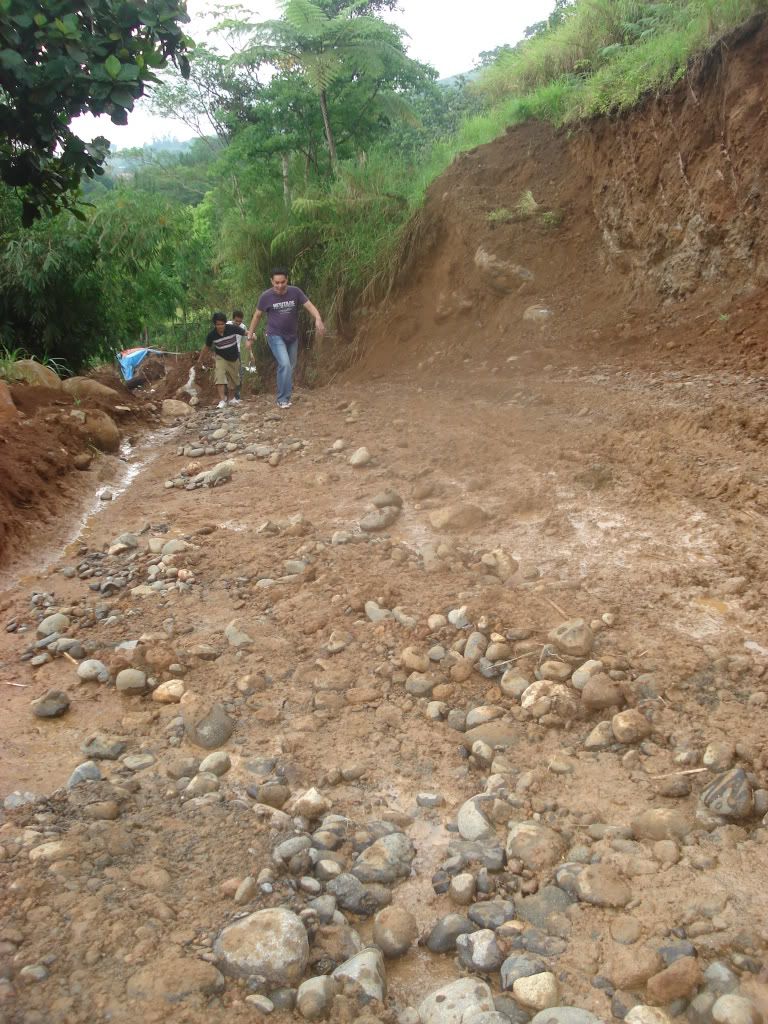 come on guys, faster! ;-)
It was beautiful at the camp. You can see pine trees and 'green' everywhere, so refreshing and relaxing.
I was excited to take the 'Superman ride' which is 380-meter and at least 200 feet high. Surprisingly, it was only Don2 and I who were up for the ride. The other two were afraid of heights, hahaha. They said if we will forced them to do the zipline, they'll kill us LOL...
There's no entrance fee to the Camp. You only need to pay if you'll take the zipline. We opted to have the 380-meter ride going to the other mountain and a cable ride back to the camp. I was scared and excited at the same time.
The tandem ride was 150 pesos for each person. If you want solo, that would be 200 pesos. Round trip would be 400 pesos.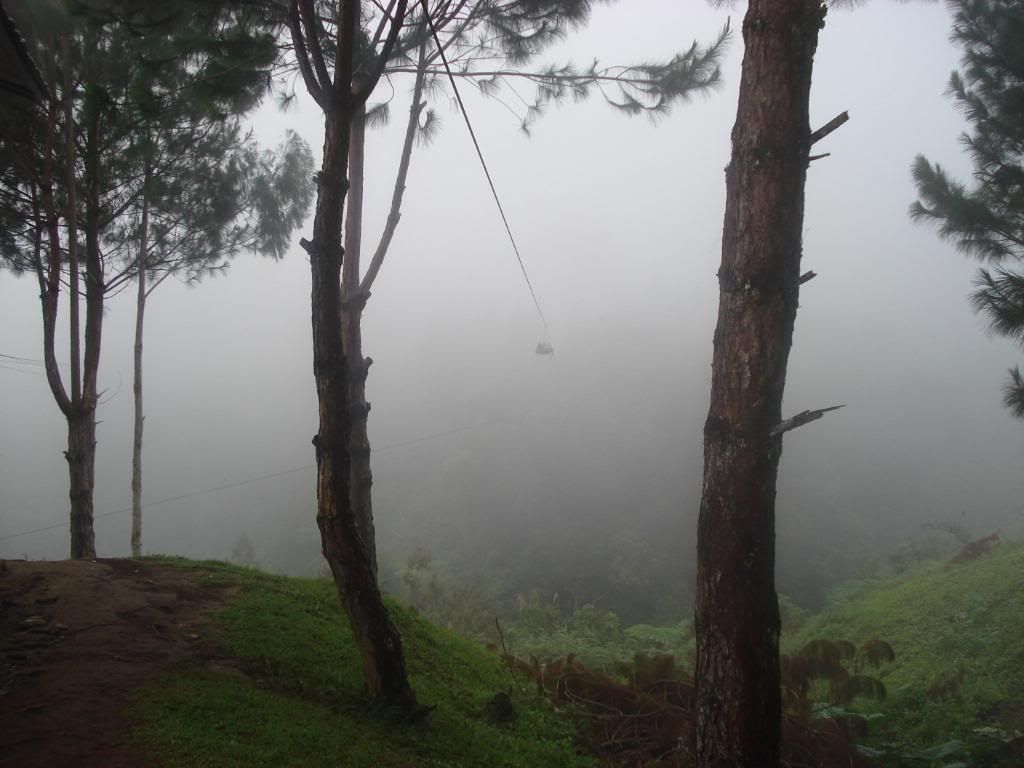 cable ride in a foggy day
The first thing I asked people from the Camp was 'how safe is this?' and they assured us it's safe and no one has been harmed yet to which I answered, well, there's always the first time and I definitely don't wanna be first.
We were the last ones to ride since it's almost getting dark ( we arrived late in the afternoon already because of the party) and maybe the guy forgot to give us helmets. I saw in the pictures that there should be helmets for us but we weren't given one. But at least, the harness seems strong enough and we we're securely tied to it.
Supergirl adventure
Now, here comes the funny part. I was asking the Camp guy on details of the zipline when he told me to let go of the rail I was holding on tightly. He said he just wanted to see if we've got the 'balance' when all of a sudden, he pushed us and off we go. I wasn't prepared for that yet and automatically I braced myself for the ride. Grrrr, I wanted to go back and scold the guy for pushing us so suddenly. Maybe he was tired of all my questions. But at least, he could have warned us...
Anyway, the moment we 'flew' I started to notice how high we were, like on top of a 20-storey building with nothing but harness securely tied to the cable wire as protection.
We were on a lying position and those first moments were really scary. But after few seconds, I was able to adjust and enjoyed the ride immensely. I love it so much. I opened my arms as if I'm a bird flying and seeing the trees below me and the fog all over me was just incredible. It was really awesome! Too bad it only lasted for a minute or so.
On the way back, we took the cable ride giving us more time to enjoy the scenery. Wish I had my camera with me while we were there but then for fear that I'll drop it on the first ride, I left the cam with my other friends. Normally, there are only two people in the cable car, however, since we were the last ones to do the zipline, the other guys from the Camp joined us in the ride going back to the other side of the mountain. There were five of us then which for me was better. The cable ride was quiet 'bumpy' with all the swaying and it was less scary with more people in it.
I'd love to do the zipline again, this time I'll try the solo ride. Funny, it was only when the ride was finished that I learned Don2 didn't enjoy it as much as I did. The poor guy was afraid of heights and he closed his eyes the entire time, pity he wasn't able to see the beautiful view.
As for me, I know I have to go back and do the zipline again. There are lots of other places where we can 'zip'; however, what's unique with Camp Sabros is the raw adventure it offers and the natural setting it provides. Going from one point to another can never compare to going from one densely forested mountain to another mountain in a zipline.
Camp Sabros is truly a must-visit for adventure lovers ;)
vila says:
This sounds so cool, I wanna do it!! Thanks for sharing.
Posted on: May 09, 2010

blurbmoi says:
where is Digos exactly?
Posted on: Dec 21, 2009

blurbmoi says:
this is awesome!!! i would love to do this in the future! am a lover of heights too:p
Posted on: Dec 21, 2009
Join TravBuddy
to leave comments, meet new friends and share travel tips!
(fast rewind... the plan to do zipline)
Being a lover of heights and nature, I have always wanted to experience a zipline ride where I can just fly freely and see trees around me. I've seen Camp Sabros featured in a local TV show for a couple of times and learning the experiences of friends who have been there intensified my interest to go to the place. But of course, I don't want to go there alone and although it has been planned for quiet a time, I just couldn't drag people to stop working and have fun, haha...
Yeah, it's quiet a disadvantage if a 'destination' is near your place - people often say 'later, we can always go there...' arrg, i wanna go there now, not later, nowwwww.....
And finally, an opportunity presented itself. A good friend (who loves adventure much as I do, he's a travbuddy too) was coming home to
Digos
where the camp is located and invited us to visit their home. It was his parents' 50th wedding anniversary and he and his sisters were throwing a party for them. Awww, I so love this family. It's really heartwarming to see couples last long and stay happily married. So cute ;-)
Anyway, of course, how could I say no to that? And on a weekend? Plus, Kuya Sal promised to take us to Camp Sabros after. Ah, that was the best part.
Thanks Kuya Sali for the invite ;-)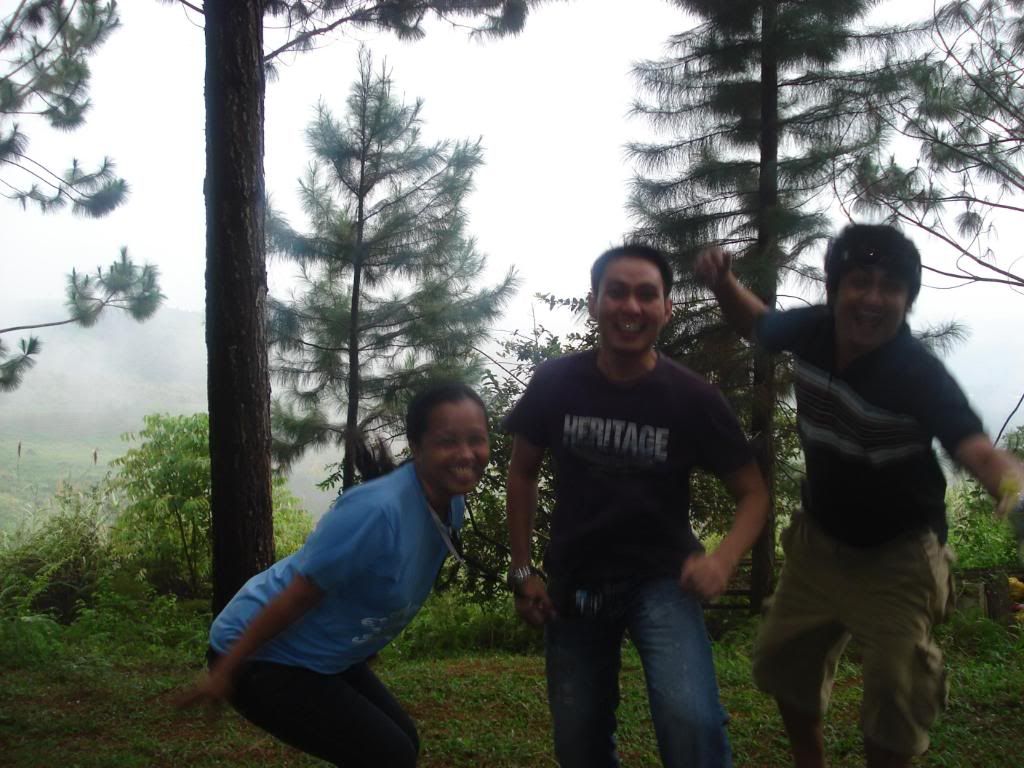 Travel is indeed more fun with friends around ;-)
yheleen says:
yep, real cool ;) i'd love to do it again
Posted on: Dec 18, 2009
(and a little background)
And so, the day finally arrived. Kuya Sal arrived from
Manila
so early in the airport. Original plan was to go with him to
Digos
, however, we just had a conference in the city and we needed to do some things before we go. So, we agreed that he'll go ahead and Don2x and I will travel after.
We were taking the public transportation and the most practical one would be the bus. But then, I had 'phobia' on bus rides from
Davao
City-Gen San. I know it's peaceful now and the GRP-MILF war had ended (or so it seems) but still, being in the area where the bus bombing last year happened affected me greatly.
But since I love this part of the country and I still strongly believe that there are more good things going on here, I needed to conquer that fear. Don2 was understanding enough to suggest that we ride the van instead. So, we went to SM Davao where the van terminal is located but then was disappointed that the van just left and we needed to wait longer for the next one. It was not practical for us to wait and so we went to the bus terminal instead at Ecoland.
The trip made me realize that there are some things I needed to confront within me. It was only then that I was honest enough to accept that I was afraid. The fears I kept within me when we were responding to
Sarangani
war last year were real. The day the bomb exploded in 2008 was the same day we we're in the areas affected by war.
And now, I'm back on that same path. And I'm glad I'm taking the same path again in a public vehicle, it was a healing journey for me - when I was able to trust that it's still safe in this part of the country.
Of course it still is. No war, no armed conflict can take away the beauty of the South ;-)
Okay, enough of this 'drama'. And so, I got rid of some 'thorns' and prepared for our journey to Digos. We took the Yellow Bus and we arrived Digos after 1 and a half hour. We arrived safe and sound.