Cincinnati Flying Pig
Cincinnati Travel Blog
› entry 1 of 2 › view all entries
I can't believe I did it! I can now say I am a half marathoner… last Sunday, my family traveled down to Cincinnati, Ohio for the Cincinnati Flying Pig Marathon and Half. I ran the half marathon (13.1 miles) in 2 hours, 21 minutes and 20 seconds… I would have liked to do better, but it was so hard to find time to train with school always keeping me extremely busy. But, I finished! And I am very happy about that. My dad ran the full marathon in 3 hours, 51 minutes and 53 seconds, beating his best marathon time by more than 40 minutes. And, my mom, a walker, brand-new to the sport, walked the half marathon in 3 hours, 45 minutes and 22 seconds. All of this, I'm sure, is just uninteresting details to you all, but long story short, I am so proud of my family!
Running in Cincinnati was such a great experience. I had never visited the city before, but believe me, it is absolutely beautiful. I would love to go back some day and have more of an opportunity to take in the sites. As we ran the race, we crossed over the Ohio River into Kentucky, just as the sun was rising. So, we actually ran in two different states. My dad and I are very nerdy about our running, and we like to keep track of what states we have run in… we were pretty excited about the fact that this one race crossed two off our list! We're now up to 7 states… quite an accomplishment :)
Anyway, here are some pictures from my adventure: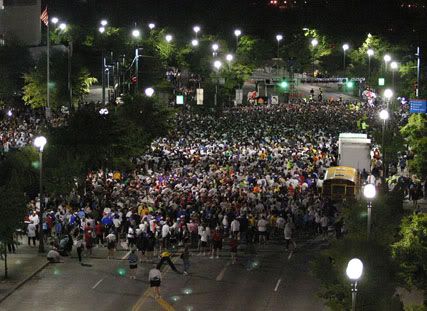 This is the start of the race. Notice how dark it is… The race started at 6:00 am… good thing I'm a morning person! I was standing right next to that big white truck on the right as we began running. Look closely, you might be able to see me among the 10,000 other runners… or maybe not.
Sunrise over the Ohio River. What a great way to start the day! In the distance, you can see the Paul Brown Stadium, where the Cincinnati Bengals play!
This last picture was taken at the top of a loooong hill. In the Cincinnati Flying Pig, miles six through nine are completely up hill - quite the challenge. But at the end, it was all worth it, because we had an amazing view overlooking the Ohio River and into Kentucky. I only wish I had a minute to stop and actually enjoy the view…
Well, that's about all for now. Next up… Chicago Marathon!!
karulm says:
Congrats! I can't even imagine finishing a marathon..half or not. Kudos to you! :)
Posted on: May 22, 2007
Join TravBuddy
to leave comments, meet new friends and share travel tips!