I don't wanna.
Santa Barbara Travel Blog
› entry 17 of 17 › view all entries
Less than one week left. Now, every morning when I wake up, I think, "This is my last (insert day of week) here". And then I cry. Well, not really about the tears, but it could happen. There really isn't one single bone in my body that wants to leave this place.
I went to Red Rock last weekend with some friendsies, and I finally have some pictures to show for it.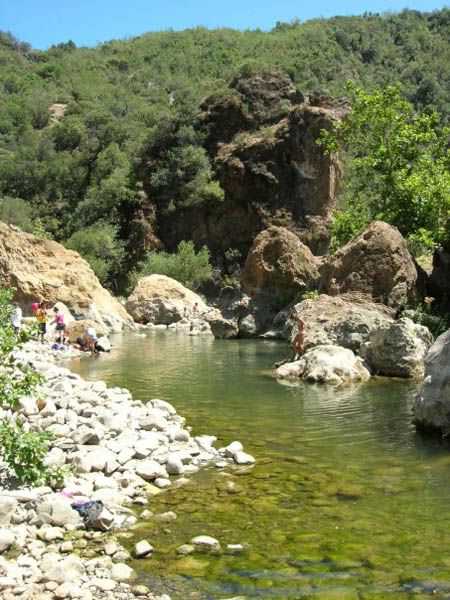 Red Rock is on the other side of the mountains, so it is super hot. Think 105 degrees. But its full of these little swimming holes and big rocks (red ones, imagine that) to jump off of. Clearly, I had a blast.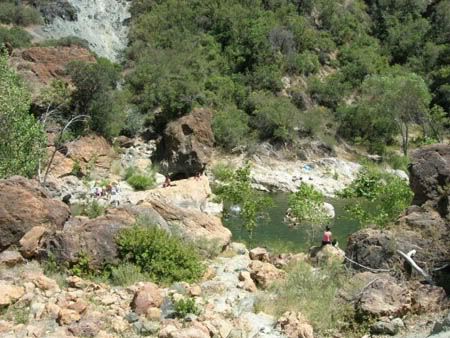 Different view of Red Rock. If you look in between some of those trees, you'll see a little splash in the water. That's the rock we were jumping off of all day… about 15 feet high. Every time I went to jump off, I would stand at the top and shake for about 10 minutes before convincing myself to just close my eyes and do it. Then I'd scream the whole way down, hit the water and think, "That was great! I wanna do it again!" So I'd struggle up the rock (I'm not very strong), and then stand up there for another 10 minutes being scared… It was a great day :)
Anyway, I have a huge final project that I need to be working on right now. I just wanted to reminisce a bit about my time here, since it's almost over now (::uncontrollable sobs::). Ugh. I don't want to go.
Eric says:
this place looks beautiful!
Posted on: May 22, 2007
Join TravBuddy
to leave comments, meet new friends and share travel tips!