I breathe in deep before I spread those maps out on my bedroom floor.
Santa Barbara Travel Blog
› entry 11 of 17 › view all entries
Happy Fourth of July… Even though it is not really Fourth of July yet here in California, it is back home, so I can pretend, right?
On Sunday night I got back from an amaaazing weekend out on the NOAA research vessel. This time it was a three day gig, meaning I got to wake up one morning, look out my window (porthole?) and see nothing but miles and miles of water all around me. Impossibly fabulous.
Unfortunately, I don't really feel like writing about it all right now, so you are out of luck… because I know that you were just dying to read this fascinating entry. I'm still sorta in the mood where I just want to think. On the way back to Santa Barbara from the islands, I spent two hours sitting on top of the boat, just chilling out after a weekend of hard, but fun, work. During that time, I decided that the ocean ignites profound thoughts. Thoughts that I need to let marinate for a little bit. But to tide you over, here: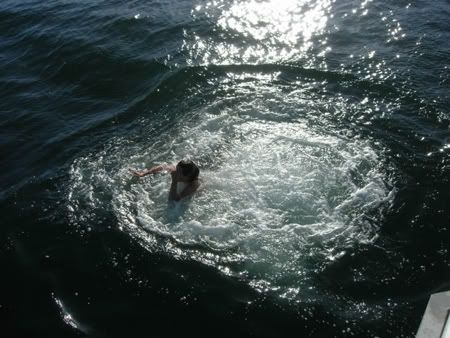 That's me, after I lept off of the back of the boat into the frigid Pacific for an invigorating afternoon swim… about 20 feet from some energetic sea lions. There's something about paddling around and having no idea what could be hanging out just a few inches below your toes …Really, I think it was one of the best moments of my life.
Other than that, I'm feeling a little homesick, for a large number of reasons, and I hate that. Because really, I love it here. The last thing I would want to do is be anywhere else. I just don't understand how it is possible for me to be so depressed about leaving here in a few weeks, but still be so homesick. And for some reason, that thought makes me even more homesick.
Join TravBuddy
to leave comments, meet new friends and share travel tips!
Today I went for my long run (7 miles, woo woo!), when I realized that I was about to run past the first and only place that I have ever seen a squirrel out in California… you remember… that mangey little beast that helped me learn to appreciate at least something about living out East?
And wouldn't you know it, just as I was thinking about him, that little varmit scampered out of the filthy gutter and into the sidewalk in front of me. (We must have some sort of ESP connection, or something.) At first I was horrified… but then, with this new up-close view, I realized that California squirrels are not in fact the hideous creatures that I had imagined them to be. They are definitely a little scrawny. Definitely different. But all the same, they are definitely cute. The little cousin of my favorite East coast rodent… just the baby of the family.
So back to what I said about finding something that is better at home than it is in sunny California… there goes that theory.