Fun and Danger - Lethal Combination (Snakes and Crocodiles @ Davao Crocodile Park)
Davao City Travel Blog
› entry 1 of 1 › view all entries
View Larger Video
People love having fun with little danger from time to time.
I love the crocodile park for letting us have a glimpse on the world of crocos and their like, however, seeing also children exposed to these kind of danger makes me think twice.
I have been in the park a few times in the past and have learned to love the animals in it and the animal show.
The last visit (April 09) was different for me, maybe because of the many deaths I've witnessed these last months with relatives and loved ones of friends.
I used to think I' m brave in many things but I just cannot bear to see the TIGHTROPE WALKING show where a man walks along a thin rope at a great height (without harness and safety net) and performs a number of stunts with big and hungry crocodiles swarming underneath him, waiting for his fall - i just cannot take that. I pity the stuntman and I fear for his life.
In the end, I content myself with visiting the ostrich and the birds in the park while waiting for the TW show to end.
Until now, I can't help but think, what if all those crocos made their way outside the park and 'invade' the city? Ew.. too morbid for me.. Anyway, that's just my active imagination working - need to eat my lunch now - croco spicy, anyone? ;-)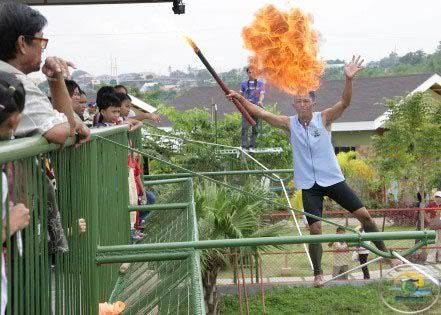 Tightrope Walking @ Crocodile Park
yheleen says:
the photo's from the park's website ..am not brave enough to watch the show let alone take a pic ...
Posted on: Sep 06, 2011

sylviandavid says:
I too am worried when I see people do things that would seriously hurt or kill them..... we have a circus that comes into town (tightrope & trapez artists without nets) and I have stopped going as it isn't fun for me.... but I worried about fireworks when I was a kid and sat with a bucket of water.... my mom used to call me Sylvia-safety... With that said.... I watched your video of the snake... whoa...huge snake.... I would have enjoyed the animals... I enjoyed this writeup....
Posted on: Jun 01, 2009
Join TravBuddy
to leave comments, meet new friends and share travel tips!
Davao City Sights & Attractions review
Davao Crocodile Park
The last time I was in the park was last March when we showed a friend from Manila who came to visit us in Davao for the first time. From Gaisano M…
read entire review