An amaxing mix of city life and beach.
Bangkok Travel Blog
› entry 1 of 1 › view all entries
I would love to share the lil trip we had to Bangkok and patayya.. well.. knowing that I would be so bz at work, this is gonna take a few days.. but it has to start somewhere..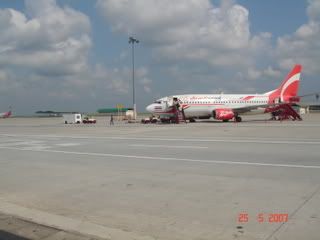 - Flights so so.. got the front seating.. being the kiasu couple we are. Kekke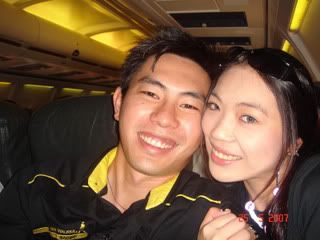 - Ate maggi mee in the cup on the plane.. freakin 5 bucks for mee in the cup!!! Since its tom yam flavour, prepared me in the mood for a trip to the Kingdom (btw.. ppl in Thai refer to their country as the KINGDOM)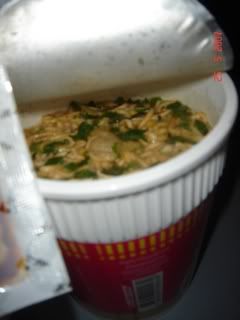 - Reached Bangkok bout 12 plus.. (11 plus thai time..)… went to the gate.. suppose to meet our tour guide.. but wat we saw?? MS WONG YI CHEN!!! Hehe.. is that my sayang? Hahaha not even at the Tiffany show yet.. hes trying to fit in so fast???
- Went to the hotel, checked in, and went to do some shopping.. bought some stuff, errr.. lots of stuff.. malas wanna load all those pics.. some ppl complaining that my blog has too many pics, hence taking too long to load.. ish.. you impatient people.. anyways.. trying to cut down unnessasary pictures..
- Tried some local food too.. check this out..
Think this is gross enough? Think again!!! check out the below...
Yes, May eats cockroaches!!! jeng jeng jeng!!~~!!~~
Sayang can only try the frog and the worms.. which i did too of course..
ok ok.. normal decent food now.. Thailand has lotsa yummy food actually...
Like this bbq squid.. our big time favourite!!
we went back another 2 times to get it over the 2 days we were in Bangkok..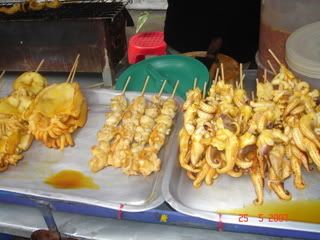 and this pork rich dish is superb too!!
most places have this dish.. its like our chicken rice here..
but much more tastier.. and cheaper too!!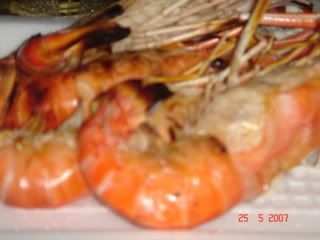 and tom yam of course.. but their tom yam is nothing like ours.. theirs is more sourish .. not so much of the spicy kick though..
i still prefer the tom yam at sri ayuthaya..
and this.. is some kinda vegetable stuffed in flour..
which i think its pretty good too..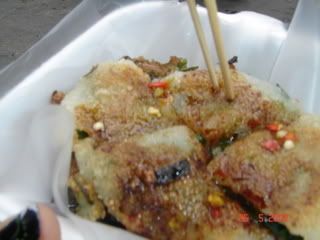 ok.. enough about food!! lets move on to something else..
i know someone out there is drooling already.. right jesse? hahahaa
check this out.. saw this sign on a taxi.. what do you think it means?
and check out the traffic behind us.. super jammed!!!
another interesting finding..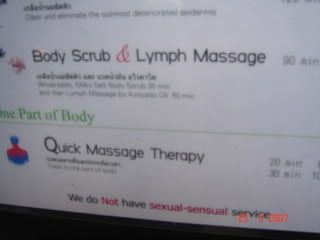 noticed what it says??
"we do not have sexual-sensual service"
i adecided to try out this spa.. it was really good.. i got myself a head and foot massage.. sayang tried just the foot massage.. we were so relax..
That night, we went to Suan Lum Night market!
Had dinner there, and was suprise the food court was hugeeeeeeeeee.. and they had a concert going on there!! Apparently in Malaysia, due to the government policy being so uptight about public performances, all we have at our foodcourts are some crappy big TV screen minus the audio most of the time..
Ready to go into the huge happenning food court and PIG OUT!!~~!!
In Bangkok, aspiring musician can perform at big foodcourts and entertain folks eating while practicing.
and they even had a bar in the foodcourt (i would totally love this!!!)
Our highlights of this dinner was this..
Big Big BBQ prawns!!
and more of the Yummy Yummy Pork rice.. (which looks pretty gross from here but trust me on this.. YUMMY YUMMY)
Heres Us, at the Suan Lum Night Market entrance. Their tourism industry there is really gung ho and much more result orientated than in malaysia.. im comparing this to JONKER WALK in malacca.. fuhyohhh.. Suan Lum is like 10 times bigger and 10 times more attractive and interesting..
cant resist being a poser...
our supper that night..
sweet corn..
dirt cheap beer (chang big bottle for Rm4 only! Singa and San Miguel was only RM2.5 each!)..
Burger kings bacon burger (not sold in Malaysia - Halal issues)
more of the BBQ sotong <-- super yummy
and 4 jazz and blues CDs we got from Suan Lum (not seen ciplak CD as such in Malaysia)
Right after bfast, we headed to the Safari World and Marine park.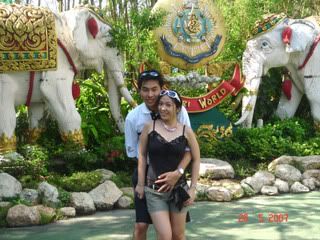 At Safari world, we get to see animals in their natural habitat, not in cages. Heck, I feel like we are the ones being caged up in our cars while watching them roam free outside!! Who is the one being captured now??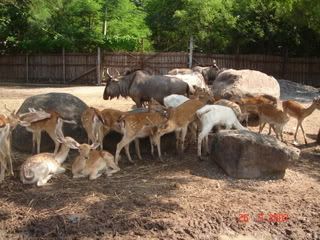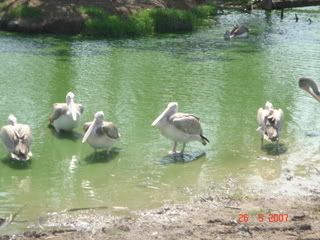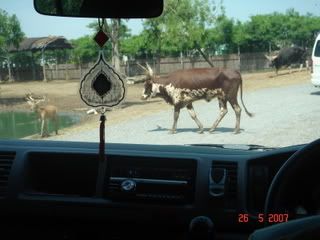 ZEBRA CROSSING??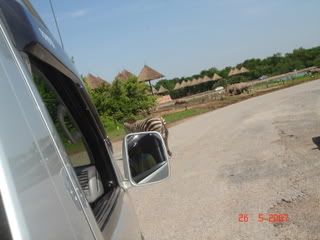 after that rather interesting safari world tour, we went ahead to see some shows.
Boxing show: It was a boxing session by Orang Utans!! Was not to bad.. so so.. they were pretty smart.. but the whole session was conducted in thai.. so.. was kinda hard for us to understand
Next, we went for the Sea Lion show. This was the best show of all! We were so amazed by how the sea lions are so well trained and well coordinated. They were so cute.. that i told my sayang i wanna take one home to keep...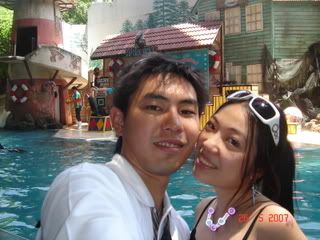 Then, there is the Western stunt show. Sayang was saying it is so BODOH! Lots of bang bang and over exaggerated action.. and thats about it.. everything was communicated in Thai again.. so we were pretty lost!! The backdrop setting was pretty good though..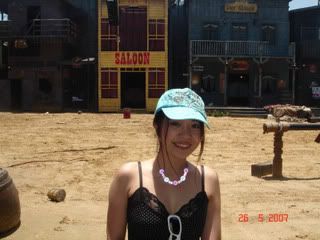 Then, there was the dolphin and whale show.. i think it was really funny.. the cute kinda funny.. a little dolphin wasnt really ready for the show.. i guess its a new member of the show troup.. and it was not doing exactly wat it was suppose to do.. and it was soooooo cute to me.. i kept staring at it.. hahahaa.. whales were great too!! (we were too engrosed with the show.. forgotten to take pictures!!)
Later, we took a loooooooooooong walk around.. and took some pictures..
Heres a 'replica' of the floating market (which we so wanted to go but its another 2 hr drive from Bangkok) :(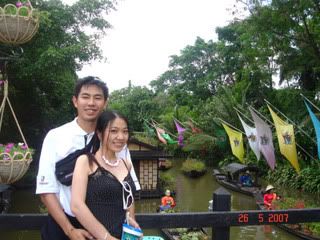 and we took pictures with this cute little cub.. whose sliver drooled all over me!!
The whole trip to safari park and marine world was super fun... but really tiring though...
on the way back to the hotel, our guide stopped us at the Gems Gallery, whom they claimed to be the biggest in the world!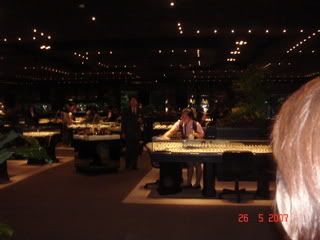 Anyways.. was pretty glad the tour guide brought us there.. cos sayang got me a pressie!!! muacks muacks..
it was a amethyst ring (amethyst cos its my birth stone). and its my very 1st ring from sayang.. the crown of the stone have the alphabet "B" on both side, so from there on, we refer to it as the "BB" ring.. argh.. hes just so sweeeeeeet!!~~!!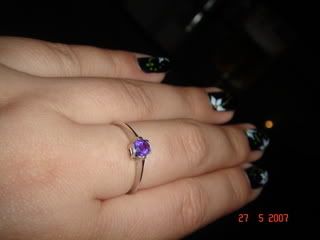 feeling so tired.. but very happy.. we slept all the way back to the hotel. There, we had a short rest and headed for the pool for a dip to cool us off from hanging around under the hot sun all day!
later.. we had dinner in the hotel.. was really crappy, not worth mentioning..
after dinner, we went to the IT City to check on my notebook.. Thai people are very friendly and accomodating.. wish us Malaysian would learn to be more courteous. We were speaking NO THAI at all, they pretty much knew very little english, yet.. we manage to get things fix in a very short period of time and no shouting or blood boilling is needed!!
We got ourselves some massages too! I took the head and foot massage package.. and sayang just wanted a foot massage. Was good.. and pretty cheap
Here I am squirming all over.. hahaha.. but it was really good!
They had sayangs foot all wrapped up in some ointment!! which stinks!!!
Before heading to Nong Nooch village, we had a great meal for lunch!!
then there is the elephant show!!! THEY ARE SO SO SO SO SMART!!!
They are able to aim and play darts!!
and also ride a bicycle too!!
Smart enough to lift me up!!! though it was kinda painful and he lifted my halter top!! and i have elephant breathe on my belly!!!
Then both of them wanted to molest me too.. so got 2 more elephants lifting me up!!
OK.. thats all!! its almost 8 and im still stucked here!! arghhhhhhhh... hating my used to be sun shining stuff..
We head out for the beach! was a short walk fro the hotel to the beach.. there.. we need to take a speed boat out to the see.. where the paragliding platform is.
Paragliding baby!! Yes, we both tried. and it was so so so so fun!!
i was freakin out at 1st, well.. you see.. those marshalls werent very friendly. and they were masked like villians! plus.. they were pushing us around.
i guess they need to get everyone going quick in order to get more ppl.. anyways.. it was really fun.. check out the pics..
I know!! i looked like im crying.. i wasnt la.. but close too.. ahahha
Heres me getting ready... (the masked guy has not attacked me yet.. so im still all smilling)
These pictures I resnap from my camera at a photograph actually.. as when we are taking off, no one could get a picture for us. But those tour agencies too some shots and SOLD the pictures to us.. anyways.. glad we have this..
Sayang preparing to take off...
Sayang in the air!!!
Me planning to take off, with the expression saying.. "what?? pictures now?? nooooo... me scared scareddddddddd"
me on air.. freaking out!!
After calming ourselves down and got our adrenaline to stop boiling, we settled back to the boat and headed for Coral Island.
It was a so so island only.. water was clear.. but could be better.. and it was just too crowded!!
So there isnt much to do.. not much swimming to be done.. theres some activities like jet skiing and all.. but we decided not to do them.. as dont look like much fun in this crowd.. so we just hang out and cam hoe!!
Me chiling by the beach..
Ok... lets start... Woke up early.. year.. real early. and headed for the river cruise.. before that.. check this out!!!
Ronald McDonald - Thai Version..
Sawadeekapppppppppppppp... hehehe
Then, we headed to the pier for the Chaophraya river Cruise. Apparently from the river, theres many sights that must not be missed.. well.. fine.. we went on with high spirits, despite of the scorching sun and stinking water!
The ride was good, not too bad.. boat was pretty comfy.. and the wind ease of the humidness a lil.. a long the way.. we saw many interesting places, like the Palace, some temples, the train station.. many more lar.. (shit.. its been only a week and i cant remember!!)
anyway, along the cruise.. there are ppl selling stuff!! on the boat! i was thrilled.. well.. cos i was expecting to see the floating market, thought that it was part of the tour package i bought.. silly me kinda ASSUMED that Chaophraya river is where the floating market is, only to know in despair that it was moved away to a district bout 4 hrs away some time back.. :(
anyways.. glad im able to see a lil bit of what a floating market is like.. hahahhaa
From the cruise itself.. we were able to capture a good view of Wat Arun, one of the ancient candi. Of course, comparing to Borobudur, this is like a miniature version! Still.. we have nothing like it in Malaysia.. so i was still such a jakun! Next trip i wanna go to the Angkor Wat!! doubly Jakun then! hahahah
Heres us at Wat Arun...
theres some costume display there.. we are even able to try on the clothes to get pictures.. but i was too hot and grouchy to do that. so.. just posing with the costumes.. hahahha
Nothing much to do.. so cam whore with the elephant statues
Sayang.. are you trying to take him home??
Heres us chilling out after a long hot noon out... then on we go to PATTAYA!!!!! The City of SEX???
We had quick lunch and headed for Pattaya. Upon reaching.. we stopped for some fun with the elephant and REAL GUNS!!!!!
Me on the elephant.. it was a bloody 20 mins elephant tracking around a little village!1 Major PAIN IN THE ASS!!~~!!~~!!
and sayang had some fun with the guns.. have no idea what gun he chose and how he shot.. i was freakin scared of the loud noise.. but.. apparently he did pretty well...
hes mostly aiming towards the left arm.. but one hits directly on the chest!!~~!!
Dead tired after mini fun session, we slept all the way in the car till we reached Pattaya. Checked into Ceasar Palace Hotel, rest and freshen up for dinner.. Dinner is really not worth mentioning.. was it was a normal meal in a restaurant.. with the same old food actually.. it was an 8 course meal for only 2 person!! How smart are these people.. jeezzzz...
anyway.. the main highlights of the day is the Alcasar Tiffany Show!!!! Ah qua!! Ah Qua!! Ah Qua!! HOT ah Quassss!!!
It was more like a cabaret show than a tiger show.. (althought theres lotsa skin showing in some performances).. i felt like such a SM staring at their crouches, wondering is theres a buldge from the extra piece of equiptment they may or may not have! hahaha.. check out the pictures...
One of the Hottest Chick.. need I say more?????????
Thats all for the night...
coming up.. DAY 4 @ Pattaya... yes boys.. bikini pics.. :)
Next morning.. sayang wanted to skip that crappy free international buffet bfast in the hotel, and opted for Burger King Bacon burger instead. And... we are gonna eat on the beach itself!!!! yippeeeeee
Heres our bfast....
and my sayang so enjoying his bfast...
us just chilling up by the beach, enjoying a lil morning sun (i know im so tan now... but it was all worth it!)
sayang took a short nap
a full size pic of me in bikini!!
Then sayang wanted to get creative and make a sand castle.. somehow.. his invention became a sand monster instead..
its like a cross between a duck and a dog...
time to go!! = time to destroy the sand monster!! its like hes giving birth to my foot! hahahaha
a lil kiss to end our trip to the beach..
on the way walking home to the hotel.. sayang spotted this!! COOOOLLLLLL
what an enjoyable ride.. with an enjoyable view eh!!
finally.. at the airport.. dead tired and.. heading back to home sweet home..
Join TravBuddy
to leave comments, meet new friends and share travel tips!