Kanchanaburi
Kanchanaburi Travel Blog
› entry 3 of 7 › view all entries
June 14th, 2006 – by:
zonky
Kanchanaburi was our next stop.. sat at Thonburi railway station full of smiles just happy to be getting out of bangkok, gareth, having wondered off looking for food came back full of chicken looking dead chuffed with himself having bartered his way into getting a free orange! i realised as we got on the train that a screw from my very expensive REAL designer sunglasses was a bit loose.. gareth said he could fix them.. only half an hour later we realised that gareths version of fix meant break.. cheers Gar you pain! then to try n take my mind off the fact he`d broken my sexycool sunglasses he tried persuading me he had seen a croc out of the train window.. hmm..
Pong Phen housed us whilst in Kan`Buri... very nice.. even with resident Gecko.. who incidently was named Gary.. and crazy squirrels... literally crazy.. they were going insane! We ate at Apple`s restaurant every night.. with apparently the best banana pancakes in thailand!? Next day we encountered monkeys.. Licker (refer to Gareths version of events) was hilarious.. even if gar didnt look too impressed at being abused by a monkey. my monkey friend, Lily, was far nicer and settled herself happily on my shoulder taking my hairband out of my hair and chewing it whilst her brother molested gareth. These cute gibbons were followed by a Mr Knot.. (he can untie knots) a cycling monkey and a slam dunking monkey called Jordan.. oh yes..!! FUNKYCOOL MONKEYS! one really reminded me of a certain northern someone! ;)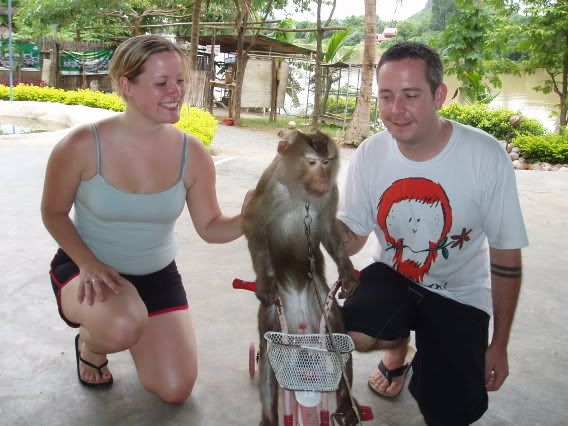 Next tiger temple - as gareth stomped forward to be first in the queue to go touch these HUGE SCARY WILD animals. i stamped my foot and remained firmly the other side of the fence, which admittedly wouldnt have helped seeing as it was a bit of string tied to some bamboo :S but none the less.. the cat fanatic debbie was far too scared to go anywhere near these pussys.. i asked why the big cats were so calm. one canadian (says it all) said that it was because tigers are naturally peaceful.. i raised an eyebrow and said "looks more like a hefty shot of valium to me".. naturally peaceful.. my arse! anyway that was AWESOME ... grrrr canadians.. im going to go teach them alternative words to awsome..
that night a packet of playing cards was purchased and the shithead competition began.. and continued nightly until the very end..
Next day.. wont bore you with details, most of this is in Gareths version im just filling in bits i remember! pretty pretty waterfall, followed by Bridge over River Kwai, hellfire pass memorial museum, and HEFFALUMP TRECKING.. amazing!! amazing amazing amazing.. even if gareth thought it was hilarious that my elephant, Joey seemed to grow another leg whilst weeing.. seriously.. if the curiosity (and i know it will for most of you) takes over then just look real close at the pics of my elephant.. typical gareth eh?!
The bamboo rafts were fine if you were sat on the front near the guy steering it with a big stick like gareth was, but for me, poor unfortunate had to spend the entire 40 minute journey down a river dodging dodgy looking river banks which gareth (helpful little soul he is) kept reminding me was probably filled with rats and snakes, and gert tree trunks threatening to knock me out as the back end of the raft swang from one side of the river the the other.. Gareth seemed to think this hilarious.. the only funny part of that particular leg of our journey was the guide falling off the raft behind us.. hehehehe!
Join TravBuddy
to leave comments, meet new friends and share travel tips!