Holiday
Koh Tao Travel Blog
› entry 15 of 15 › view all entries
So I arrive at the Thai hotel, I had already sussed it out earlier in the week (thats another story, anyone wanting details ask me about the evening spent with a Thai teacher) and new what to expect, the porter came and tried to help me with my bag, which was not much bigger than him, and probably weighed the same as him and his family combined. I let him struggle whilst I checked in. Debbie already having paid for the hotel had given me documentation to prove this, I guess I lost this. I routed through my bag, for my passport, and the porter returns with a trolley, trying to lift my bag on to it, spueing the array of smelly clothes over the marble floor of the posh (Thai standard) foyet. He struggled with it until I finished filling in the forms, and we got my bag back together taking it into the room, he hung arouind waiting for a tip, the only one I would offer him, useless here was not to eat yellow snow.
Debbie had told me that her plane was to arrive at 14.05, so I arranged for a taxi, (which can take upto an hour depending on traffic) and set off at 13.00. No traffic meant arriving at 13.15. As I scanned the arrivals board me and the taxi driver who I managed to persuade to hang on to take us back to the hotel, there was no flight from London?!!?! It took about ten minutes before it did show for all of a split second, enough for me to see we were in the wrong terminal. At terminal two, it again took sometime for the details to show, this time long enough for me to read; Arrival - 14.55. Arse, only an hour an half to kill before arrival. Well me and the non english speaking taxi driver spent our time drinking water, smoking fags, and listening to my Ipod, we had a few conversations that consisted mainly of grunts, I think a pig would have made more sense of the pair of us.
Its 16.00 and Debbie is coming through after a traumatic encounter with immigration. We get in Mr Taxis car and get to the hotel. That evening we headed on down Koh San, with Debbie knocking my glass of beer off the table (I think she really wanted to see what was up the ladyboys skirt when they came to clean up). The folowing day, I treated her to some sights and smells of
Bangkok
, we used the river boat to get to the monorail, and spent some time walking around one of the big shopping malls. I think she was impressed that not only did they have real designer shops, but also sold Hummers, Lamborghinis, Ferraris and various other exoctic cars inside. Probably the most obvious difference to any other shopping mall Id visited was that this one had a huge marine park, where we many and various fish crabs sharks groupers, and also went for a boat ride. Remember this is all in one shopping mall on a street that houses 10+.
The evening consisted of a night at the cinema, watching some film about the bible and Davinci. What impressed me more was the seats, these were electric leather seats, in pairs, with a total of 70 in the whole cinema. It was a Nokia something or other cinema, puts "Vue" at home to shame.
So we got up and set off to
Kanchanaburi
, the famous place where the death rail way is, plus the river Kwai and its infamous bridge. We did this journey on a rickety old train, well I guess its steeped in history from WWII so was better than the quicker dearer coach (and from past experiences, I want to limit them). Looking through the LP we chose a place to stay, but were soon persuaded by a tout on the train to stay at there place. This was an extremely nice set up right on the river Kwai, about 500m away from the bridge.
The following day, we chose to do a bit of sight seeing, and ended the day with two visits, one to a monkey school, where we had gibbons swinging from our necks, and one in particular young male named licker decided my ear was a female organ, the second visit was to tiger temple, where I got to sit next about 5 fully grown tigers, stroking there backs, and shitting my pants. This is evident in the photos.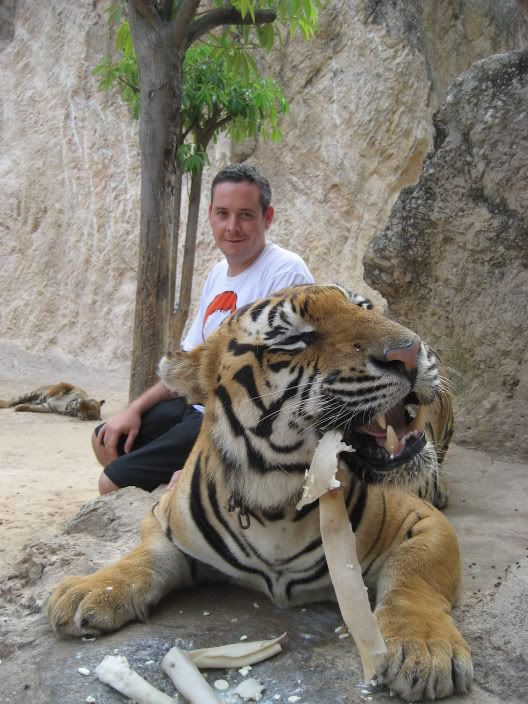 After that evenful day we had an even more exciting one ahead of us. Waking early the next morning with a "Chang" over, we were put into a very luxurious AC minivan, and taken to some beautiful waterfalls....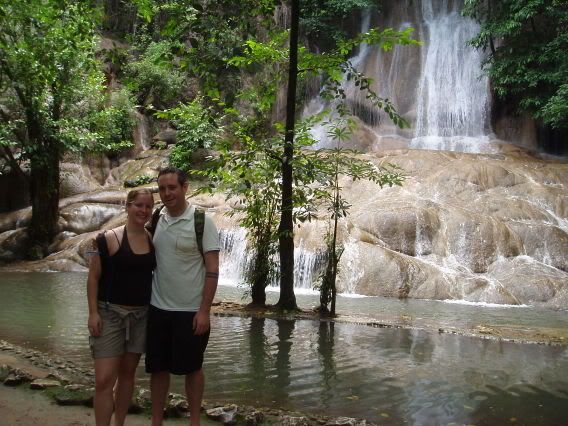 ...Hell Fire pass and WWII museum, and then lunch. The highlight of the day being elephant treking and then feeding the elephants bananas.
Our return trip from where the elephants had taken us, was by means of not very bouyant bamboo rafts down a river. The end of the day was seen by a trip on the train to the bridge over the river kwai through some picturesque scenenry, and some obviously meaniful cliff cuttings.
That evening, we bought two tickets to fly from Bangkok the following afternoon to Koh Samui. Brilliant it meant not having to stay in Bangkok again.
A pleasant journey on the plane, with me crossing everything for good weather. I could imagine Debbie not being overy impressed if I had taken her to an island that was in the middle of a monsoon.
We asked a taxi driver to take us somewhere listed in the LP which he then told us was closed, but would take us to another cheapy, smelling a rat we went with it, but ditched his offering for one nearby. This saw us for one night, but Debbie asked at the nice restaurant we ate in that night the price of their basic accomodation. Once seeing it, we were straight in. A nice big clean fan room (with free AC at the flick of a switch) we did get caught one night, so had to pay :S.
A couple of days were speant on the beach here, but I was less than impressed with the murky water and black slime on the sea bed, I wanted Little Perhentian Island beauty.
Next stop was Koh Phangan, this was a steady 45 minutes on a boat, and a further 15 minutes by taxi to Haad Rin, the home of the worlds biggest beach party "The Full Moon Party". The two beaches here were a lot nicer in terms of water clearness, but the beach party obviously brings its problems, the beach was more like a Bristol night clubs floor after closing time. Flip flops required at all times.
A good few nights were speant here, maybe the highlight of it being the live band, with the lead singer, cracking onto Debbie, and another member singing a Jamiroquai song to her. Shucks Ive competition. The low light for Debbie was that I got smashed, and fell into the bar whilst trying to climb the stairs in hysterics. Stay away from the buckets.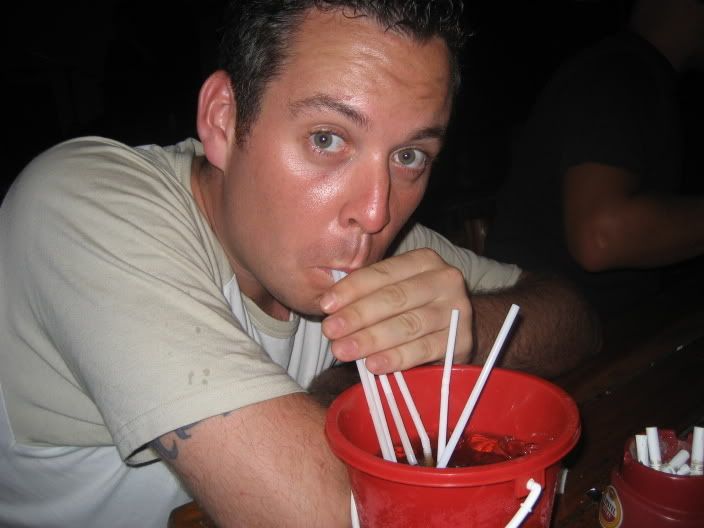 My punishment for the previous nights antics was to move from Haad Rin to the North West of the island to Haad Salad, Debbie had spied a nice place to stay, on arrival she was not wrong, this place had a TV in the room, just in time for Englands first world cup game.
Haat Salad resort has got to be the best place I have stayed whilst being away, huge room with AC fan, fridge, nicely tiled bathroom, cleaner etc with an amazing balcony overlooking the resort and onto the clean Westerly facing deserted beach. Amazing sunsets.
The water was nice and clear, and Debbie had great fun winding me up about the holes that whatever creatures created probably homed crabs, that would be well up for nipping me if I stood on them. The problem being the water only got knee deep in the vast bay, and there were hundreds of these holes. I sat on the beach whilst Debbie investigated, finding that with some agravation you could get a small claw to some out of the hole to reopen its breather, I recall seeing these in the marine centre we had visited in the Bangkok shopping mall.
So I overcame my fears and had a paddle, I hate being able to touch the bottom of the sea, especially here where you get all sorts living in the sand. I need to be able to float, I think Im more scare of a crab like than a shark now.
We were hit maybe two hours before the England game by a tremendous down pour with lightening etc, but the unexpected power cut which ran into the 2nd half of the England game was suspicious, apparently the whole island was left in darkness for the three hours.
We watched an uneventful remainder of the game and retired to bed, ready to move onto Koh Tao in the morning. Surely Debbie will get more impressive beach?!
The boat journey took us to the pier slightly south of Sairee beach, we jumped in a taxi to a dive resort, we had been warned that the island was a dive haven, and it was difficult to get accomodation without signing up for a PADI course or some diving. We all got out of the taxi and enquired in the place we had been dropped, the guy was less than helpful, I guess being face with about 12 angry travewllers who werent up for diving who had been told they could stay there. Well we could, but it was at a special non dive rate.
We left, finding a bungalow with a special mosquito living quarters disguised as a bathroom attached out back. Its funny travelling, you'll be in luxury one minute then in a dump, but hey all part of the fun. So we headed up the beach, this was worse than Haad Rin, more rubbish, choppy sea, I guess divers dont care about the beach? Disspaointed we decided that the next day we'd do a snorkel trip and make a move.
This snorkelling trip was a lot different from the intimate affair in Malaysia, but well organised. A good day out with the highlight being the common Jap tourists trying to swim with bouyancy aids and sandals. Im sure they should give fins a whirl, but it provides excellent comedy value, so I guess let them be. Me and Deb were ususally first off the boat, jumping over the side, splashing all those edging carefully off the boat down the ladder. Doggy looks, LOL. We were supplied pineapple on the boat as snacks, this was great fish food, which we later found out fish cant digest but love, and die a slow painful death from, guilty tourists put your hands up.
I guess it was a good bet going with Debbies next choice of location, she had come up trumps on every occasion on her choice of eateries, the most memerable being the Italian on Koh Tao. Deb having the menu choice of a dinosaur and the appetite of sick ameoba, meant skinny here had to eat 3/4 of her ginormous amazing pizza, along with huge bowl of pasta I'd ordered. It had to be the best food Id had for a very long time, including eating out in the UK. It sent me into the Sunday lunch food coma, ready for the following mornings trip to Tanote bay.
We figured we were being ripped of when the taxis fair from ours to Tanote bay was extortiantely high, so had a short taxi to the peir and got a slightly cheaper one fro there. A big turbo highlux seated us high up in the flatbed with our bags. It soon became apprent why it was so expensive. There were no roads, we were on a good hours journey cross country bouncing around in the back holding on for dear life, up huge steep rutted banks and the like, on arrival to Tanote bay we mussed have looked like we'd just come from a full moon party and not yet come down, the grins were enormous. Well worth the money best taxi drive ever.
So Tanote bay, at last, Thailand does have some amazing beaches/coastline, we had arrived in paradise, maybe a bit late, but never the less we were here. We were shown a very plush new beach bungalow, tiled floors right on the beach, and I mean right on the beach.....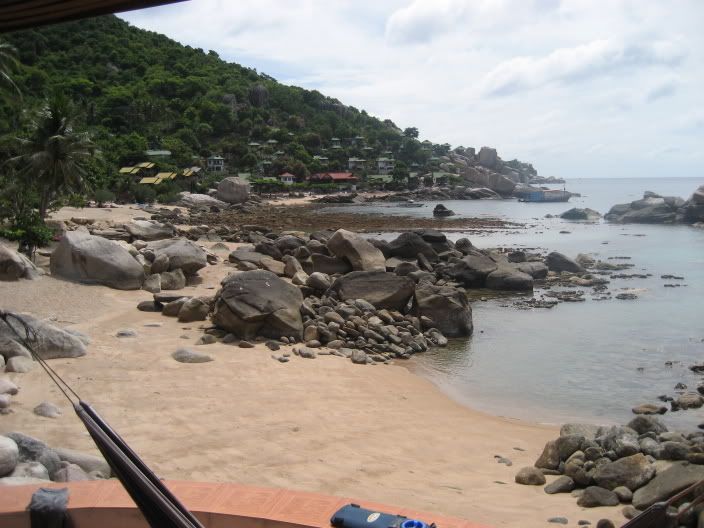 Snorkels and fins hired, we were both into the sea, to see what is dubbed the best bay to snorkel in on Koh Tao. I spent all afternoon in the sea, coming out all wrinkled, like after a hot bath. A few new fish were seen from the previous days snorkelling, and some real coral, I guess thats why the snorkel trip doesnt arrive here, to protect it.
After a few beers and me losing another 30+ games of shithead to Debbie we left the bar/restaurant, only to see that the tide had come in and marooned our bungalow. I told you it was on the beach.

Some drunken boulder climbing later we realised that our next door neighbour who looked like he'd had a moped ground arguement, had crutches. He'd had a few to drink aswell, anyway he was there in the morning.
Another day of snorkelling, with me chasing some big groupers, and managing to get about 5m underwater chasing it, I figured out about blowing your nose to balance pressures and was down with the PADI learners on the bottom of the sea. Quite funny seeing their faces looking amazed at some fool down with them. Later that day I spotted two blue spotted rays.
The last day arrived, and I went for a big snorkel around out to sea for about 30mins to the next cove, tired I headed back, we packed and waited for aour taxi home. At the waiting point there were two french girls who had encoutered our soon to be taxi driver saying that he was pissed and stoned beyond belief. Well three Thais came out, all looking like theyed been smoking all day and had a few beers, one of them still with bottle in hand. The french girls werent happy, but we set off in 2wd, falling quickly back down hill when the driver forgot to put the handbrake on to swittch to 4wd. The screaming was quickly drowned out by the drivers radio. This was going to be an exciting ride, as we headed towards a fork in the road, another taxi came up behind us shouting good luck as they went the way we had some and we headed up the steep fork, which was even less road like than the one we had come in on. Little did they know the state of our driver!!
So up and down rutted tracks, white knuckle ride style, radio balsring, and scared galnces being exchanged by us all in the back. The next thing we know the fools being shouted at by some workers in a quarry and were in it, the drivers definately a looney. This has got to have been the most scariest drive ever, but what fun. I dont think the crunchy gear changes, skidding tyres and our seating arrangements helped.
Phew we're off, and safely at the pier ready to get on back to Koh Samui, ready for the early morning flight to lunatic Bangkok. We had a few (i think) drinks in an very English bar whilst watching the England game, quite fun, except for the free drinks at 01.30.
Getting up at 04.45 was not fun, but still being pissed, it made it a little more bearable, no Chang over just yet.
So we're at the airport and Im being told of by Debbie for using the free bananas as guns on her, the funny looks from other passengers probably embaressing her more than me. I sobered up in the plane, but didnt get to sleep. An hour bus journey to Koh San, and I was back at New Siam, with my visa expiring!? We got our heads down for a few hours, then spent the afternoon at the immigration office extending my visa.
An early night and we were back at the airport for an emotional split, Debbies going back home

So here I am now, a plane to catch tommorow, of to Oz, I wanted to hang around here more in SE Asia, see Laos, Vietnam, Cambodia, but I need to have an excuse to come back soon and what with the following epsiode....
Join TravBuddy
to leave comments, meet new friends and share travel tips!