Malaysia, A flavoursome culture fusion - from high-tech to no-tech.
Kuala Lumpur Travel Blog
› entry 1 of 1 › view all entries
Full Name
Capital City
Area
Population
Time Zone
Daylight Saving Start
Daylight Saving End
Languages
Religion
Currency
Electricity
Electric Plug Details
British-style plug with two flat blades and one flat grounding blade
Country Dialing Code
60

Malaysia is one of the most pleasant, hassle-free countries to visit in southeast Asia. It's buoyant and wealthy, and has moved towards a pluralist culture based on a vibrant and interesting fusion of Malay, Chinese, Indian and indigenous cultures and customs.




Malaysia's love of Western-style industrialisation is abundantly clear in its big cities.
Aside from the gleaming glass towers of the 21st Century, though, Malaysia boasts some of the most superb beaches, mountains and national parks in Asia.

Batu Caves

religious/spiritual ; cave


just north of Kuala Lumpur a towering limestone outcrop is home to the impressive Batu Caves. The caves were 'officially' discovered around 120 years ago by American naturalist William Hornaday. A short time later a small Hindu shrine was built in the vast open space, later known as Temple Cave.

A flight of 272 steps leads up to Temple Cave. Beyond the towering main cavern, the space opens to an atrium-like cave at the rear. Many visitors are more spellbound by the monkeys that scale the vertical cliff faces than by the shrines which are dwarfed by the scale of the cave. The whole spectacle has been enhanced of late by an enormous golden statue of Muruga, also known as Lord Subramaniam, to whom the caves are dedicated.

Each year in late January or early February up to a million pilgrims visit here during the three days of Thaipusam. Lord Muruga's silver chariot takes pride of place as it makes its way from the Sri Mahamariamman Temple in KL's Chinatown to the caves.
Weather Overview
It's hot and humid year-round in Malaysia with temperatures rarely dropping below 20°C (68°F), even at night, and usually climbing to 30°C (86°F) or more during the day.
The tropics can take some adjusting to so take it easy when you first arrive and avoid running around in the heat of the midday sun. Throughout the region the humidity tends to hover around the 90% mark, but on the peninsula you can always escape from heat and humidity by retreating to the delightfully cool hill stations.

The region has a monsoonal climate, but only the east coast of peninsular Malaysia has a real rainy season. The wettest season on the west coast of the peninsula is between September and December; on the east coast and in Sabah and Sarawak it's between October and February. Rain, when it comes, generally interrupts the sunshine only briefly; most of it falls in short, strong bursts. It rarely rains all day.
Time Zone

GMT/UTC +8 ()
Daylight Saving
Start: not in use
End: not in use


Weights Measures System
Metric



Geography
Malaysia is divided into two distinct parts: Peninsular Malaysia and the East Malaysian provinces of Sabah and Sarawak in North Borneo.
The two regions are 650km (403mi) apart, separated by the South China Sea. Peninsular Malaysia shares borders with Thailand and Singapore. Sabah and Sarawak border Kalimantan (the Indonesian part of Borneo), and Sarawak surrounds the tiny enclave of Brunei. The Andaman Sea is on the west coast of the peninsula. The east coast of the peninsula, Sabah, and Sarawak all adjoin the South China Sea.

Peninsular Malaysia accounts for 40% of the country's land mass. Several mountain ranges run north-south along the spine of the peninsula. There is a wide, fertile plain on the west coast, and a narrow coastal plain on the east. Sabah and Sarawak are covered by dense jungles and have large river systems. Mt Kinabalu (4101m/13,450ft), in Sabah, is one of the highest peaks in southeast Asia



Tioman
Set like a glittering jewel amidst the South China Sea, Tioman Island, the largest of a group of 64 volcanic islands, beckons the visitor with its white beaches and crystal clear azure seas. A sense of excitement and mystery pervades the island and the visitor will be enchanted by the picturesque beauty of this tropical paradise.
Populated by friendly villagers who live an unhurried lifestyle, Tioman Island has a way of making your troubles seem like a thousand miles away. Considered one of the world's ten most beautiful islands, Tioman made its movie debut as the setting for the paradise island of "Bali Hai" in the film "South Pacific". This volcanic island has steep slopes of lush green vegetation and a multicolored profusion of orchids and other tropical flowers. Stunning waterfalls cascade down these tropical slopes and make their way down through secluded sandy beaches to the clear blue waters and its iridescent coral reefs. Untouched with its natural beauty, Tioman Island draw thousands of tourist yearly to its beaches. Sun lovers and those who are fascinated by sea shells will find the miles and miles of palm-fringed beaches a sheer delight with their myriad varieties of these lovely sea creatures. You can spend hours just languishing on the white pearly beach, looking up the sun for the perfect tan. Popular beaches include the ones around the villages of Tekek, Genting, and Salang. A walk on one of these beaches at sunset is truly enchanting and will simply take your breath away.

Getting There

By Air : Pelangi Air and Berjaya Air operate daily flights into Tioman from Kuala Lumpur.
The former also flies daily from Singapore.

By Sea : Tioman is accessible by passenger boat services from Mersing in Johor. Mersing is a pleasant town for its large bustling fishing fleet. It is also the setting-off point for a large number of islands in the South China Sea. The trip takes one and a half hours. There is also direct ferry services from Singapore to the island.

Pulau Perhentian
Situated 21km off the coast of Terengganu, Perhentian Islands consist of two islands: Pulau Perhentian Besar and Pulau Perhentian Kecil, which are revered by sunbathers.
A trip to this exotic tropical island is a must for all nature lovers and those who enjoy scuba diving, snorkeling, deep sea fishing, swimming, wind surfing, sailing, boating, and canoeing. It is surrounded by a virgin jungle, swaying palm trees, white sandy beaches, warm sapphire blue waters, and a colorful coral garden. Perhentian Islands is renowned as one of Malaysia's marine paradise.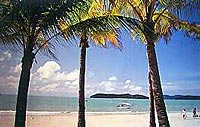 Langkawi, part of yet situated just off the coast of Kedah, is actually made up of 99 islands. The largest of which is Pulau Langkawi, while some of the others appear to be mere dots in the emerald green ocean when viewed from the air.
Langkawi offers natural attractions unsurpassed by any other in the region. Those who love a tropical island holiday and a place far from the maddening crowd will find their haven in Langakawi Island. The outstanding natural landscapes of the Langkawi Islands proclaim them a true tropical paradise. Besides its whites sandy beaches and limestone hills, its lush vegetation filled with exotic flora and fauna would attract natural lovers.

Local folklore has it that Langkawi derived its name from the eagle or "helang" as it is known in the Malay language. "Lang" for short and in old Malay, "kawi" denotes reddish brown; hence, Langkawi simply means reddish brown eagle. Where once, a group of 99 islands lay under a curse of a wrongly accused princess, there is today a new beginning, a new light, and as result a new budding and thriving holiday hideaway. The Langkawi you see today has been transformed almost beyond recognition. This is the legendary island where now major international businessmen meet to form new ventures and conclude deals whilst relaxing. The curse that lasted for seven generations can surely be said to have been lifted.

Getting There

By Air : Langkawi International Airport is serviced by Malaysia Airlines on a daily basis, and by Air Asia five times a week from Kuala Lumpur.
Silk Air also flies regularly from Singapore. There are international flights direct from Osaka in Japan and Taipei in Taiwan.

By Rail : Malayan Railway provides comfortable and economical rail services from Kuala Lumpur to Alor Setar and Arau. From these places, one has to take a taxi or bus to either Kuala Kedah or Kuala Perlis and then proceed by express ferry to the main island.

By Road : Driving has been much facilitated by the North-South Expressway. Make your way to Kuala Perlis or Kuala Kedah and then proceed by ferry to the island. There are also express buses offering comfortable rides to the ferry terminals from Kuala Lumpur.

By Sea : Other than cruises that leave from various ports like Malacca and Port Klang, express ferries provide daily regular services to Langkawi from both Kuala Perlis and Kuala Kedah. The journey takes 45 minutes and 1 hour and 15 minutes respectively.

Pulau Sipadan (Island)

Acknowledged as one of the best diving and unique spots in Southeast Asia, Pulau Sipadan is located off the small coastal town of Semporna on Sabah's eastern coast.
Just 15 feet from the beach, the water turns indigo blue as the sea drops abruptly to 2,850ft deep! It is rather awe-inspiring. Myriad of colorful tropical fish swim in the warm water near the surface whereas huge groupers nose about. Moreover, the water gets so dark that one would not really know what lurks below. This famous feature won Sipadan island a "Best Beach Dive in the World" award in 1993.

The sea is overflowing with marine life. The main attraction for divers is the rich and unique variety of corals both soft and hard. Reef fish of every shape and hue can be found in these waters. Colorful butterfly fishes, angel fishes, damsel fishes of electric blue and bright orange colors inhabit the coral reefs, thus adding to the splendor of the underwater havens.
Between April and September, the Green and Hawksbill turtles will come ashore in droves to nest in the soft golden sands of Sipadan. When you dive during this time, you are bound to encounter these harmless denizens of the deep.
A beautiful white-sand beach fringes Sipadan but the real beauty of this island is in its waters. The season for diving is from mid-February to mid-December. Visibility ranges from 60 feet to over 200 feet. Several dive spots have even been identified and given exotic names after the variety of corals and marine life that are unique to these spots.
There is the "Hanging Gardens", the "Barracuda Point", and the exciting "Turtle Cavern".

Professional diving companies operate on the island, complete with water, electricity, food, drinks, and comfortable accommodation for an unforgettable experience. To get there, one can take the 45-minute boat ride from Semporna.



| | |
| --- | --- |
| | Popular Places |
States
Sarawak
With its romantic and unlikely history, it's rich and varied architectural heritage, this is the Hidden Paradise of Borneo!

Malacca
Malaysia's history starts here.

The many remnants of the past will take you on a nostalgic journey that goes back to 500 years of colorful and glorious past.

Terengganu
Terengganu is one of the Malaysian states, which is endowed with a wealth of charming and refreshing natural landscapes.

Kedah
Known as the "Rice Bowl of Malaysia", the Kedah-Perlis rice plains produce more than half of the country's home grown rice supply. It is a land of unique natural beauty, surrounded by much greenery.

Johor
Situated at the southern end of Peninsula Malaysia, Johor is the third largest state in the country.

Sabah
Most visitors head straight for Mount Kinabalu, which is one of the highest mountains in Southeast Asia.

Perak
Perak, the Land of Grace, has long been renowned for its tin deposits. In fact, its name "Perak", which means silver in Malay...

Perlis
Although it is the smallest state in Malaysia, it boasts of a wealth of natural, cultural, and historical splendors that rival the bigger states.

Pahang
Exotic flora and fauna are an intrinsic part of the wild life and there is unspoiled beauty throughout the state.

Negeri Sembilan
Negeri Sembilan (NS) lies in the central region of Peninsular Malaysia, just south of the state of Selangor.

Selangor
Dubbed the "Industrial Hub of the Nation", Selangor is the country's premier state with its huge resources, well-developed communications network, industrial estates, and skilled manpower...

Kelantan
This northeastern state, which means the "Land of Lightning", is a wonderful treasure filled with delights.
WaltJake says:
Malaysia one place I regret I didn't get to, when I traveled to Asia three years ago.
Posted on: Feb 07, 2007
Join TravBuddy
to leave comments, meet new friends and share travel tips!