Eastern China Relaxing Trip Day 3
Shanghai Travel Blog
› entry 3 of 10 › view all entries
Eastern China Relaxing Trip Day 3
25/12/2006 Temple of the City God, Yuyuan Garden, dinner out with friends in hostel
We went back the hostel from the party like at 5am, so we've to sleep a bit longer. However, the hot shower was only provided before 12noon, so we got up around 11am to take a shower. I met Ulysse in the shower area, and he asked me to go for a lunch. He's leaving for Guilian in this afternoon, I thought I might be brave to ask him not to go, but I wasn't that brave enough. This is a real me, I'm always brave in many aspects but never in this area, I am always shy. We went to a restaurant that next to the hostel for lunch, then accompanied him back to the hostel for taking back his backpack, and he went to airport. Perhaps, I will never see him again. Is it worth to meet? I am not sure, perhaps he's just for fun and I thought so did I, but normally I'm always over serious.
We were supposed to have some random walks again, but we met another Moroccan friend who didn't come to the club last night and he asked us to join them to visit Shanghai, so we went out with them.

Building around the hostel.

Sean, Michelle, me, Moroccan guy 1, American guy. I'm sorry that I can't remember their name, especially for that 2 Moroccan guys, the American guy, we called him uncle because he looks much older than us obviously. He was our roommate, we suffered from his loudly noise emitting from his nose!!! He was supposed to fly to Thailand in this morning, however, he went to club with us last night and he couldn't get up this morning, when he got up, he know he missed his flight, so he slept again!!! His life's so relaxing, he said he got the first class flight ticket, so he could change the flying date whenever he wanted.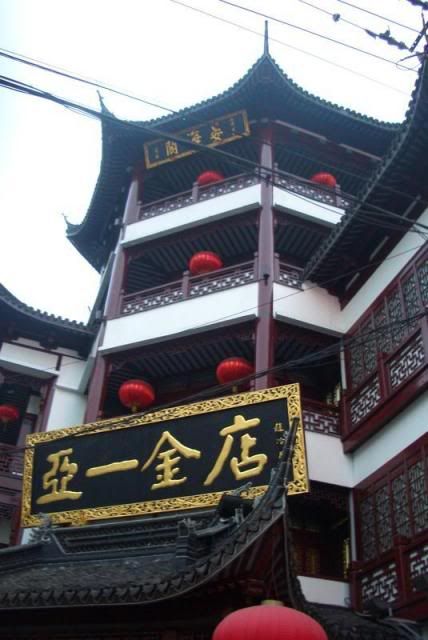 Sean has been living in Shanghai for a few months, so he took us to visit Shanghai's old town. This area is close to the famous temple in Shanghai called Chenghuang Miao (Temple of the City God 城隍廟).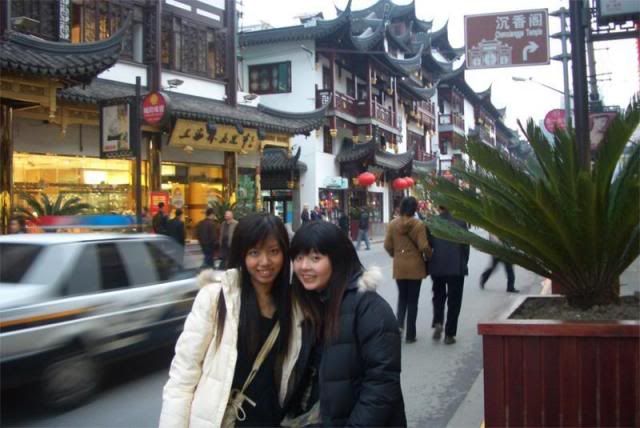 Actually, I didn't like this kind of so called old town because I didn't think they were that old. Obviously, they were built artificially recently, they're just completely different than Lijiang, Yunnan where is so real and beautiful.
The Temple of a City God in Shanghai was constructed after the Ming Dynasty Yunglo year (1403). The temple was used as a place to make sacrifices and offer gifts to the town god Qin Yubo and Huo Guang (Chinese general abundant land marquis). When Qing Dynasty the incense and candle is extremely prosperous, Shanghai's male and female, old and young, everybody knows the temple of a city God. After Shanghai opens the port the town god's temple and periphery local business converges, the market is prosperous, may purchase many daily necessities to the town god's temple, specially some everyday use small commodities. In the old town god's temple, has collected the multitudinous Shanghai local snack, it really can be called the snack kingdom.
(Source: http://en.wikipedia.org/wiki/The_temple_of_a_city_God)

Häagen-Dazs in Shanghai!! Totally unmatched!!

I heard that building behind us was the oldest building in here, it's now a tea house.

My hostel friends, from left to right, American uncle, Moroccan guy (we called him 'snack head' due to his hair style), fat Moroccan guy and the Aussie guy called Sean. I got a serious problem in memorizing people's names.
Yuyuan Garden was in here, but the sun was down soon, it's not good for taking photo, so we decided to wait for Alban then came again. The Moroccan guys wanted to eat some Moroccan food with other hostelmates, what a boring guys!!! We're in China, we should eat Chinese food, they can eat Moroccan food in their home everyday. I was strongly disagreed with their suggestion!!!
We went back to the hostel and meet other friends, I didn't expect we got that big group of friends from everywhere in the world living in the same hostel and going out together. Thanks for them supporting my idea, so we could finally eat Chinese food instead!!! We went to a VIP room from a decent Chinese restaurant. Michelle and I were in charged of ordering as they though we could read and speak Mandarin, haha, they just didn't know HK people couldn't speak good Mandarin. In fact, there was a local Chinese girl who worked in the hostel coming out with us, I didn't know why she just didn't help us when we got a problem in communicate with the waitress. Luckily, we could order some good food successfully, and other people were satisfied our contribution.
There was an interesting conversation, when we're eating some crab meat and Sean asked Michelle what was it, Michelle answered him "It's crab meat!", and Sean laughed and said, "Yeah, it's crap!!!" haha, we didn't realize "crab" & "crap" have that similar pronunciation before.

Michelle & me in the restaurant. Sean is just like a kid!! The guy sat next to me is from France, I just couldn't believe why there were many French in China. He has been traveling around the world from South African to Asia for 1.5 years. Wah..what a crazy guy!! I wish I could travel as long as he could. However, sometimes, when you travel that long period alone, one day, you may feel you miss your home and when you wake up, you are not sure which country you are. That's a terrible thing!! I did have this kind of experience once, when I was traveling alone in Florence during like my 20th day in Europe, I bought some breads for my dinner which was so expensive and bad taste, I ate alone, at that moment I really missed my mom's cooking.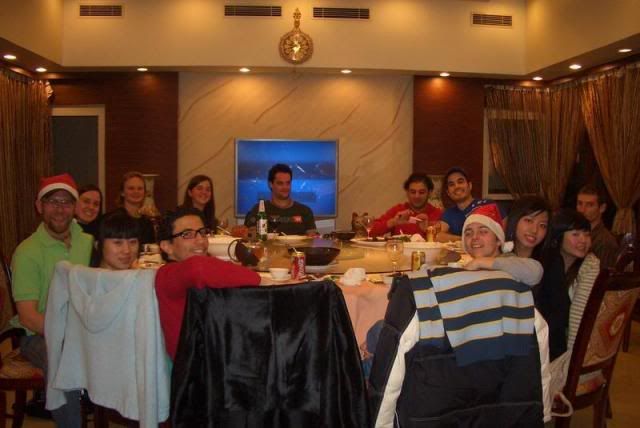 That's the friends in hostel. Of course, I can't remember their name, and even their home countries. From me to Michelle, anti-clockwise, French guy, Brazilian, fat Moroccan guy, French guy, girl from Switzerland or Sweden who's our roommate, I couldn't remember the next, Canadian girl, American uncle, Mongol girl, snack head Moroccan, Sean & Michelle!!!
That's Brazilian was so funny, when people saying there were too many fake products in Mainland China, he told me he bought a digital camera in Shanghai and he's worried about it's fake. Then he asked me was the dog's meat inside the dumpling. I said no, but he still kept asking me, then I asked if he tried the dog's meat before, he said no. Then the French guy sat next to me said, " You're liar, you've eaten it before!!" It's a kind of funny, I didn't know why he lied me, I thought he's a funny and silly guy, but I never imagined what'd he did in the rest of my trip.
We went back hostel and sleep after dinner, while some people were going to club again. We decided to sleep earlier as we're going to Suzhou tomorrow!!
Join TravBuddy
to leave comments, meet new friends and share travel tips!