Eastern China Relaxing Trip Day 1
Shanghai Travel Blog
› entry 1 of 10 › view all entries
Eastern China Relaxing Trip Day 1
23/12/2006 - CX368 HKG to PVG, Hiking Youth Hostel, a poor night
We took CX368 from Hong Kong International Airport to Shanghai Pudong International Airport at 18:40. The flight took off on time. I don't expect I'll gain some special experience from this trip, I just wanna to see my best friend, Alban and eat some delicious Shanghai food.
Michelle was just a bit of worried we'd get late, she pushed me to leave home at 3pm, I told her that's so early, but she just didn't care what I said. Eventually, we arrived the airport around 4pm something, the counter for check-in was near empty, we didn't need to line up. This was the first time of Michelle being a backpacker, I helped her to borrow a backpack from yman. Michelle looked quite funny with her big backpack, she put many stuff on her backpack, including a hair dryer that I had never taken for any trip. She just reminded my first time to be a backpacker travel alone, that's summer of 2005, I bought a lot of stuff to Europe, and my backpack was 15kg that's so heavy that I couldn't put it on my back alone, I needed some one to help. My mom was so worried about me, she thought I'd be killed by bearing this big backpack. However, at the end of that trip, I could run with the backpack to catch the train, so I thought everyone has his/her potential, I was quite sure Michelle would overcome it through this trip.
Since we got plenty of time, we took a window-shopping in the duty free shops, to be more exactly, we spent most of our time in the cosmetic duty free shops, Michelle was so addicted on seeing the cosmetic although she didn't buy anything.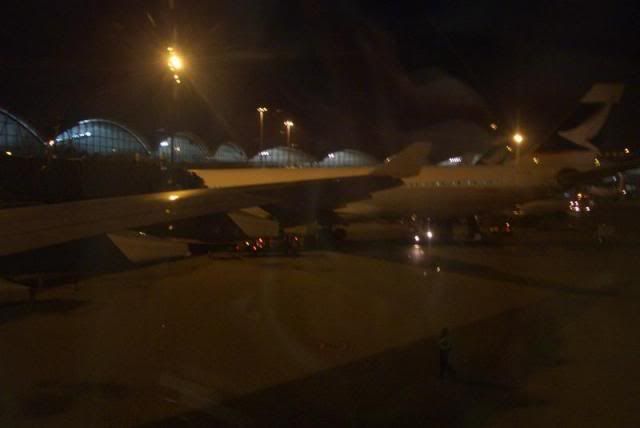 This is our plane!!
Actually this is my first time to take Cathay Pacific, a local but very expensive airline. I always take the cheapest airline, and I've never imagined Cathay would be the cheapest one. Fortunately, CX was just merged with Dragon Air, so it got a new destination to Shanghai, perhaps, they wanted to promote this new destination, we're offered a very cheap price, it's around $2400, all taxes were included.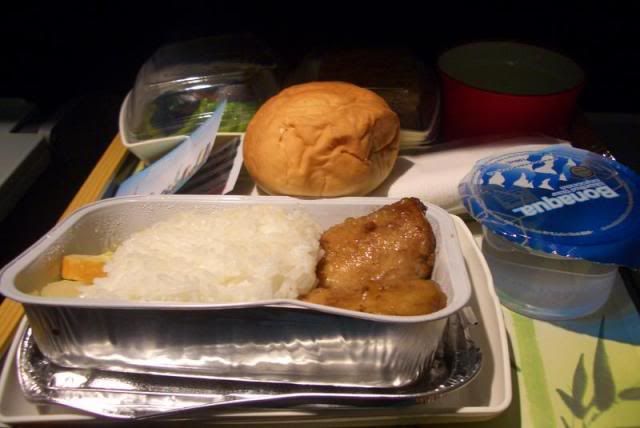 This is our food, I think it's quite good, perhaps, I traveled with many Chinese budget airline this year, they always provided some crap food to me, so I was very satisfied with those food. I heard that CX hired flight attendant in regardless their face, um, and I agreed with that after this trip, especially for the male flight attendant, they're neither handsome nor cute at all.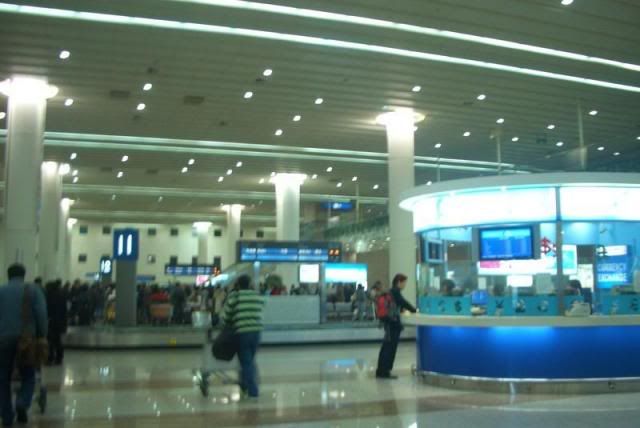 We arrived Shanghai at 21:15, this is the Shanghai Pudong International Airport. I was annoyed by those Chinese who were fight to pick their luggage back, I've no clue why they were that hurried and spoke so loud, they were just too rude. The only reason I could find was it's China!!! What a sad norm!!
We'd like to take the maglev train to the hostel, because it's the fastest way to go to the town centre, it took maximum 431 km/hr, it's a really high speed. Unfortunately, it had been closed when we arrived. What a shame that it closed that early!! We've no choice but took the bus to the town centre. The customer service officer of the bus was totally rude, I didn't know why she didn't allow us to put our big backpacks into the luggage holding place, and asked us to bring it near our seat. The bus was completely full, there were some late comers who needed to stand for an hour. It's just so congested to put our backpacks in the cabinet. There was a Chinese guy sitting next to me, he thought I was a Korean, and he kept speaking English to me, I was quite surprise that he could speak good English though with a strange accent. He's so helpful to teach us which stop should we get out and how to get back to the hostel. I told him that we could listen Mandarin, but he still spoke in English, perhaps, he couldn't understand my Mandarin, I thought my Mandarin was improves by the previous trip in China, however, after 6 months not practicing, I forgot all.
The lady who sold the tickets to us also reminded us to get off at People's Square, then we asked some people for direction to the hostel, they all told us that it'd quite far away from here. It's so strange because my map showed it's quite close, we took a taxi to the hostel finally. Unluckily, the taxi driver said the road to our hostel was single entry only, and he didn't drive us to there, so we needed to walk a bit. We arrived around 11:00pm, I was not sure, we're so happy to arrive the hostel, but when I first asked the receptionist, he bought a bad new. We called to that hostel to reserve our beds when we were in HK, since we didn't know how much time required to arrive the hostel from the airport, we told the staff our arrival time, and he said to help us reserve our room until 10:30pm. So, we came out arriving late and he just rent out beds to others, and there were no free bed anymore, we're so shocked about it. The staff recommended us to stay in a budget hotel, that's about ?50 for a double room, but I didn't like living in hotel and it's expensive in China, but we didn't have any choice, so we were going to that hotel. However, there was a Moroccan guy, he said he and his friend were going out tonight and wouldn't come back until tomorrow morning, they just wanted to help us as they visited HK before and really loved HK. So, we followed them to their room, it's a 4 people dormitory which was the same kind of room we supposed to stay, perhaps, I think everything in a simple way, and I always meet good people, so I thanked them for giving us a room, and they passed their key card to us and left the hostel. There was another Korean guy in the same room who loved Chinese culture so much, he could speak fair mandarin. Since I hadn't eaten anything for the whole day except the little food on plane, I'd like to eat and the Korean accompanied us and showed our way to buy some snacks. We wanted to buy a phone car in the convenient shop, however, we went to many convenient shops but all were sold out, then we understand there were too many tourists in Shanghai.
Then we came back to the hostel because it's a bit cold but then the staff in hostel knocked our door and asked us for registration, but the receptionist couldn't allow us to register as it's the hostel policy that every bed could only stay one person, we explained our situation to him and promised him these 2 guys wouldn't come back tonight, but he wasn't just so ignorant and ruthless to ask us left. It's midnight, that we were not possible to find another place to stay and in fact, every hostel were full. At that moment we met another Aussie young guy, Sean, he was so skinny and small, Michelle just thought why a kid would travel alone in China, however, Sean told me the receptionist would leave at 2am, so we could come back to sleep, nobody cared, he then took us a 24 hours McDonald's, we were so shocked that there were many Chinese sleeping in that McDonald's. We had nice chat to Sean, he was only a year younger than me and have been teaching in Shanghai for 4 months, we just couldn't believe he was a teacher with his kid face. He was planning to go to a club at 2am and asked us to come with him, but we're too tired for the first night arrival and we'd like to go clubbing in Christmas Eve instead. However, Sean found he was tired either, so he cancelled his clubbing proposal and took us to the Bund. It's so cold in the Bund in mid-night and not beautiful at all as all lights were turned off. It's completely different as in HK, our lights will be on for the whole night. Then we came back to the hostel, and so surprised that we saw the 2 Moroccan guys again, he explained to the staff that they would stay in the common area and let us to sleep on their bed, but the receptionist was totally cold in blood that pushing we 2 little girls out to that freezing street. The security staff was so sorry about our situation, and he promised us that receptionist would sleep at 3am and we could come back again, he would open the door for us. Then the Moroccan felt so sorry to us as well and took us to the same 24 hours McDonald's again, at least it's warm in there. It's a strange experience for us to go out with 3 new met guys, and we regretted so much why didn't we just go to the hotel at the beginning, we wasted a lot of time and energy in that night and my eyes were so tired as I was with my contact lens on. Eventually, we came back at 3am, the security opened the door for us and let us to sleep in the common area, he gave his blanket to us and we slept in the sofa until the next morning, before the receptionist came. Actually, we couldn't really sleep, as it's really cold at night and uncomfortable, he said we were such an unlucky girl with the awful experience in the first night arrival. We slept on the until 5:30am and went out to have a early breakfast, as we know, there were 2 people leaving at 6am, so we could have free bed for staying!!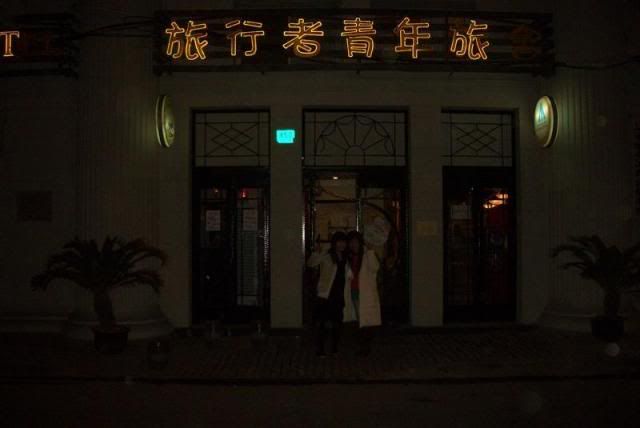 This was the hostel!!! Poor Michelle & me!!
Join TravBuddy
to leave comments, meet new friends and share travel tips!