Western Mindanao cities (will they remain safe and peaceful? i hate wars)
Mindanao Travel Blog
› entry 2 of 6 › view all entries
Mindanao Cities
(i've been updating this every now and then because of the current situation in Southern and Central Mindanao - thank you for bearing with me).
On a lighter note
I missed these cities so much. I haven't been to Dipolog, Oroquieta and Ozamis for 8 years (since I graduated from college) and it's refreshing to visit them again with friends and to look for changes, if there are any J
Well, it wasn't really purely for pleasure. It was for official business. We need to do an end-of-project evaluation for one of our projects there. Good thing though I was with girls who love to have fun, take pictures, visit new places and just enjoy the last years of us being in our twenties and before we use all the numbers in the calendar, hahaha. Oh my, am getting old already J
With the war currently going on between MILF and the government troops in the southernmost part of the island, it's a good thing that these cities of Western and Northern Mindanao remain relatively safe and peaceful and hopefully they stay that way.
So my friends, have a good read on the next entries about the cities of Dipolog, Oroquieta, Ozamiz, Iligan up to my flight to Cebu. I had fun here last August 3-7 :) May the stories give you more ideas about Mindanao - an island with many faces, cultures and faiths. An island struggling now for peace.
A call for peace
Yes, we do hope and pray that the ongoing war in Cotabato and the neighboring towns would end soon and peace will reign again in this beautiful island - my home, Mindanao.
I will soon make another blog on this one - the Southern Mindanao. Maybe when we will know whether we will be deployed in the areas to help the communities. Maybe.
But not now. No, not now my friends.
For now, I'll just focus on the good things - the beauty of the cities of Mindanao and the warmth of its people.
I'm remembering now one of the topics in the "friendly debates and discussions group - things you wish others knew about your country" ; well, it's more of "things I wish others knew of Mindanao - i wish people would appreciate the bouny Mother Nature has given this island (may it be mountains, beaches, minerals, etcetera). I wish people would understand that there is soo much to Mindanao other than wars and that these wars are not happening in all areas of the island. I wish others will know how much pain these biases had caused the people of Mindanao. And how differences and weak political leadership had affected so many of us here.
Now I have to stop these 'wishes'. They will have to come later - with another blog.
For now, we'll discover more the beauty of the cities of Western Mindanao :) I hope they will remain this way (and be more beautiful in the future.)
Do pray for Southern and Central Mindanao. Sooo many had been affected already - Muslims and Christians alike.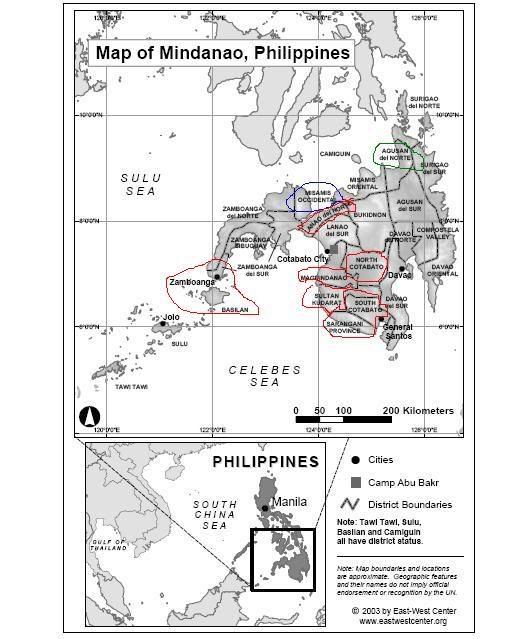 Mindanao
areas circled in red - some villages of these areas are currently at war (not all tho)
(Davao City - 4 hours away from Sarangani is where I am right now)
areas circled in blue - where the cities in this blog are
areas circled in green - where my hometown is
kilnamona says:
hi ,i read about sarangani from an american guy who went there ,on tripadvisor ,would u say it is safe for foreigner ? as its near cotabato etc- where is ur home town?.
Posted on: Nov 10, 2010

yheleen says:
;) yea, it's a good thing we have a God to lean on ;) stay safe also friend ...
Posted on: Aug 21, 2008

blurbmoi says:
I love your comment friend on God being bigger:p
Posted on: Aug 21, 2008
Join TravBuddy
to leave comments, meet new friends and share travel tips!