Head East, one way or another.
Salt Lake City Travel Blog
› entry 1 of 8 › view all entries
May 11th, 2007 – by:
Ogri
I arrived Wednesday night in Salt Lake City with no baggage. They had a track on it but it wouldn't be in until 11 PM. So Gary Eagan and I headed out for some Mexican vittles and some great chat. The food was great at the Red Iguana, sorry Seth, no pictures. Gary let me have use of his condo while he stayed elsewhere. Nice place with lots of MC gear and an Iron Butt load of awards he has won.

My luggage didn't arrive until the next morning. I unpacked and got everything ready before I enjoyed a cup of coffee and the view from the deck.



After stopping at Salt Lake Ducati and picking up the bike we headed back to Gary's place to pack and ship back my empty luggage and helmet. I had bought the wrong clear shield and only had the tinted so Gary lent me a Suomy Ducati lid with both shields to use on this trip.

I headed West along the Great Salt Lake and on to the Bonneville Salt Flats.



I grabbed a sample of sand and ventured on to the salt. It was firm and felt good, I stopped before I got carried away and did something stupid.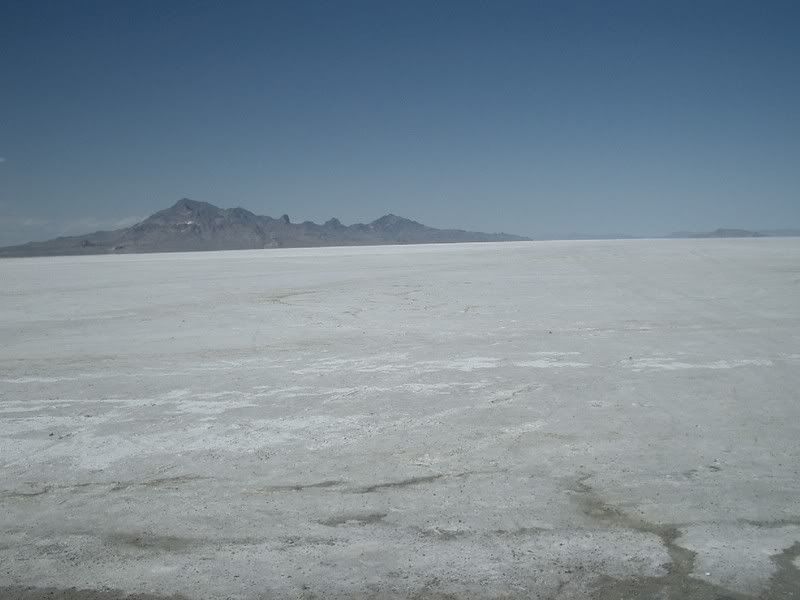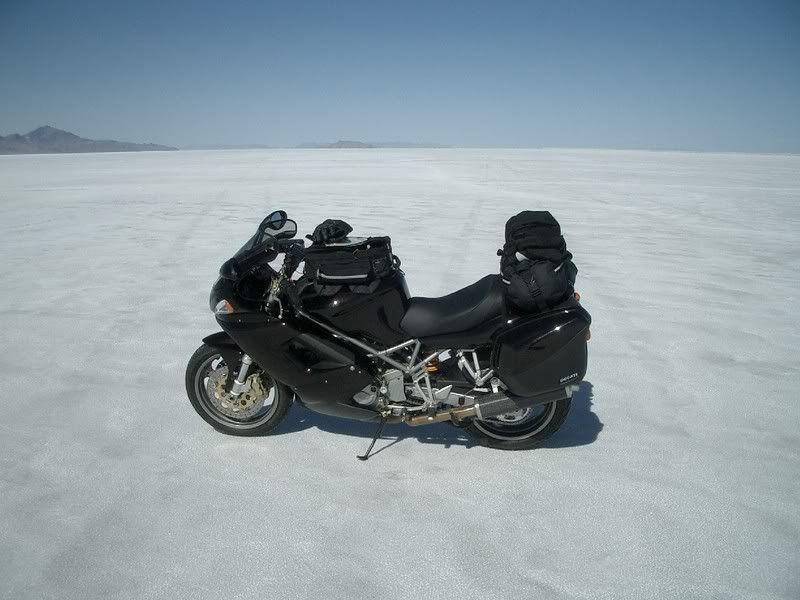 I continued West To Nevada and then South towards Ely, NV. Of course I pushed the gas thing too far, lessons not learned in Texas last year and found the Stage Stop Gas for 4.5 gallons (17 L) in a 5 gallon (19 L) tank.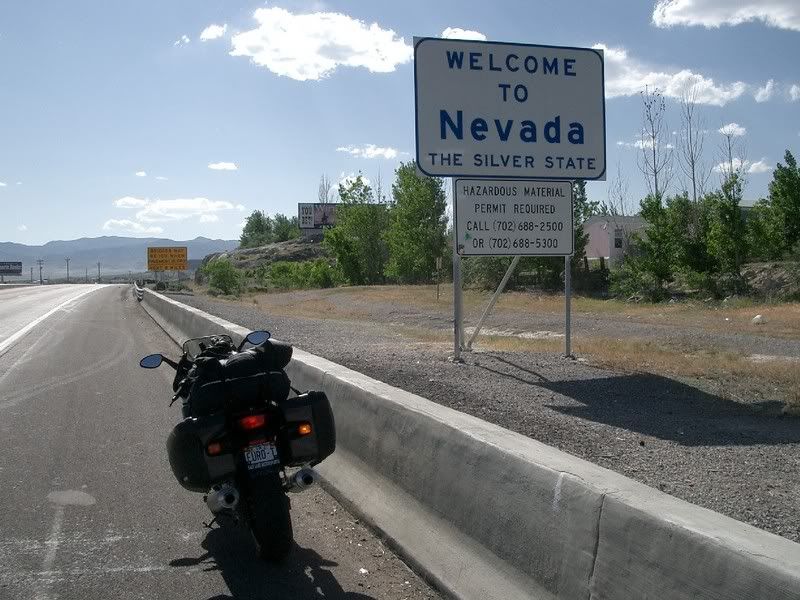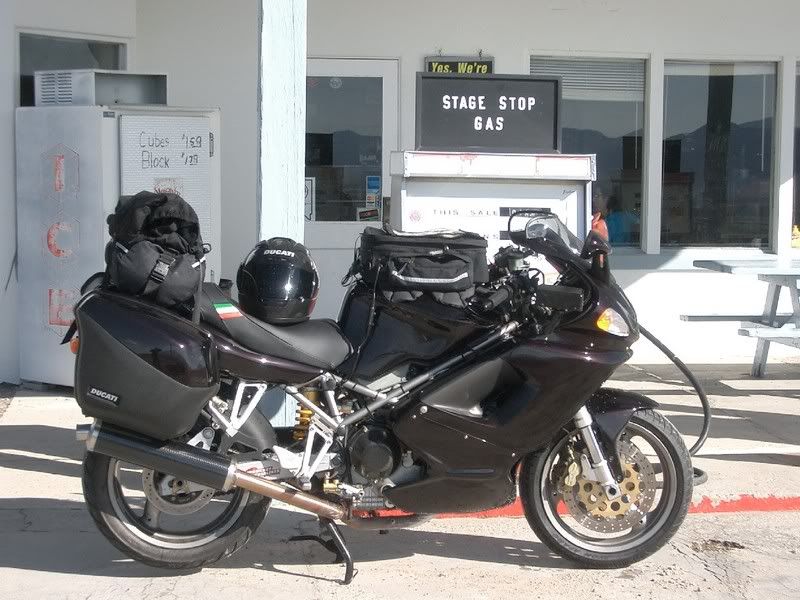 There wasn't much else in the area and I am glad this station was here.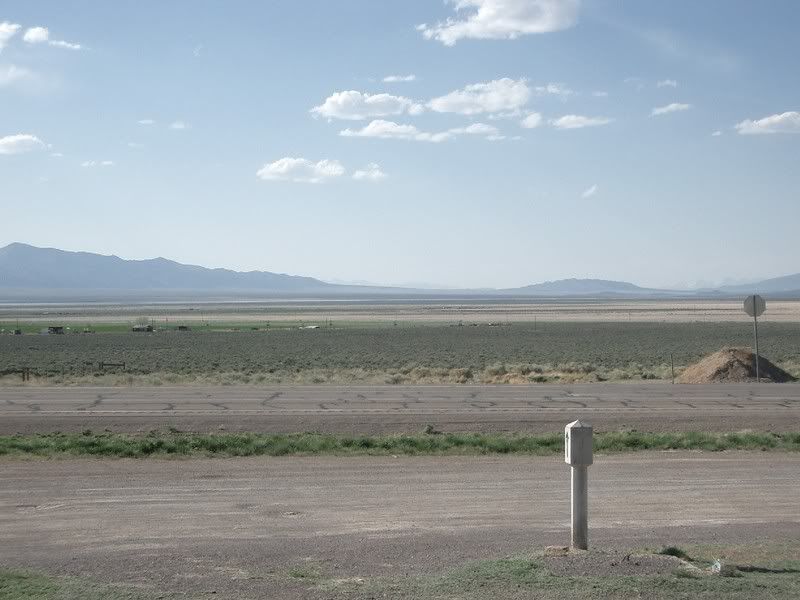 From there it was a bit of a boring ride to Ely. I found the Hotel Nevada in Ely that Gary recommended. It was built in 1929. I'm staying in Hoot Gibson's room. He was a cowboy way back when and also a movie star. Here is the view from my window and the hotel. When I checked in they gave me an MC discount and made me move the bike out front so they could watch it.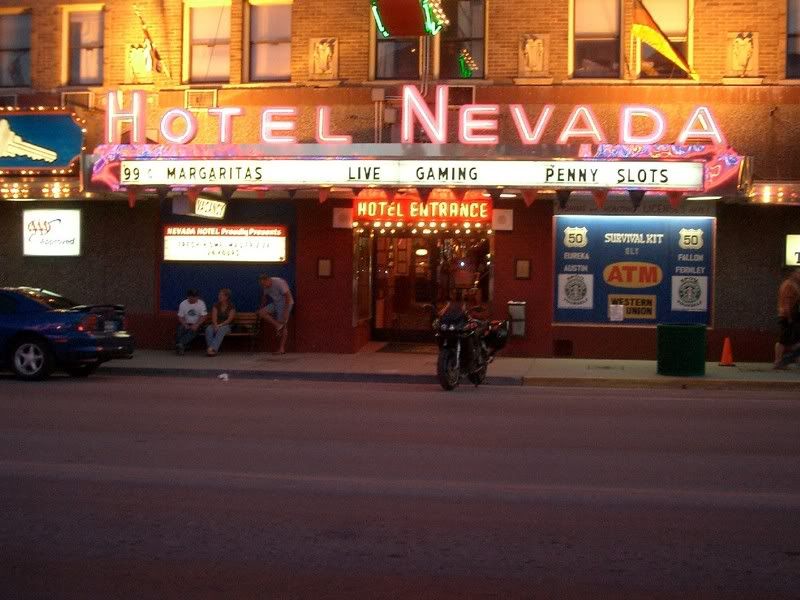 That's it for today, it was a 254 mile (409 km) day due to the late start at 3 pm. Tomorrow should be a blast. By the way the temps are in the mid to high eighties (Above 30 C), should have brought the mess gear.

Jim On Tour
_________________
Jim Moss IBA #8426 MOA #32559
No account saddle bum. I don't know you Cowboy and you don't know me.
Somewhere Directly Above The Center Of The Earth
imcarol says:
I MISS SALT LAKE CITY!!!
Posted on: Aug 22, 2008
Join TravBuddy
to leave comments, meet new friends and share travel tips!