Beautiful kids, beautiful families
Las Nieves Travel Blog
› entry 1 of 1 › view all entries
It's amazing how productive the rural areas are – in all aspects – in agricultural products (including livestock) AND in the number of children the families have β€œ)
It was a pleasant surprise to know families having 14 children or 13 or 12 (a dozen, wow). Most have 6 or 7 and only a few have 3 or less.
It's also heartwarming to witness how close their families are to each other – including cousins, grandparents and all other members of the extended families.
In the evenings, they usually gather to sing songs, to tell stories and to laugh together. Although many of the children were not able to finish college (a common thing in the rural areas), still they try to help each other and although faced with financial scarcity – they are always willing to extend help to others.
I can't help but wonder why people in the cities are no longer as helpful and as cheerful as these simple folks – ready to help, even willing to give their all.
Ah, happiness, my friends is never dependent on how rich you are financially. Witnessing the joys of these people living in simplicity is proof enough β€œ)
yheleen says:
yeah Mickey ") 14 kids really is kind of amazing ")
Posted on: May 30, 2008

yheleen says:
hahaha... my, do tell me if you can find such treasure in Manila Nina ")
Posted on: May 30, 2008

yheleen says:
wow - you've got a great family Stephen, am so happy for you ") yep..families are really treasures ")
Posted on: May 30, 2008
Join TravBuddy
to leave comments, meet new friends and share travel tips!
of couse I can't miss the fruits and there were many fruit trees in the area - durian, lanzones, rambutan, coconuts, mango, guyabano (which is called rabana here), jackfruit, avocados, pineapples, pomelos, guavas, bananas, peanuts - ah... the list is endless - i love the place and the fruits soooo much.
PLUS - the vegetables, of course, and other plants..
The area is indeed blessed with great resources (including fishes and shrimps from the river - which unfortunately I wasn't able to take pictures :(
But then - what I've seen I've learned to love a lot ") Such abundance...
yheleen says:
hahaha - that' a cute comment Yondale - thank you..oh.. you're in Myanmar now? how are things there?
Posted on: May 29, 2008

yheleen says:
hi Sarah - you love rambutans too?
Posted on: May 29, 2008

sarahelaine says:
Very jealous! I had rambutans in the Netherlands, but I can't find them here in the UK. :(
Posted on: May 29, 2008
One of the things i really do look forward every time i visit the rural areas are the farm animals - my favorites..
here, i enjoyed looking at them, following them and listening to their noises and just being with them - haha.. if only i can have them in the city ")
my father who's a farmer has influenced me a lot on this... my love for animals always help me to experience pure joy every time i interact with them ")
in this trip, i can NEVER forget one peacock and it was one of my funniest experiences for this year. I was so busy observing a mother hen and her chicks and how the hen protects the little ones that i did not notice the peacock behind me. He had been making noises for a long time but since i i had my full attention on the hen, i was not able to react to the peacock's noises UNTIL he was very close behind me.
. Oh my, how surprised I was ") and when I turned around to see who was behind me - the peacock made a very loud noise and acted as if he'll attack me LOL... my natural reaction of course was to stand right away and take some steps back. Sensing my surprise (and fear, I miust admit), the peacock gained confidence and ACTUALLY attacked me, hahaha.. Boy, did I run fast, haha..
When I finally was some distance away, I caught my breath and laughed aloud - my cousins who were with me laughed at me.. Oh my.. i can never forget the peacock - so I said, i have to get a picture of it so of course, after catching my breath, I went back slowly and took some pictures of the peacock.. Hmm..good that he didn't attack me this time - he just looked at me as if saying "now who's the winner?" hahaha...
yheleen says:
hehe.. i've posted the peacock picture on this blog and the caption is 'my bestfriend peacock' ")

Here's the link:

http://www.travbuddy.com/photos_popup.php?pid=1938991
Posted on: May 31, 2008

martinezsmi says:
love the story but where is the peacock picture?
sounds great reading these makes me want to go even more someday;)
Posted on: May 30, 2008
(under construction - be back for the entry - pics for now) ")
yheleen says:
Thank you Claire ")
Posted on: May 31, 2008

yheleen says:
thank you Michael ") wow - intereseting question. Squash is my favorite vegetable and I love corns too.. But, hmm.. so far, I haven't yet eaten both as same dish - but love to explore on that one :)
Posted on: May 31, 2008

martinezsmi says:
I'm always interested in what people eat and how they live what the see when they go outside and what they think you bring all of this to me and i thank you
one question do you guys eat squash and corn together like we do or just as separate dishes
Posted on: May 30, 2008
Just this weekend, i had the opportunity to travel to the southern part of our province - Las Nieves, Agusan del Norte which is one of the best rice producers of the country. The area is very rich - with great soil, beautiful river and bountiful natural resources.
But then, like most of the country, it's ironic that farmers living here are poor and infrastructures/facilities are not adequate for the population.
Ah - the extremes and irony of living in the Philippines. In my perception, our country generally is not a poor one - but suffering from unequal distribution of wealth and mismanagement of resources :(
But then, what I love the most here is that whatever the living condition is, the Filipino people will never stop smiling and living a life of joy.
Such happy people - my people :)
So, there I was, traveling the road less travelled to the last municipality of the province of Agusan in CARAGA. We rode for two hours in a motorcycle and got to enjoy the sites of the place. I love to travel here early in the morning (around 5:30 am) when one can feel the fresh air the most and enjoy the fog.
Las Nieves is a good 2 hour's ride from Butuan City. People usually ride in jeepneys (with people on top and on the sides of the jeepney). Usually, trips are by schedule and departure time depends upon whether the jeep had been full already. In local dialect, we call them 'alas puno'.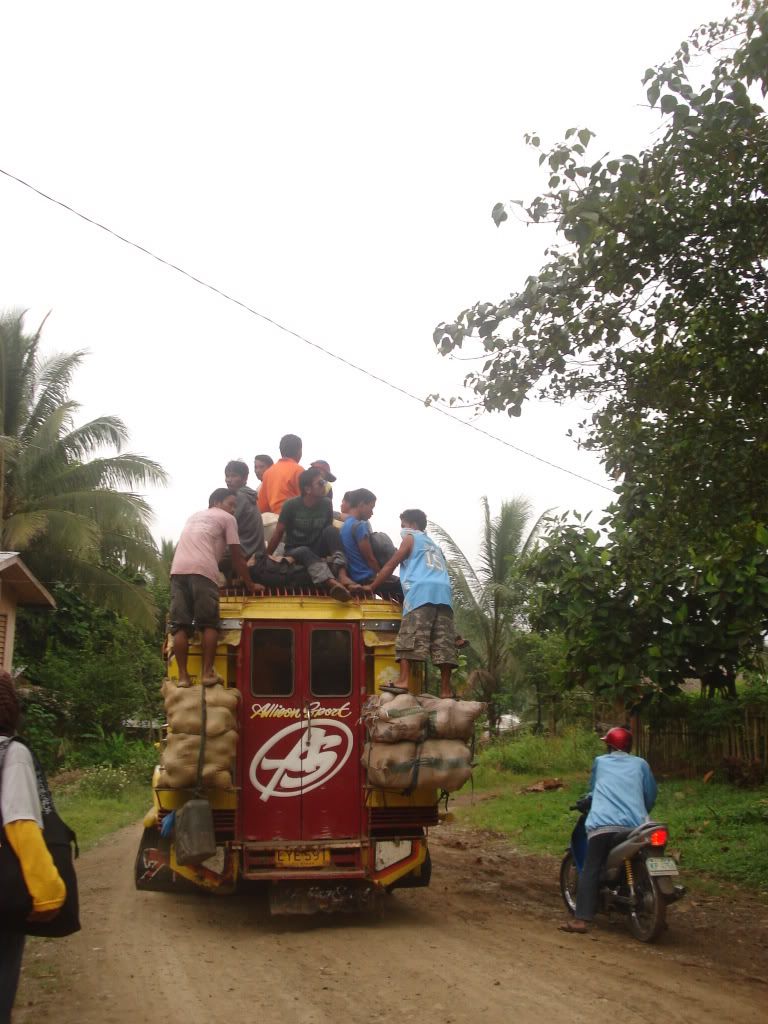 the jeepney
The roads going there has not yet been cemented and is purely rough road. On rainy days, well, expect the roads to be very muddy and some are hard to pass through. Big trucks carrying logs (Agusan is well known for its timber) had damaged the roads even more.
While going there, you can see the Agusan River (the longest one in Mindanao) and also get to enjoy the green scenes of the area (fruit trees, ricefields, big trees and more).
one foggy day - love the road
We had fun on our trip there especially going home when the road was muddier because of the rain. Sometimes, we need to get off the motorbike and hike. I had no complains tho since it gave me more time to enjoy the things around me which speaks greatly of abundance ")
yheleen says:
you're welcome yolie :)
Posted on: Jun 18, 2008

yjc513 says:
Thank you so much for sharing this with us. I really enjoyed reading and enlightening myself on the Philippines..:-)
Yolanda
Posted on: Jun 18, 2008

yheleen says:
hahaha :) am glad you like the Philippines Thomas ") There are lots of farms to go too ")
Posted on: May 31, 2008