Visiting President Marcos - the man both adored AND despised by many
Batac Travel Blog
› entry 1 of 1 › view all entries
After traveling for 9 hours from Tuguegarao, Cagayan Valley - we finally arrived in Ilocos. Of course, our ultimate destination was Vigan - the UNESCO heritage site.
traveling to beautiful Ilocos from Cagayan Valley
But, secretly, I was hoping that we will also find time to visit Batac - home of the Marcoses, I'm so curious how his mausoleum looks like.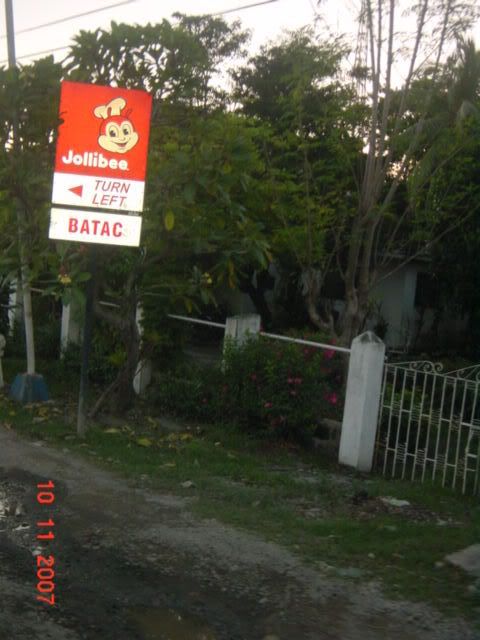 Batac, here we come - i love Jolibee
But we only have a day to roam Vigan and Batac.
We arrived in Saturday afternoon and we have a flight to catch in
Laoag
by Sunday eve. We will stay in
Manila
for the eve for us not to miss our early flight on Monday morning (4:30 AM) for Zamboanga City - grr.. such short time.
But then, anyway - so we had a great time in Vigan and my friends were getting ready for Laoag. I brought up the subject on Batac, said, 'why not drop by Marcos' mausoleum?' :) Glad, they conceded, except that - I will be the only one to go inside - they're definitely not coming.
'Why not?'
'We don't like Marcos.'
Argh...
Well, it wasn't that surprising tho - since history tells us how Marcos' dictatorship made Philippines famous (with the People's Power and Cory overthrowing Marcos in the 80s).
But then - I needed to go - can't miss this one. Ilocos is long, long way far from Mindanao - and it's not everyday or every month, for that matter, that I can be here. So, I said 'okay, I can go there alone - just wait for me in the car.
'
So, off we go to Batac (after stopping briefly in Gov. Chavit Sigson's Baluarte). And, I was glad that we did.
Gov. Chavit Singson's Baluarte
At last, I have something to tell (and to show) my father. Ironically, he loves Marcos - said that the late President had done more for this country, especially to farmers and to agriculture in general, than anybody else. There were more developments, more infrastructure, more investments, more food in the table, etcetera.
Marcos' words
Ah, I've given up debating my father on this topic. After all my blah blah on human rights' violations Marcos committed, all the pains the country went through during Martial Law and showing him all the negativities , he remains firm on his stand and I have to respect that on him.
(I wasn't really a Martial Law baby but history class, books and papers had shown me enough on the subject) .
So, I was there at last in Batac - just a small town. I was kind of expecting a big (grand) house, instead it was a homey, old house - ancestral home of the Marcoses, I was told later.
Ancestral home of the Marcoses
The house holds paraphernalias and memoirs of the late president (when he was still in congress, then in Senate and as President of the Republic for 20 years). Imelda was of course there, so 'imeldific'.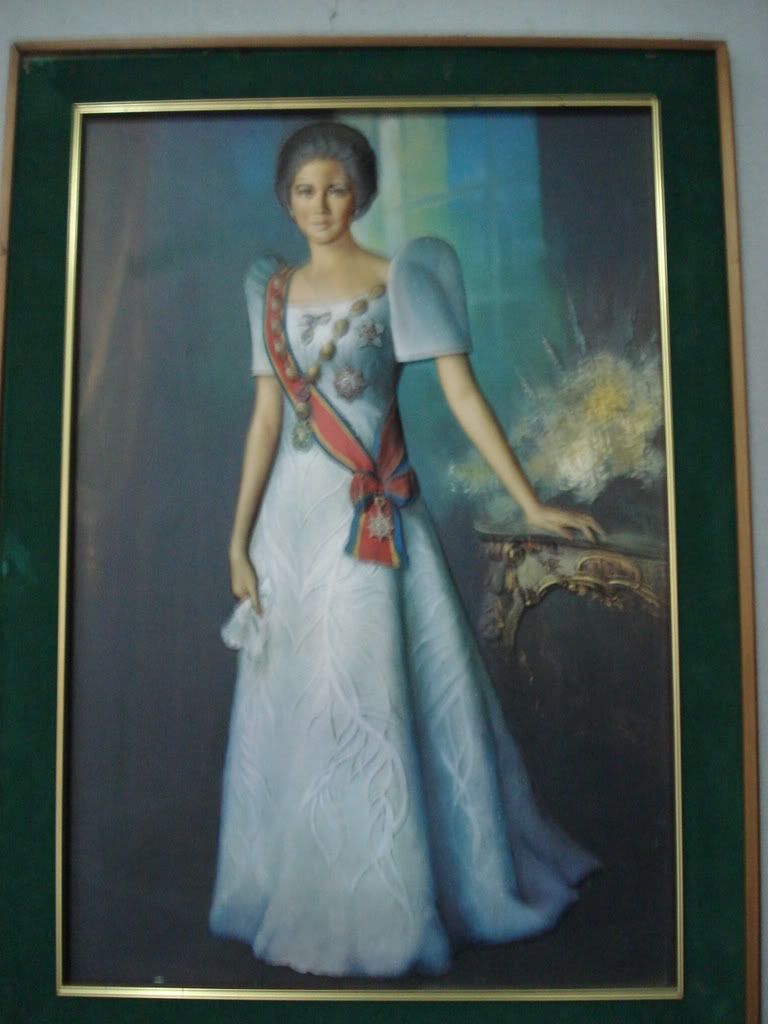 Imelda
My friends in the car decided to come out and join me. They reasoned, 'well, since we're already here, so let's look around as well" Boy, was I glad to hear that.
Otherwise, who would take my pictures for me? hehe.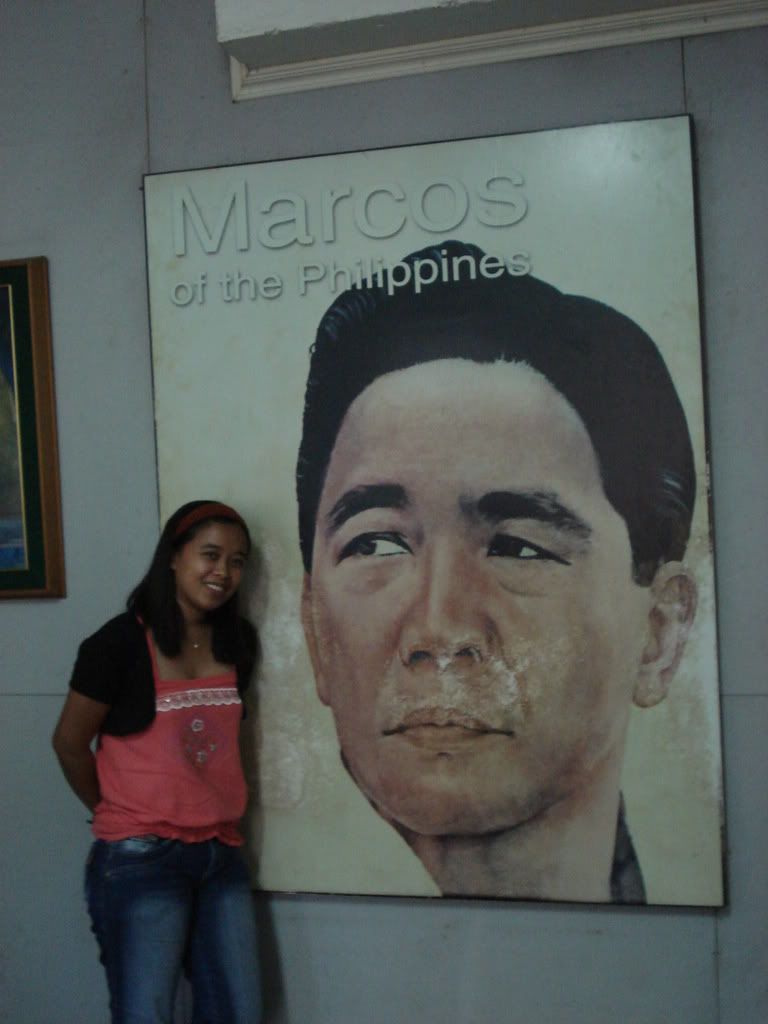 with Marcos - the man adored and despised by many - is he a hero or a villain?
We we're able to meet the guardian of the mausoleum - Marcos' loyal aide. He shared to us he will not leave the president until he will be properly buried as 'bayani'. Hmm. I don't know about that one - am not also sure whether I want Marcos buried as hero or not, can't make up my mind yet. My father would think otherwise tho.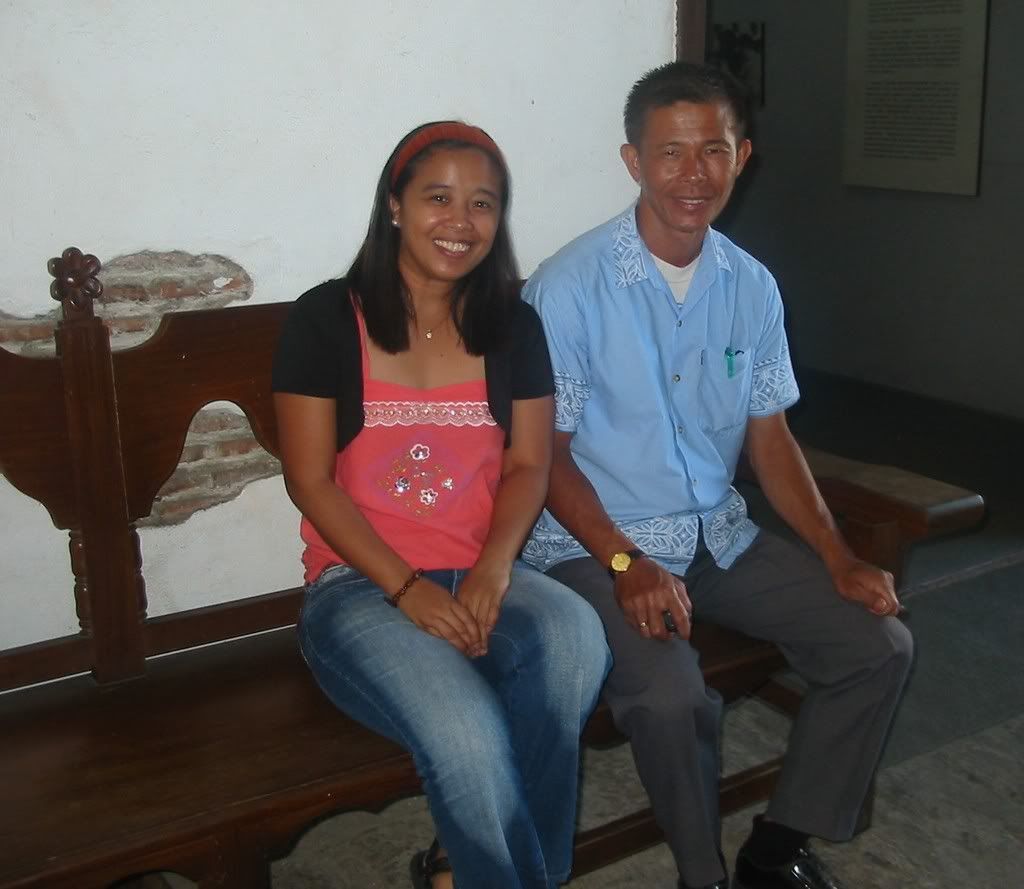 with Marcos' loyal aide - mausoleum's guardian
We begged the aide to let us take pictures of the mausoleum but no, he can't be persuaded so I just settled with taking photo of the entrance instead.
to the mausoleum - where Marcos' dead frozen body lay
Originally, the plan was for me to go alone - my friends be left behind. But, well, curiosity get the better of them, so, in the end, they also joined me. It was sooo cold inside, and dark. Kind of creepy - soft music in the background, can't understand the language tho.
And finally, there he is - President Marcos' dead body full of wax lying in a coffin sealed with glass - been there for more than a decade now, I guess. Must be very expensive to maintain. There's even a debate on who should pay for the bills - the family or the government? Ah, typical Philippine political squabbles.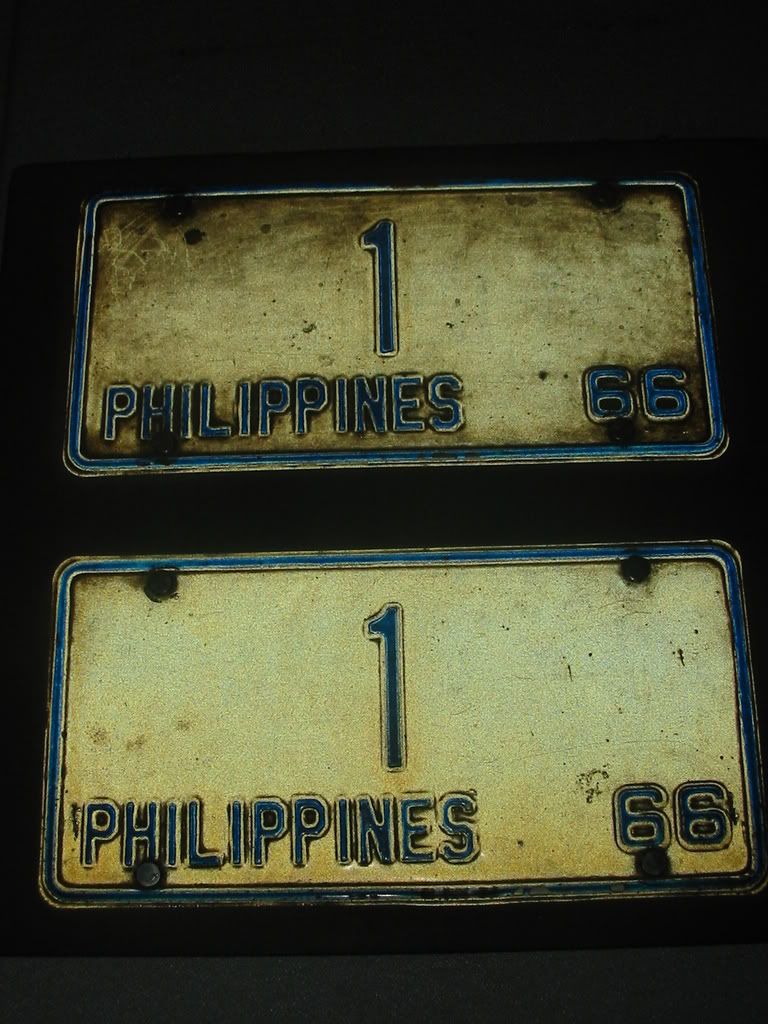 No. 1
He's lying there peacefully with the Philippine flag beside him and the seal of his presideny - Marcos lying in all his glory.
I wonder what the Anti-Marcos must be thinking if they're here? or whether they would even care to be here? So many Anti-Marcoses out there.
Marcos' vision
We learned that his family's regularly visiting him - his children Imee, Bongbong and Imelda, occassionally.
It was a quick visit - a quick glance at Philippine history. On the way to Laoag, it was only then that one of my friends shared why she originaly didn't want to visit Marcos - her family was also a victim of Martial law and her, being a Martial law baby had experienced or seen too much brutality on the 70s. She was still a student then - an activitist - fighting for human rights and things like these were then considered dangerous back then (more so in Mindanao). She was harboring a deep resentment against the President - and visiting him was also like healing for her.
I finally understood. While waiting for our flight, We then had many storytelling, discussions on what happened in Marcos' time an even after his dictatorship.
Ah, that was one-of-a-kind experience.
yheleen says:
yeah..learning while travelling :)
Posted on: Apr 29, 2008

milltownmeadow says:
Very good I would like to do this
sometime.
Posted on: Apr 29, 2008
Join TravBuddy
to leave comments, meet new friends and share travel tips!