Tips for Travellers to Taipei and Taiwan
Taipei Travel Blog
› entry 7 of 7 › view all entries
let's look at my Tips for Travelers visiting:
1. Visit Taiwan as part of a broader Far East Trip..:NAMESPACE PREFIX = O />
· Although this may not be the most popular tip with Taiwanese people, I would recommend that if you want to visit ..:NAMESPACE PREFIX = ST1 />Taiwan as a tourist that you include it as part of a broader visit to the Far East. As you will see from my next tip about getting there, as it is probably easier to get there via another city like Hong Kong this will be easy and cost effective to plan.
· The reason I say this is that while there enough to do, it is not really geared up as a major tourist destination and so there is not a long list of things and options for a tourist to tap into. If you know people then this is quite different. After I had done my business, then some local colleagues then took me out and I discovered a whole new side to Taiwan with some great restaurants, interesting shopping and roadside cafes and food concepts that I just was never able to find by looking online, in the limited guides and by asking at the hotel.
· I think a great combination trip would be Hong Kong for a few days and Taipei for a few days as you can get to see and experience a lot of Hong Kong over a few days to a week, as my Hong Kong podcast will tell you. It is then only an hour and a bit hop to Taipei by plane
2. Getting there, and getting around once there
It is not as easy to get to Taiwan on a direct flight as many of the more popular tourist countries in Asia, although EVA Air the main carrier based out of Taipei do seem to be expanding quite fast and offering more direct routes. There are no direct flights to and from China as China does not recognized Taiwan and will not allow flights to land directly from the island. As a result of all of the Hong Kong seems to be a major hub city for getting to Taipei. Cathy Pacific, the Hong Kong based airline, for example has flights that seem to be going almost every hour and they are always very busy. They also have a huge route network that fly into Hong Kong (I think about from 150 or so cities around the world) and that seems to be the next best alternative if Eva does not fly direct from the city you are traveling from. They also have, in my view, better seats and service
I flew on Cathy Pacific from London, and on this trip was lucky enough to end up flying First both ways to Hong Kong and Business on the connecting flight. Read my review of Cathy Pacific by clicking hereThe airport is quite a long way out of town, although there is an airport in town but this is only for domestic flights. The international airport is called Chiang Kai-shek International airport and it is very modern. The traffic getting to and from the airport is slow, although the roads are very good but you need to allow well over an hour or more. I was very amazed with how lush and green and tightly packed the hills and mountains were with trees and vegetation. I don't think I have ever seen such lush and tightly compacted trees. This showed to me how tropical the weather is.
So, with a population of close to 23 million and large parts of the island being mountains and lush, the cities are busy. The one thing that Taipei did have in common with other major cities is pretty bad traffic, which also probably accounts for the hoards of scooters on the streets. There loads of them and the streets are designed to be very scooter friendly with special stopping space at the front of the queues at traffic lights.
The city also seems to have loads and loads of taxis which are easy to find and very inexpensive. This may be a hang over from the pre subway transit system which is still quite new to the city, and called Metro Taipei which I am told is very good and modern, though I did not use it. I used taxis as they were so easy to find and so cheap. It is quite common to find that the taxi drivers do not speak or read English, and so make sure you get a local or the hotel to write down the name in Mandarin of where you want to go and have a card with the hotel address also in local language.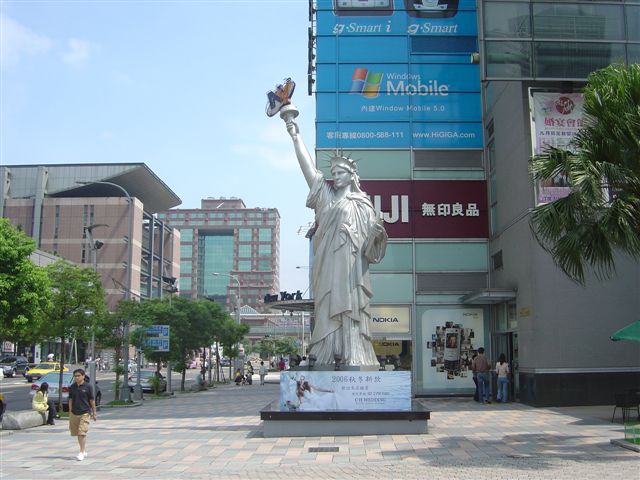 3. Pick the best time to visit
· Taiwan has a tropical monsoon climate, and so more rain falls in the period May to September than other times of the year, although it can rain most times of the year. But the heaviest falls of rain are from July to September which is brought by the typhoons of the South China Sea. As they move northwards towards Japan they bring strong winds and heavy rain to the whole island.
· The rest of the time it can be quite warm and humid, although locals say October to December is the best time to visit which is when I was there and it was very comfortable and pleasant even at night ranging from around 19 degrees to mid 20s in Celsius
· Taiwan does have more than its fair share of typhoons and earthquakes so try and not visit when they are happening. Though as these, especially earthquakes cannot be predicted, this is not really much of a tip more of a warning. The island is used to earthquakes and so well prepared
· Although I did not find it that much of issue, and especially compared to places like Shanghai, people do find the pollution levels in Taipei quite high due to the industry and heavy traffic and so the hotter months should be avoided if that affects you.
4. Just get out and explore, using taxis
· As there are not a lot of particularly good routine trips that you can tap into, you can either get someone to set one up.
· You will find online companies that offer to personalize a trip at fairly low cost, and a company called Taiwan Tour Bus (see them at taiwantourbus.com.tw (http://www.taiwantourbus.com.tw/english/index.php) who do offer half and full day city tours,
· But what I tried and found worked very well was to study the map the hotels supply and then get a taxi to take me to a few areas and stroll about. Making sure that I had the hotel write the destination in Mandarin and check it was ok, and then make sure I had the hotel name and address in Mandarin. I found it very easy to find a taxi back and as the city is so busy it felt safe and was.
· I got to see and get a flavor for the city and saw a lot by just being in the taxi. My colleagues staying in the Taipei 101 area and when we compared notes it was clear they had no idea about the feel of the city. I really enjoyed the bustling areas near to the river.
· I also found, thanks to some help from locals on my exploring, a must do restaurant called Din Tai Fung. People queue outside waiting for their food to be ready when they get whisked to their table. This is a dumplings store that started here and is now expanding across Asia. Created by a chap called Yang Ji-hua he created a system that makes the most perfect dumplings. You must go there, it was the most incredible food. The site is dintaifung.com.tw
· Another feature of Taiwan is the many 24 hour convenience stores that are worth visiting in your exploring. They are more than just the stores we know as they have all sorts of services used by locals from paying fines, bills and they keep adding more and more services making then real centers fro the community. Really interesting to see what goes on in them!
5. Taipei 101
· I have mentioned it a few times, and I think this was worth the visit alone. It is 101 stories high, hence the name I guess. It has such a distinctive design that has a link to various significant shapes, numbers and other aspects of the culture. It looks a bit like a massive bamboo and is just dazzlingly lit at night.
· One site said of it "Designed by construction specialists from around the globe, this building is an architectural marvel. TAIPEI 101 is an acronym for Technology, Art, Innovation, People, Environment, and Identity. This 101-storey building has become a world-renowned landmark. At 508 meters, it by far the tallest building in the world"
· I was lucky enough to have a room at the Hyatt with a view of the tower and kept staring at it. There is a massive, and I mean massive, mall underneath it with all the usual designer shops that these sorts of malls do all over the world like Louis Vuitton as well as some neat showcase stores for brands like Sony. (click here for review, photos and video of the room)
· It also has a brilliant food court area, although unlike usual mall food courts as it has great restaurants. My absolute favorite was called "Wasabi". It is a Japanese restaurant with buffet, something I found was a popular concept in Taiwan and I guess it is a different take on the Japanese Conveyor belt restaurant style you usually see. There are loads of stations and you get to help yourself to the most amazing Japanese food, including of course sushi and sashimi. They also had a massive choice of sake. When you enter someone shows you to your table and shouts out in Japanese a greeting and all the staff shout welcome back. It was also very reasonably priced. I went a few times in the week I was in Taipei.
· In Taipei 101 is a very organized and great looking visitor center where you buy tickets to go to the top. Very well organized and soon you are in the Guinness Book of records confirmed fastest lift in the world. It takes about 30 seconds to get to the top, and is so smooth the only thing you feel is your ears popping; there is a screen that shows your progress. I have put a video of that on youtube.com
· The view from the top is well worth it as you see for miles if clear. I liked it so much I did it both at day and at night. Both were worth it.
· The area around Taipei 101 is a good place to stay as there are also some other good shopping areas like "New York New York" with its Statue of Liberty outside and cinemas.
· It is also near to the quite beautiful memorial hall, which is my 6th tip
6. Visit the Chiang Kai-shek Memorial Hall
· I loved this hall and the area. It is set in a park with a charming lake with a walkway and small pagoda house to sit in. The hall itself has a Chinese style gold roof and is just breathtaking. Built 5 years after his death, inside is a massive bronze statute of Chiang Kai-Shek, who if you recall led the KMT when they fled from the communist forces in the Civil War and set up in Taiwan. The statute is a bit like the style of the Lincoln memorial in Washington DC. 2 immaculate guards stand facing each other in ceremonial dress guarding it, and they are as still as the statue. There is also an exhibition area.
· On the weekends there seems to be fairs and events held in the park, and it has a great garden to walk in. Well worth a visit. There is also the National Concert Hall and National Theater in the same area
· There is also the Sun Yat-sen Memorial hall that I did not visit that I heard I should have so my tip is to see what I missed!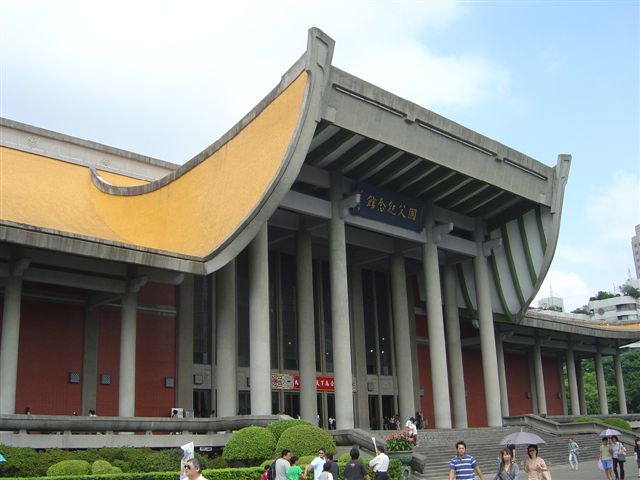 7. Visit Martyrs' Shrine
· The National Revolutionary Martyrs' Shrine is dedicated to the people who sacrificed their lives fighting for the Republic of China. The buildings on this compound, modelled after Ming Dynasty palaces, are skilfully crafted. Two military police officers stand guard at the front gate on Bei An Road while two other officers guard the main shrine inside. The changing of the guards occurs once every hour and is quite an elaborate process. The guards are supposed to remain absolutely silent and still during their shift,
· The official slab on this says it all: "Located behind the Grand Hotel, the scenic Martyrs' Shrine looks out to the Keelung River. The impressive main shrine building, built in 1969, is modeled after the Hall of Supreme Harmony of the Forbidden City in Beijing. The shrine rises from an expansive park-like setting in a ring of mountains, adding further to its majestic allure. Make sure not to miss the honor guard display performed hourly in front of the main gate."
8. A very much muse see if the National Palace Museum
The National Palace Museum boasts the world's largest and most impressive collection of Chinese art and artifacts, dating back more than 7,000 years. The full collection comprises over 650,000 items, including calligraphy, paintings, jade, bronze, silk and curio pieces. Its seems there is so much than only a small percentage of the collection (maybe less than 10%) is displayed at any time. Most of the collection was taken from the Forbidden City in Beijing in 1949 by the KMT when they fled from China.
There is just so much to see, that you have to decide if you want to really explore it and spend a lot of time here or just get a flavor.
9. Visit the Presidential Office Building
This renaissance-style building has been the highest seat of government in Taiwan for over a century, first as the office of the governor general's office during the Japanese colonial period, and after 1949 as Taiwan's "White House." National festivals are hosted here and as I was there during the "moon Festival" which is a big deal I did not get to see anything more than the outside of it and all the seating and barriers being set up for the celebrations, It was an impressive looking building standing right in the middle of one of the main roads I guess to make it really stand out!
10. Go to a night market
· I am not a big fan of night markets but always end up going when in Asia as everyone raves about them and so I feel I need to go or I will miss out. The one to go to and the biggest and most popular is the Shilin Night Market. This sells everything, with of course lots of food.
· I also went to another night market within walking distance of Taipei 101 called the Tunghwa Night market which is probably as it was not really my idea of fun. It was mostly a food market and is very popular with people who like eating in open markets I guess. I found it very crammed as it is pretty much all crammed into one narrow street and hard to get through. Although I did find some colleauges who used to live in Taiwan and now working in other countries had made a bee line for that market to catch up on eating good old fashion Taiwan market food as soon as they landed and had checked in to the hotel – so I guess I was the one with the wrong approach and view!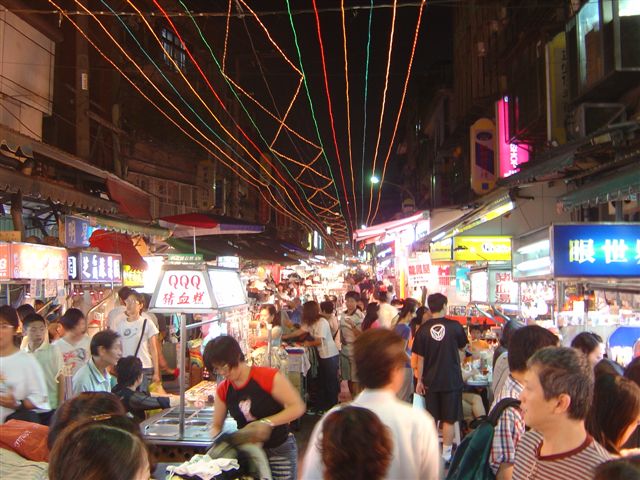 Join TravBuddy
to leave comments, meet new friends and share travel tips!