South Korea & Japan Winter Trip 2007 - Day 7
Otaru Travel Blog
› entry 8 of 17 › view all entries
South Korea & Japan Winter Trip 2007 - Day 7
19/12 Otaru
We got up quite early to catch out 9:30 JR to Otaru. We bought some fast food in the JR station for our breakfast!!

The food in Japan is irresistible, all food are just look neat and nice even it's just some random fast food from convenient shop!!
It's really cold by standing in the platform where is an open area and all strong wind is blowing to you!!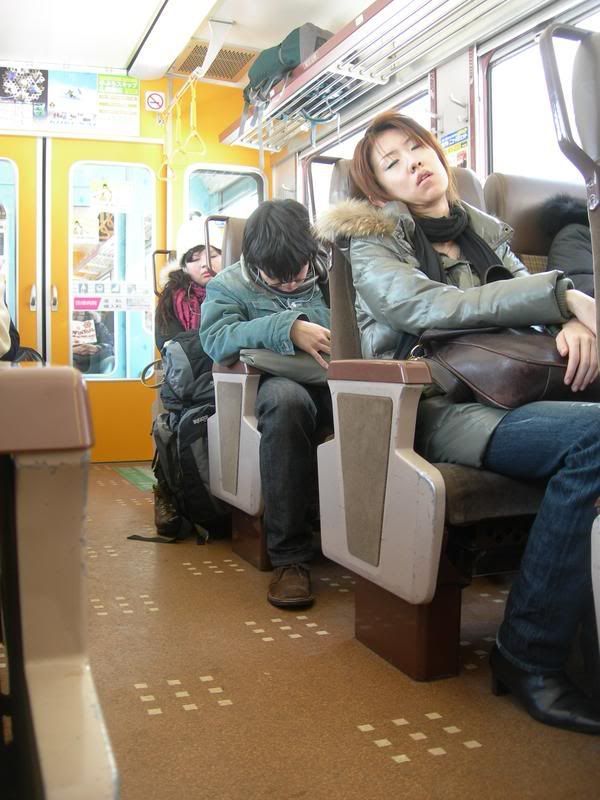 Finally we got in the train!! Since it's still quite early, you could see all Japanese were sleeping like hell, including me...hahha..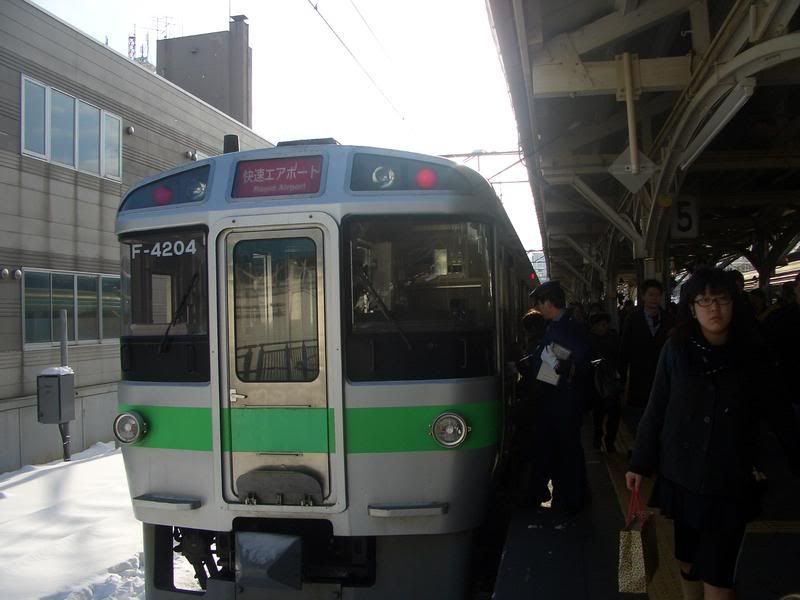 Otaru is quite close to Sapporo. It's just an hour to go even we're on slow train and here is the JR station of Otaru!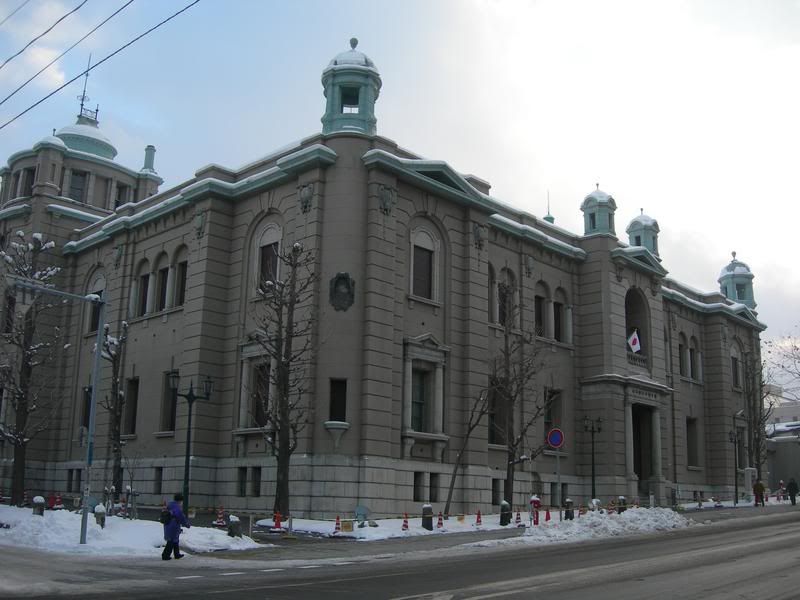 We went out and see the nice European building but with a Japanese flag on!! I'd say European did have great impact in Asia~
I had book a hotel called "Hotel Vibrant Otaru" via internet. Again, this hotel is highly recommended!! It's next to the romantic cannel, and around 10 minutes walk from the JR station!! The hotel is beautiful, clean and cheap and the staff is helpful and friendly!!

A big Christmas tree in our hotel!

The hotel lobby& cafe. The building was a bank before!
The front desk staff was so nice and smart. They knew who we were before we introduced ourselves. As we arrived quite early that they couldn't check us in, but they can keep our backpacks first. Our backpacks were then sent to our room directly...wow...so good services!! We booked a family one (1 double bed and 1 single bed) with a breakfast and it was only 2500 yen (less than HKD180) per each!!!! So cheap and the services is too good~~~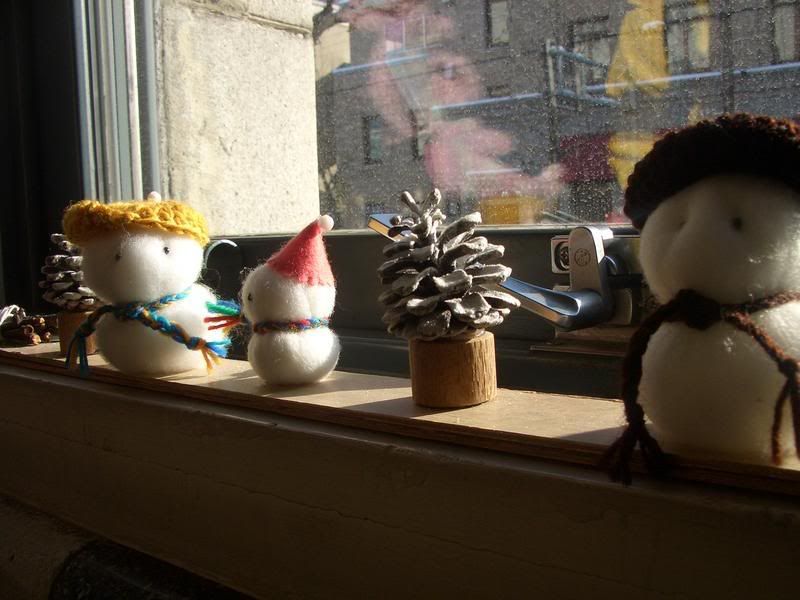 The cute snowman's decorations in hotel!!

After putting our backpack in the hotel, we passed through a famous ice-cream shop!!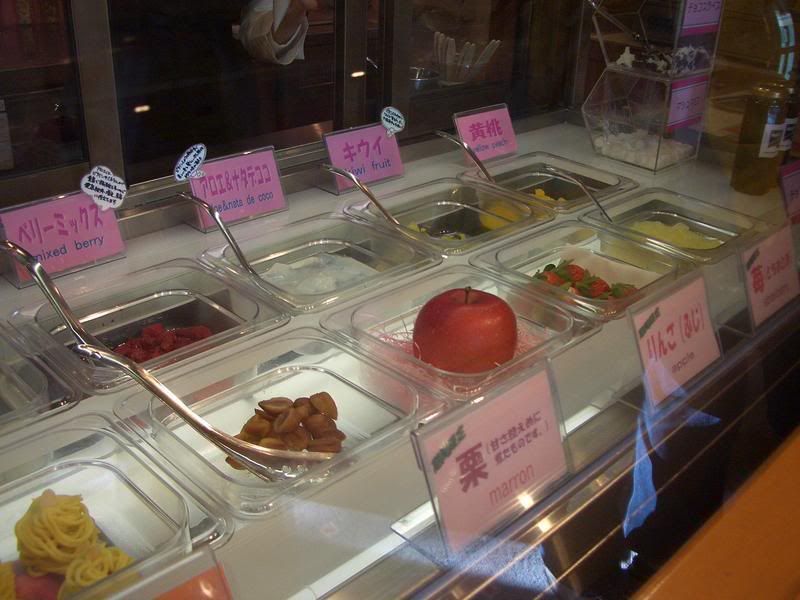 It looked very nice & tasty!! Although the weather was too cold, we still want to try~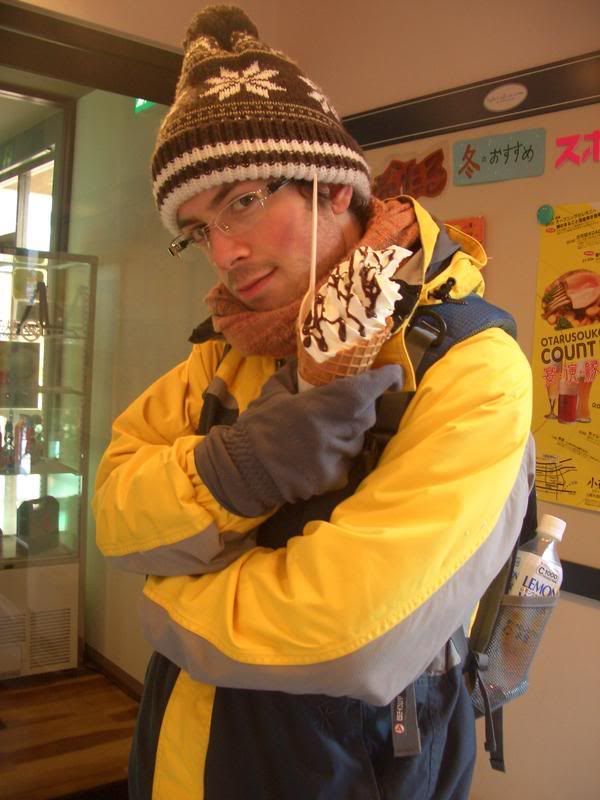 Alban bought one, and pretended to be cool!!!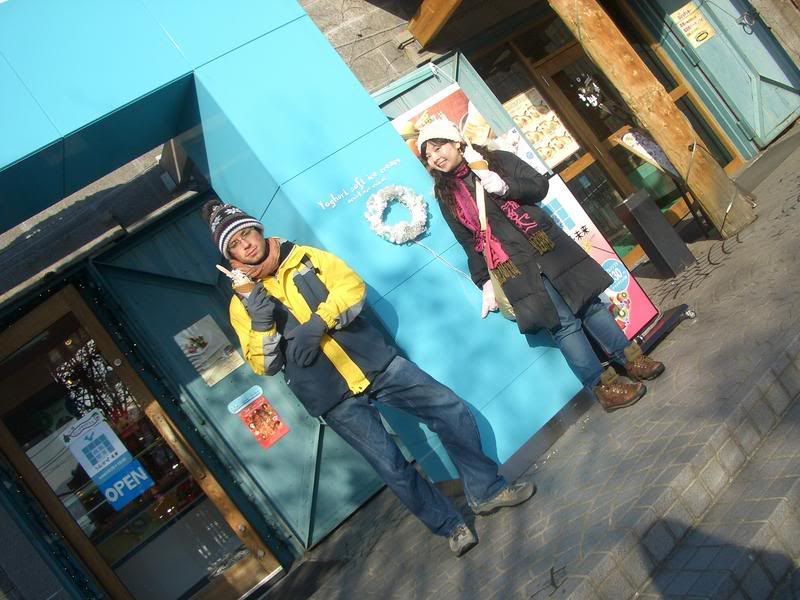 I bought one too....haha..a photo outside the nice ice-cream shop!! Strange to see we put heavy jacket, gloves and hat on but with ice-cream!!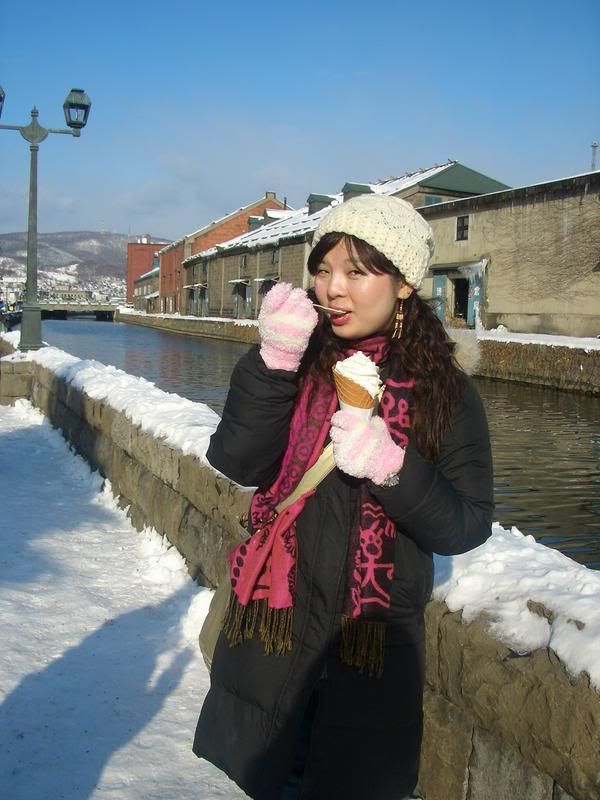 Believe me the ice-cream was great!!!!!!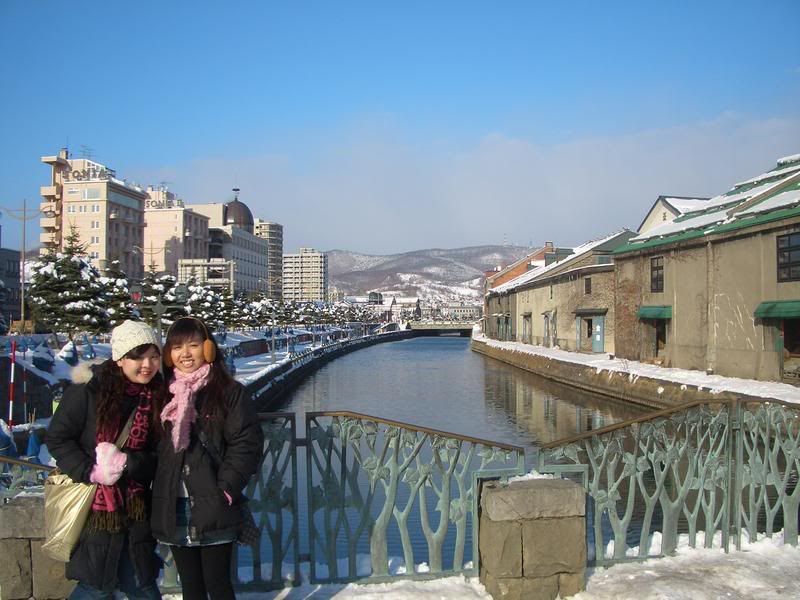 So this is the beautiful canal!!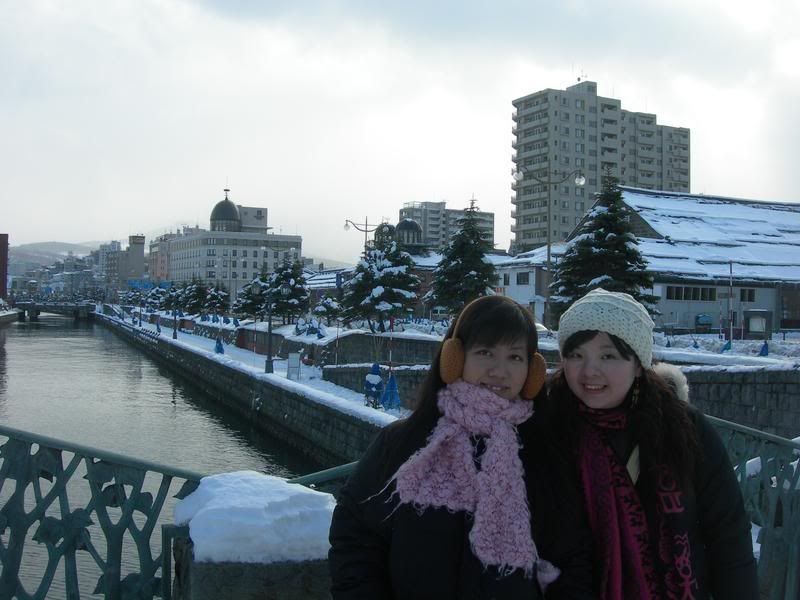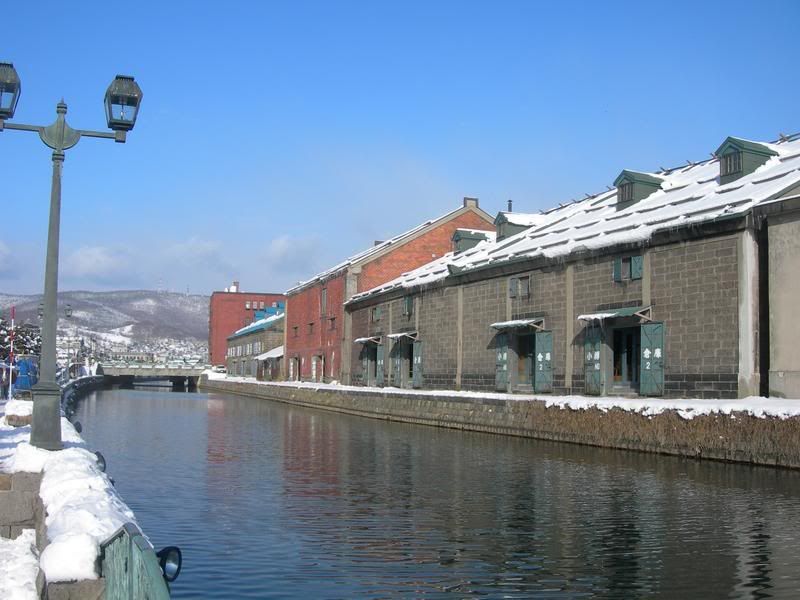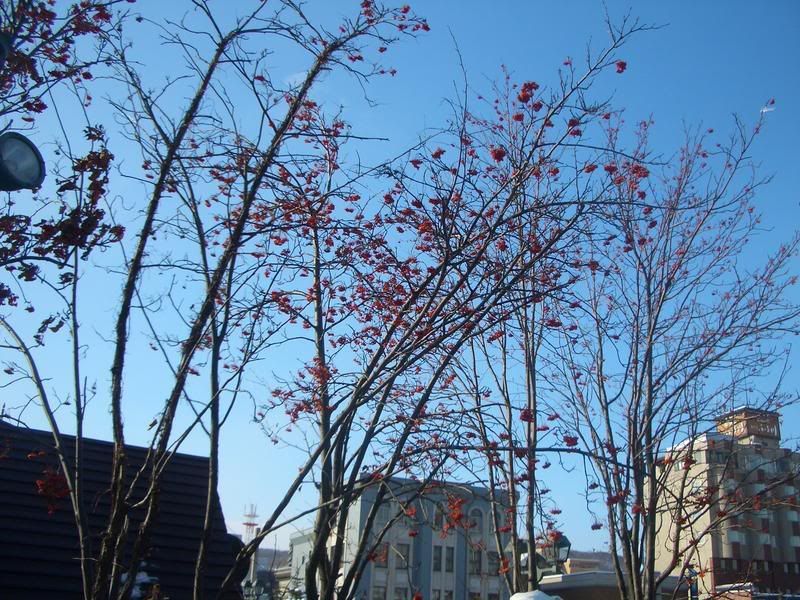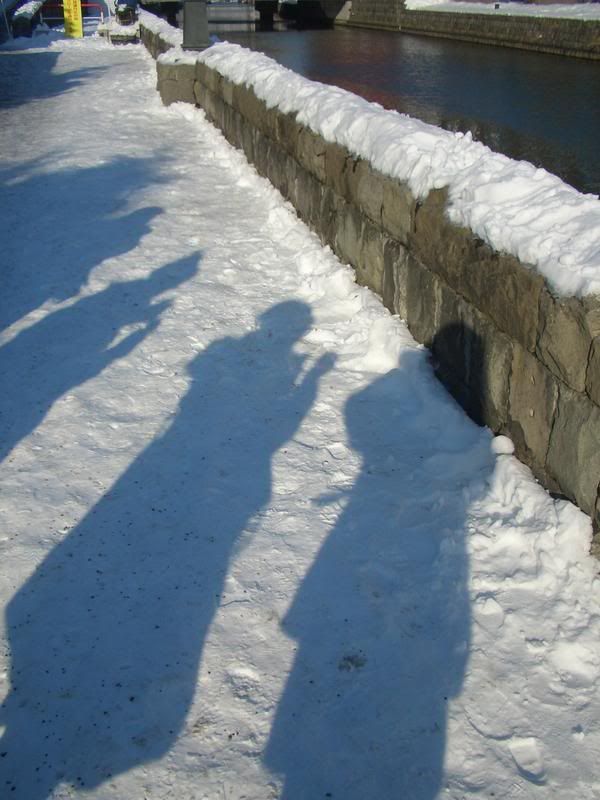 The shadows of us~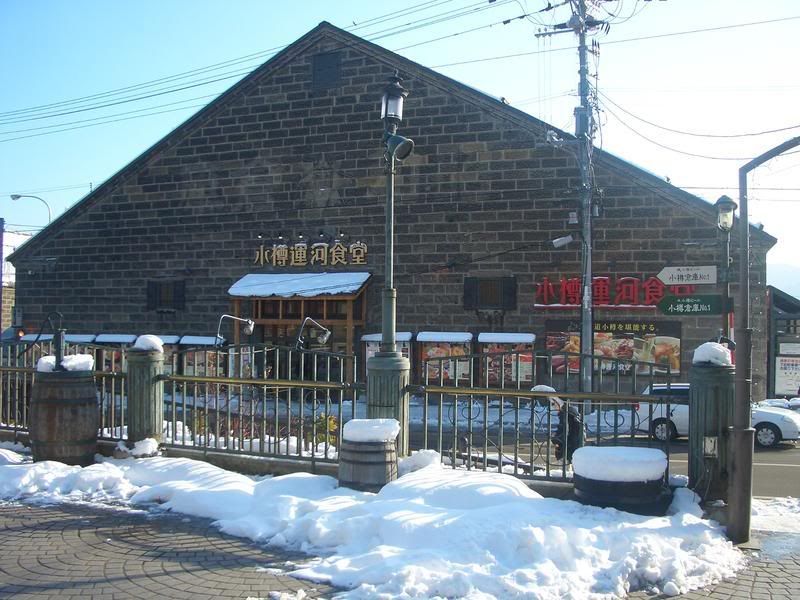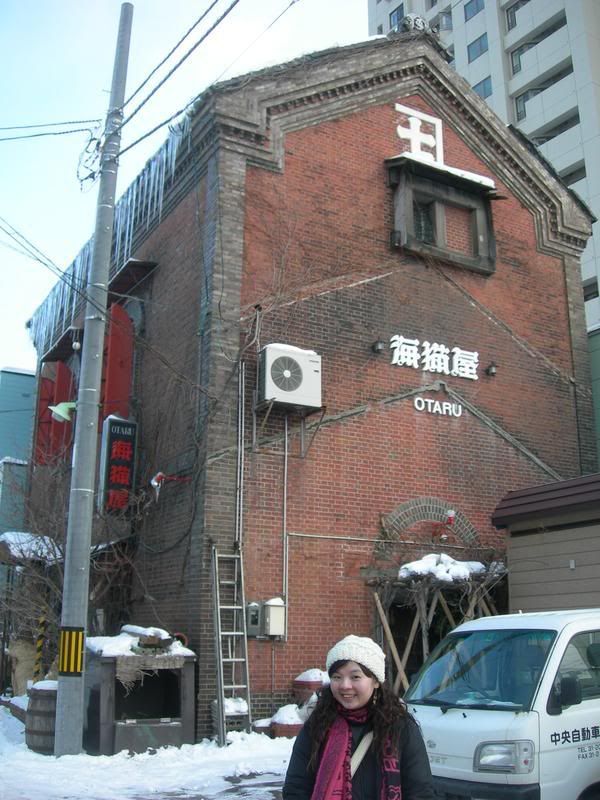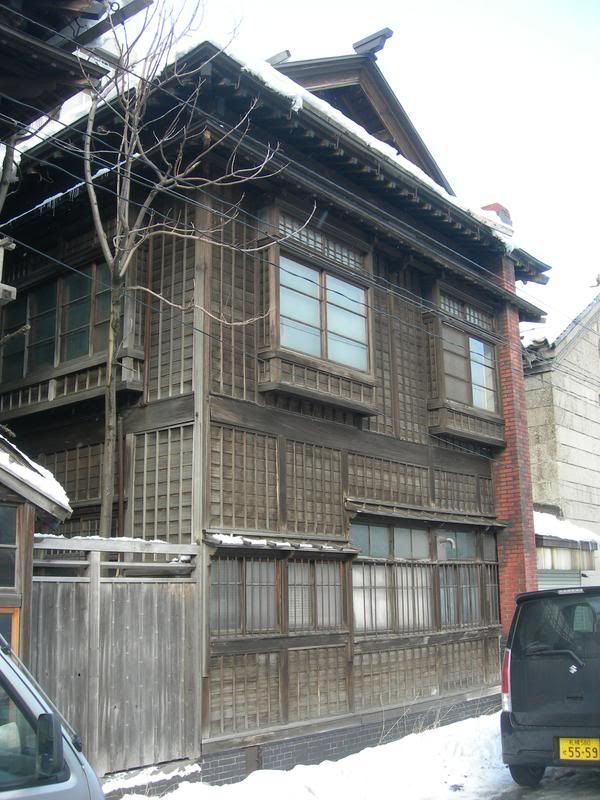 A cool Japanese house!

The ice is really dangerous!!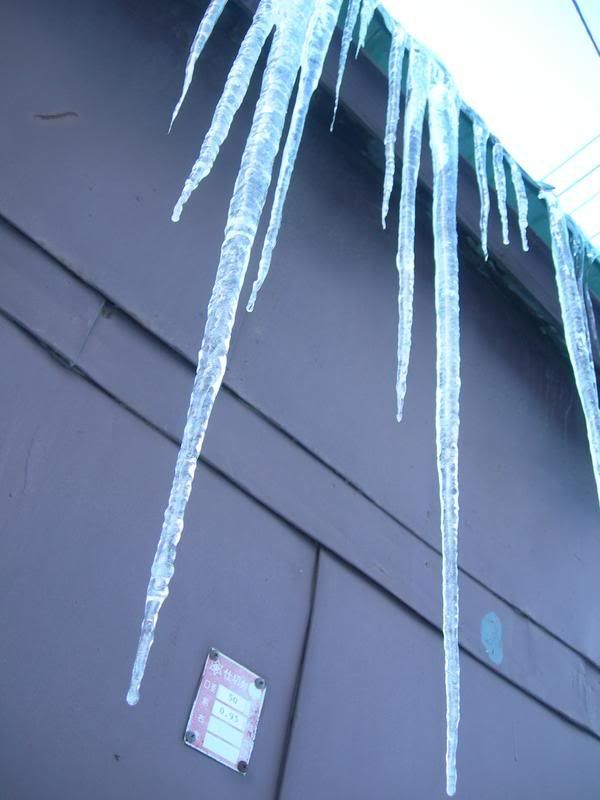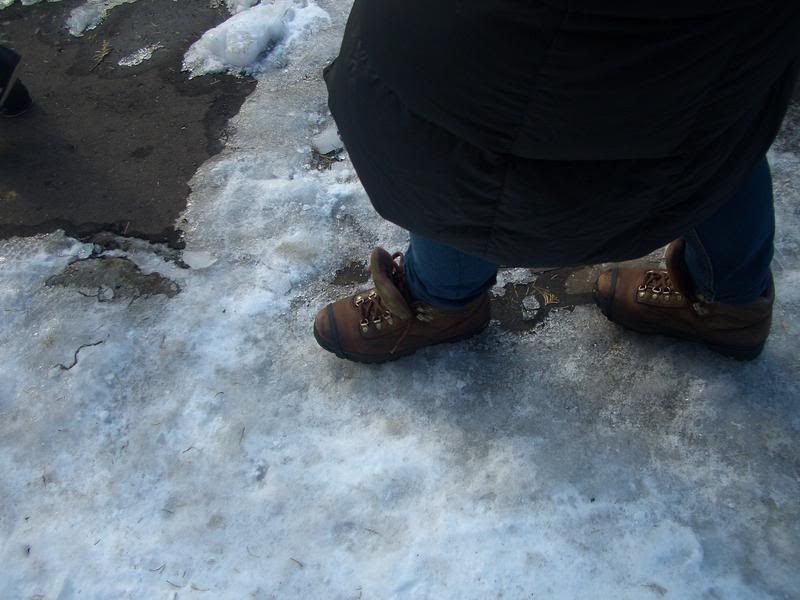 The ground was still icy, so I had to put some anti-smooth stuff to my shoes for avoid falling!!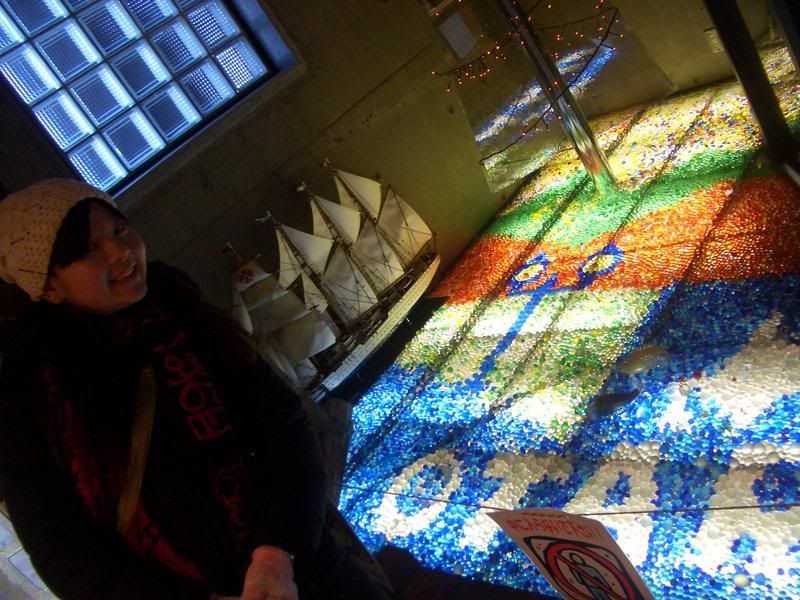 We then went to a famous glass shop~~ I love the floor glass tiles~~

Here you can find thousands of small cute glass accessories!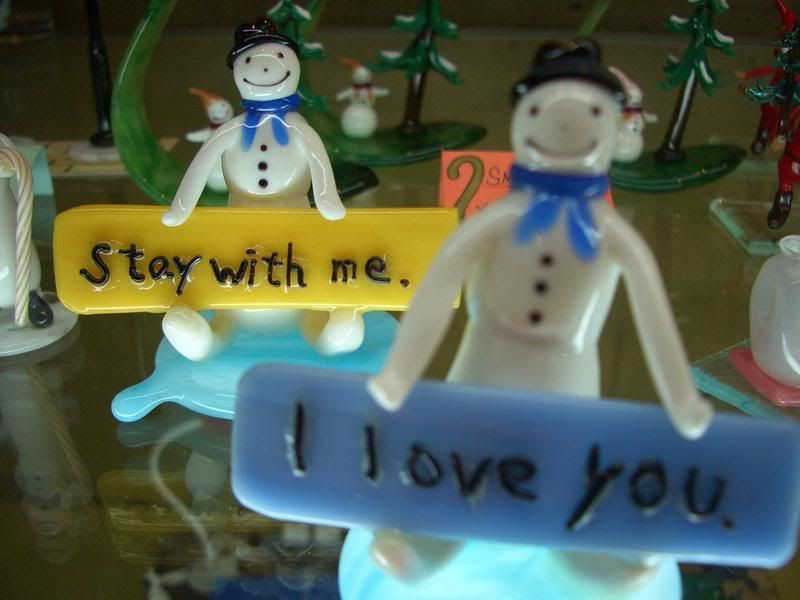 I love this one especially, the whole idea is just so great!!! I wish I could say it to someone or someone should offer me as gift!!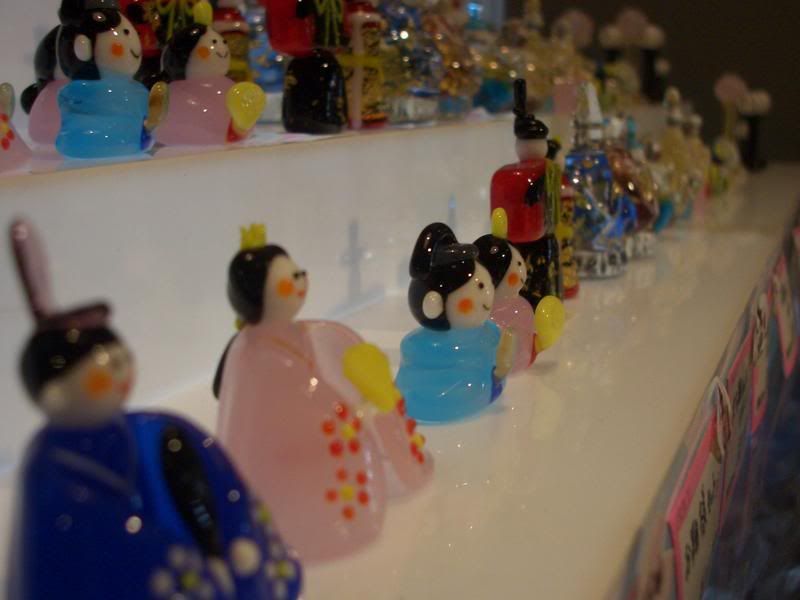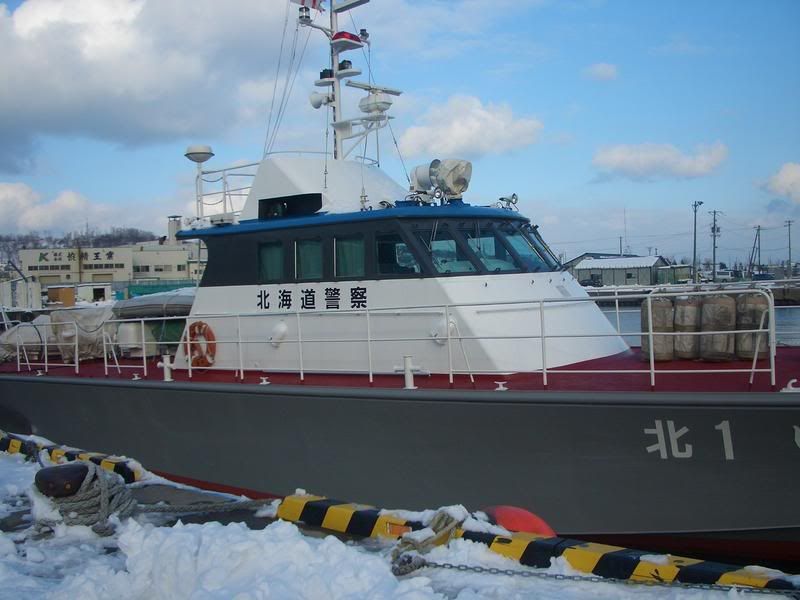 Japan is a very peaceful country with very low crime rate, so this police boat was just taking rest in the pier~

It's actually a museum, and we're just trying to look for if there was any backyard to let us enter for free!! haha...but we couldn't find it and we didn't want to see the museum, so just took picture and left.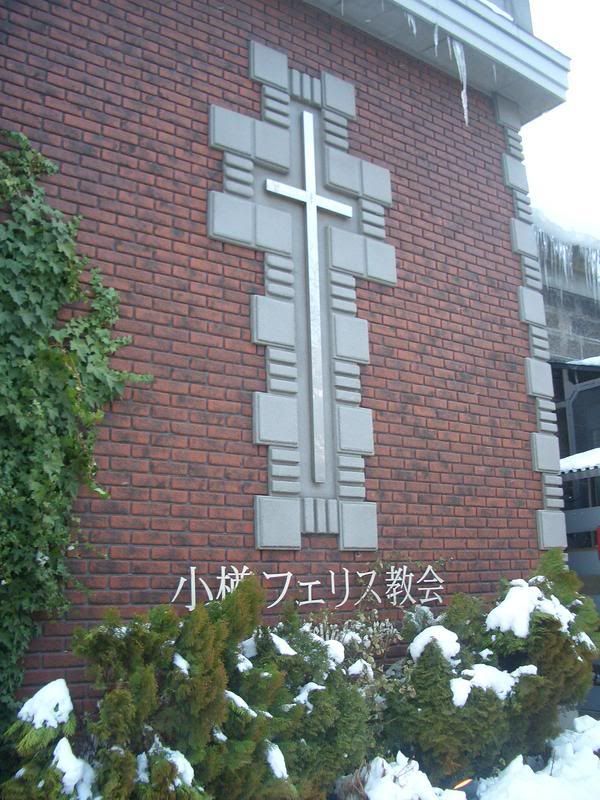 The church in Otaru~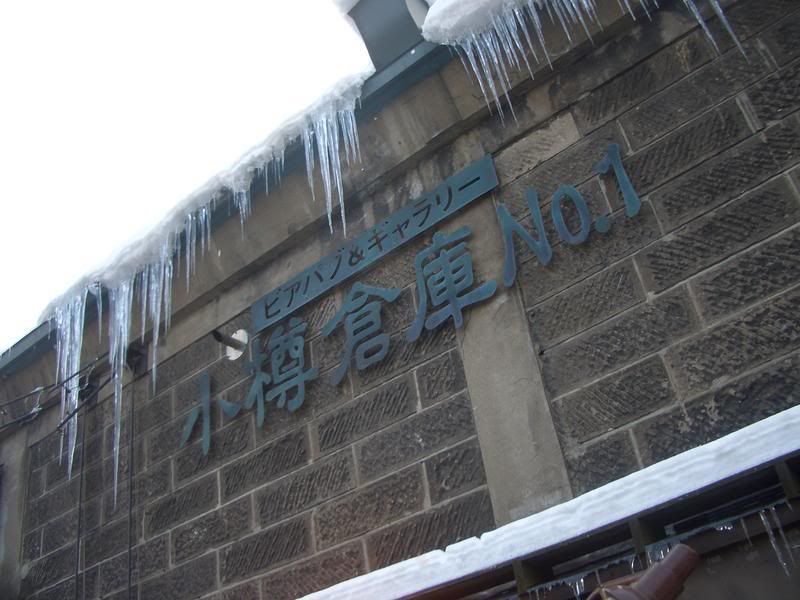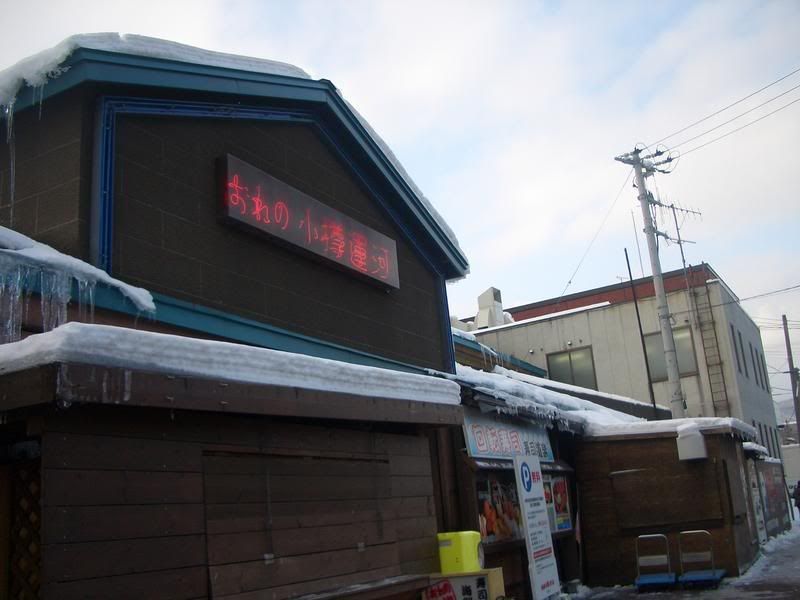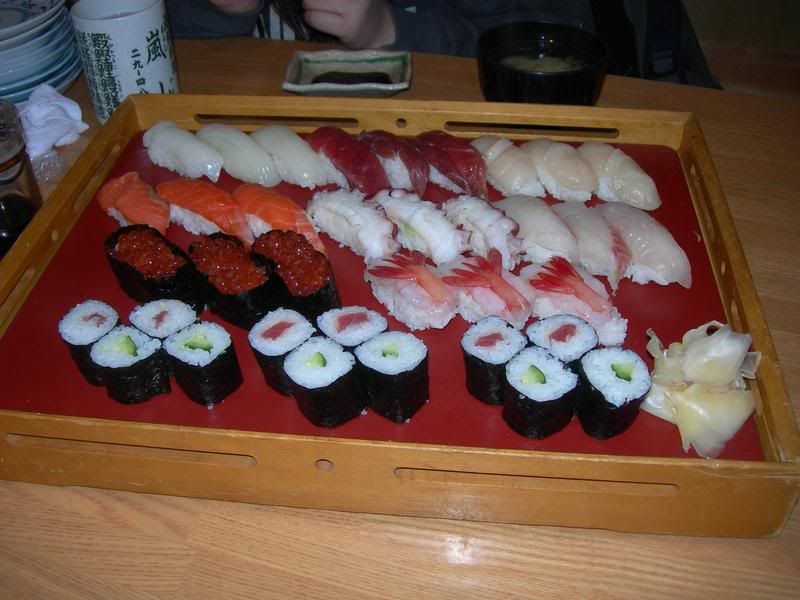 so we walked around a city and felt hungry, so we found a random restaurant to have our only sushi lunch~~~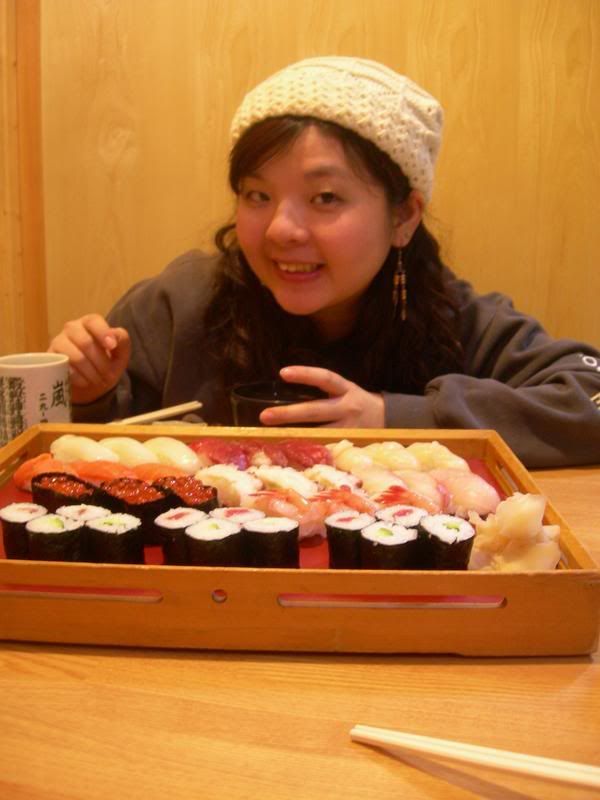 it's pretty cool to have some fresh sushi~~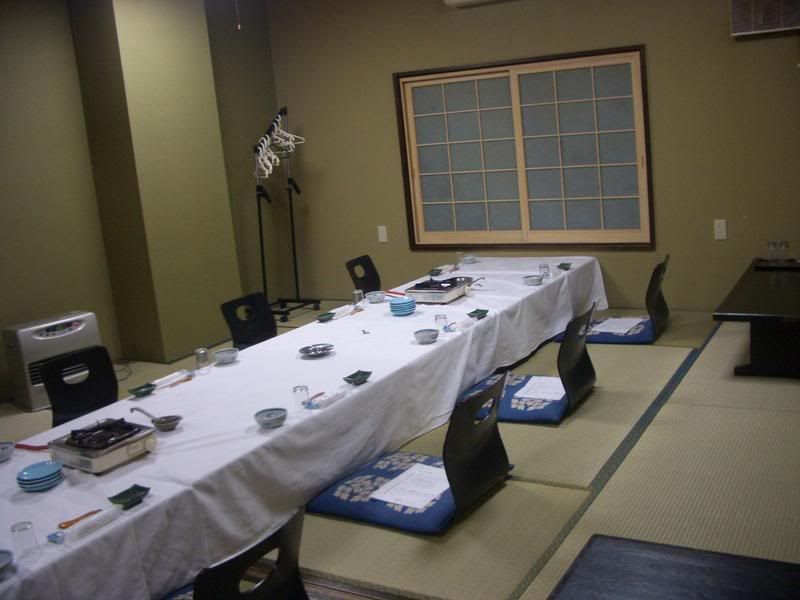 After lunch, we found out that our restaurant provide a very traditional Japanese dining there!!

Guess what it is??? It's a music box!!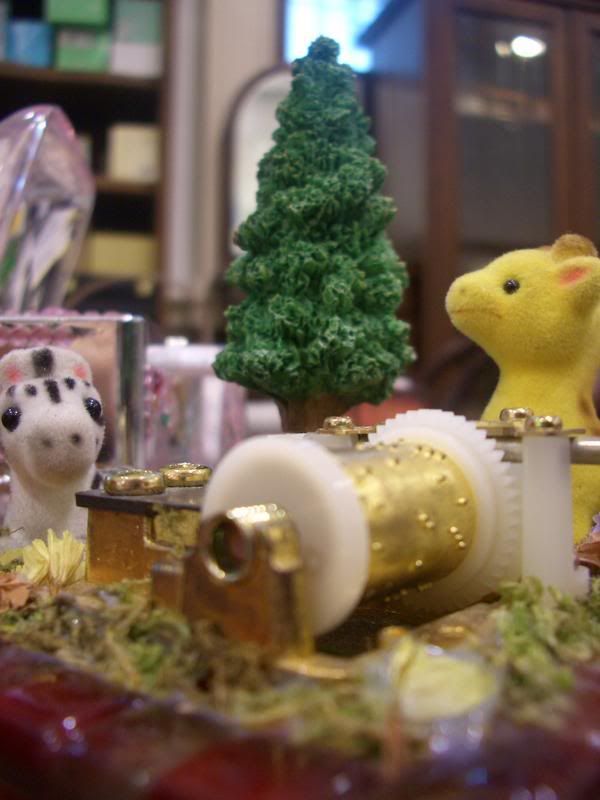 Music box is very famous in Otaru, you can tailor made one or you can buy one on display~~Cute music box, isn't it??
Actually, this big music box shop is just opposite to out hotel!!! After visiting it, Michelle felt so cold as she only wore a little short skirt with tight, she wanted to change her ski trousers again!! As a result, we went back to the hotel and found that the staff is already put our backpack in our room!!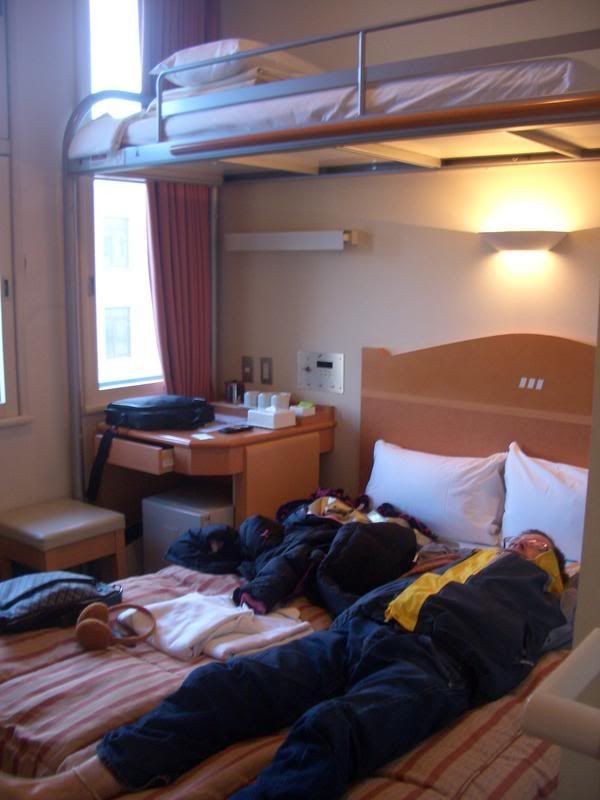 So this was our room!!! Alban Carbon, you're so rude to sleep on our bed, you should go up to your own bed!!! You know what?? Alban was so bad during this trip by always stealing my hotel's slipper!!
After taking a short break we continue our tour~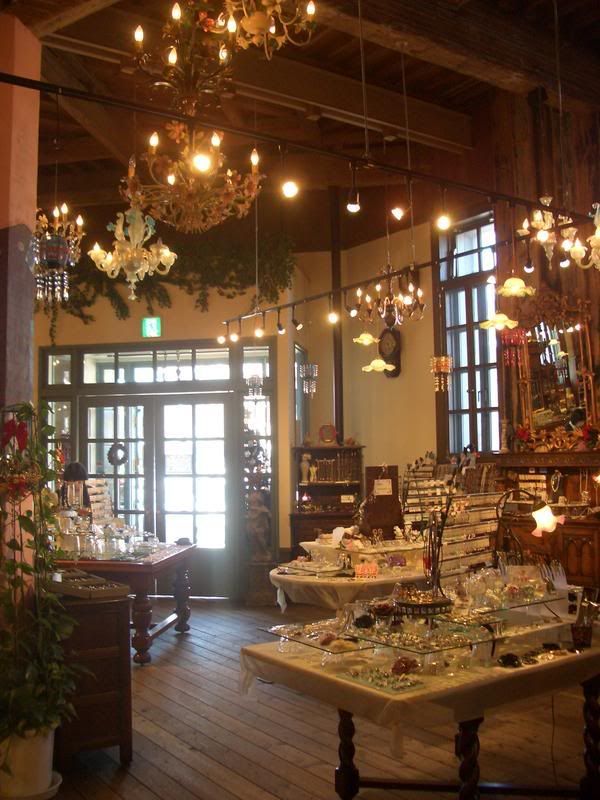 This shop called romantic house (浪漫館), don't you think it's romantic??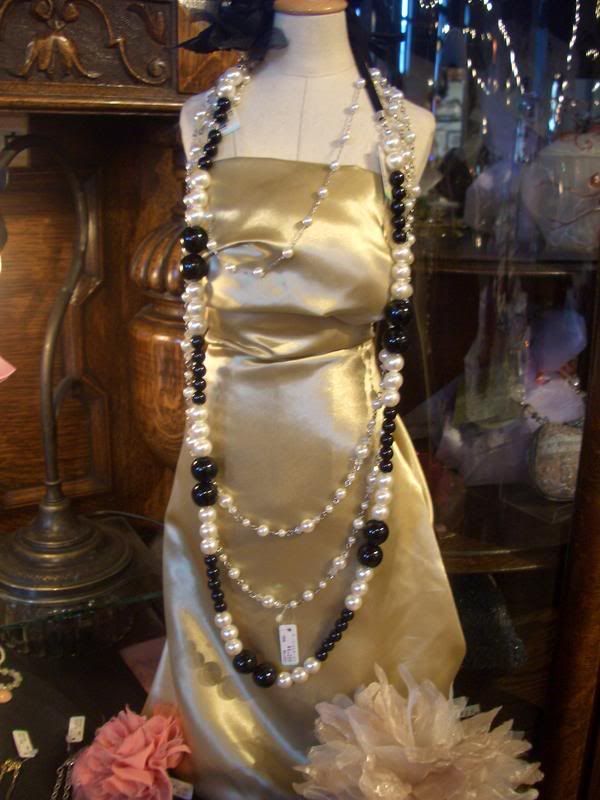 Very cute little dummy for only showing the necklace~
After a bit Otaru in town tour, we went to an outlet in Otaru!! I didn't take any picture in the outlet as it's just an shopping mall!!! Yeah, they've great items there, we've put all our big jacket into the locker and running for shop!!!! It's bad that the heater of indoors is always so hot!!

No idea who is that man neither nor the intention of Alban for imitating him!
We stay late at the outlet until it close and we went back to the town to have our late dinner!!
We went to a little restaurant randomly. This kind of restaurant is a very great place to meet some local Japanese as well as the boss of the restaurant!! All customers are just sitting around the boss and staff!! At the beginning, we didn't want to enter this one as we saw some drunk Japanese old men there, but they're so passionate to invite us to come. As a result, we came in and they talked a lot with us. Their English was so funny, and they're actually very nice to explain the menu and help us to order the food!!! They even offered us some food as well!!!

So this is the fish they introduced!!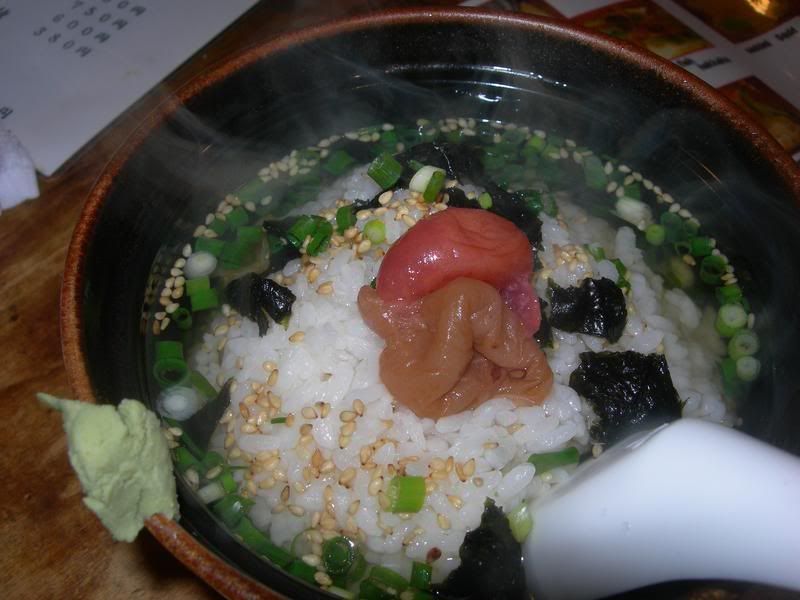 And the soup rice~

They're the snack offered by the drunk man and they're very tasty!!
We found out there were many photos the board, they told us there was a HK artist came to their shop for introducing the food!! I took a look and found it's Yuki!!!hahha..very interesting that we came here after they came, and the TV series hadn't on shown!! What a coincident!! I think this shop is going to be famous soon!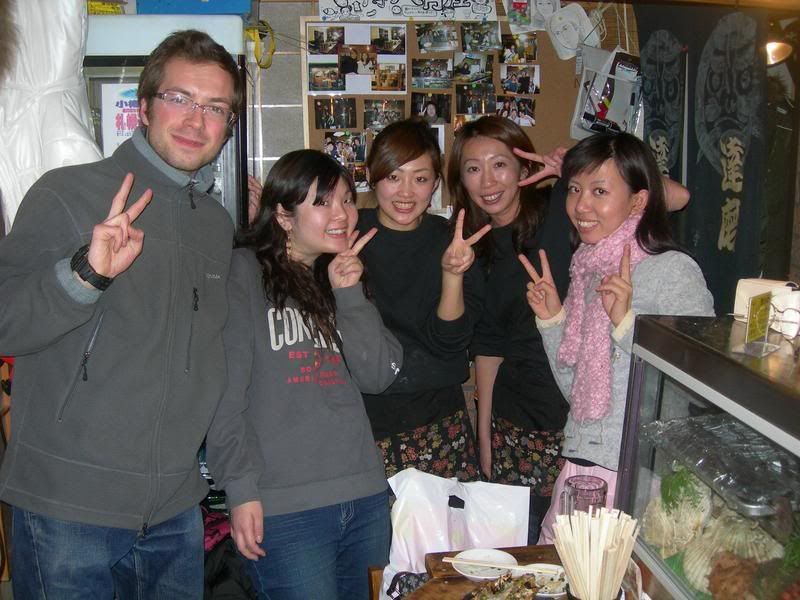 The staff was so nice to us as well, and we did some language exchange. As I've some Japanese language worksheet with me, and we can try to speak some, and they asked us to teach them Cantonese as well!!! The girl next to me is so cute, she is still in university, it's just a part time job for her!! The girl next to Michelle is the sister of the boss!!! The boss suggested us to take a picture, so that he could stick it on the wall!!! wow...so good idea!!! If you happen to visit this shop, you can see my picture next to Yuki!!!!hahha...

The man next to me is the boss!!! I saw him later in the TV!!!
What a happy and relaxing day in Otaru!!! I think I'm falling in love with Otaru!!
Join TravBuddy
to leave comments, meet new friends and share travel tips!