South Korea & Japan Winter Trip 2007 - Day 6
Sapporo Travel Blog
› entry 7 of 17 › view all entries
South Korea & Japan Winter Trip 2007 - Day 6
18/12 Sapporo Fresh Seafood Market, Shiroi Koibito Park, Sapporo Beer Museum, Clock Tower, Sapporo Odori Park, Nakajimakouen, Mount Moiwa

So this is our room, not so neat, and look quite ugly, but it's OK for us as we wouldn't spend a lot of time in the hostel. It's just a place to sleep, and I can actually sleep in everywhere.
We planned to have an intensive sightseeing today, so we bough a day pass in a subway station. I highly recommend you to buy the day pass if you plan to travel different locations in a day!!! The 1 day pass is only 1000yen, and you can use the card to take bus & subway to everywhere!!! Since the single ticket costs at least 200 yen, so if you take more than 5 rides, you can get your money back!!

The subway station in Sapporo~

Inside the subway. Well it's quite old and I think that the HK one is better!

It's well known that all high school students in Japan like wearing mini skirts as their uniform even it's under zero degree!! We didn't expect they wore the same type of boots for school before, it's quite fashionable!!

As I'm from Hong Kong, it's my first time to see so much snow & ice...the ice can be quite dangerous sometimes!! I could imagine if one of those icicles fell down and hit someone's head, the person might get injured seriously!!

Our first stop was the fresh seafood market.....you see, there are plenty of huge crabs

It's our brunch.......quite good....After we left this restaurant, I realized that this restaurant was actually recommended in my book!!!
After having such a nice brunch, we're heading to the Shiroi Koibito Park!!

It's very nice to have snow on the 2 sides of road!! Thanks for those workers to remove the snow on road, it's much easier for drivers. On the other hand, people like Michelle and me found it is really difficult to walk on the pavement with snow covered!!! We're walking like skiing!!!

Shiroi Koibito Park is a kind of theme park by Ishiya, a famous local chocolate company.

There is a little museum there showing how to produce the chocolate, but we arrived and found that the museum was closed for maintenance and would be re-opened in 2008!! What a shame!!

Anyway, the park itself was interesting enough to recommend people to come for visit, especially for girls and young couples!

It's really cute to have this tiny house...it's so neat and cute!!
It's actually so funny for us to take a picture with this little cute house and we made an agreement to put on our facebook as our profile pictures. Do you remember, we did put it!!!

OK~~Bigger picture here..It's difficult for Alban to get in!

Inside of the mini house~~

This little horse-drawn sleigh is very cute..we're like living in the fairy tale!!

This little white house is very cool as well!! I appreciate the Japanese, they can make everything cute!!

This is the soccer park in Shiroi Koibito Park, but it's full of snow now, I don't think people can play soccer anymore in winter!!

Alban felt hungry after visiting the Shiroi Koibito Park, Michelle and I were still full, we order a bowel of rice to share!! I was attracted by the egg...but it tasted really bad!!! It's like we're eating saliva!!! Although it's quite cheap, I won't recommend anyone to try this!! Actually, it's the first food that I really hate in Japan!!

Then here we came to Sapporo Beer Museum~

The whole building with the star gave me a feeling of Germany~~

Inside the museum~

Of course, we bought some souvenir here!!! This is Sapporo Draft Beer Candy!! It's very interesting to have a candy with beer taste!! I've never tried, and I like it quite well even I hate drinking beer!
We thought we could see the process of beer manufacture in the beer factory but we couldn't find it, so we asked the staff there. Guess what? The beer factory had been converted to a shopping mall!!!!
After the beer trip, we took a bus to return main city. As we were told both beer and chocolate factories were quite far away, we supposed the bus might take long!! However, we found that the city of Sapporo was actually very small, we reached back the city very fast!!!!
I like the town planning of Sapporo city, as they manage their street very neat, you won't get lost in this city!

We reached the Clock Tower again where is not only the symbol of Sapporo but also one of the major directions to our hostel.
The building was constructed in 1978as a drill hall of the Sapporo Agricultural College. The US made clock was added in 1881. The Clock Tower has been designated an Important Cultural Property and now houses a small museum. We watched some videos inside the museum to see how people renovate and repair this old building. I was interested in watching it as it was what I learnt in school but Alban was also interested in it as well!!

So this is the clock, I didn't see this special though!
Japanese trusts everyone very!! Why? Do you remember what I told you in the last entry we bought the ticket to Noboribetsu date historical village, but they never checked our tickets even in the main gate!! For this clock tower, if you enter from the main entrance, you've to buy a ticket, but if you enter from the backyard, you don't have to buy ticket.
I found it accidentally when I went to the toilet. I found that the toilet was in the back yard, outside the museum of building. There was no security guard nor gate for checking you when you came back from the toilet back to the museum. So, if you a short of money, you can go to the toilet first then come to see the museum!!

They had a guestbook there for visitors. I had made a comment there and remind the museum to have some security measures for the entrance problems. Not only because they will loose money, but I don't want to see some bad people came and destroyed this nice place!

We walked pass the Sapporo Odori Park again!!

Then we came to a very nice park called Nakajimakouen (中島公園)!! I love this park a lot!! Highly recommended!! In comparing to the Sapporo Odori Park, I think here is nicer and much less people. I'd say it's empty in fact!

Remember this logo!

And we actually played snow here...so happy~~

It's beautiful, isn't it?? It's a lake in summer time but it's now fozen!
A silly picture!

You see, this park is really beautiful and I was glad I've made a visit to this unpopular park!

Then we took a cable car to the Mount Moiwa~~ There were some big jackets provided in the cable car station, you can take one with you to the mountain for free. Again, they trust everyone will return the jacket back, so no registration is required.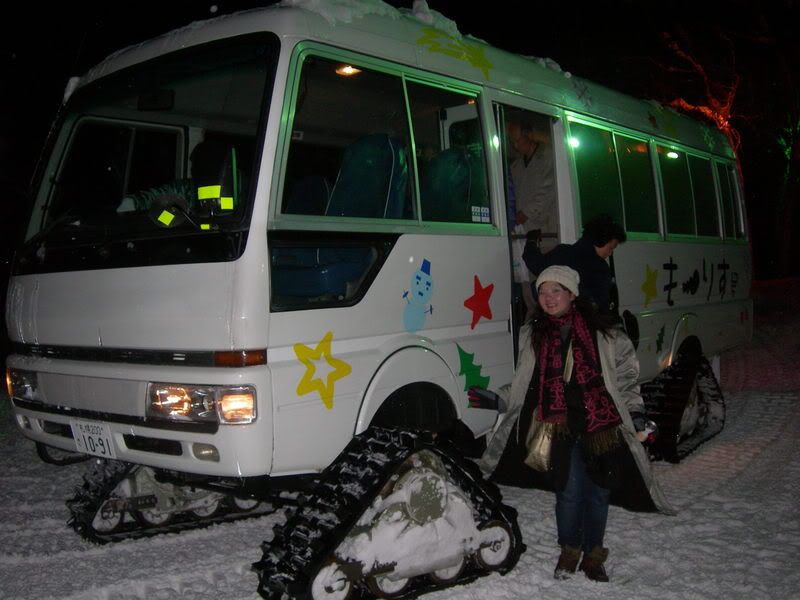 The cable car could not bring you up the top, you've to interchange with this couch and a bit hiking as well!! It's my first time to take this snow climbing couch, I guess it's much safer!!

So we reached the top!! I could tell, it's really cold, I wore my ski gloves and 2 big jackets but I sill felt very cold!!! So, if you come here in winter, it's better to wear more or take the big jacket in the cable car station!

Snowman..Guess what?? Michelle broke the snowman after taking this photo!!

It's bad that our hands were shaking, the night view of Sapporo was quite pretty and neat!!

Still, I think I prefer the night view of Hong Kong!

We went back to the city again!! It's great for Japanese to build many subways in town, as they understood the weather of Sapporo was very cold in winter. They didn't want people too walk in the street in that cold weather, they built lots of subway, and even a whole shopping street in underground!

When we're on the way of finding food for our tonight dinner, we found this cooking studio!! We're all attracted, I'd like to take a cooking class here for sure, but the point it we didn't speak Japanese!!!

We found a famous local fast food restaurant in Japan!! It's called 松屋, I wish they could open their store in HK, the food there was much better than 吉野家!! IT's our dinner~~~nice and cheap!!

Michelle and me were very hungry as we didn't eat much today, only the brunch and that shitty tea...but after having this very great dinner, we're very full and decided to walk back to hostel instead of taking train.

This is the street near our hostel~~~~
s
Join TravBuddy
to leave comments, meet new friends and share travel tips!