South Korea & Japan Winter Trip 2007 - Day 4 16/12 Sapporo New Chitose Airport, Noboribetsu
Noboribetsu Travel Blog
› entry 5 of 17 › view all entries
South Korea & Japan Winter Trip 2007 - Day 4
16/12 Incheon Internation airport, Sapporo New Chitose Airport, Noboribetsu
We have an early flight to Sapporo 10:10am, so we had to leave Corey's home at 6am something. It's really early that the outside was totally dark and cold, but Corey was so nice to wake up and accompanied up to catch a taxi to the metro station. He was the one who insisted to accompany us, we didn't expect he would do so and never asked for it. Corey was just so nice, my first coughsurfing experience was too great!!!

Corey and me at his house. He said he would come to HK in Feb, Michelle and me should treat him a big dinner to thank him!!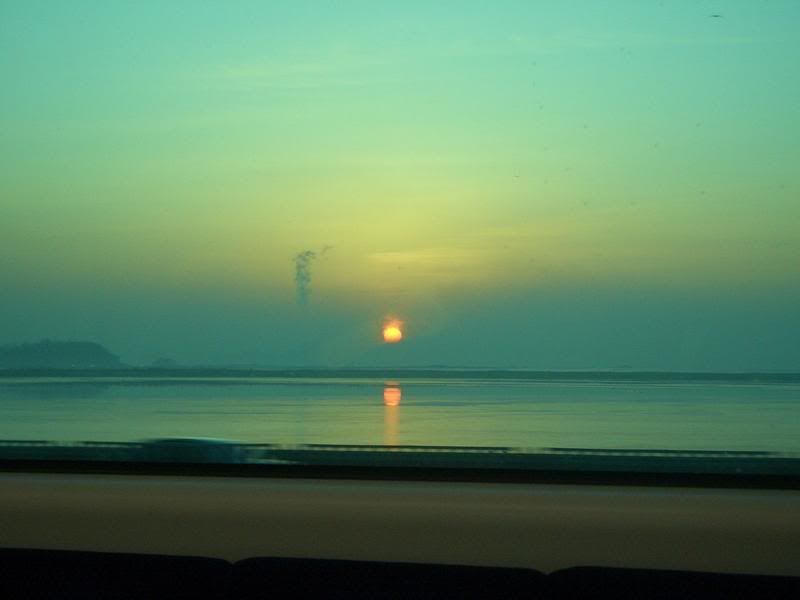 On the way to the airport and we could see the sunrise, it's so nice..........

So we first met Alban in the airport, and he had many friends accompanying him to the airport and saying goodbye to him. A girl even cried, wah...I didn't know Alban was so popular to the girls even that he only stayed in Seoul for one semester only. However, Alban didn't cry!!!!! I remember the day when he left HK, Michelle and me cried heavily, and I forgot if he had cried. Alban told me he cried during his flight back to France. We didn't accompany him to the airport because he left HK in early morning, and I thought it would be too sad to say goodbye at the airport, so we just say goodbye in the hall.....it's sad enough to separate after being together nearly whole year to share loads of happy and unforgettable moments. Thanks someone innovated airplane, so that we could meet each other so easy now, we will keep traveling the world together in the future!!!!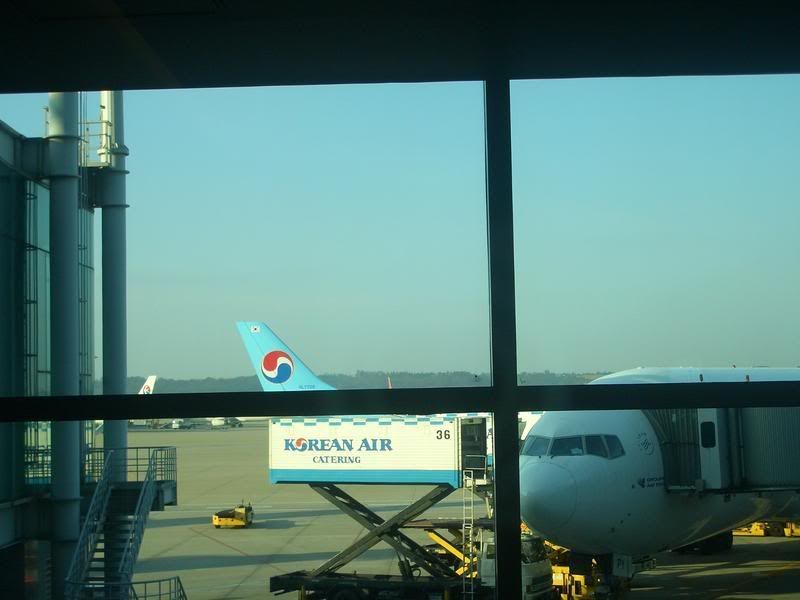 Our airplane!!! I think that Korean may love their country so much, the airport was dominated by Korean Air & Asiana Airline....I don't think we can find that many airplane from CX & Dragonair in HK airport.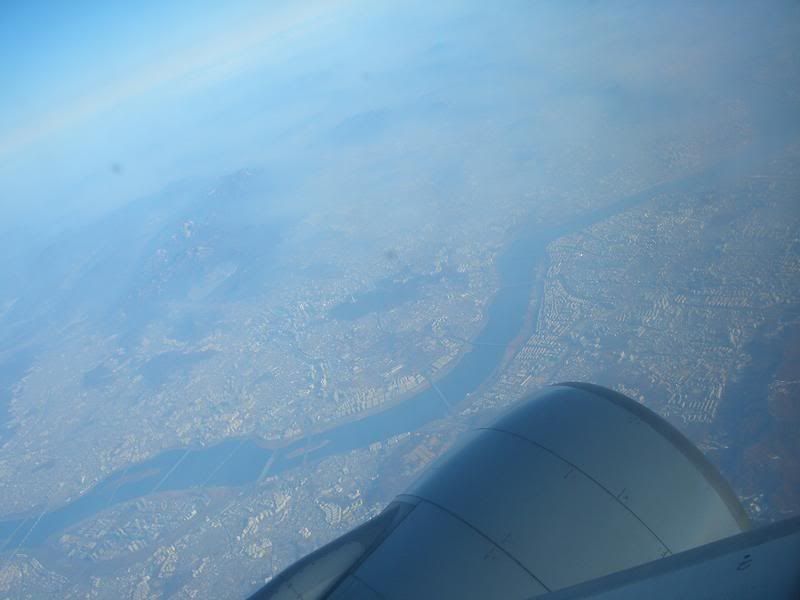 Bye Korea~~See you soon!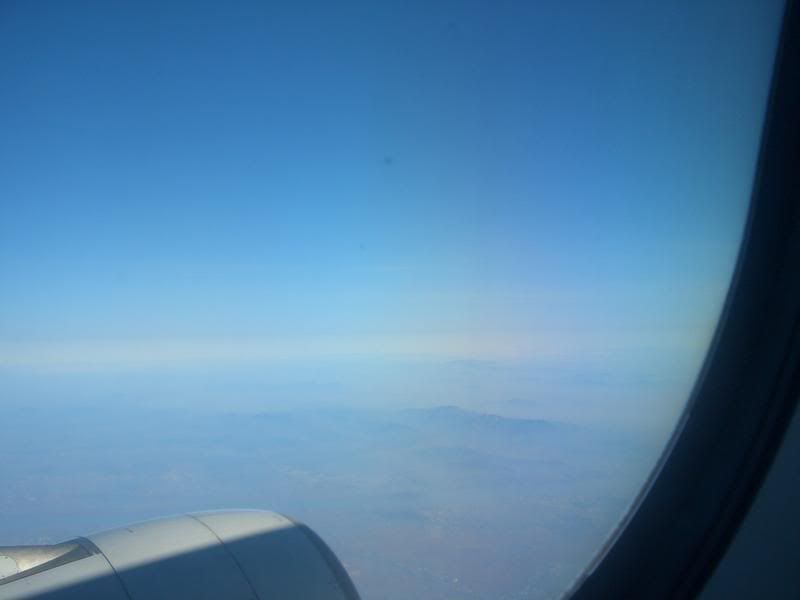 Nice sky..
Don't think that Japan & Korea are so close, we took 2hours and 40 mins from Seoul to Sapporo. It's a long way....in fact from Hong Kong to Seoul takes only 3hours something....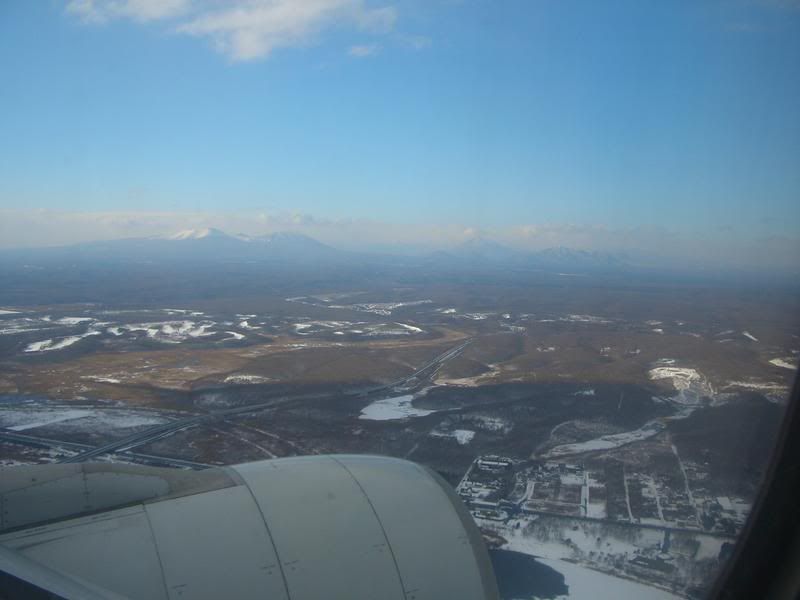 Heading to Sapporo New Chitose Airport...so much snow~~

Everything in Japan is so cute, I couldn't believe that they have pikachu airplane as well!!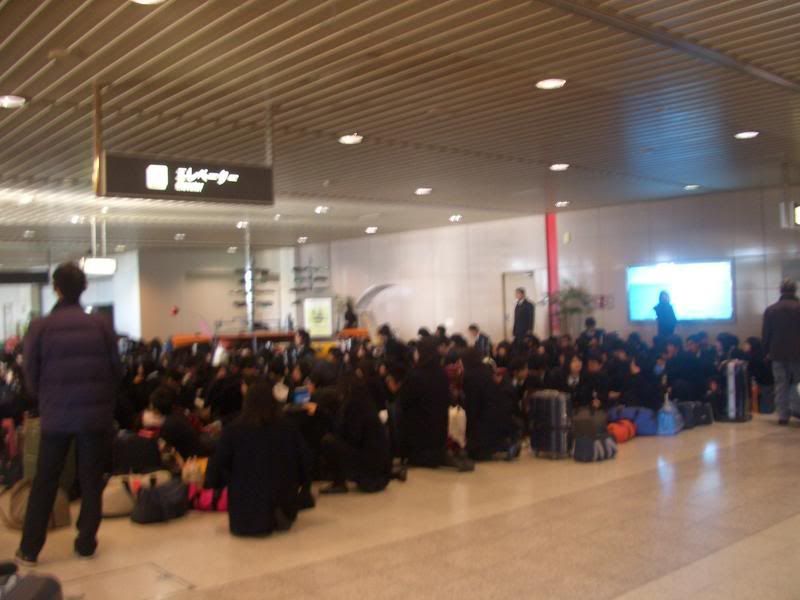 We saw so many high school students in the airport....not sure what they were doing.

There are good souvenir shops in Sapporo airport, we had to control ourselves not buying so much and we really did it. We missed the delicious chocolate we tried there, so bad that we couldn't find it outside the airport!

Not sure how cold it was, should be below zero degree, but the sun made us feel so warm!!!
I must recommend a hotel in Noboribetsu to you all, this hotel is really good and cheap. It's called Noboribetsu Onsen Takimotoinn (第一潼本館INN) . (http://www.takimotoinn.co.jp/index.html)
Many people asked me how could I reserve the hotels in Japan with that very cheap price. I have to introduce some good website for you all to do the research online, they are:
All websites are in Japanese, but if you know Chinese, you can probably know the operation of the websites, if you don't you can use some translation tool. The websites give you very good ideas about the price and the vacancy status of the hotels. You can reserve the hotel online directly if your register to become the member of the website. The membership fee is free, and you don't need to pay any deposit for making reservation. However, I will prefer to send email to the hotel directly, because you will have more information about the hotel, and normally you will have better price and services. For example, the website may only show double room, but if you send an email to ask if they have any triple room, they may have it. So, always send email to the hotel directly.
So, I booked the Noboribetsu Onsen Takimotoinn from it websites, it's only 5925yen (~HKD420) per each person. It included a triple room, a shuttle bus pick up from Sapporo Airport to the hotel (it costs more than 1600 yen by public transport), very grand and good quality of hot spring (the hotel makes a creditable claim to being the largest spa in Asia), very delicious dinner and breakfast buffet, and a free shuttle bus from the hotel to Sapporo city though we didn't take it!!! I think this is the best hotel I tried in Japan in price and quality!!!!! Highly recommended!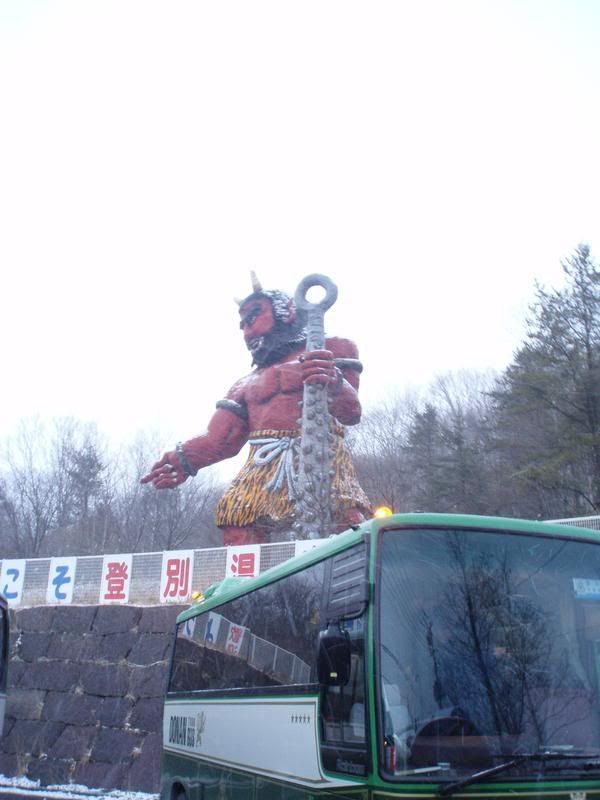 After taking around 1 hour shuttle bus from the airport, we had to interchange another shuttle bus to the hotel. We saw the big devil that is very famous in Noboribetsu.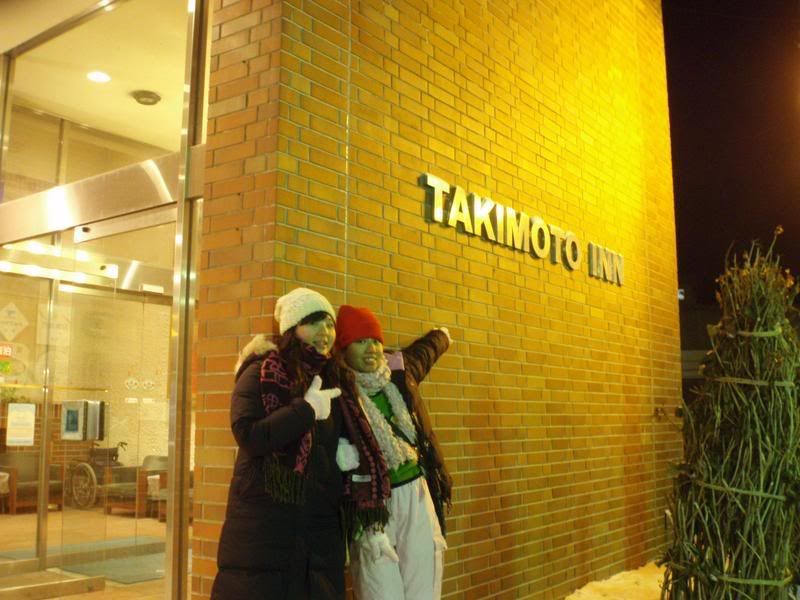 So we have arrived our hotel...very decent!!!!
We settled down our stuff and explored the surroundings. Basically, most tourists spots are close to our hotel, so we were just do some random walking. It's only 4pm something, but the sun went down so early!!

The hell valley.....Sulphurous volcanic pits and geysers that is very famous......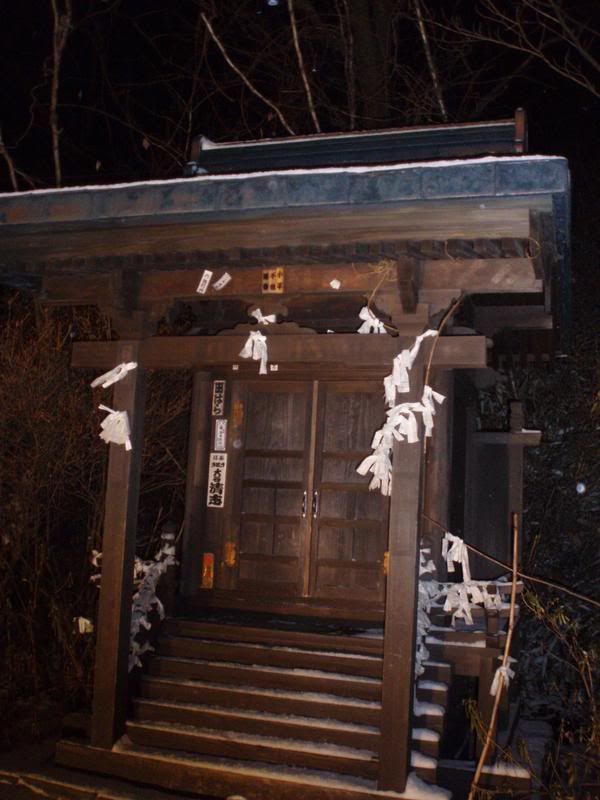 Don't know what is it.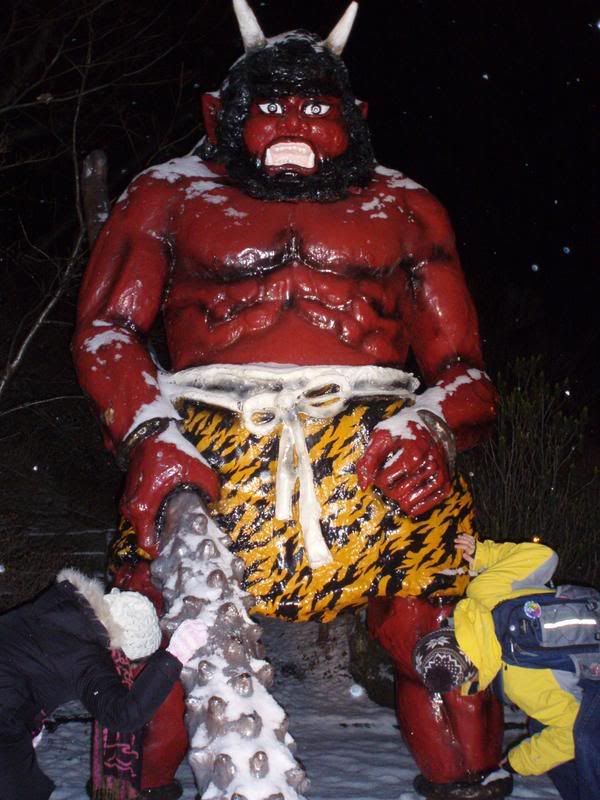 We're wondering if this guy had worn underwear....so silly!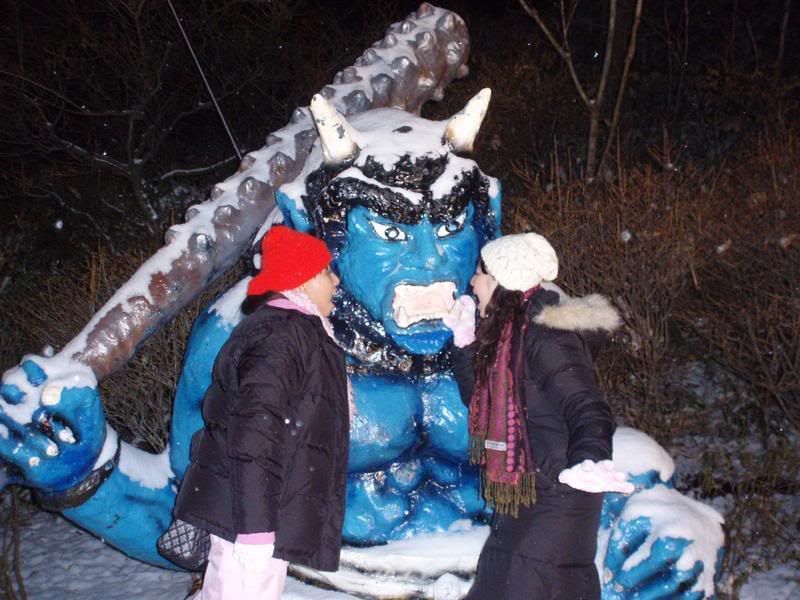 Trying to bite something...silly picture again..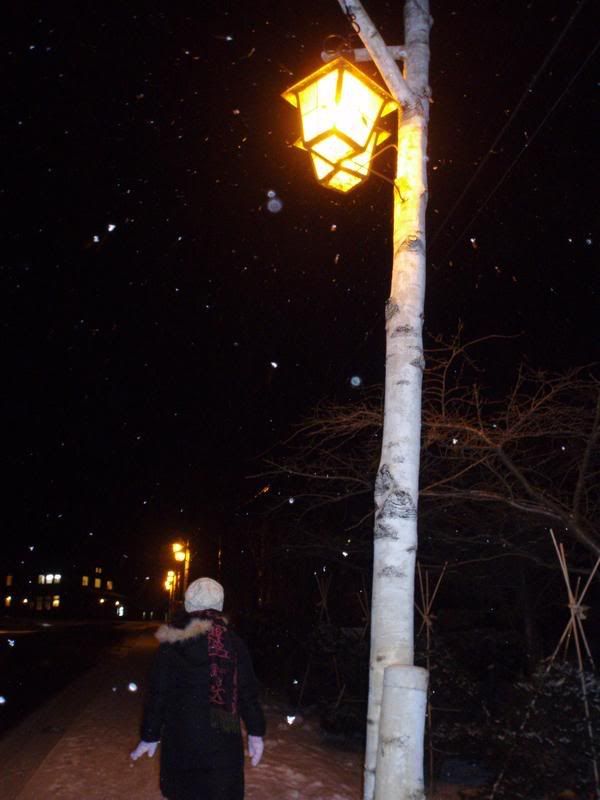 So big snow...first time to experience that big snow.....interesting!!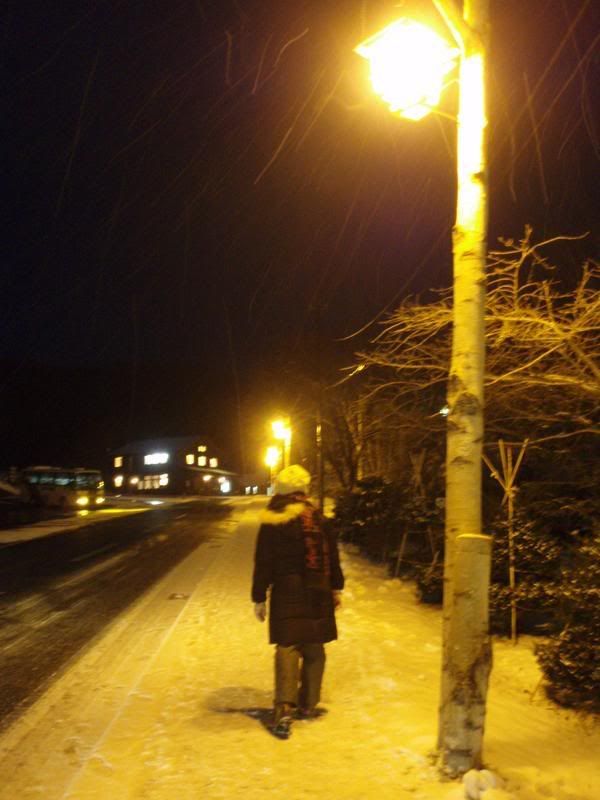 It'd be more romantic if Michelle could be replaced by a guy.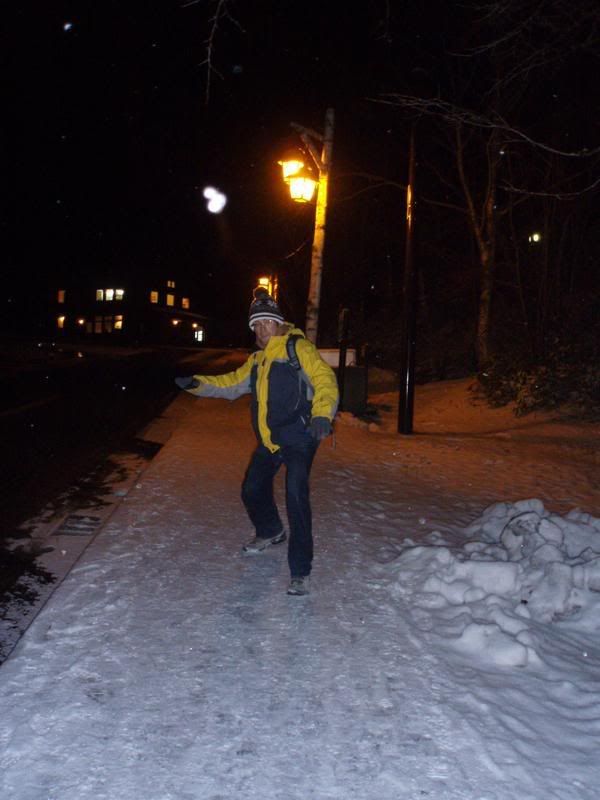 Alban Caron was so eager to ski.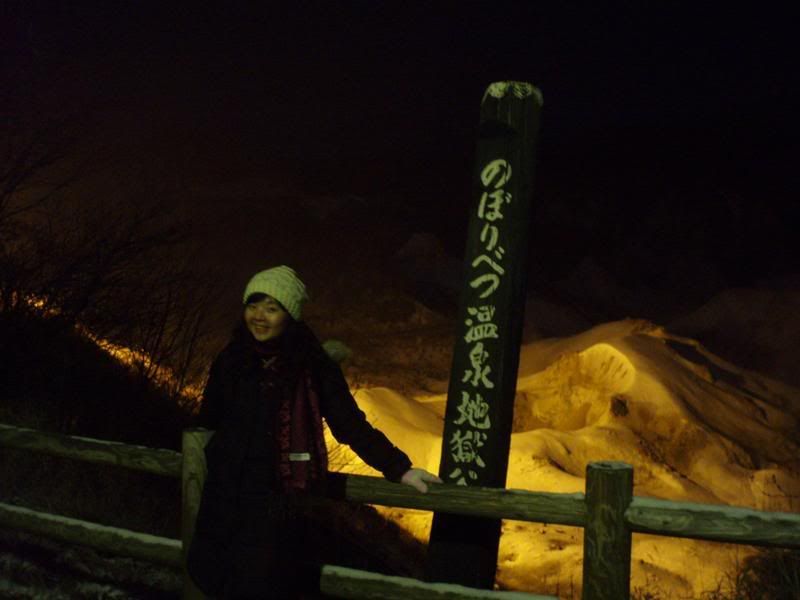 We saw the volcanoes finally..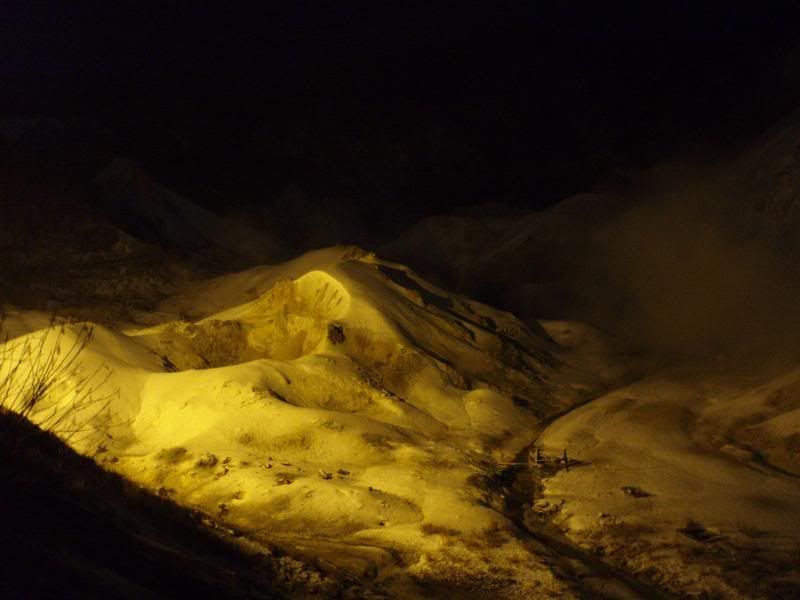 It's so amazing, never seen the so many volcanoes in that close..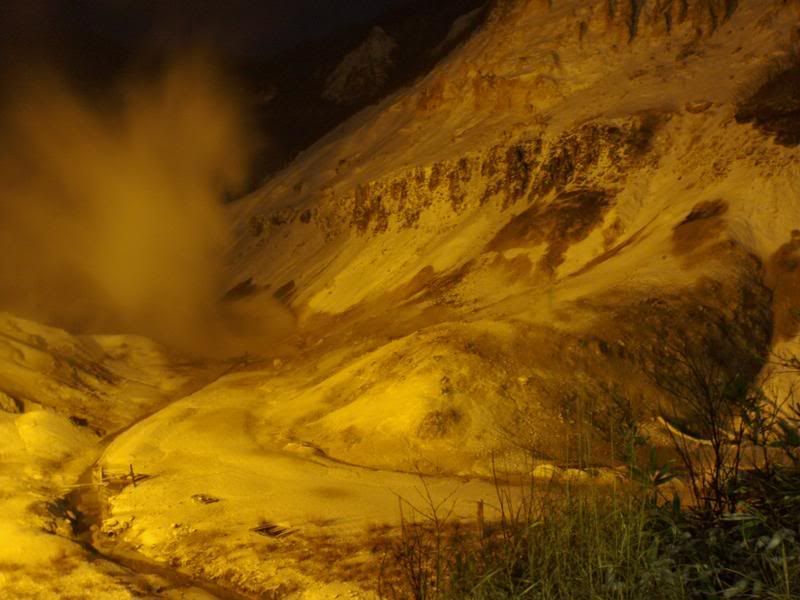 Not sure if the volcanoes is living or died already...but there were hot smoke and very strong sulphur smell emitting.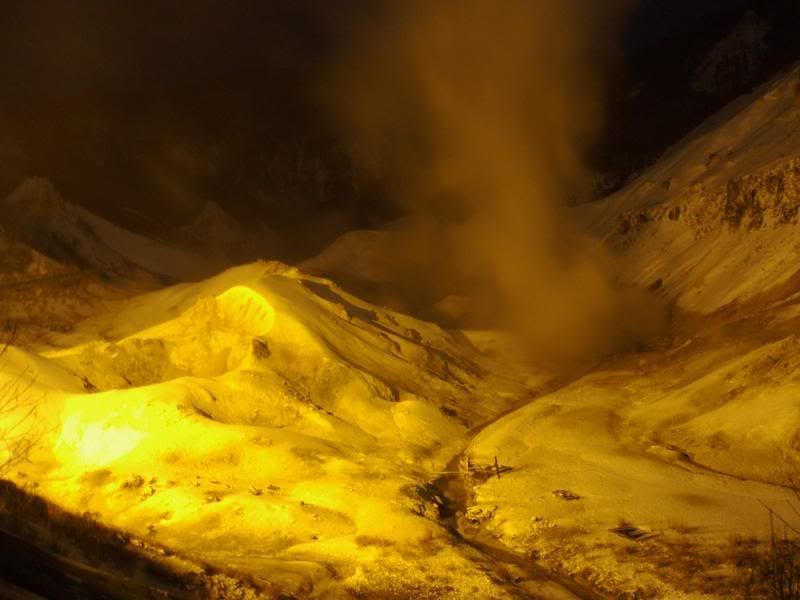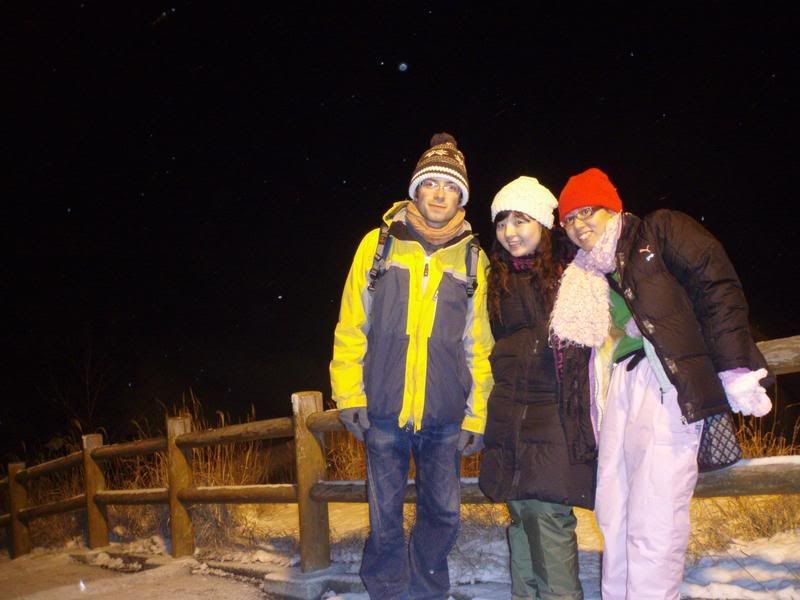 Self photo taking...the sulphur smelt like shit though...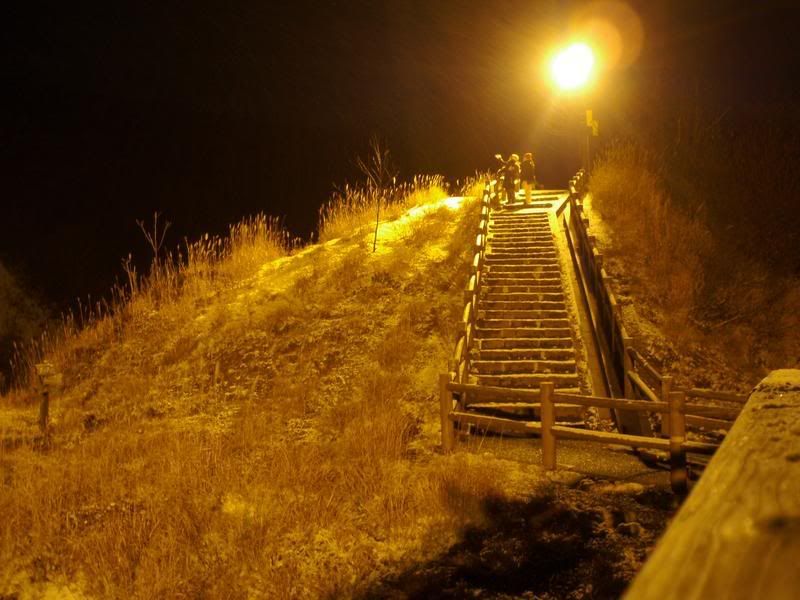 Alban took us from the ground..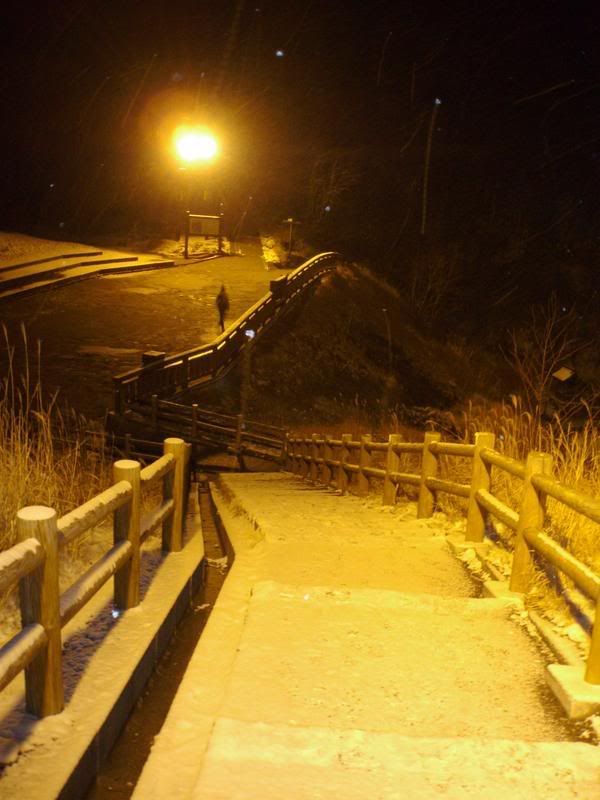 I took Alban from the top..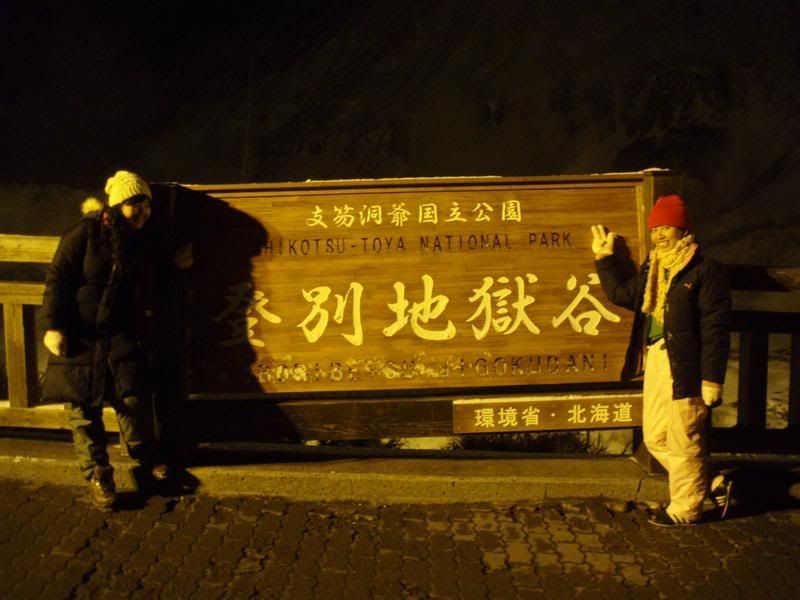 Well.....just like other tourists, we had to take a photo in front of this big sign......

Sometimes, I feel that human is just too tiny in this universe.

We found that there were many convenient shops in Japan, and most of them with a sign to indicate that they sold alcohol. It's quite weird to give an alcoholic image to the Japanese.
A little travel tips to all: Most convenient shops in Japan have ATM, you can withdraw money from there. Some local convenient shop may only accept Japanese bank, but 7-11 is always international. Alban couldn't withdraw money from the ATM at the airport, but he could withdraw money here!!
After the little exploration in the volcano area, we walked down a bit to the little shopping street..

I guess it's the king of the hell...

Actually, we 3 took this silly picture, but it's just too silly to post up here. I guessed Alban wouldn't mind showing his picture here, would you?

We were very hungry as we didn't eat anything other than the food served on flight, and some free samples in the supermarket at the Sapporo airport. We still had one hour to wait for the dinner after the volcano sightseeing. We went to some souvenir shop and wished to try some free sample again!!! Eventually, we were attracted by this cake and bought some to share....It looked really good but the taste was just so..so...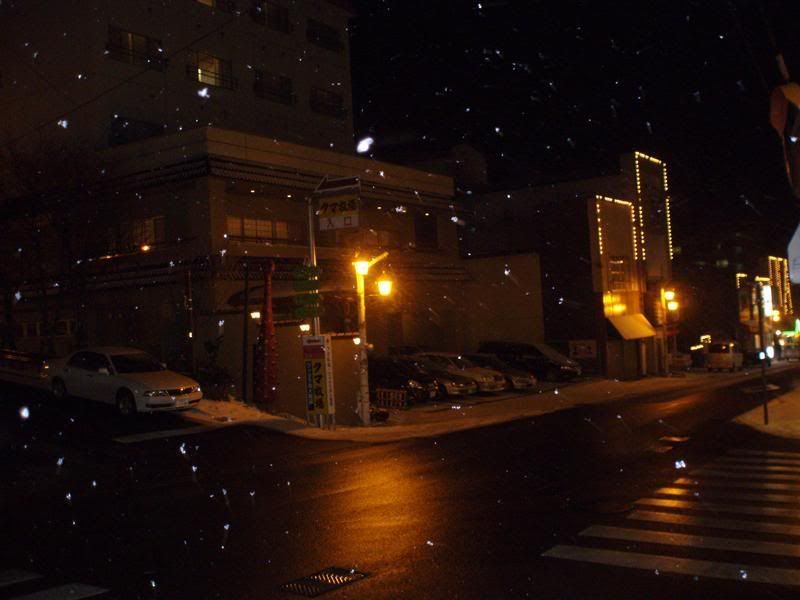 Heavy snow.......I only had 130000yen (~HKD9100) for staying in Japan for 2 weeks, so I didn't want to spend too much money at the beginning of trip.
Finally, it's 6pm!!! We went back to to our hotel for dinner!!! The dinner was unbelievable great with many different types of food!!!! It's a buffet dinner.....we're so full and happy with our first meal in Japan!!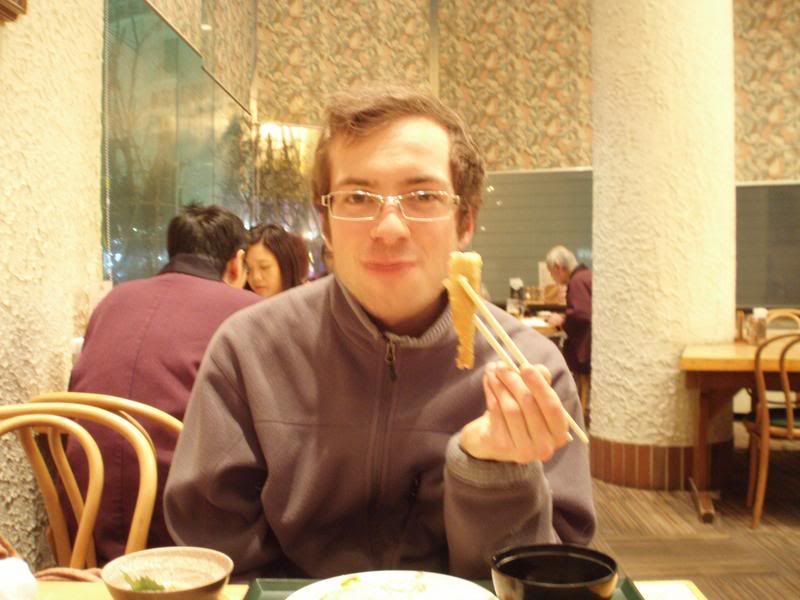 We're just too concentrated in eating and forget to pictures. I just found this picture that have Alban and the fried shrimp. Alban looked so feminine!!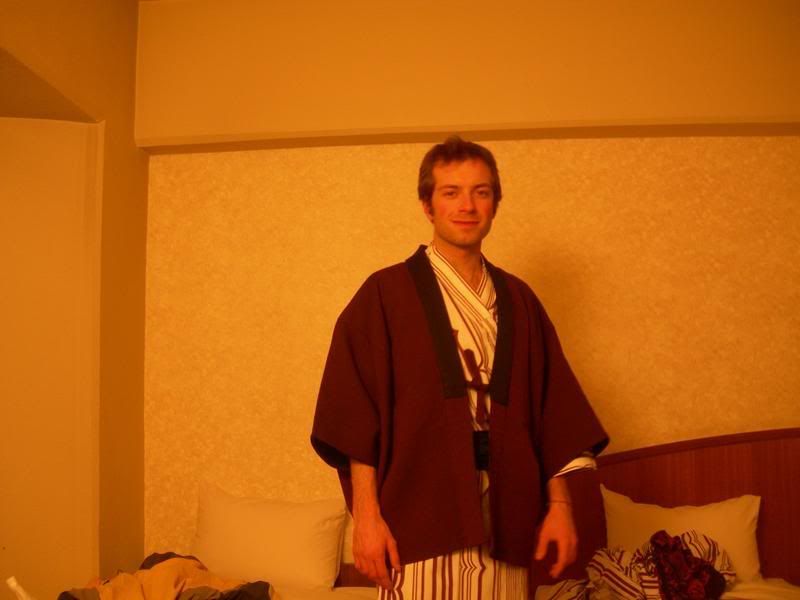 After the dinner, we couldn't wait but come back to take a shower and go for hot spring!!!! The hotel provided us the dressing, it's so tradition....love it!!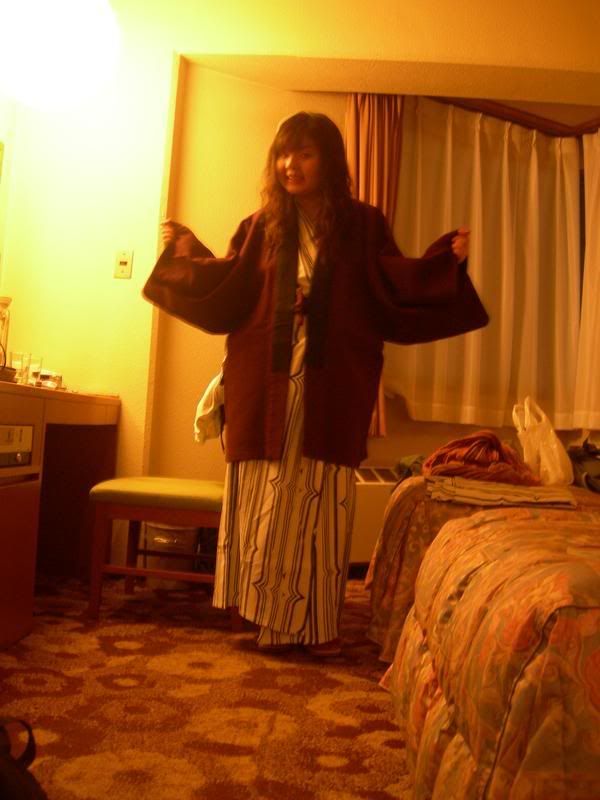 I took similar picture when I first visited Tokyo 4 years ago while we were sleeping in hot spring hotel at Mt. Fuji. The hot spring in that hotel was quite small and I was so shy to be completely naked, so I didn't try last time. I promised myself to be brave and open-minded for trying the hot spring even with my very close friend Michelle this time. haha....ctually, I went with Michelle last time as well....I was just so shy and embarrassed because we're just so close, I didn't mind to be naked with a group of strangers.
The hot spring is located just opposite our hotel in 1 minute walking, it's weird to wear like this to walk out. Anyway I read that hot spring in my book, it said that it was the greatest hot spring in this district, and I heard that the hotel claimed that it's the largest spa in Asia!!!!
Of course, we couldn't take any picture inside the hot spring, but I could tell you it's just so wonderful, they have many different types of hot spring, I love the outdoor hot spring!!!! It's really amazing experience!!!! The snows were just dropping to my head and shoulder while my body was so warm to be immersed into the hot spring!!! It's just so good~~~~ I love it!!!
The hotel provided some skin care products for us after the hot spa..Michelle and me both felt that every part of our skin were just so smooth~~~~
I've downloaded some picture from the official website : http://www.takimotokan.co.jp/paradise/index.html

Can you feel our happiness in this hot spring experience??
Join TravBuddy
to leave comments, meet new friends and share travel tips!