South Korea & Japan Winter Trip 2007 - Day 3
Seoul Travel Blog
› entry 4 of 17 › view all entries
South Korea & Japan Winter Trip 2007 - Day 3
15/12 Woninjae, Mingdong, Namsan Park, N Seoul Tower, Sinchon
Since Michelle and me love shopping very much and we found that the skin care in Seoul was extremely cheap, we went to Mingdong for our second round of shopping today!!

Burger King at Seoul, of course we didn't eat it!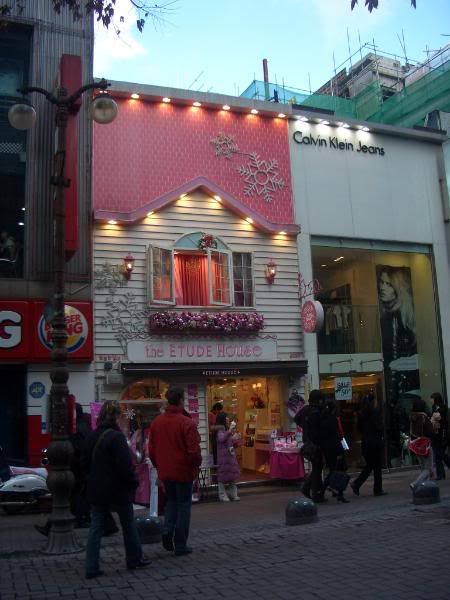 Etude is one of my favorite Korean skin care brand, I love the packages of their product and they always use pink as a main theme in their shop!!! So girly!!! It's bad that there was only a few types of cosmetic products sold in Hong Kong.
We wanted to treasure more time to shop, so we skipped our breakfast but we did not have a sense of hunger until the late afternoon!! haha...Perhaps, the hyper shopping mood fed us quite well!!! We went to a Korean restaurant in Mingdong that was cheap but with very high quality on food and services. The lady served us could identify us from Hong Kong, it's really impressive because she was the first one who was able to identify our nationality. Also, she could speak English though the accent was strange, we could understand and able to make our order! I guessed we were very hurried to eat so that we forgot to take any picture of our nice lunch!!
We spent most of our money in Mingdong, actually we only brought $1700 to Seoul and we would fly back from Seoul later, so we had to save some money for latter use. It's really hard to control ourselves from shopping!!!
Anyway, we had decided to go to Namshan Park and the N Seoul Tower by evening, so we had to control ourselves!!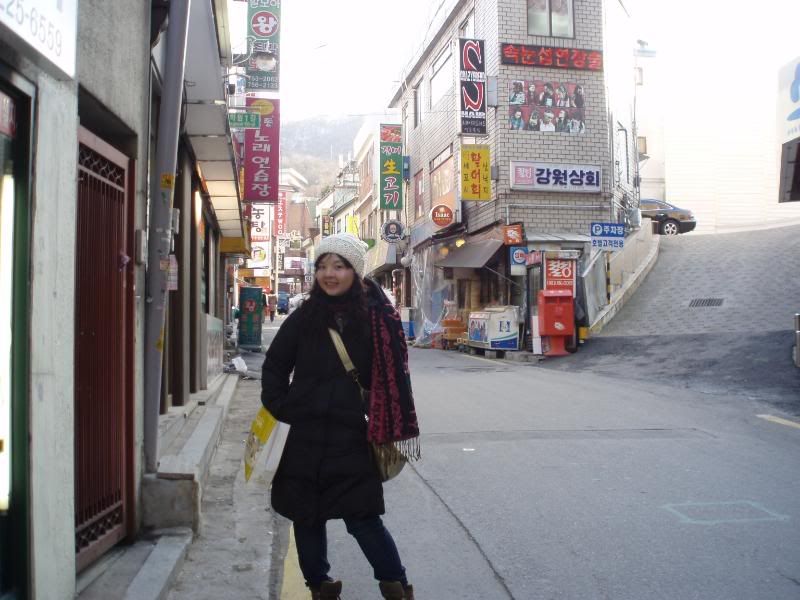 A random street near Mingdong leading to Namshan Park

A nice coffee, I love the buildings in this area, they look so comfortable!!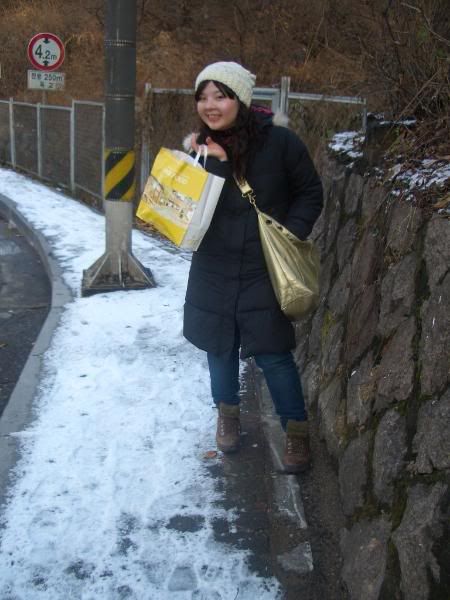 First time to see some snow on street!!! My handbag and shopping bag were full of skin care at that moment!!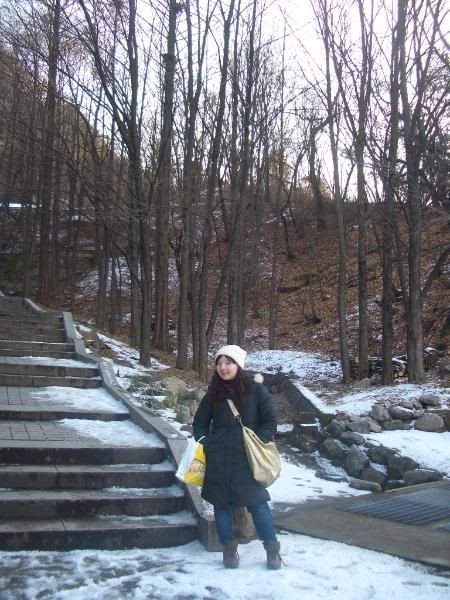 Normally, I won't do much shopping in my trip as I hate carrying so many stuff for the whole trip!! If you know me, you probably know that I always bring a big backpack for traveling, so I don't have much space to keep those stuff!!! Also, I'm a budget traveler, so I don't really have money to shop. Since we would fly back from Seoul again and we would stay at Coery's home again when we came back!! Corey is a really nice guy, he let us put all of our souvenir bought in Seoul in his home. As a result, we could buy as much as possible because we didn't need to carry it!!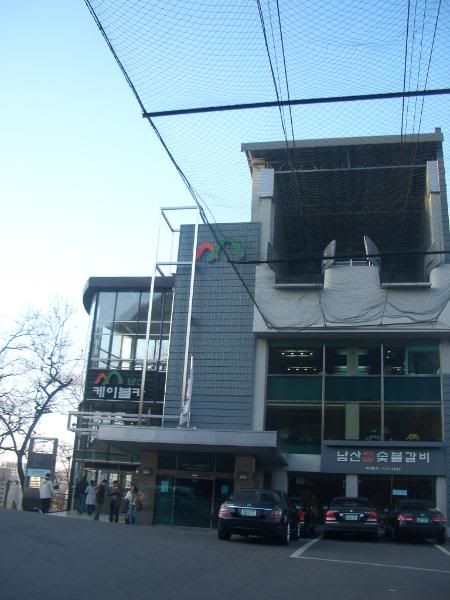 The ropeway station to the Namshan Park!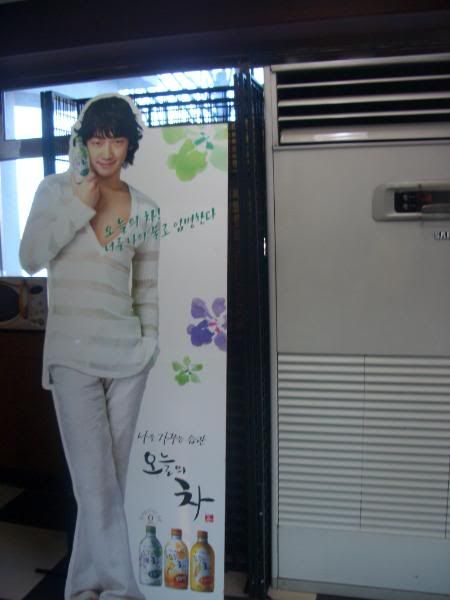 Rain...very popular artist both at Hong Kong and Korea, but I didn't see his poster everywhere as I expected. In fact, it was my first time to see his poster at Seoul.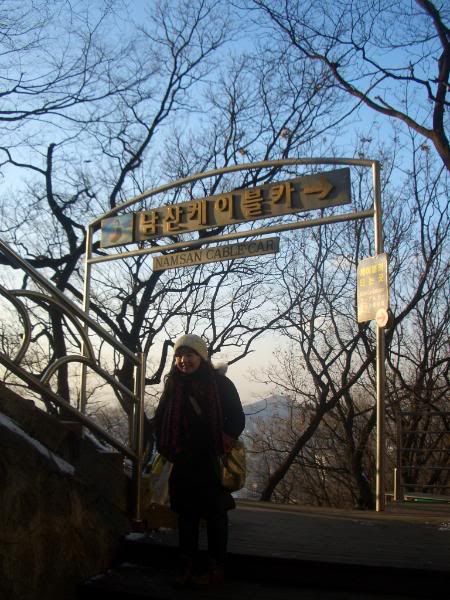 We are now at the Namsan~~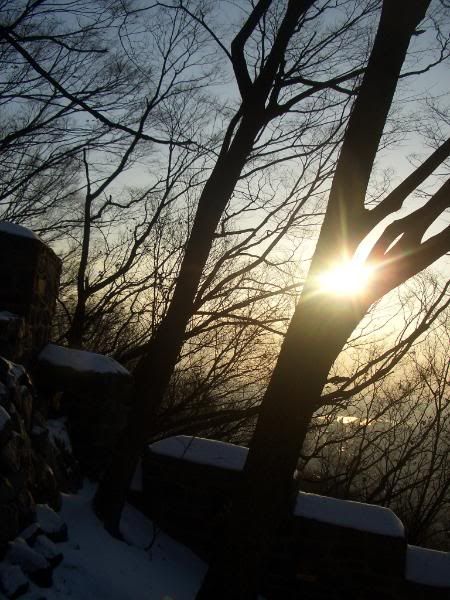 We thought we could hike to the mountain, but We were afraid we would be trapped at the middle of the mountain after the sunset...so we decided to take the ropeway.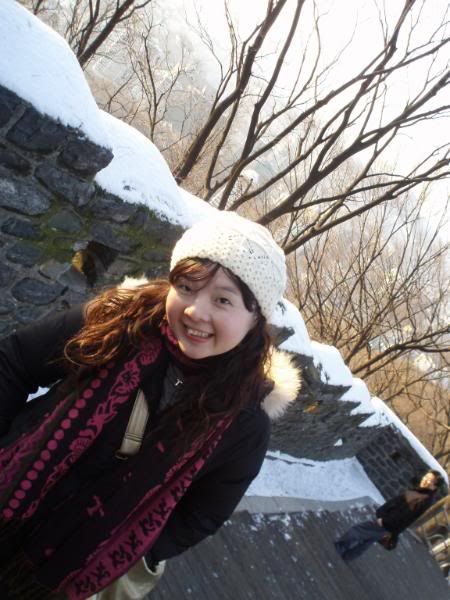 It was a good decision indeed. We saved a lot of time and when we reached to the top, the sun started going down, so we could see the city in sunset~

Actually we still needed to walk a bit after taking off from the ropeway, and it's freezing, I was really cold!!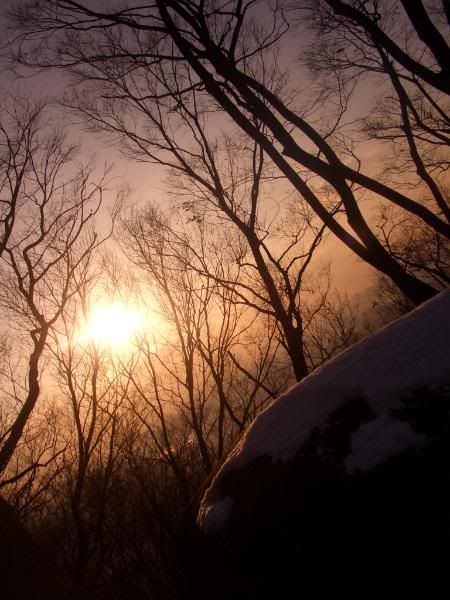 Beautiful sunset~~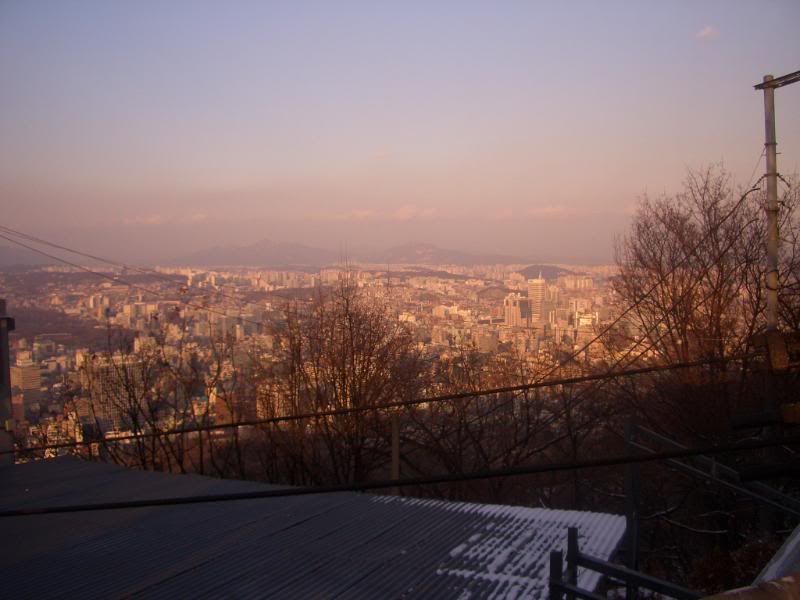 Seoul city under sunset~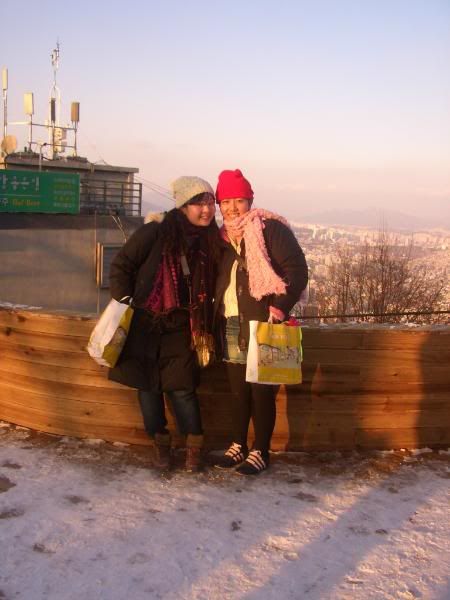 It's the first time for us to see so much snow in Seoul, Michelle & me were so excited for it.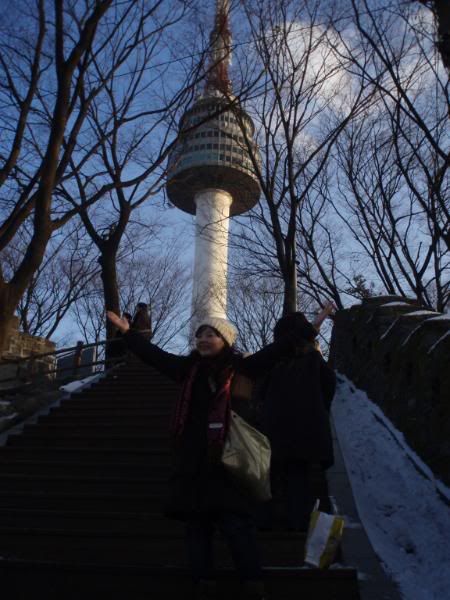 The N Seoul Tower behind.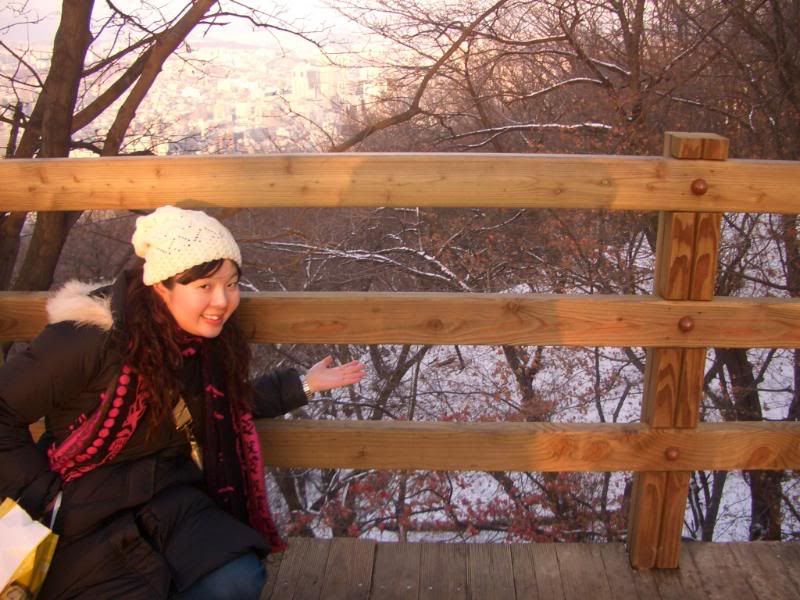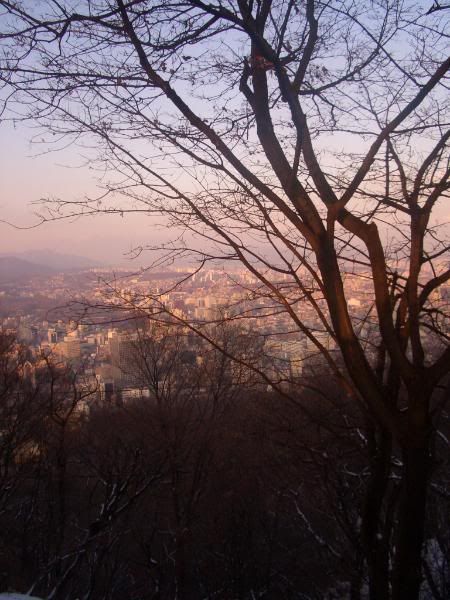 Nice view, isn't it?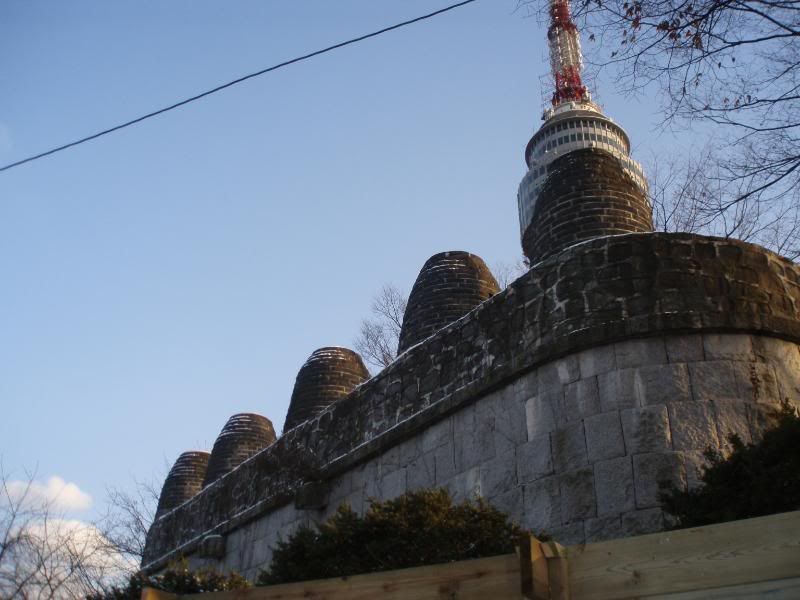 Alban told me this stuff was used to giving out message by fire in old time that was exactly same as the "fire stage" (峰火台) in Great Wall!!

Some random cute stuff on the top of the mountain!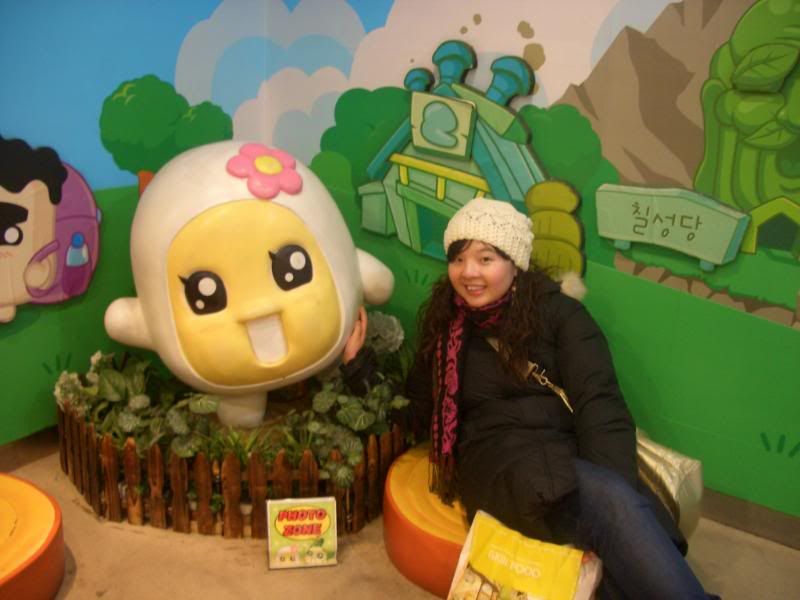 This is a kids zone...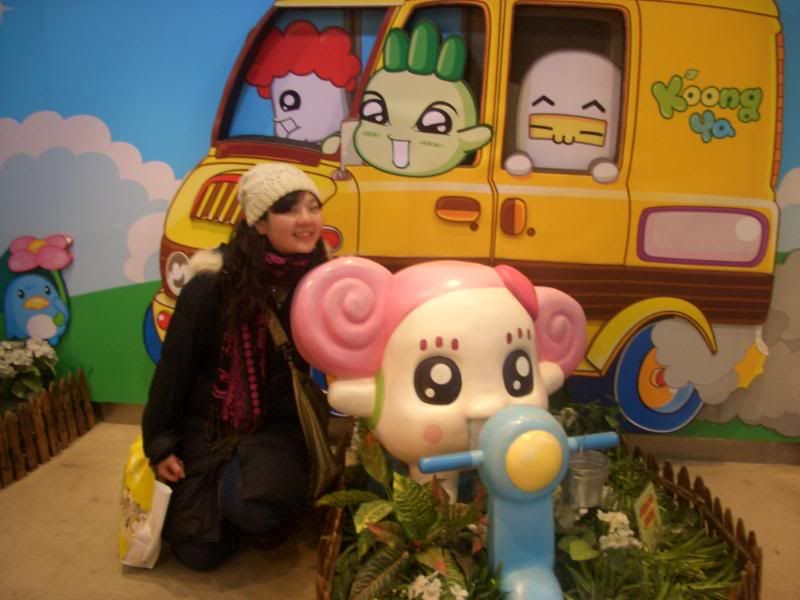 It's really cold outside, so we had to come to the indoor areas quite a lot.....That's why we stayed in the kids area.

We didn't go up to the Seou Tower as we're already on the top of the mountain, I guessed the view from the tower would be very similar from the view that I had seeing here. Another reason was we didn't have enough money!!

This area is so romantic, many couples hoisted they locks on the cage.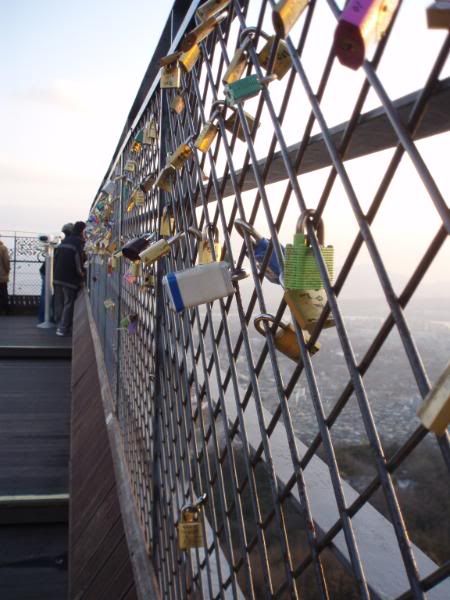 It's even nicer in the sunset that makes everything so romantic~~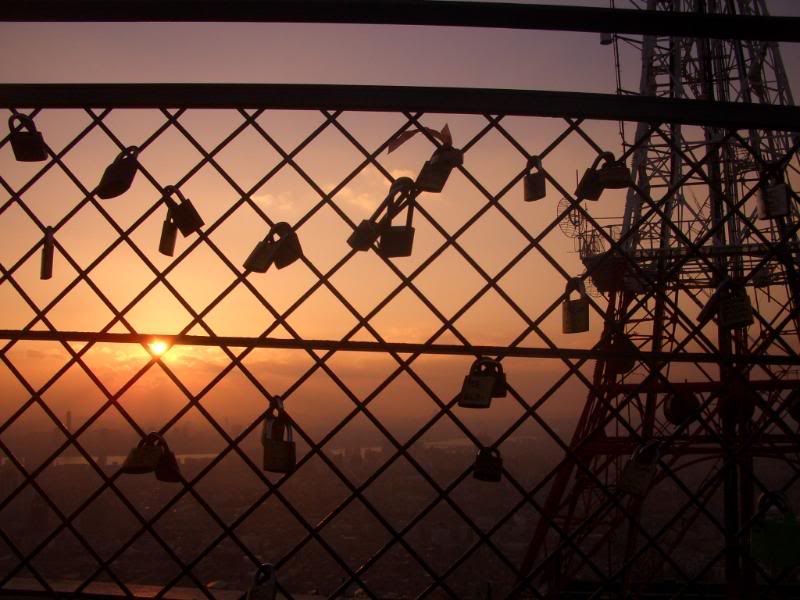 I wish I could come up here with my beloved in some day and hoist up our locks..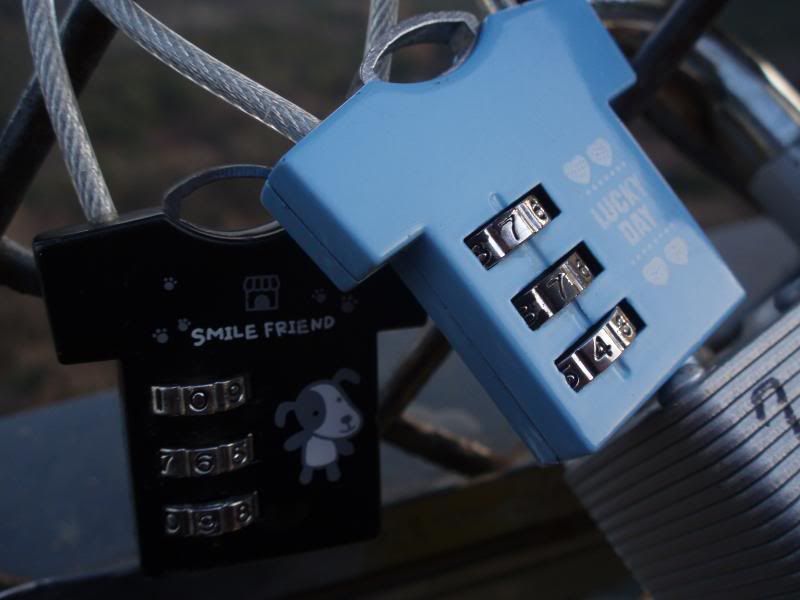 I wish all couples hoisted their locks here will be together happily forever....

Great sentence...Love is Magic......It's quite strange that lock was hoisted alone instead of in pair. Perhaps, it had a special story behind, I don't know, but still I think if you believe in love, your magic will come in one day...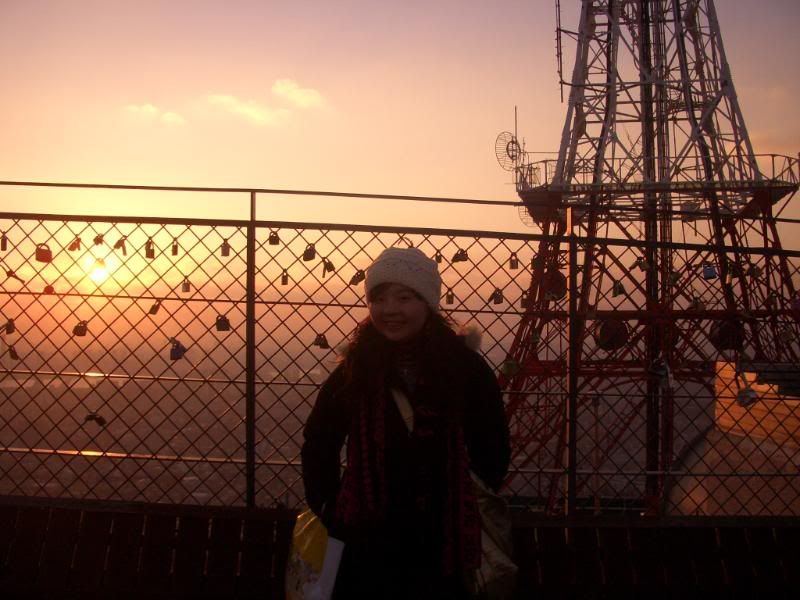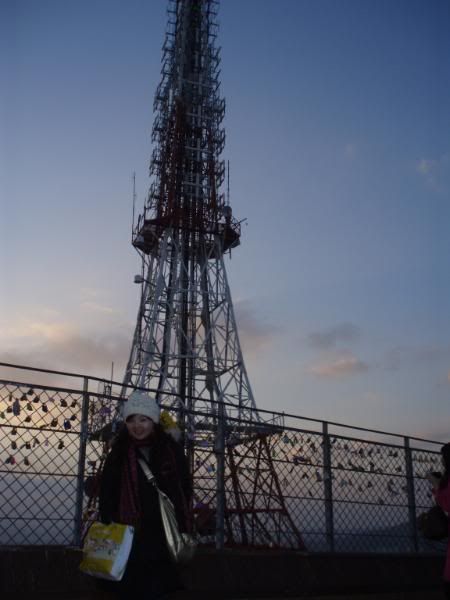 It's really freezing!!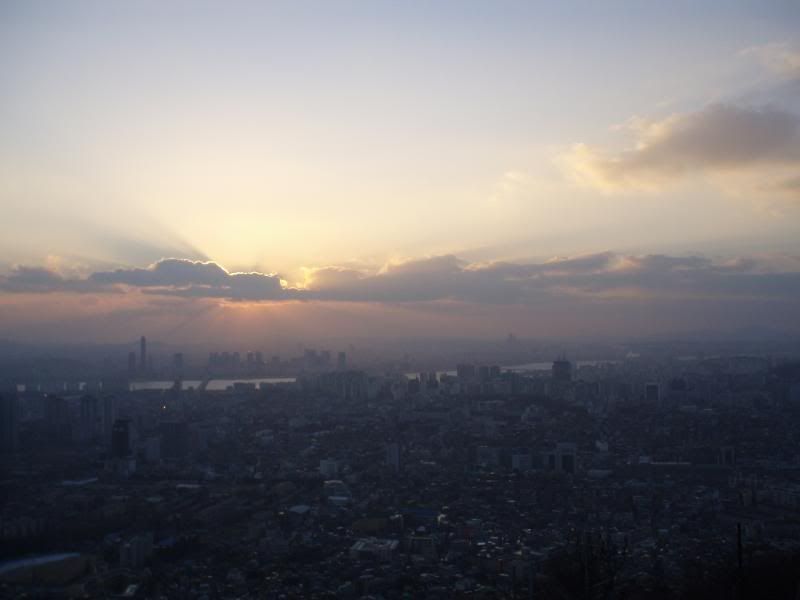 The power of sun, it's like that God is watching at us~~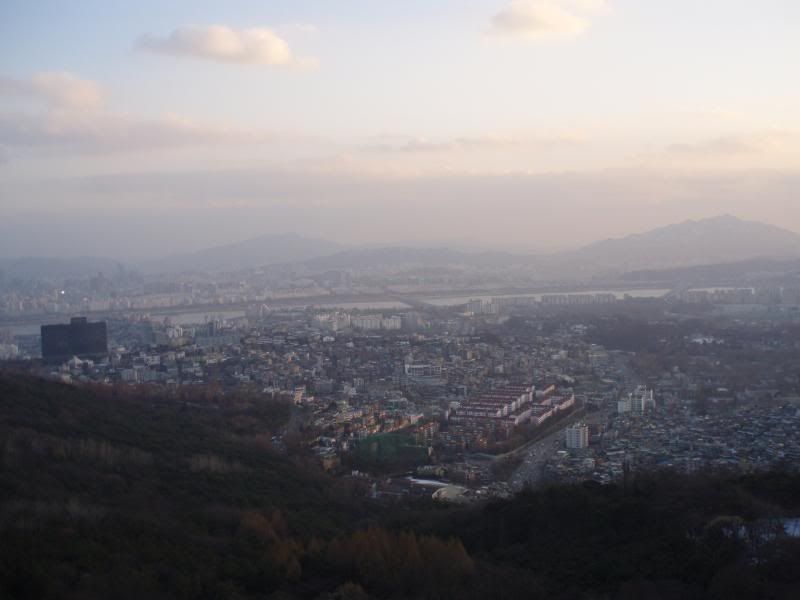 Beautiful Seoul view, we're living over the river, we had to cross that bridge everyday to the main Seoul city, it's really far away!
It's very cold on the top of the mountain, we wished we could stay a bit longer to see the night view of the Seoul, but we couldn't bear for that cold!!!!! Also, we got an early flight to Sapporo in next morning, we wanted to get back Corey's home earlier tonight. As a result, we left the mountain at late evening without seeing the night view of the Seoul.
It's also the last night for Alban in Seoul as well, he would fly back to France from Japan directly. So we had dinner with him and his friends. We went to a traditional Korean restaurant at Sinchon.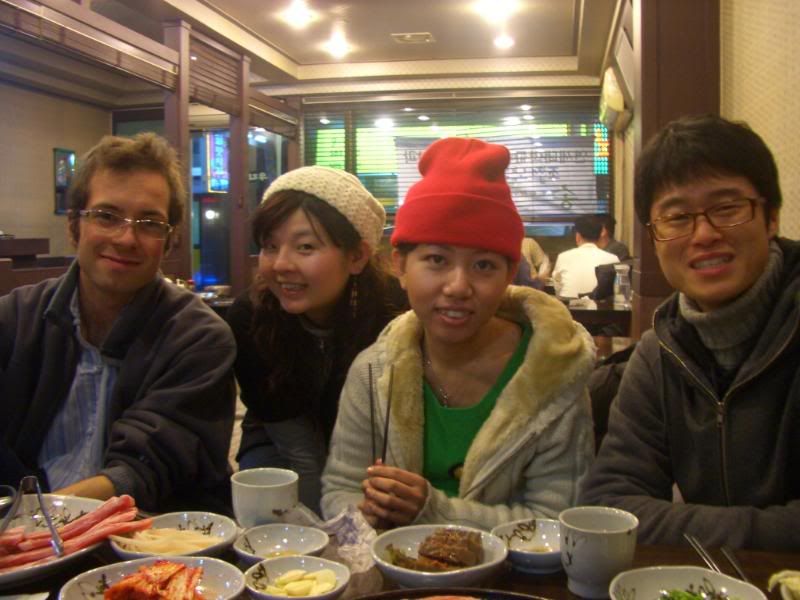 It's Paul on the right hand side, he was the roommate of Alban when he was studying in PolyU!!!!! Yes, so Paul is our old friend, we went to have dinner together when we were living in the hall. I missed the old days so much!!!! Paul is a Korean, so he ordered us some delicious food!!! It's kind of funny to see Paul help us to order food as Michelle & me were always helping Paul & Alban to order food in Hong Kong!!! It's the first time Paul helped us!!!! I'm waiting Alban to help us to order a French dinner very soon!!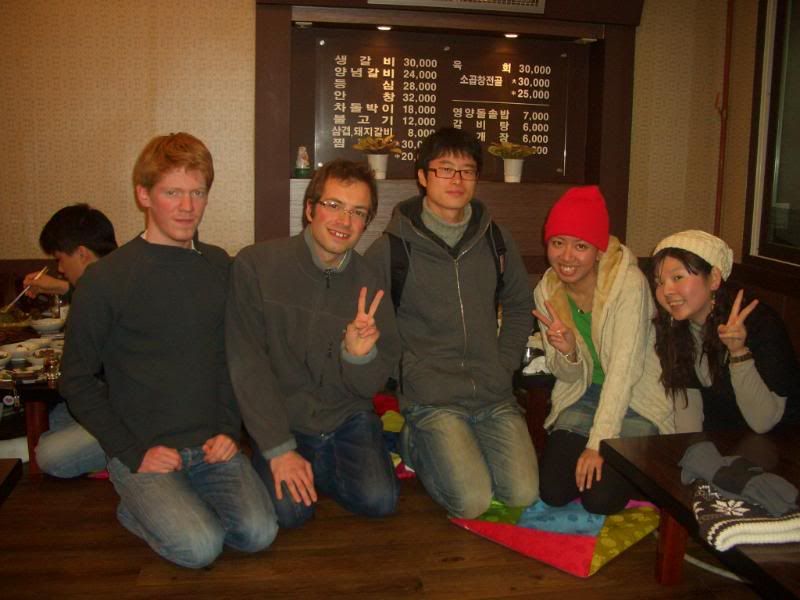 We took photo after our dinner!!! We have, Thomas, Alban, Paul, Michelle and me. Thomas was the roommate in Seoul, they were from same university but they didn't know each other until they met in Seoul!! Alban was so lucky to have 2 roommates with him on his last day in Seoul.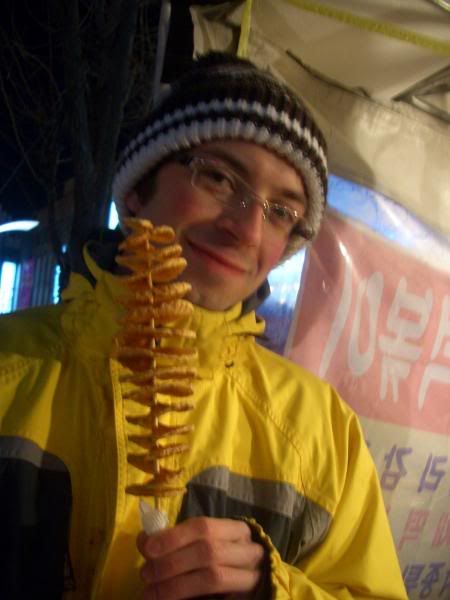 After the dinner, we wanted to try some snacks, but we're already so full!!! We met the girls from Ewha Women University we met last night again, they were going to farewell Alban. Since we wanted to pack our stuff for our early flight tomorrow, so we didn't join them and go back to Corey's home directly.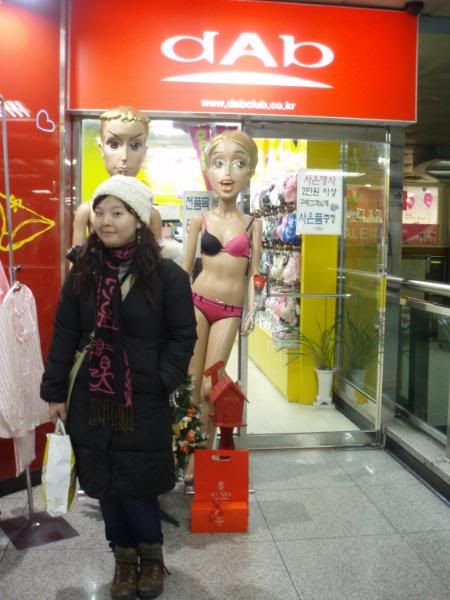 This shop is in one of our interchange metro station, we identified these 2 dummies as a landmark for going back Corey's home.
Join TravBuddy
to leave comments, meet new friends and share travel tips!