South Korea & Japan Winter Trip 2007 - Day 2
Seoul Travel Blog
› entry 3 of 17 › view all entries
South Korea & Japan Winter Trip 2007 - Day 2
14/12 Woninjae, Deoksugung, Mingdong, Ewha Women University, Sinchon
After the terrible taxi experience last night, we decided to walk from Corey's home to the subway station so that we could memorize the route when we got back at night. We didn't want to get lost again, so we did very good preparation to memorize the route. Thanks for Corey who drew us a simple map, and we took pictures in every corner to make sure we could know where should make a turn...haha..silly enough?? Michelle and me were just making fun while this long walk, we thought we should leave some marks on the way...haha...however, the way wasn't that difficult to walk, it's just long enough!!!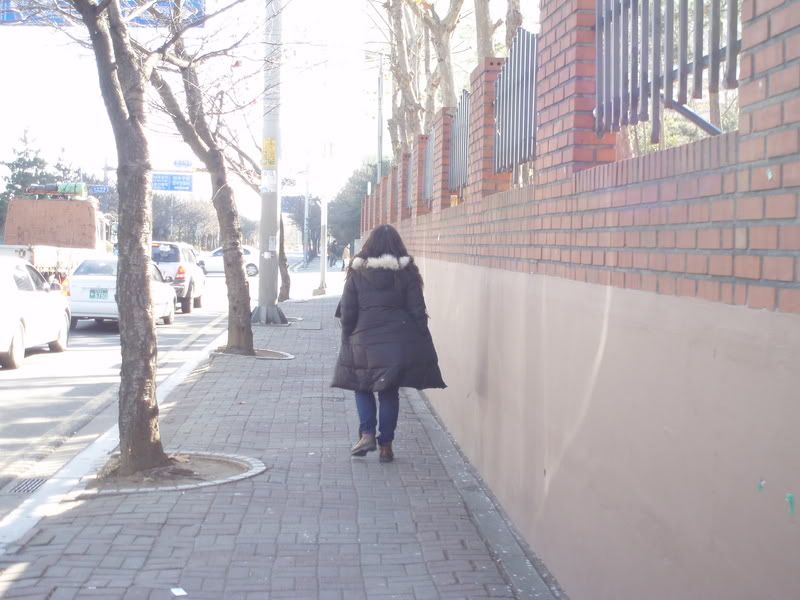 A very long straight road...
We had our brunch in a random Korean restaurant on the way to the subway station. It's a disaster again as they didn't have much photos on the menu, and the waitress couldn't speak English at all. We ordered the easiest food - kimba again, then the lady spoke a lot of Korean to us loudly!! I guess she asked us what kind of Kimba we wanted but we just didn't know how to answer, so we repeated "kimba" again. I could feel the waitress was so annoyed about us!!!! Eventually she gave us a random Kimba and some spicy noodle. Michelle and I found we're just so silly to speak some non-sense conservation, try to imagine what could you say if you were the waitress.
We: May we have some Kimba?
Waitress: What kind of Kimba do you want?
We: Kimba....
If I were the waitress, I would be totally speechless, so I understood why she got so annoyed!!!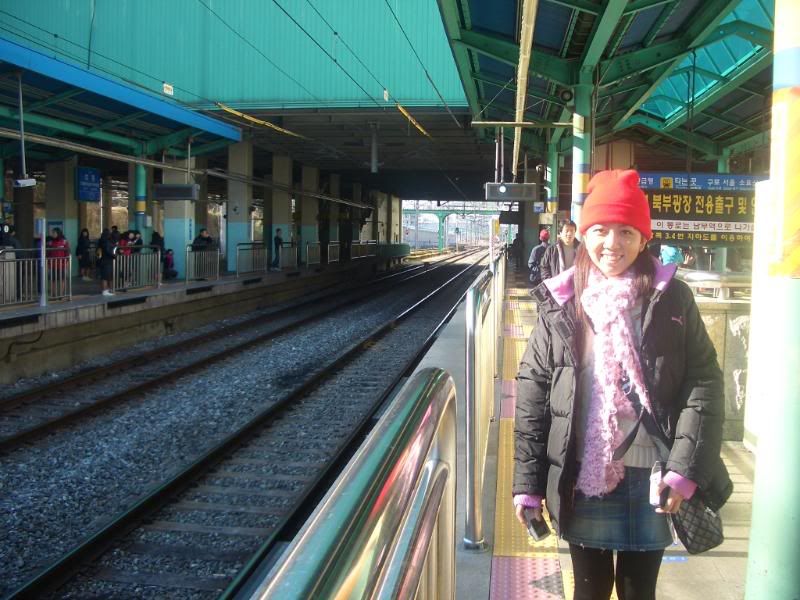 Bupyeong station, we always interchanged station here...

The biggest Christmas I ever seen in Seoul.
The first mission today is - Deoksugung (德壽宮). I'd like to watch the key exchange ceremony at 12pm, and we arrived at 11:55am, so we're so hurried to buy the tickets in.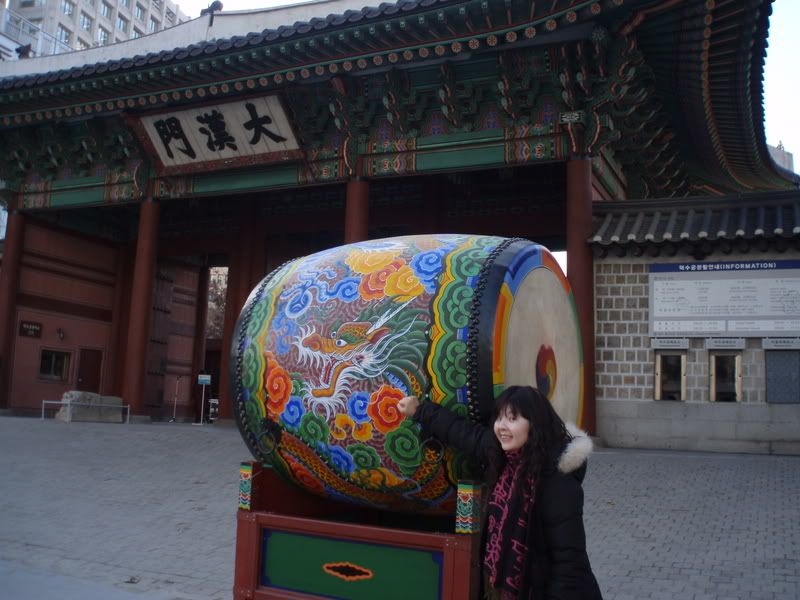 The very big drum, I wish I could play it.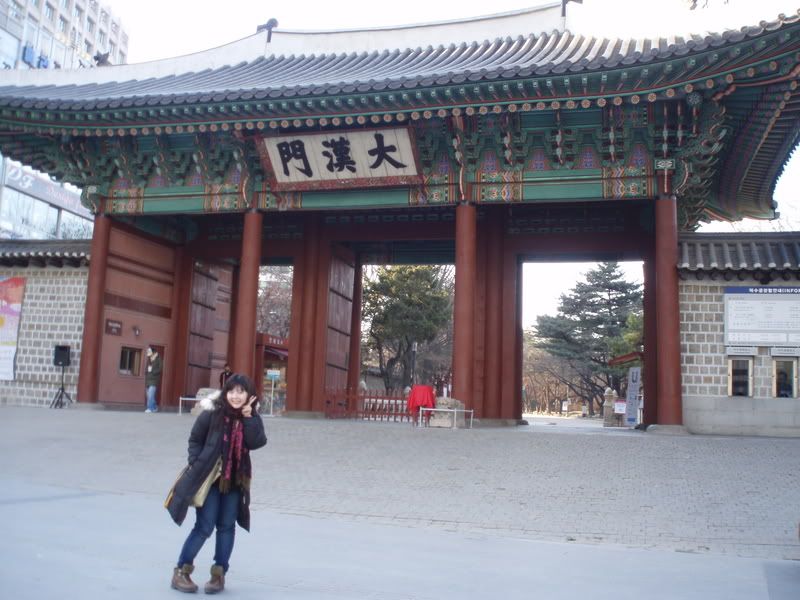 So you could see a girl standing behind me on the left hand side of the entrance, she could speak really good English to introduce the ceremony. After buying the tickets, I asked her the exact location of the ceremony. She told me the ceremony was just in front of the main entrance.....I felt really bad again because we could see the whole ceremony without buying any tickets..siily we were!!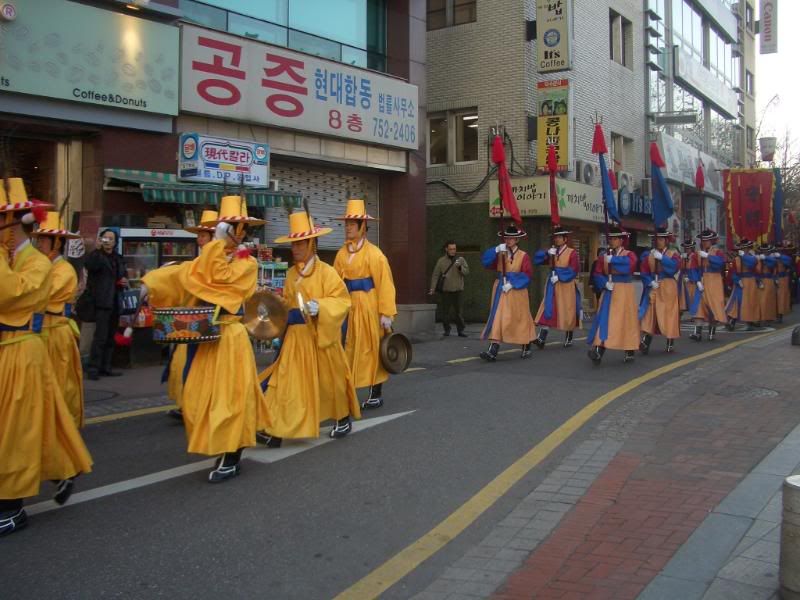 So the traditional Korean Solider were lining up and walking towards the main entrance from the side lane.

It's pretty cool that they're really serious and the whole ceremony was so formal!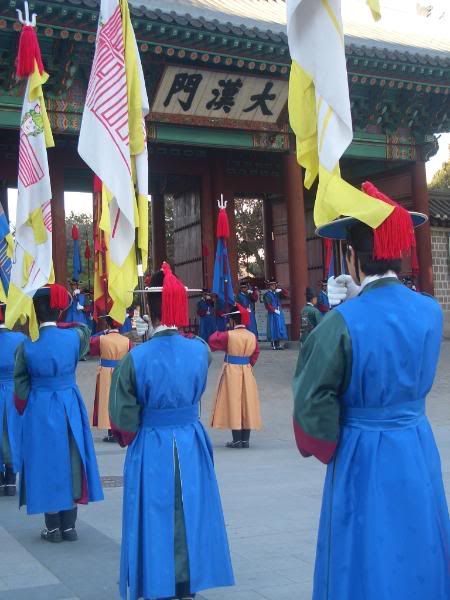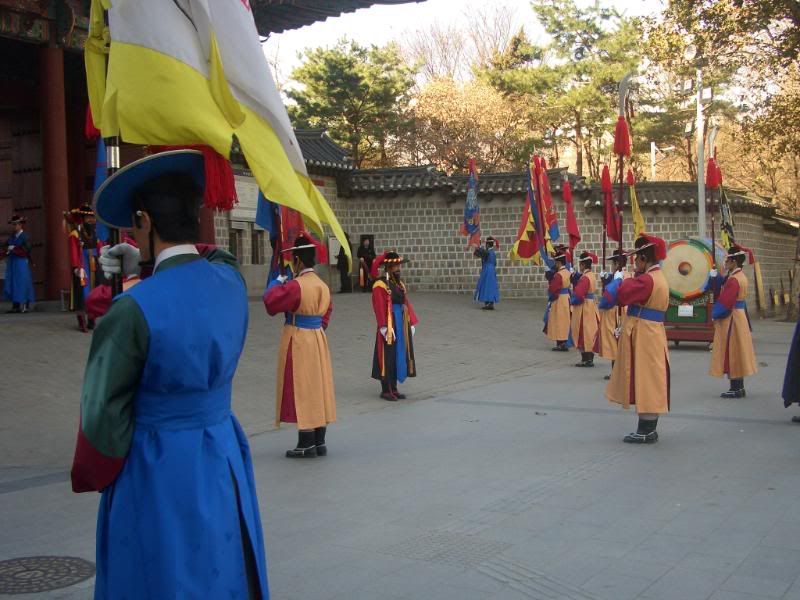 Do they like the character in the famous Korean TV series - Dae Jang Geum (大長今)?
 
Let's see the video.

It's quite cool to take a picture with this Korean man, supposed he was so serious, but he smiled slightly while we're taking photo with him~~~haha..it's kind of funny because he didn't smile while the Japanese girls took pictures with him.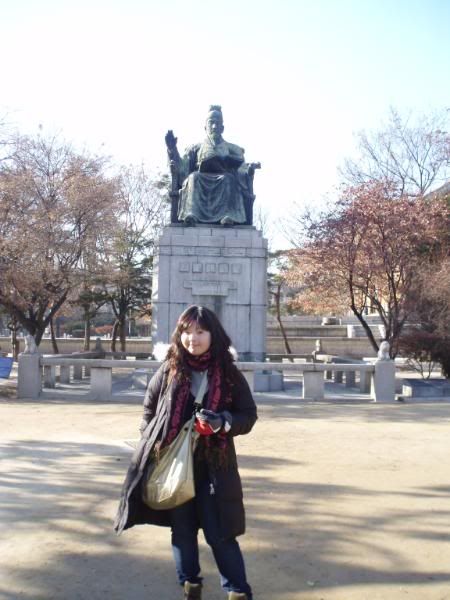 Since we bought the ticket, we've to visit a bit about this palace.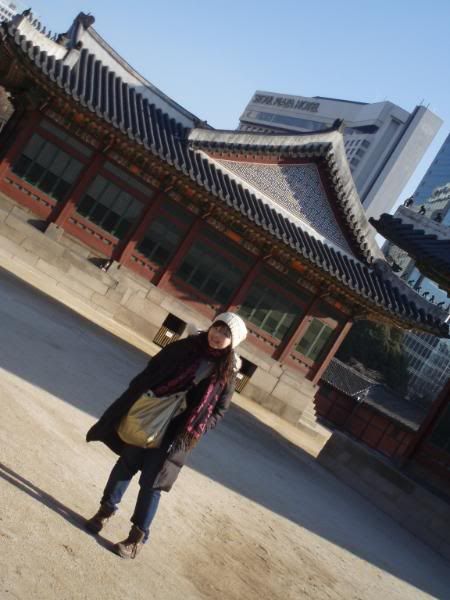 It's nothing much here, quite small.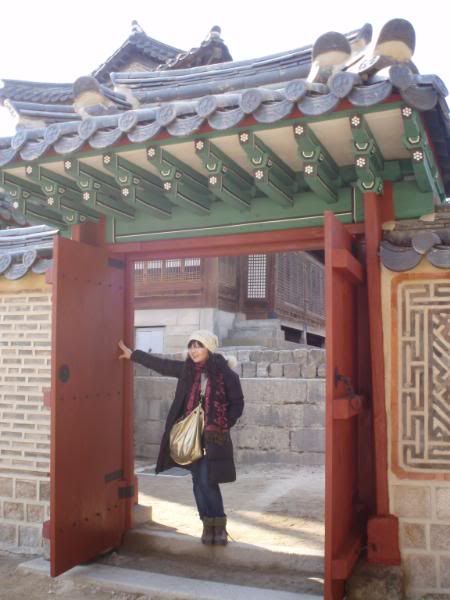 But it's fine because the entrance is cheap and I guess all palaces are quite similar, so it's good to go for a small one so that you can see everything.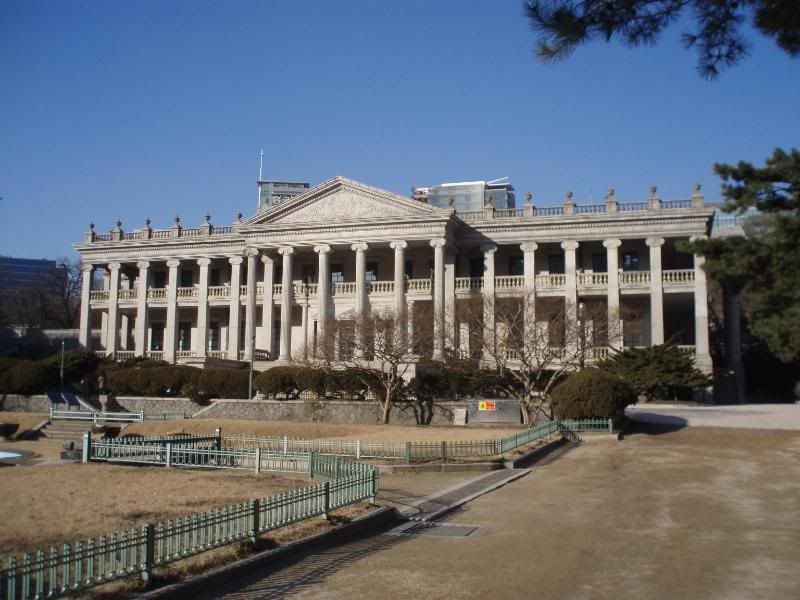 It's so strange to have a western architectural building in this tradition Korean palace.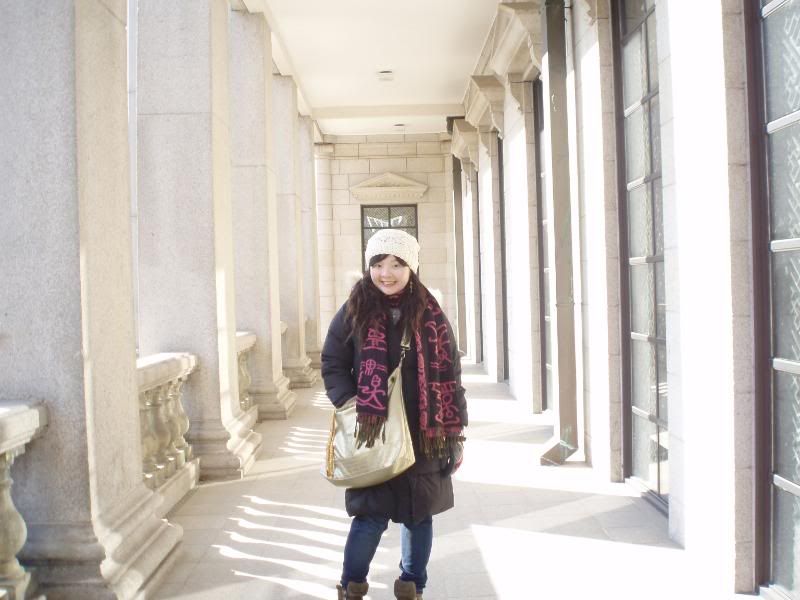 It's now an arts gallery in fact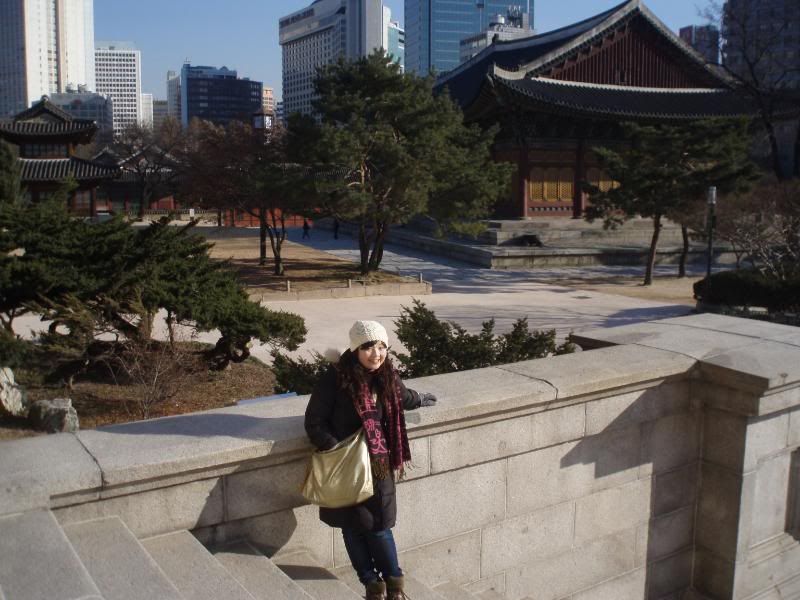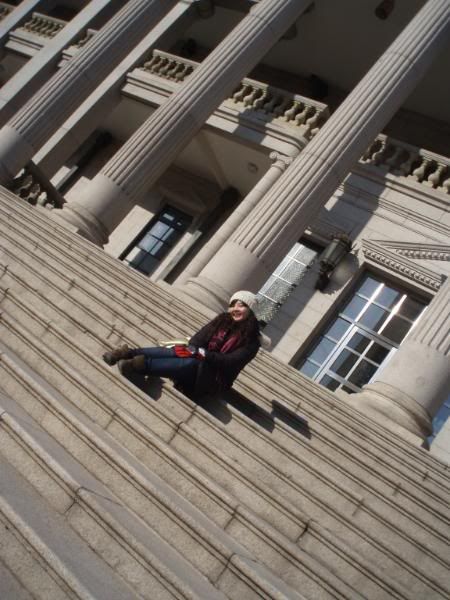 It's a bit similar to the British Museum.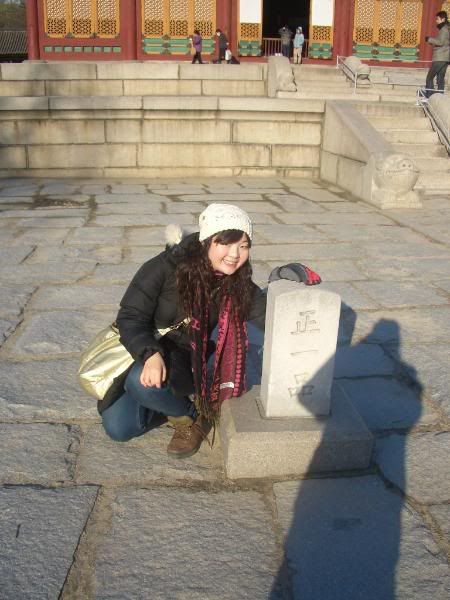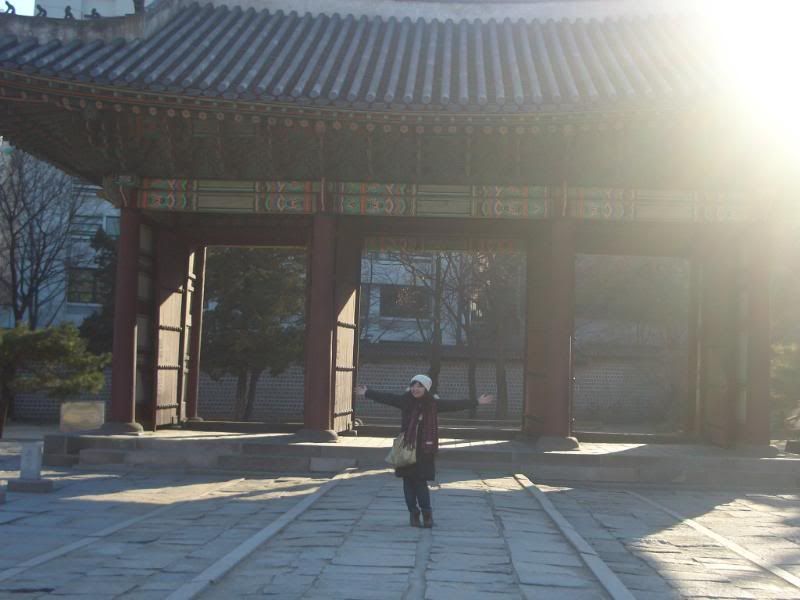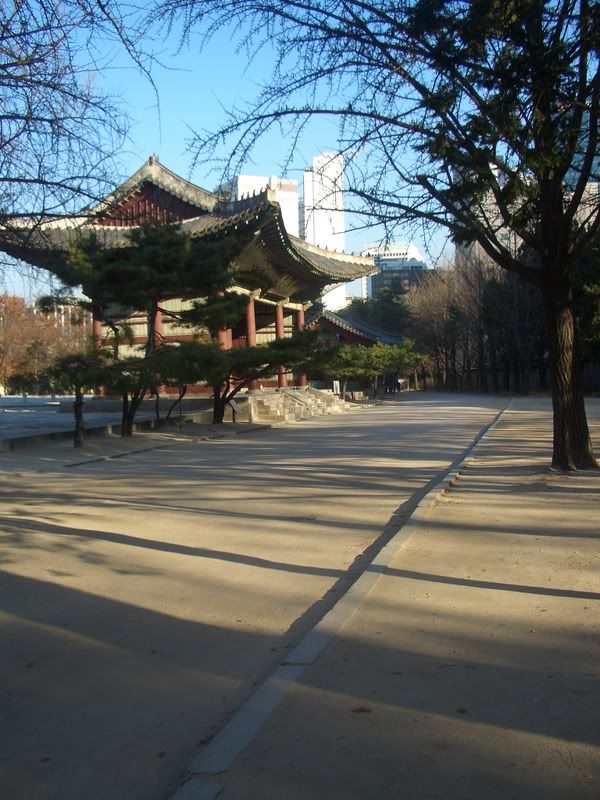 I love this picture...took by me...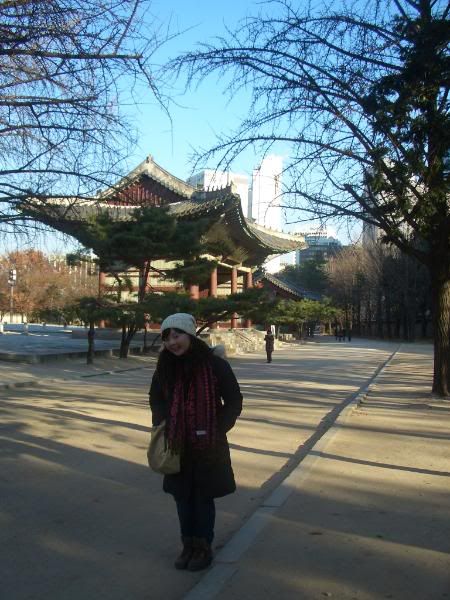 It isn't bad that with me in the photo, is it?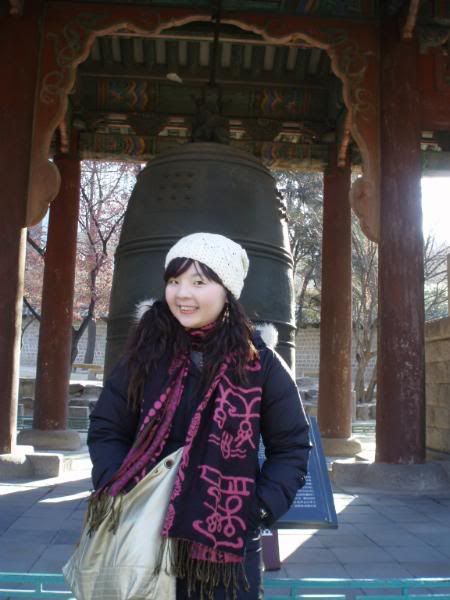 Big bell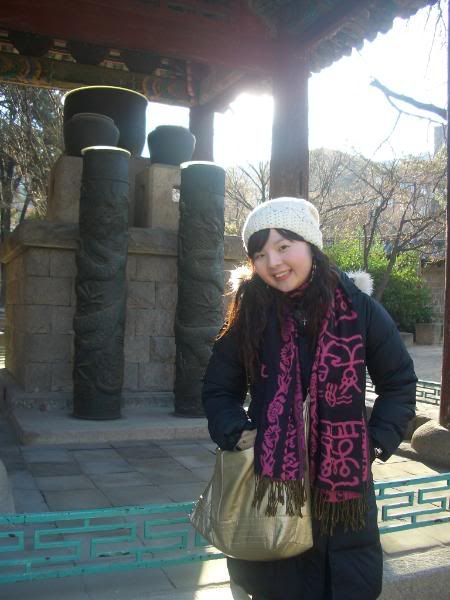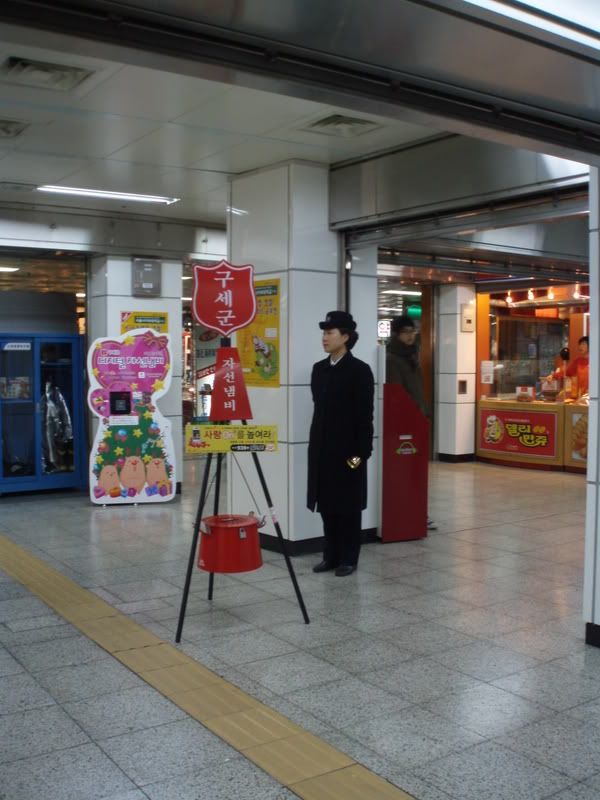 We found that this kind of woman ringing the bell many subway station, we've totally no idea about this.
So after the sightseeing in this small palace, we went to Mingdong(明洞).

There were some cute and big bears just outside the subway station. So cute!!

Free hug in Seoul....haha..of course I gave a free hug to some of these little girls.

Mingdong is a shopping area, we love it!!!!!!! It's just as busy as Mong Kok, and full of skin care shops that are very cheap, more than 50% off than HK. Michelle and me bought a lot, and we're really happy to shop!!! We went to a cosmetic shop and tried many different colors of nail polish but we didn't buy any at last.
We've dated Alban at evening for joining him to his school's farewell party, but Michelle was just so addicted in shopping and didn't want to go, so you see girls are really into shopping. I didn't want to miss this opportunity to meet some local Korean students, so I pushed Michelle to go with me.
We met Alban at Ewha Women University and met Jin and Geena, 2 Korean girls who exchanged to PolyU before. It's great to meet some old friends.
Then we joined the local and exchange students of Ewha Women University and walked to Sinchon. It's crazy to see that many Korean girls.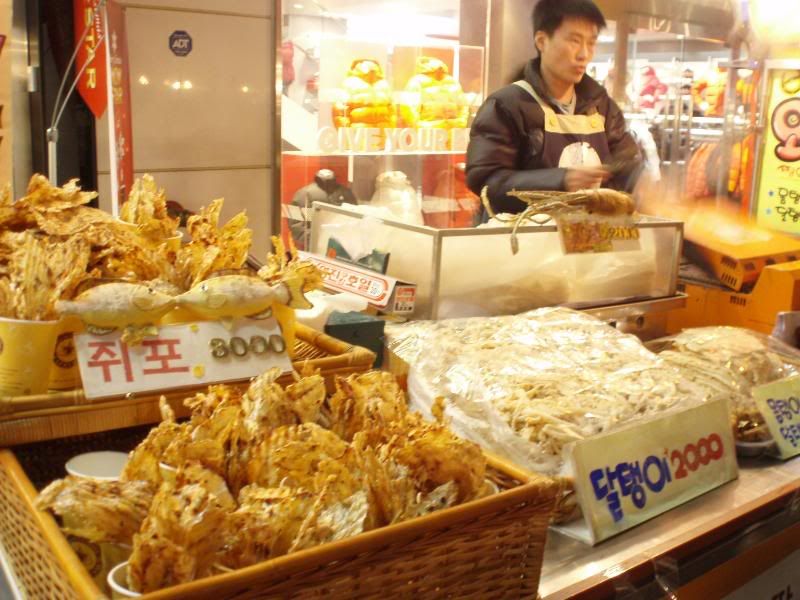 Some octopus snacks on the way to Sinchon.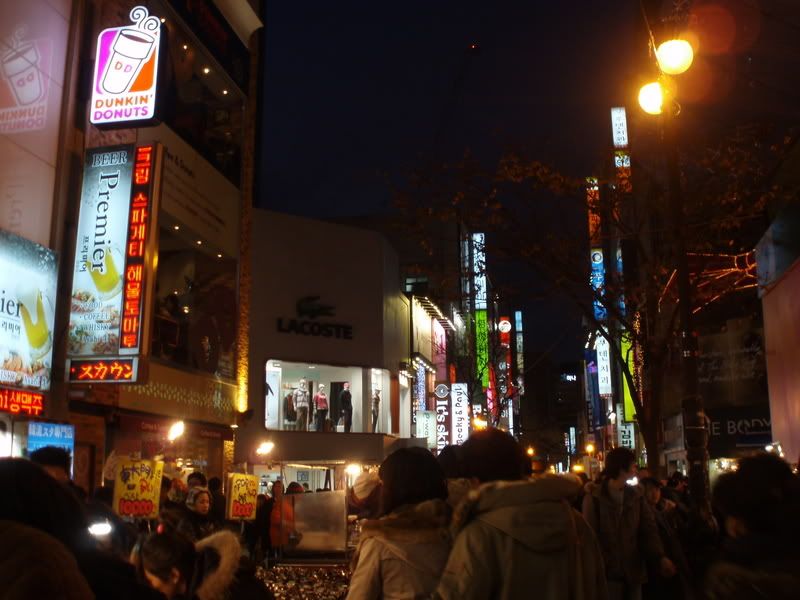 Sinchon is a buys street with many restaurants.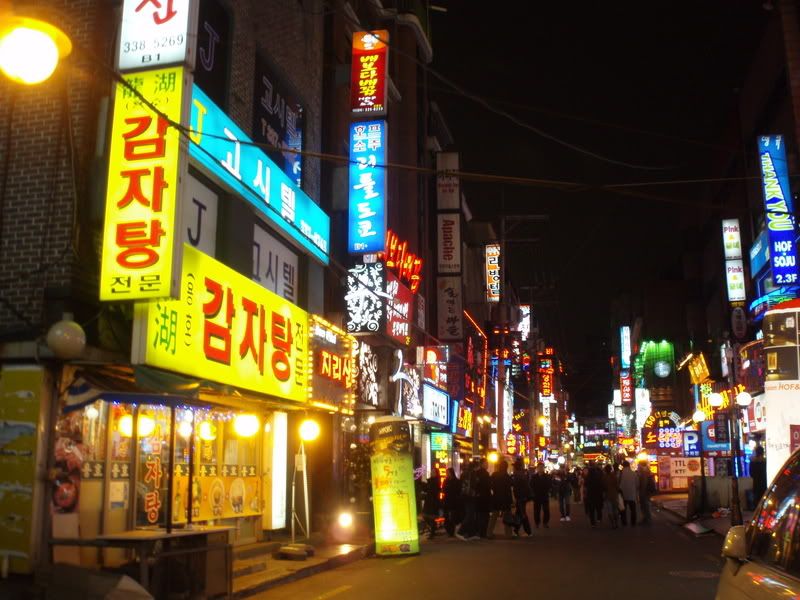 We went to a bar and have some delicious food, it's very cheap (around HKD50) because the university sponsored their students to have this farewell party and they thought we're one of the exchange students. It's really a special experience to meet some local Korean girls, they're really crazy and manly. I thought I was strong and manly enough but in comparing to them I am really nothing. They spoke loudly and ate crustily.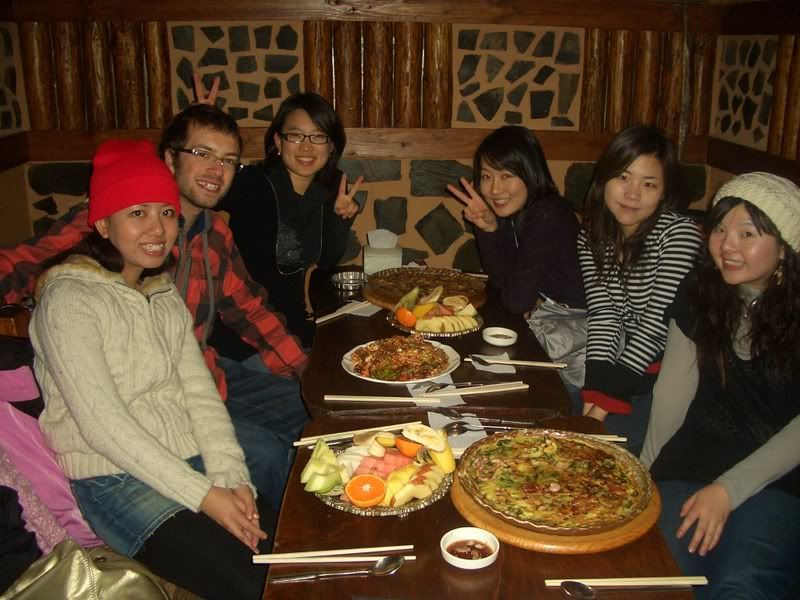 Michelle, Alban, Alban's buddy Yoon, Geena, Jin and me...
 
It's a birthday of a Korean girl, and they sang birthday song too loudly and crazy!!!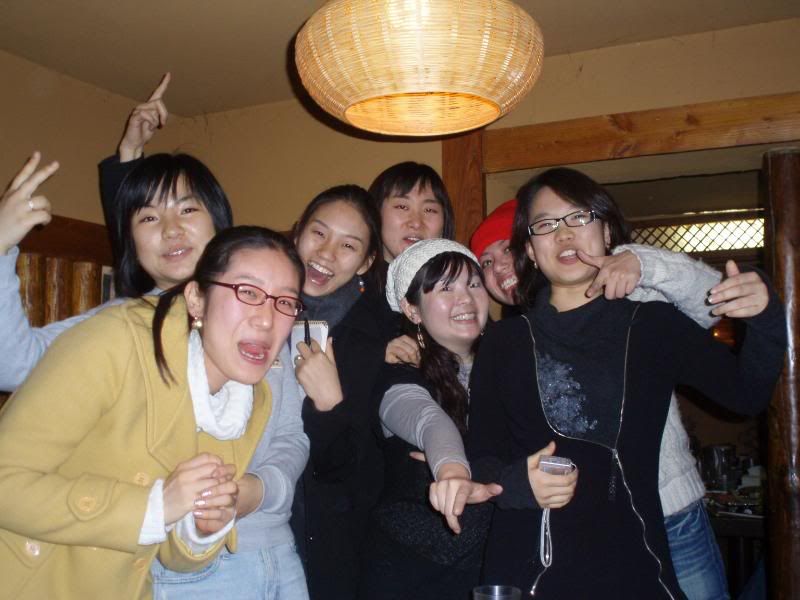 Some Korean girls, you see they're really crazy..it's so great to meet them really..

Tonight we had seen our first snow at Seoul. It's my second time to experiencing snowing!!!!!!!!! It's really amazing!! Michelle & me were so happy to see the snow and couldn't help but taking pictures. A Korean guy saw what we're doing and laughed at us, we're really embarrassed. He asked us where were we from and we told him Hong Kong. He smiled and didn't say anything. haha.... you know we never experienced snowing in HK.

We took a video about snowing.
Join TravBuddy
to leave comments, meet new friends and share travel tips!