South Korea & Japan Winter Trip 2007 - Day 1
Seoul Travel Blog
› entry 2 of 17 › view all entries
It's unbelievable that I haven't flied for near a year, 2007 was a harsh year that I almost stayed at HK and work everyday!!!! If you know me enough, you will know I am a girl who love traveling so much, I traveled 4 times in 2006. People might think I was a rich girl, but in fact it is not true at all, I was only a poor student in 2006. I am a budget traveler, I don't like luxury but worthless traveling experiences. I hate following the tour guide, I love exploring my own way, talking to local residents, meeting other international travelers and learning different cultures. Let's explore my trip, I spent around HKD16000 including 4 air tickets, traffic expenses (JR, bus, subway, taxi, etc), accommodations, meals, shopping, entrance fee, skiing. Basically it is everything included in Japan & South Korea for 18 days and it was a hot season (Christmas) as well.... cheap enough?? At the same time, we still ate and slept good as well as bought a lot, isn't it unbelievable?? I hope I can share with you my ideas of traveling and hope everyone can travel as much as possible, you can travel even you are very poor like me. Save hard and play hard!!!!! Believe it or not, what you gained from traveling is much more than you lost. Lastly, people always ask me how come I can travel for 18 days and how many annual leave do I have. The answer is 12 days, I need to work a month for earning 1 day leave, I didn't take any leave for 11 months, so I gained 11 days leave. I applied 10 days leave + Sunday & Saturday + Christmas public holiday = 18 days. Actually, I could go for 20 days if I took 11 days leave, but my friend Michelle needed to come back HK by 31/12/07. Anyway, 18 days trip isn't bad for a working girl like me.
South Korea & Japan Winter Trip 2007 - Day 1
13/12/2007 First Day Arrival, Woninjae, Seeing Alban, Ewha Women University, Changdeokgung, Insadong, Dongdaemun
We aimed to save time as much as possible, so we decided to take a plane at mid-night of 13 Dec. That means we had to arrive the HK airport on 12 Dec. As I still worked as usual in the daytime, I didn't have much time to pack my stuff, so I prepared almost everything one night before.
Michelle told me she got some classmates flied with her to Seoul but they followed the tour guide, however, when we came to airport and met her classmates, we found that they were actually going to take another airline...silly Michelle told this to many people, and everyone was so surprised about that small world.
Surprisingly, I met Yman in airport and we took the same flight to Seoul...haha..the world was still small, we didn't know we came to Seoul before we met at the gate, so we're all shocked!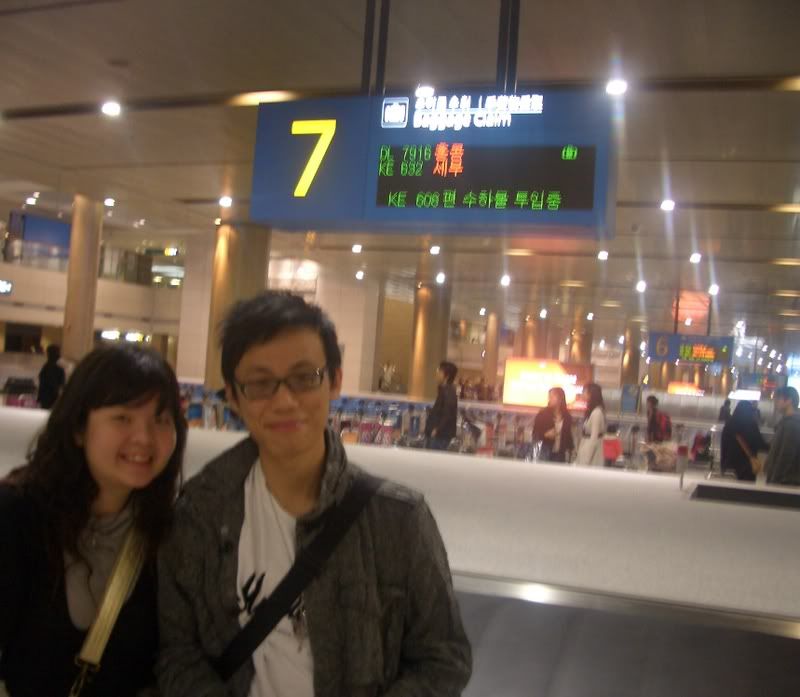 Yman & me at Incheon International airport early morning.
So here is the first hint to save money - Couchsurfing (http://www.couchsurfing.com) CouchSurfing provides a platform for you to find a host in a country to allow you to stay at his/her house for free. It's really a good idea that we can create educational exchanges, raise collective consciousness, spread tolerance, and facilitate cultural understanding with different people. Some people may concern about the safety problem as you are going to stay with a stranger's house. I had considered this problem as well, but then I found many people wrote good testimonials about the host, so I felt comfortable. Actually, couchsurfing is very common for westerners and the host is so generous to let us stay, I couldn't find any reason to reject it. It's always better to have some local friends in the country, your trip will be easier and you can explore more interesting and local places.

We arrived the Incheon International Airport around 5:10, I felt really bad to call my host and woke him up. We're supposed to find his home by ourselves, but he insisted to pick us up at the subway station near his home. He is just a really good man!!!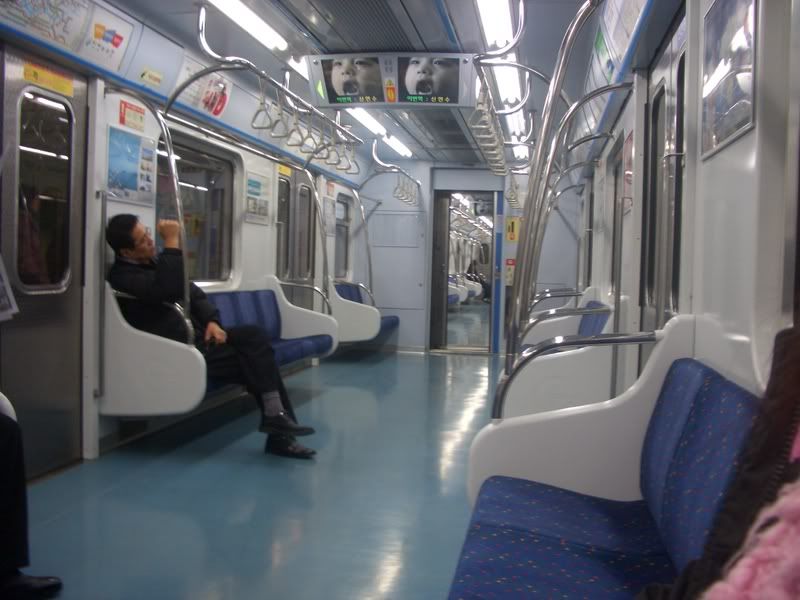 This is the subway to his home. We're quite impressed by it as it's quite clean and have English, Korean and Japanese announcement. Actually, the subway network in Seoul is quite good and big, but it's quite hard for interchanging as you need to walk a long way.
So we arrive Woninjae (源仁済) at 7am something, and we met our host - Corey. He is a Canadian guy living in South Korea for 4 year for teaching English. His home is a bit is far away from the city and the subway station, but it's still good to find him as our host as he is a really great and nice man.

Corey lives in the basement of that pink building.
As we're quite tired after a 4 hours flights and it's still quite early (around 9am), so we decided to take a nap before going to explore the city. Corey needed to work as well, but he was so nice to leave his cell phone at home, so that we could call Alban and arrange our meeting.
After 2 hours nap, we recharged our energy and heading to Ewha Women University to see Alban....haha..Alban told me he had waited us at the metro station for 45 minutes and so worried about us....haha...it's really a long way to go to his university from Woninjae.
It's so great to see Alban again, we hadn't met each other since our Shanghai, Hangzhou & Suzhou relaxing trip 2006....In fact it's the major reason that we stay over in Seoul as to pick him up and fly to Japan together. We promised each other that we needed to meet every year in somewhere of the earth. It's great that we could keep out promise.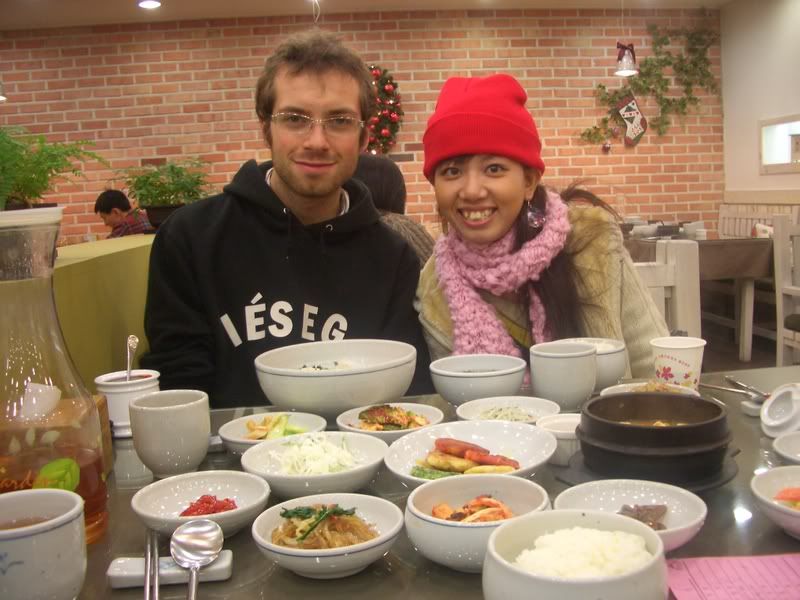 Our first meal in Seoul near his university, Alban recommended us to this restaurant. The food here was very good, and you could refill the food many times...

Then we visited Alban's university that was huge. We came to his room and met his roommate Thomas...His room was so beautiful, I'd like to study here!!!!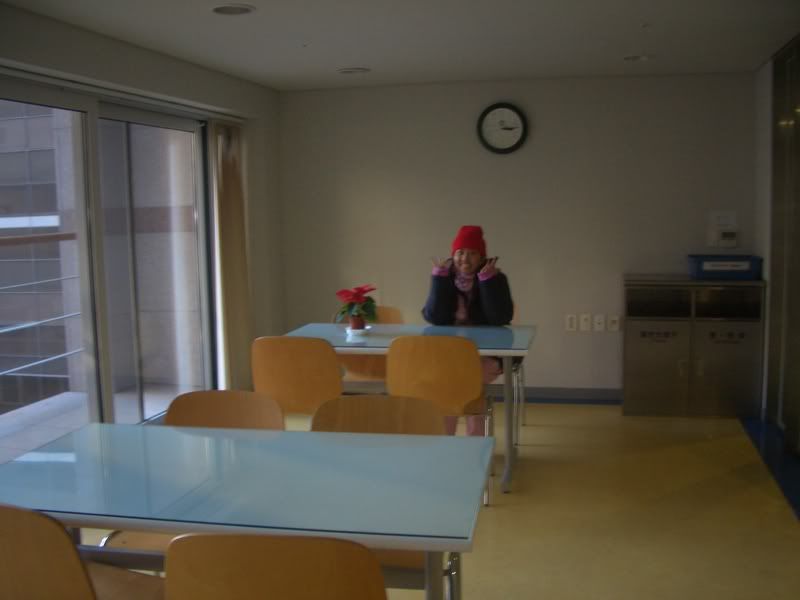 This is the common pantry, it's so huge in comparing to PolyU one, you see Michelle is so happy!!!

This is the street near the Ewha Women University.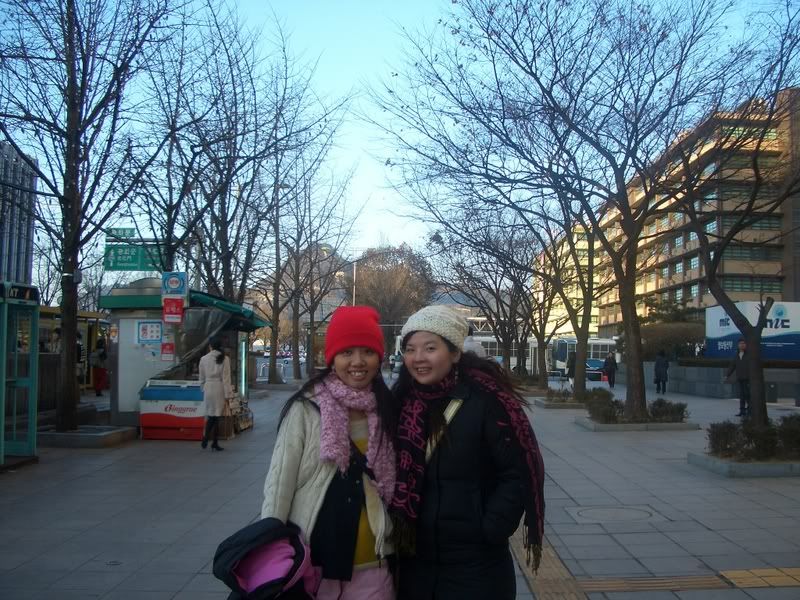 Michelle & me..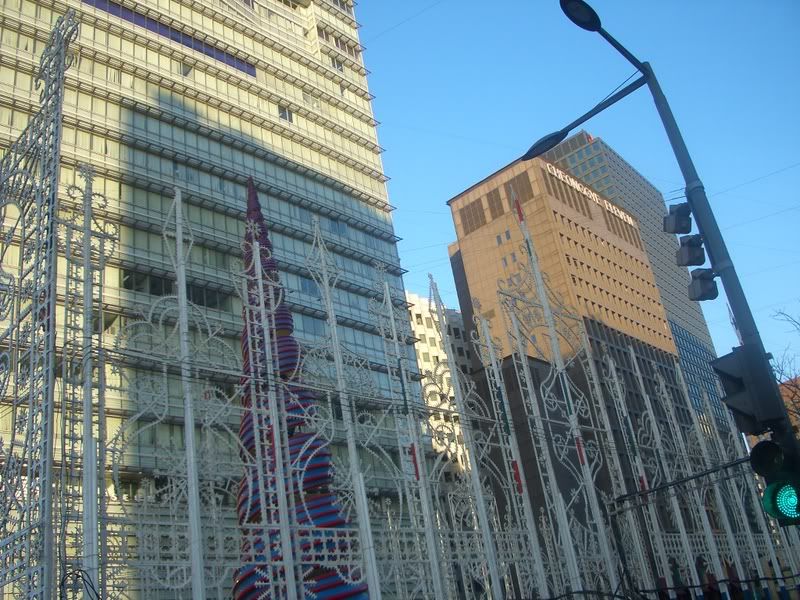 Some Christmas decoration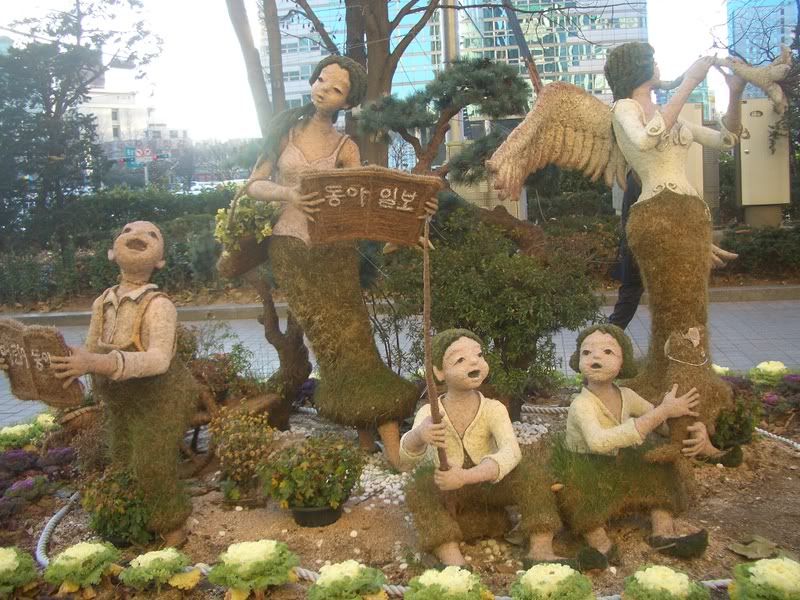 Michelle said it's nice but I felt so ugly!
Alban took us to a traditional Palace in Seoul called Changdeokgung(昌德宮), however when we arrived, we found that it had closed already.

So we just took a picture from outside, the main entrance looked nice!

We went to the museum next to the palace because it was free. We learnt some traditional Korean culture, it's kind of interesting, however we didn't sleep much, so we felt so sleepy!! As a result, we had to leave for another interesting area.

Here we came to Insadong(仁寺洞)...

Insadong is a really interesting area, there are many cute & trendy shops here and you can find many different kind of snacks on street as well. It's so strange that my tourist book didn't mention this area!!

This cartoon is so cute, I got this cartoon as my schedule some years ago~~

Michelle & me were so excited in taking many photos here.

Alban wasn't interested in it at all, so he helped us to take many photos~~

Michelle was so tired!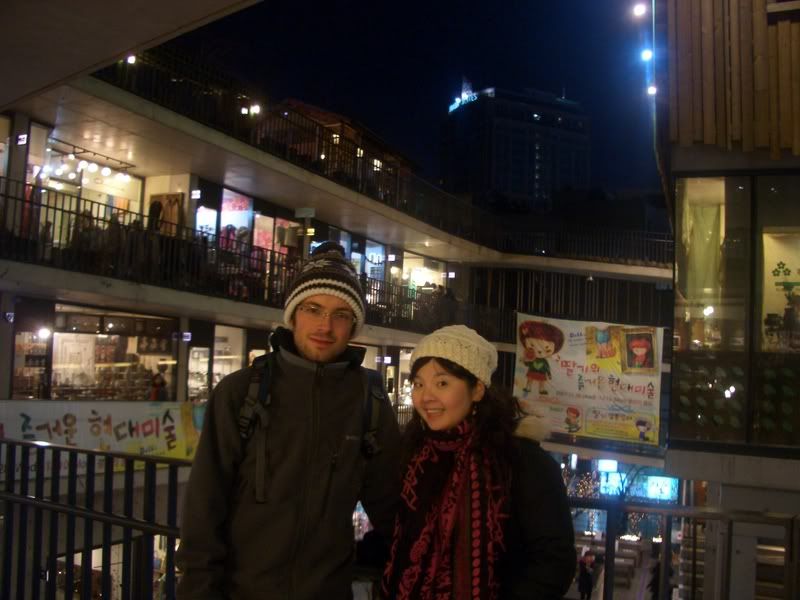 Alban & me at this interesting shopping centre. The design of this shopping centre is very great, you don't need to take any lift, escalator or staircase but you can reached to the top floor by walking around.

Many baskets..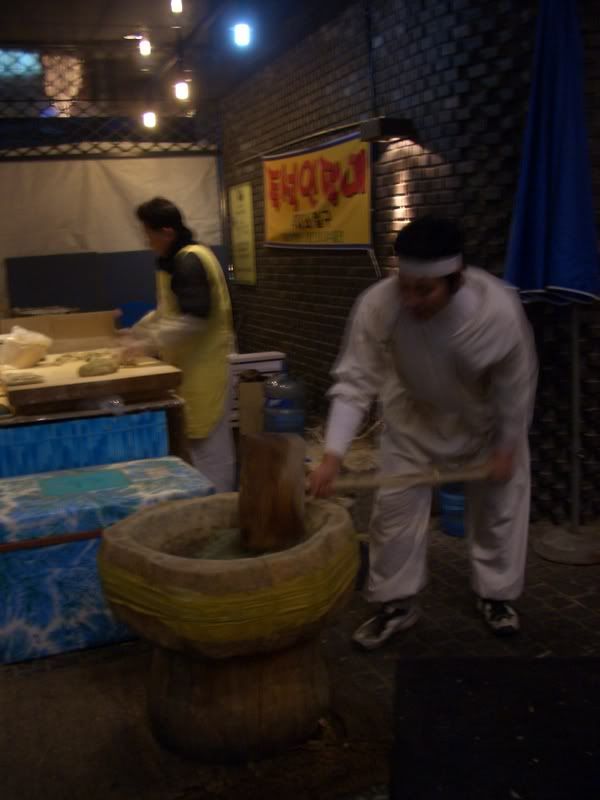 Korean man was making the rice cake and he shouted loudly! It just reminded me the game called cooking mama...
 
Take a look of this short video...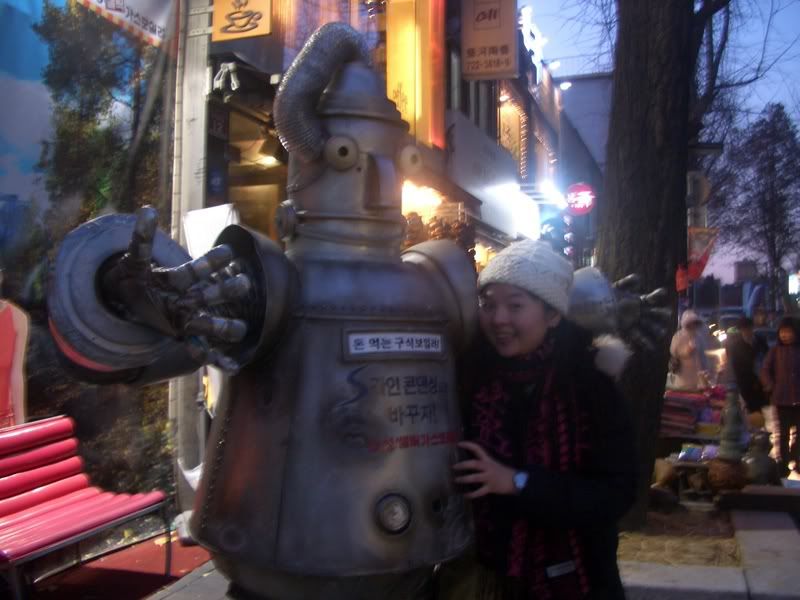 Random robot on street!!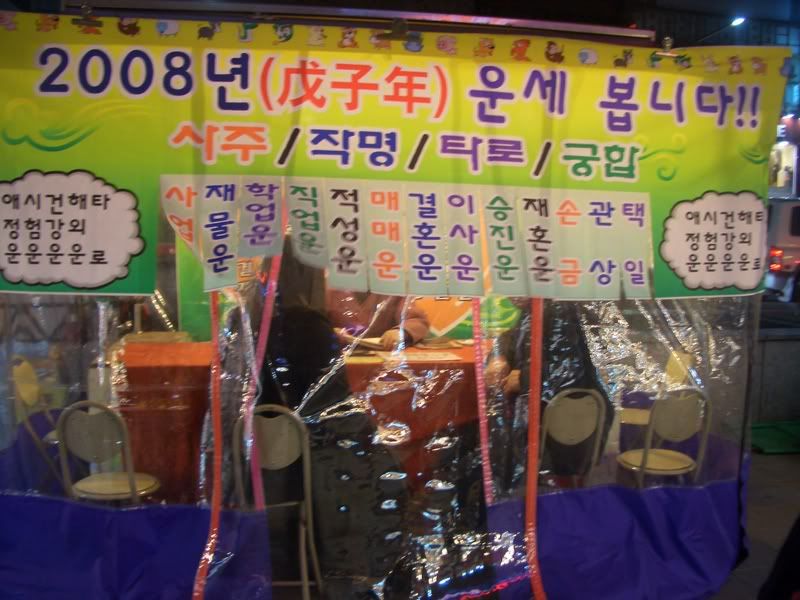 Fortunate telling on street....just like temple street in Hong Kong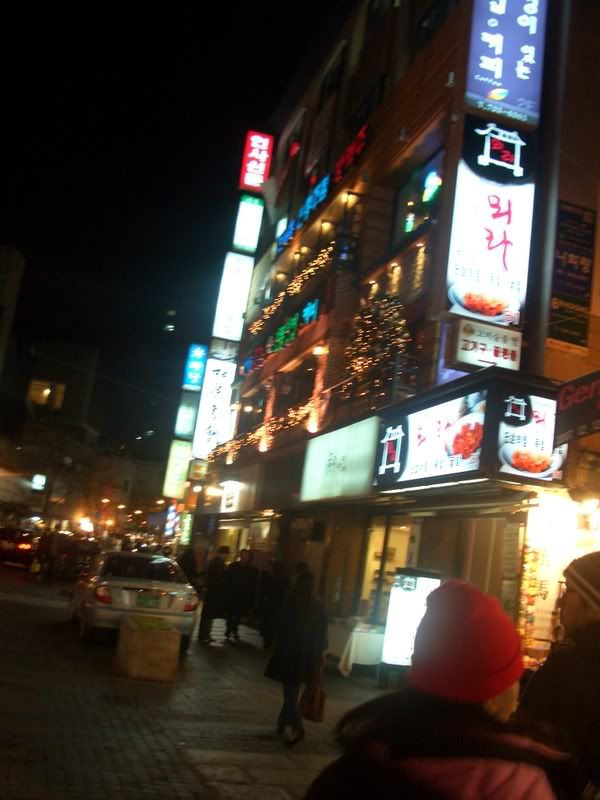 We had a dinner in this area randomly, we tried some local food, i.e Kimba and spicy noodle, it's very good and cheap!!
After the dinner, Alban suggested us go to Dongdaemun(東大門) where is so popular for shopping, but he didn't go with us because he's a guy. So we took his idea and he went back to his hall for packing his stuff. We're kind of disappointed when we arrive Dongdaemun, it's just like the Lady Market in HK but more old-fashioned and expensive, so we decided to come back to Corey's home earlier.

The subway in Seoul!!
Since it's getting late and the Woninjae subway station is so far away from Corey's home (take around 25 minutes by walking), we wanted to take a taxi back his home. However, we're really frustrated by the taxi drivers in Incheon. Corey gave us his address in both English and Korean, but the taxi driver didn't drive us, we had no clue at all. We caught 2 taxi, both of them didn't drive and pointed to the opposite road. We guessed we might be in different direction, so we crossed to another side and caught a taxi successfully. However, this taxi driver didn't know how to get to Corey house even we gave him the address in Korean!! We're lost!!!!! He wanted to leave us at a clubbing area but we insisted to stay in the taxi. He spoke Korean to us only even he knew we didn't understand. Then he gave his mobile phone to us and I called Corey to help, it's so crazy that the taxi driver didn't know English at all, he even didn't know what is MacDonald though the pronunciation is exactly same as korean. We finally paid more than double in this journal, and Corey found us in the middle of street and bought us back to his home. Thanks him so much!!! We decided not to take taxi from subway station to his home forever even it's so cold and long way to walk!!
Join TravBuddy
to leave comments, meet new friends and share travel tips!