South Korea & Japan Winter Trip 2007 - Day 10 ~ 22/12 Niseko, Hakodate
Niseko Travel Blog
› entry 11 of 17 › view all entries
South Korea & Japan Winter Trip 2007 - Day 10
22/12 Silver pendant handmaking, random chilling and relaxing at Niseko, Arrival of Hakodate and tried moving squid!!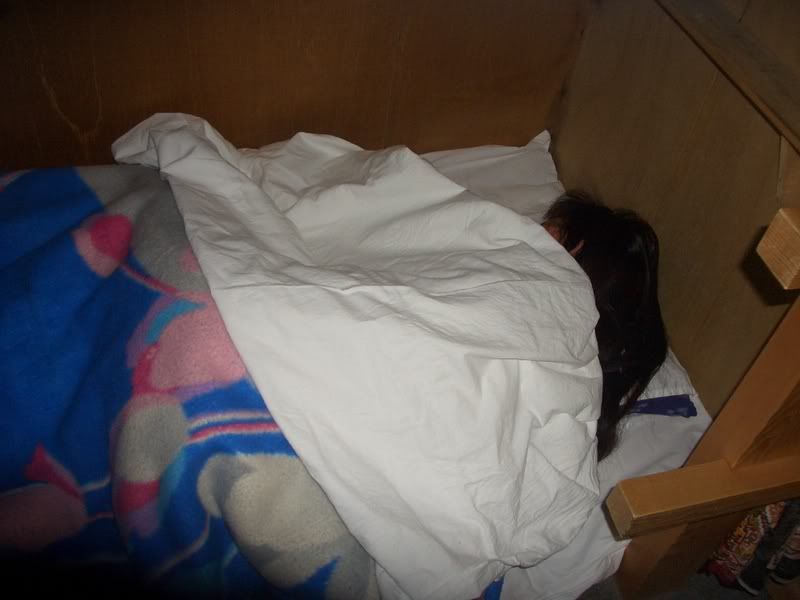 Michelle was so lazy today, she wanted to sleep more and skipped the dinner for this morning!!! Alban and I were then responsible for clearing her food!!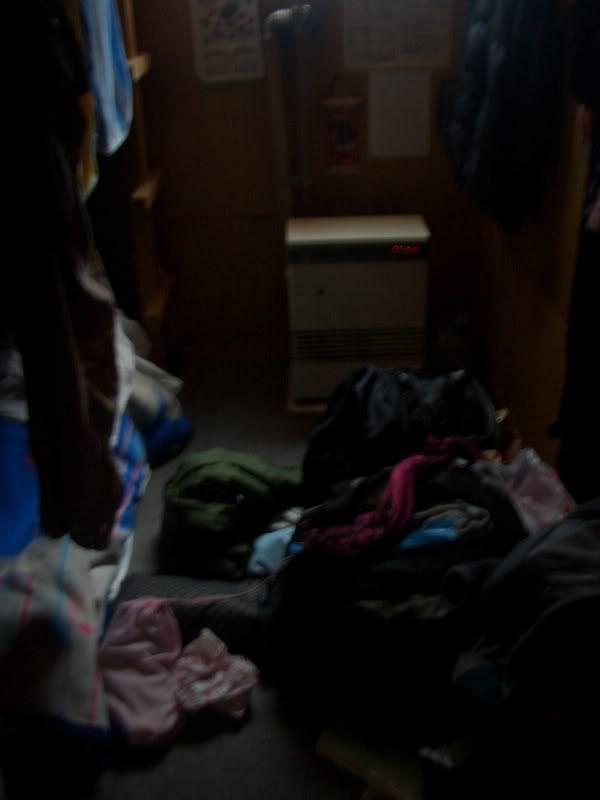 The breakfast prepared by his wife~~so nice...Michelle you missed it!!!!

The living room in the hostel!

The view from the window~

The ski equipment at the entrance~

The ski stuff as fencing outside the house.
As Michelle and me decided not to ski, Mr Yoshikawa helped us to book a silver accessories making worship that was 5km away from his home. As there was no public transport to there, we had no choice but walking!!! Mr Yoshikawa gave us a hand drawn map and it was quite easy to go, he said it'd take around 1.5 hour by walking. After taking the workshop, the company would drive us back. So we two both feel comfortable of it and decided to walk to there!

On the way

The 3km road walking was much harder than I expected as there were too much snow on the road and it's really cold!! My hairs were frozen.

There was nobody in the road......so quiet~~

I can stand at the middle of the road....Luckily, Japan is a very safety country, I was not scary at all!

There was nothing much to see except some small houses, tree and snows.

When all branches of the trees were covered by snow, it's another way of beauty.

I really love this snow country!

So after like 1.5 hour walking, we arrived his little house for our silver accessories making workshop. There were 2 staff in this house, a Japanese girl who was responsible to serve some food in the cafe at that house and a Pakistan guy who taught us to make the silver.

The guy first gave up many sample to see, and I decided to made a silver pendant for myself. I had to first deign how the pendant and drew the draft on the silver plate first.


It's the equipment we needed.

You see Michelle was so serious to make her pendant. She was even sweating!!

After a period of time, I had completed my part. It's quite difficult to make the star and circular shape, the staff helped me sometime. The pendant was not yet finished at this moment. The staff then put it on fire to burn it as this process might be a bit dangerous, so he didn't let us to do so.

After it burning of it, the silver become so shiny!! It's just like a magic, but really nice!! That pendant was hand made and designed by me!! Is it wondeful?

I was the model for sure!

The whole workshop was an unique experience for us, so it's great that i could do something special in this skiing area other than skiing!! The staff drove us back the the city central, and we went to the same restaurant to have our lunch!
We'd take the train to Hakodate on evening, so we still had some time to experience the city and take some nice pictures after lunch while Alban was still skiing alone.

Nice architectural design, very cool~

big snow~~

So you can see the ski way...it's pretty cool, right?

Actually Niseko is a very small town, we could go to all places by walking.

Although there were not many attractions here other than skiing, we could have more time to relax and take some nice and random picture like this.

I'm so small in comparing to these trees

I wish I could live in this kind of house provided that I don't have to take care the snow

It's only 4:30pm, but the sun had already gone and we were ready to take a free shuttle bus to the JR station. There were full of westerners in the bus and I felt like I was not in Japan!!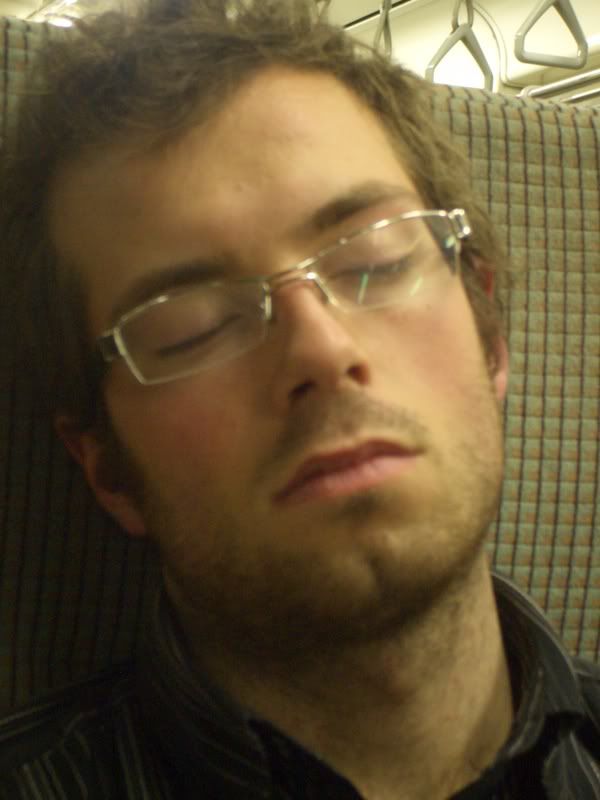 After a long skiing day, Alban must be so tired and he slept like a baby in the train!!

We're heading to Hakodate, but there was no direct train to there from Niseko, so we gotta stop to here for changing another train.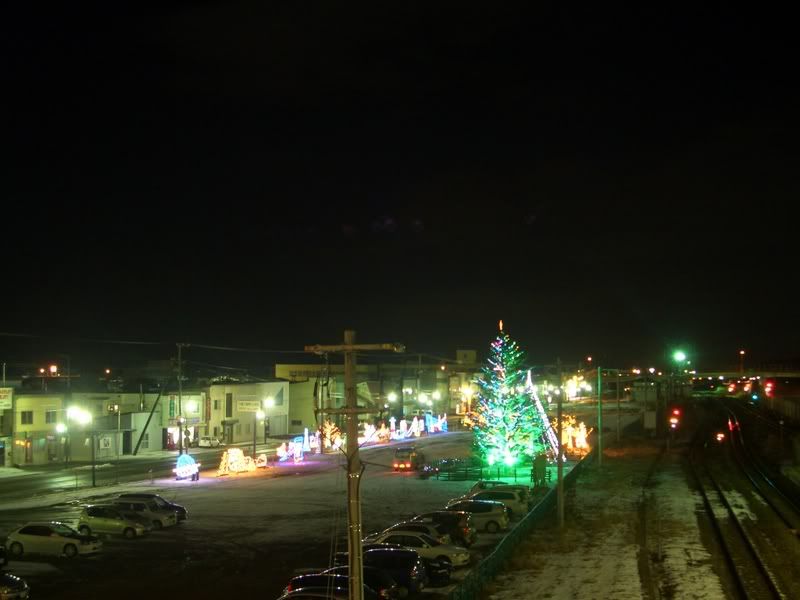 We're impressed by these small nights when we first arrived this JR station. However, this feeling couldn't last long. As it's at night now, we wanted to buy some dinner in 30mins transfer period. Alban and me were go out to grab some food back while Michelle was staying in the JR station to take care our backpacks. We ran on the street, we found that all shops were closed already, there was no light in this small town as if a dead town. It's quite unbelievable and we could only find a convenient shop to buy some random snacks to eat.
There were 2 JR stations in Hakodate, we had some trouble to deal with it as we didn't really pay good attention to the broadcasting. So Michelle and me got off at the first Hakodate station while Alban was wondering if it was a right station to get off. At this moment, the door of the train was suddenly closed, Alban was heading to another stop while we're staying in this stop....it's just like some story in the movie, I had never imagined that'd happen in our life. You know, it could be very difficult to find each other without using mobile phones. Also, Michelle and Alban exchanged their luggage, so they must be so trouble without their belongings. Finally, I realized that we were stopped in a wrong station, we should stop in the next station instead. We're so worried that we had to wait for another hour to the next stop, luckily when I read the digital announcement, there was another train to Hakodate leaving in 5 minutes, so we ran to that platform to catch it.
When the door closed, I told Alban to remain in the platform, but then I realized our train arrived in different platform, we had looked around all platforms without seeing Alban. I tried to shout, but there was no response. We had no choice but got out from the platform and wished we could meet him in the concourse. Yeah..Alban was in the concourse!!!!!! We're so glad that we could get back together!!!!
I've contacted a guy in Hakodate through the website of couchsurfing (I mentioned in my Day 1 entry) who can let us to stay in his place for free. So I called him and he waited for us in a tram station. He is called Ben, an English teacher in Hakodate from England. He bought us to his apartment and settled our backpacks then bought us to a dinner place.

It was not an ordinary squid, it's still alive and still moving. When you put it in your mouth, you could feel they were sticking and squeezing on your tongue. A really weird experience, I am quite sure I won't eat it anymore.

Mushroom with vegetables.

Vegetable salad, it's quite delicious!

This cold noodle was tasty, I could say I had never tried that perfect cold noodle in my life. I still missed it so much!!!
After a full late dinner and talk with Ben, we went back to his apartment for sleep. There was no bedroom in his apartment, so we all had to sleep on the floor of his living room together. Well, I wouldn't complain except his bathroom that was terribly dirty. Anyway, it's free!! Thanks Ben for hosting us.
Join TravBuddy
to leave comments, meet new friends and share travel tips!