Maputo and Tofo
Mozambique Travel Blog
› entry 8 of 8 › view all entries
I got there via a 10 hour overnight busride from Joburg to
Maputo
- a mode of transportation that makes you feel rough, unrested and unwashed. At about 6am the bus stopped just shy of the razor wire enforced SA-Moz border, where we all got off and walked across. The sun had just come up and the border post had just opened. The bus had been sitting in a line of traffic since at least 3am, as you can't get your passport stamped 24 hours a day.
Inside the border post office the bus stewardess (they have those here on long bus trips) herded myself and the other Americans into some special line that allowed us to get through the country entry process a little bit faster. I think her assistance was motivated more by a desire to get the hell out of there and back on the road then by any goodwill towards our clueless selves. Then it was back to the bus, which we stood beside for about 20 minutes while Moz customs officials searched the cargo hold for undocumented/untaxed goods being brought into the country from South Africa.
Its really hard to get alot of stuff in Mozambique as I learned throughout my time there. Even in the capital, Maputo. But South Africa is closeby so its quite common for people to go across the border, go shopping, and bring craploads of stuff back into Moz - without paying the country any tax on the stuff they're importing.
Arriving in Maputo was kind of like having some sort of weight lifted after being in SA. There isnt the same sort of tension hanging the air or something. There's crime and anyone traveling through should keep their guard up, but the way people look at you is different; kind of like they find you curious as a white person walking around on the street. But unlike SA there's no anger in people's eyes - I didn't feel once like someone would rather kill me than look at me. Kind of a nice change.
And they speak Portuguese there which is pretty cool since I can actually understand a little bit of that language. There's definitely a Latin cultural-feel to the country in their architecture, attitude, food - they even have siesta there where all the shops close for 3 hours in the middle of the afternoon!
Moz is worse off economically than SA though, which you can tell by how many people are constantly out to rip you off in any way possible. During our 2 days in Maputo our cab driver and hostel manager both tried to get away with some shady stuff. When you know the going price for things - like cab rides for instance - this type of situation is easy to deal with. You just tell the person, "I know how much this should cost. This is a fair price and this is what I'm giving you." If the price really is fair, and if they're smart they'll take it. But things can get a little more complicated in some cases - like with the hostel manager. Mathew sorted this out though, so thanks for that dude!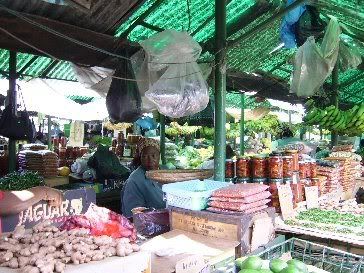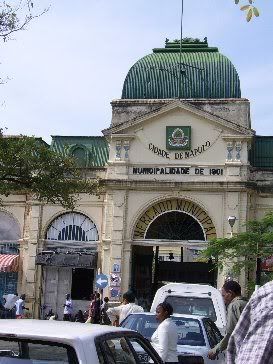 There really isn't much to see in Maputo other than a neat, colorful open air market selling all sorts of fruits, veggies, nuts and crafts. So after a visit there we got on another never-ending busride up the coast to Inhambane. By this time Mathew, Joanna and I had hooked up with Brooke and Tom and we all endured the unairconditioned bus together. Although it was long (9 hours!) and monotonous after awhile, it was a nice way to see the countryside. Once you get out of the capital Moz is RURAL, there ain't nothing around except a few towns here and there. My favorite one we went through is called Xai-Xai (pronounced Shy-Shy).
The trip was worth it though when we arrived in Tofo - which is the name of the beach hamlet about 30kms outside of Inhambane. It is an absolutely beautiful place, a few buildings made from concrete in the little village proper but for the most part people live in huts made of reeds literally over sand dunes from the beach. There's white sand, clear blue water and coconut trees as far as the eye can see. Although it hosts travelers and semi-permanent expats from all over the world, the place doesn't feel like its been completely overrun by outsiders - not yet anyway.
We stayed at a backpackers called Bamboozi's where I slept in a reed hut on bed covered by a mosquito net! It was great. The boiler for the hot water for the showers was heated up by a wood fire. The whole place was built on a giant sand dune.
Alot of my time there was spent getting my scuba diving certification, which felt at times like too much work to be doing on my vacation. But I stopped complaining when I was 15 meters down swimming with sting rays, octopus, pike fish, and lion fish among others. Apparently Tofo is a world class diving site, ranked like 3rd in the world or something. The most popular diving area was where Manta Rays typically hang out - this is a deeper dive so as a beginner I didn't go this time around. Maybe next time!
Another cool thing I did was snorkeling with Whale Sharks on an "Ocean Safari". They take a group of people out on high speed boat and drive around until they spot one of these huge creatures, at which point everyone puts on their snorkel gear and plops into the ocean. Luckily for us (but probably not so lucky for them) the Whale Sharks aren't very fast swimmers, so its not hard to keep up with them. I've heard different accounts of what a Whale Shark actually is - most people can agree that they are a fish, making them definitely not a whale, which is a mammal. But they're not exactly sharks either...they're extremely docile. Anyway it was awesome swimming with them, although people speculate that all the Ocean Safaris are actually interfereing with the whale sharks routine and altering their natural behavior. Probably true.
The only real damper on my Moz ocean experience was my tendency to get seasick. I learned that the only thing worse than being seasick is being hungover and seasick. As my scuba diving instructor Jules told me about 16 times in a very big brotherly way - "You piss it up, you puke it up." This is definitely true, and after learning this I made sure not to repeat those particular circumstances. But hungover or not, I am still easily affected by the motion of the ocean. Under the water I was fine, it was just when the boat was stopped and was bobbing around and when I was bobbing around at the surface that I hated life. Next time: seasickness pills.
After the scuba diving course was completed the real party began, with the help of some extra sweet rum called Tipo Tinto and a fun group of people from a couple different corners of the world. I almost didn't leave!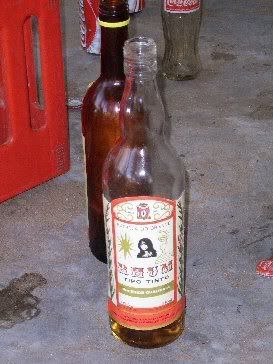 Join TravBuddy
to leave comments, meet new friends and share travel tips!