Blyde River Canyon
Nelspruit Travel Blog
› entry 5 of 8 › view all entries
The Blyde River Canyon area of Mpumalanga province features a number of picturesque tourist-friendly stops that can all be visited on a day-trip from Nelspruit. Mpumalanga literally means, where the sun (langa) goes out (puma) in Zulu and is often translated as "land where the sun rises" or something similiar.
The northern Drakensberg mountains give the landscape some of its dramatic features along with the Blyde and Sabie rivers that have carved out a number of canyons and gorges. Our first stop was the Mac Mac Falls waterfall followed by The Pinnacle; a rock tower jutting out of a deep gorge making it appear to almost hang in mid-air. Then it was off to a stop along the route where one can walk to the edge of part of the Blyde River Canyon with the help of a number of bridges.
Blyde River Canyon
Then at the bottom of Blyde River Canyon are...
Bourke's Luck Potholes

I failed to get clarity on how these rock formations got their name - the Bourke's Luck part I mean - since the potholes part seems like a no-brainer. If I had to guess, I'd say that the first part has something to do with the gold prospecting which went on all over South Africa back-in-the-day. After the Potholes we went on to God's Window, a lookout point that rewards hikers with a panaorma of the whole valley below. Finally our last stop was the Three Rondavels which are rock formations high above the canyon wall that bare an uncanny resemblance to the traditional African dwelling of the same name. At Three Rondavels the Blyde River seems to stop and form a pristine and isolated lake.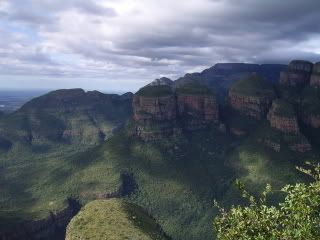 The Three Rondavels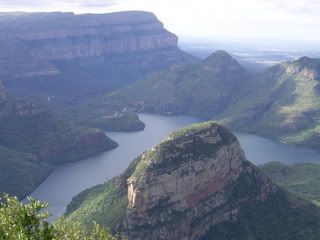 Near The Three Rondavels
And of course no South Africa journey would be complete without encountering at least one of these.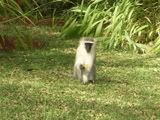 CFD says:
Incredible views!
Posted on: Jun 04, 2008
Join TravBuddy
to leave comments, meet new friends and share travel tips!