Maui, Hawaii
Kihei Travel Blog
› entry 5 of 6 › view all entries
I got to San Fransisco Friday night, we had dinner and spent Saturday tooling around San Fran. I got some great pics, when the clouds finally dissipated just enough for me to get a couple of decent Golden Gate pics I was very excited..... Sunday we flew into Maui. We couldn't check into our room until 4pm so I think we went to get some lunch and just drove around a bit. We made some arrangements for stuff to do the rest of the week.
Monday we got up at 2am (which really wasn't as bad as it sounds, it was 5am SF time and 8am my time) to see the sunrise on the top of Halakela mountain. The sunrise was ok, I'm more of a sunset person myself, but it was still fun just to experience one of the things you have to experience on Maui. It was FREEZING. I mean that near literally........ i think the temp was in the low 40's. There was a bride having photos taken. She was in a strapless gown. She didnt look cold. Must have been wedding day high or something! I took a couple of neat photos...
We biked down the mountain, about 30 miles I was told. It was great. The bike stuff they gave us was so nasty but thats what showers are for. It was all worth it. http://www.bikemaui.com/ We had breakfast in this quaint little town and had a nice time. The pisser came when I accidentally deleted all the pictures off my card. WHAT A BUMMER!
Tuesday I did a helicopter tour of West Maui and Molakai. That was fun. I got a CD of that, the CD quality isn't so great which is disappointing because it was so beautiful but I'm glad I have something I can pull out and watch anyway if I want. I got the seat next to the pilot so I had nothing really blocking my view at all. It was magnificient. http://www.airmaui.com/

Tuesday night we did a luau. The food really wasn't that great, but the show was neat. It's another one of those things you should do, and I would do again with someone who hasn't done it before but if we've all done it I would probably not do it again.
oldlahainaluau.com/index_main.html">
http://www.oldlahainaluau.com/index_main.html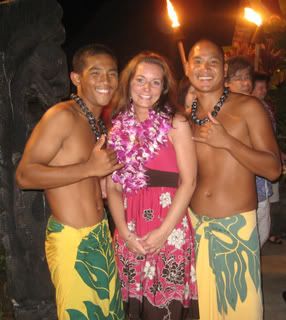 Wednesday morning we did an ATV tour. That was fun. We saw lots of cows they were funny. They even posed for me.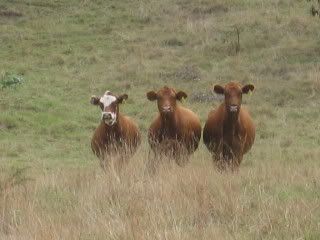 We got filthy dirty on the ATV ride. That was fun to do also. Next time I'll do a horseback riding trip instead I think. Just because I did this and I like horseback riding.
Wednesday night we had dinner at Mama's Fish House. That is a one time only place to eat. Delicious but very expensive. Worth it though and a must do on Maui - every time! http://www.mamasfishhouse.com/
(the view at Mama's Fish House):
Thursday I tried Scuba Diving off the beach. I was so disappointed when I couldn't do it. I had a really hard time with the breathing. Because there were others with us, he couln't take me out. If it had been just me, he said he could have workded with me and thinks I would have done ok. I think so too and I would definitely try again but in a private lesson. I wasn't even nervous when we started but as soon as I put my face in the water and tried to breathe, it was too strange. I ended up snorkeling instead, and I did buy an underwater camera but that's 35mm so I have to have it developed. http://www.mauidiveshop.com/divetrips/Divetrips.html
Thursday night I saw a show called Ulalena. It's a show only performed on Maui. Has a bit of Cirque-esness to it but only for two scenes. The music is as well. I would also say this is a must see because it is a story specific to Maui.
http://www.ulalena.com/
I did not get to do the road to Hana - huge disappointment. Didn't see any sea turtels, another disappointment. But I did get to do some fun things and I will definitely go back to a different island some day. Definitely a honeymoon spot.