Kiev (Ukraine, Part Five)
Kiev Travel Blog
› entry 5 of 6 › view all entries
Kiev (KNIB)

Ukraine, Part Five
During our city tour, we also visited another of the oldest relics in
Kiev
, the Golden Gate. The gate was once the major way in and out of the city, and was fortified well enough that almost no one could penetrate it.
Our tour guide told us Ghengis Khan was the only leader to penetrate the walls by finding a weaker place in the wall on the backside of the city. She claimed the walls there were made of wood.
Other texts say Baty-Khan, of the Golden Horde, captured the city. He then lead the city for one hundred years. He made his entrance through another less-fortified entrance than the Golden Gate. After his rule, Kiev went to Lithuanian power, then Polish, and then back to Russian and Ukrainian rule under their "Pereiaslav Agreement" I have mentioned earlier.
Most of the Golden Gate is not original, since it was built between 1017 and 1024. And the gate itself showed majesty. What makes it even better is the great tower and the Annunciation Church on top of the Gate. This was given to the city by Yaroslav after he prayed to the Virgin Mary and then promised her he would build her a church dedicated to her if he won a huge battle against the many nomads who often attacked Kiev.
Yaroslav Mudry (or Yaroslav the Wise in many texts... it's the same guy) is outside the gate, and his statue shows him holding up the church as a gift to the city and the people of his city.
The fact that the Golden Gate is there at all is quite amazing. For by the 1600s, the gate was in severe disrepair. It held a lot of historical significance, and was the site of many different ceremonies even though it was no longer used to hold off attackers. By the 1700s, the ruins of the Gate was covered up with earth.
About one hundred years later, the gate was reborn when archeologists uncovered the ruins again, fenced it in, and rebuilt the Gate as best they could to its former majesty. And it was quite a feat, but excavators discovered frescoes and mosaics on the wall and floors of the church. Weapons and other pieces were found all over the grounds. Builders finished by May of 1982 when Kiev celebrated its 1500th anniversary.

Kiev's Golden Gate
Photo courtesy Nicole Weber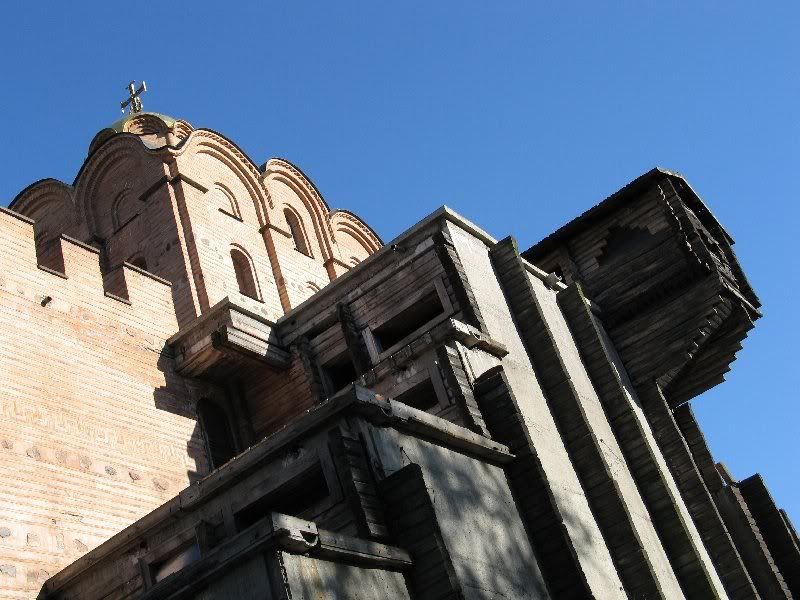 Kiev's Golden Gate
Photo courtesy Nicole Weber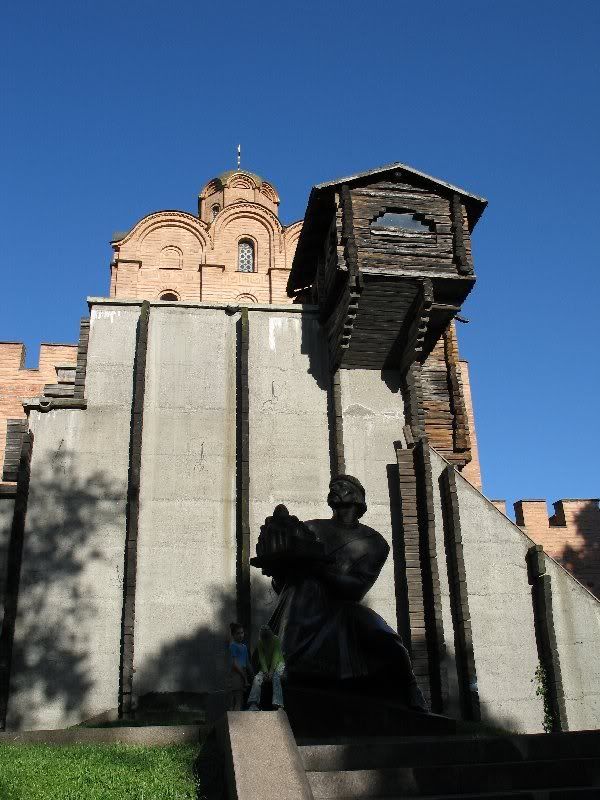 Yaroslav the Wise in front of the Golden Gate
Photo courtesy Nicole Weber



Yaroslav the Wise in front of the Golden Gate
Photo courtesy Nicole Weber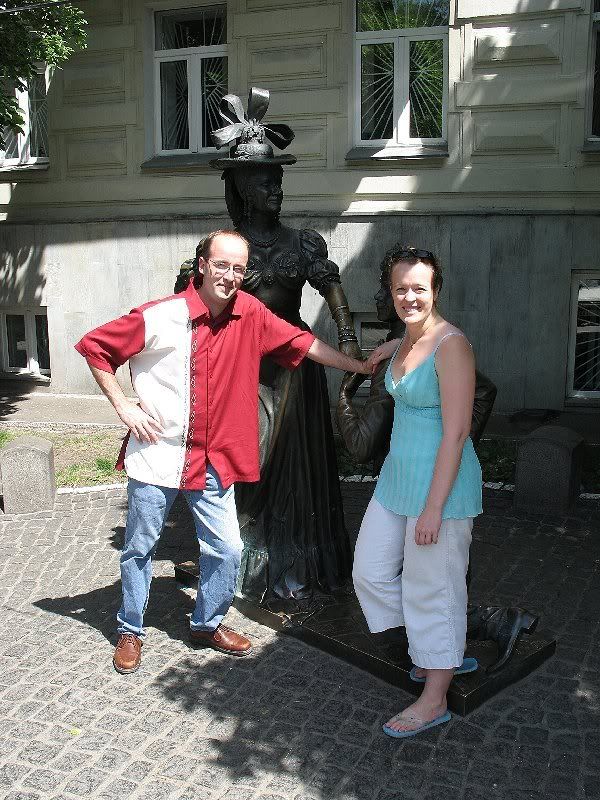 Sam and Nicole at the Statue of Pronya Prokopovna and Svirid Golohvastov, two characters from the play "After Two Hares" written by M. Staritskiy
Photo courtesy Nicole Weber
Photo by Derrick Sheller


Everything and every place in Kiev has some magical thing, for if you rub some statue's foot, or dance a jig through a town square, and we found out from our tour guide that simply standing between St. Michayil's Monastery and St. Sophia's Cathedral is good luck. Whether this is true or not, or even if you believe in luck, there is indeed a good feeling in the square. Kids kick balls around and play hackey-sack style games on the large cobblestone areas between the two churches. Tourists snap pictures everywhere. Businessmen, young men, and often women stop for a beer or soda at the small carts and cantinas on the square.
There are several roads leading to and from the area, and just like many cities like Kiev, cars drive and park on the sidewalk, the cobblestone, and sometimes in various parts of the square.
On the St. Mikhayil's side of the square, there is a statue showing Princess Olga, Apostle Andrew, St. Cyril and St. Methodius. They are meant to represent Kiev's spirit, politics and art.
On the St. Sophia's Cathedral side of Sofiyska Square is a large statue of Bohdan Khmelnytsky on horseback. He liberated Kiev from Poland, but then handed the country over to the Russians, as I mentioned in an earlier chapter.
The area is certainly a place where you can feel history. There is political and religious energy, but there is also the energy of recent war, of building and rebuilding. And at the same time there is an overwhelming feeling of peace.
Our next stop was St. Andrei's Church. And although we didn't go into the church because we were planning to do the tour later, it still gave us a good perspective of where the church was in relation to Sofiyska Square.
Next to St. Andrei's Church is Andrei's Decent, a steep cobblestone street leading past the church, on down to the left, then completely curving around to the right, and every inch of sidewalk with a vendor on one or both sides of the walk. At the bottom of the hill are museums and art galleries, and the National Chernobyl Museum a few block away from the bottom of the decent, not too far from the Metro stop. The four of us didn't spend a lot of time at the bottom of the decent, but we were told that the statue of the barber and a woman of the aristocracy at the top of Andrei's Decent was good luck and that if we rubbed the woman's ring, then rubbed the cockroach on the barber's butt, then did the hokey pokey and turned ourselves around we would be happy in love or be permanently creeped out by folk barbers.
At this point, the short stories about getting good luck from monuments and buildings was getting really tiresome. I just wanted some history, and it was getting insulting to think that we all traveled half way around the world in order to get good luck from rubbing statues like some magic lamp.

St. Andrei's Church
Photo courtesy Nicole Weber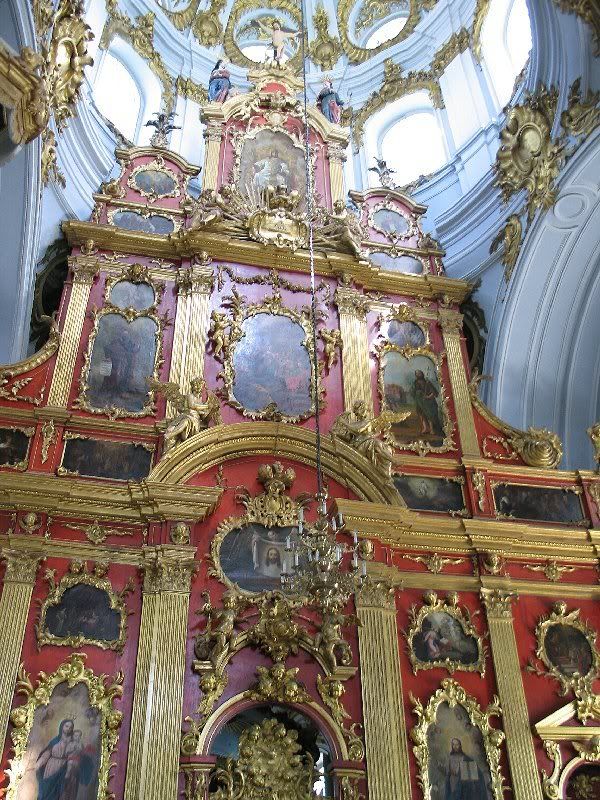 Inside St. Andrei's Church
Photo courtesy Nicole Weber


And when I finally had more time to read about the area, I found the better story that needed to be told by tour guides was the original and actual history of the immediate area. Legends and historical documents say Andrew (Jesus' first disciple) landed at a spot along the Dnepr called Andriyivsky Uzviz, climbing the hill and creating the same windy path now called by that name as a street. He planted a cross, made a proclamation saying a great city would rise up. And as the people of the area, the first Kievians adopted the new Christianity, Andrew and his followers dragged a pagan idol called "Perun" down the same path Andrew climbed to plant the cross earlier. This trail, now called Andrew's Decent, is the most infamous. And the story goes on to say the new followers of Christ beat the idol Perun with sticks. At the bottom, they shoved it into the Dnepr River.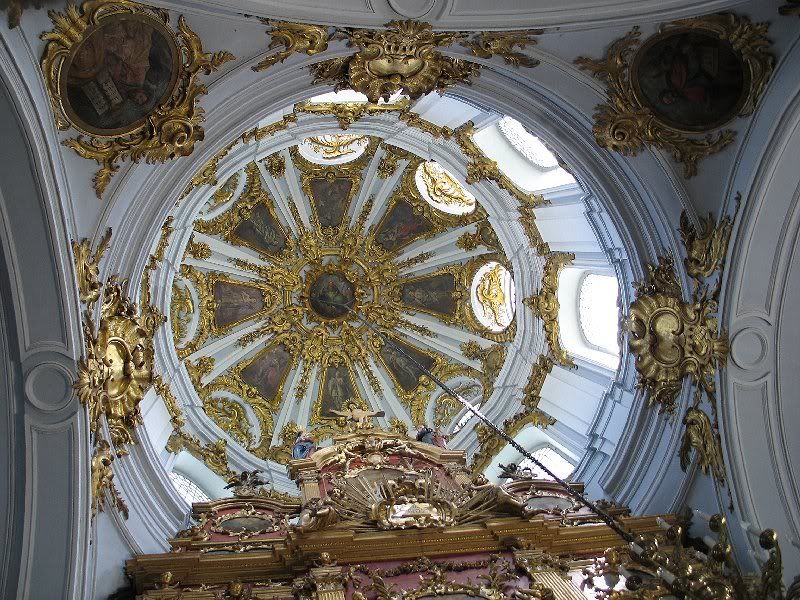 Inside St. Andrei's Church
Photo courtesy Nicole Weber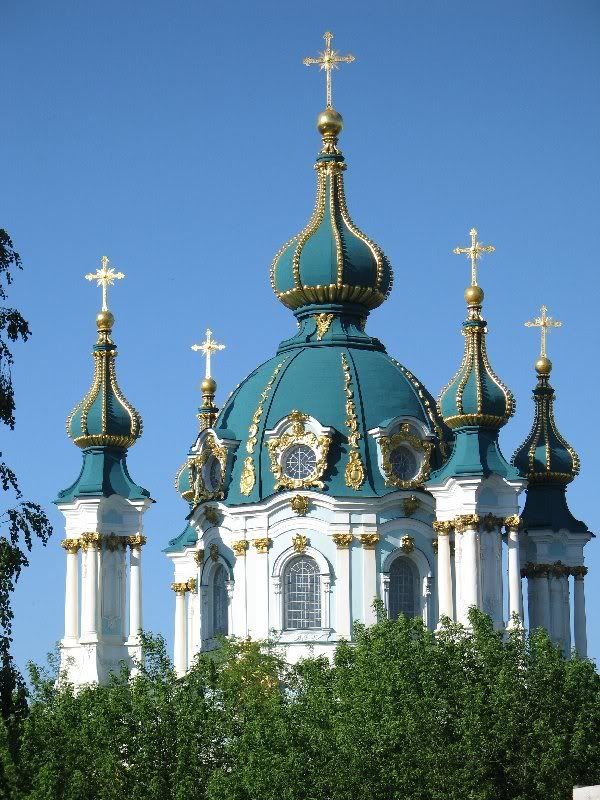 St. Andrei's Church
Photo courtesy Nicole Weber


Maybe the documents of Ukraine aren't all that accurate. And I'm certainly not starting a new fight, rather extending an ages-old fight. For there are many other documents and legends saying Andrew did this same thing in Crimea, too. So all I know is the guy gets around. And he picked a beautiful city, and was right in saying a great city would rise up.
The driver waited for us as we went up and past the area of Andrei's Decent. At one spot, in an area now under reconstruction, there sits a 500-year-old plum tree. There was also a tent holding a church service, and the tour guide took us along a walkway and overlook to the city. What I could remember about this little detour was a lot of graffiti, a lot of reconstruction, and the tour guide saying, blah, blah, blah... St. Blahsen Blah... TV Tower... Blah, blah, blah, something about the mafia and that building over there... blah, blah, blah... and now if you'll follow me...

A building near at the top of Andew's Decent, possibly an apartment of office building
Photo courtesy Nicole Weber



Stenciled graffiti showing a businessman is a marionette, or puppet
Photo courtesy Nicole Weber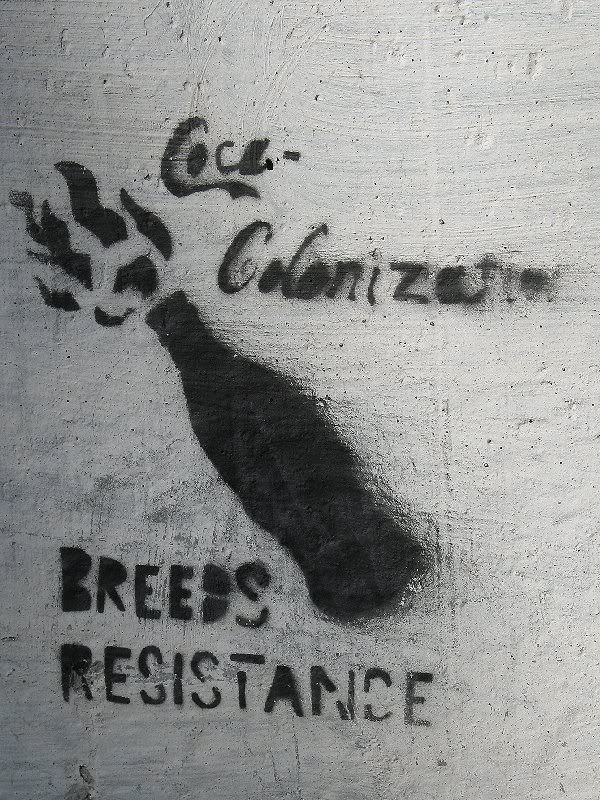 More Stenciled anti-Coca Cola graffitti
Photo courtesy Nicole Weber


I was fading, tired and a little hungry, and it didn't help that our tour guide was particularly rude to all of us from the outset. I found the lipstick on her teeth and her wandering eye particularly endearing, but the more I go over the history of the area and the city, the more I realize she doesn't know the history. I wouldn't have cared if she had struggled more with english, had two heads, or even had B.O. or bad breath. But don't hump me on the history on a tour. And if you're feeding me cake, don't hump me on the frosting. I mean really. I slept through better lectures in high school and college, by much better men and women than this crazy lady. I felt so much better by the end of the tour when they dropped us off at the apartment so we could start to sort things out and try to make sense of all the things she was trying to tell us on the tour. After all, I was supposed to be the journalist on this trip. DiAnna was our interpreter, Derrick and Nicole were our photographers, and I was supposed to Journal. It's hard to do that while you're walking. I wish I would have brought a recorder. I'll have to remember that next time.
Once in a while I was able to write about this trip, and at this moment, in this beautiful city, I was already overwhelmed.
But the truth is, it was a useful tour in a the sense that we needed to get our bearings. Come to find out, as we all did later, these tours were more useful in cities like St. Petersburg and Moscow, for what Nicole and I later discovered was that in Kiev, it is much easier to simply walk where you want to go, or take the Subway (Metro) and walk from the closest stop, for Kiev is a big city, and almost everywhere you want to go is really within walking distance from the city center, or from the heavily used Metro stops.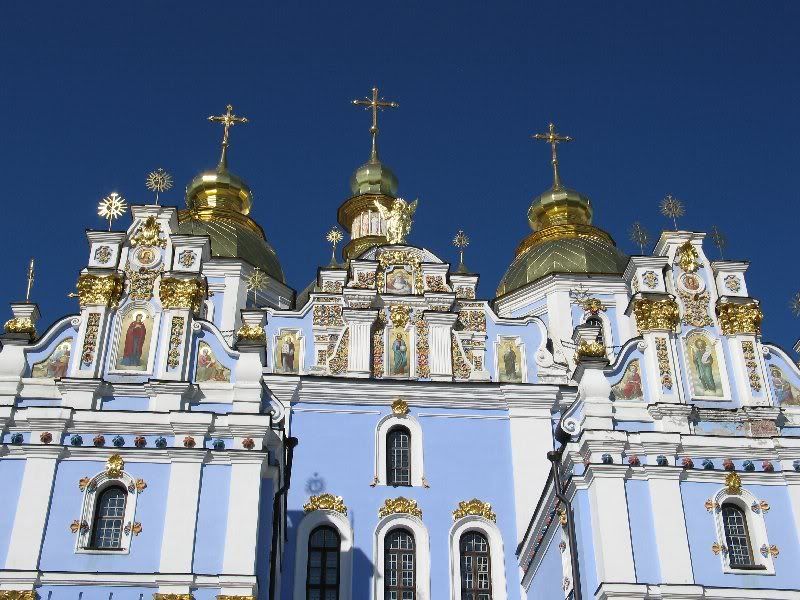 St. Mickhayil's Monastery of the Golden Domes
Photo courtesy Nicole Weber



St. Mickhayil's Monastery of the Golden Domes
Photo courtesy Nicole Weber



St. Mickhayil's Monastery of the Golden Domes
Photo courtesy Nicole Weber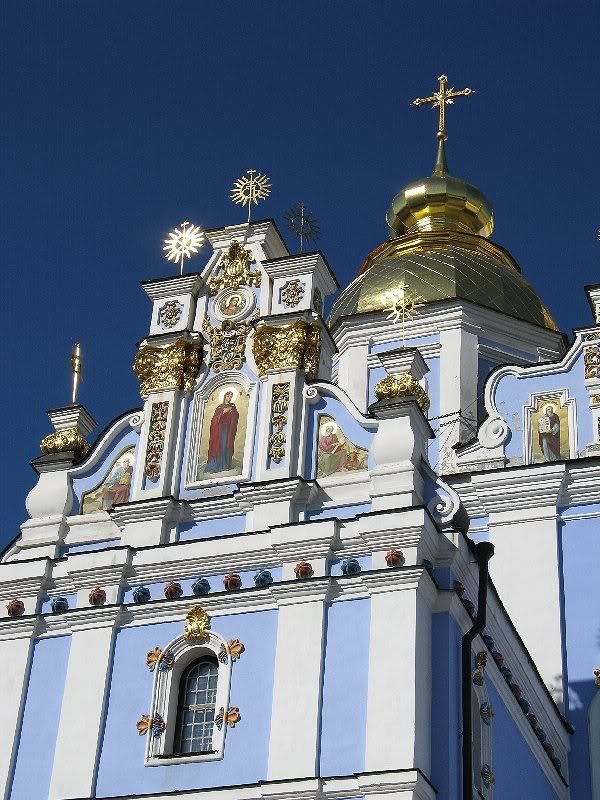 St. Mickhayil's Monastery of the Golden Domes
Photo courtesy Nicole Weber


After the tour guide and driver dropped us off at our apartment, we paid them and made our way upstairs.
The door keys were tricky, and we found out that it was entirely possible to lock yourself inside or outside of the building, and one way was to accidentally jam or break off your key in the door. Luckily we never did this, but it became apparent that at any or all times at the front door of the building it was entirely possible to be frustraded by the lack of a good, easy-to-use locking mechanism on a glass door that could be easily smashed by anyone who needed desperately to get in or out.
Once inside, we discovered how half of the entryway was done up in beautiful tile, murals on the wall, and all new doors and rails. The second half of the entryway, which included the original Russian elevator and stairway to the building, looked like something out of an American depression-era film, or an "Oh, look at me, I'm a poor, starving artist" of the crappy french film say-nothingism era that gets regurgitated every generation. Unlike so many American films, which require a nice stairwell shaft, the place would have never worked for a U.S. action-adventure film, for there was no place to drop a fake body down a flight of stairs. Hollywood is always so predictable. But all that being said, I did find myself daydreaming and from time-to-time my imagination would have me trying to get through the front door lock faster, make my way through a series of dark hallways before some man with a scar or a burn on his left cheek caught up with us and forced me to divulge the location of my perpetual motion machine.
And then I got to thinking that it was entirely possible to outrun the rest of my group. And it reminded me that in the wild you don't have to outrun a grizzly bear on a camping trip. You just have to outrun the other campers. I've seen enough reruns of Marty Stauffer's "Wild America" that I know how it works. Animals have an inherent bit of laziness, just like gangsters and mobsters. They'll pick off the easy ones first. And in a way, you have to let it happen. Not because I'm shallow or vain, but because it's the only way to write a sequel. And that sequel has the hero going back to hunt down those gangsters and give them justice. You don't make enough money to buy your second Maserati until you write that sequel. But I digress.
We found our palace, after cramming ourselves onto the small, Russan-era elevator and ascending to the third floor. It was always faster, we found, to just walk the two flights up if we weren't carrying too many things.
We were living in number 72, on floor three. And we shared the floor with numbers 70, 71a, and I think number 71. We opened the door to find a breathtaking apartment. There were hardwood floors throughout, the ceilings had deep, 3-dimensional designs, there was a full kitchen and eating area, a hot-tub/shower, a seperate water closet (as was usually the case in Ukraine and Russia), there was a sizeable living room with a large couch, large chairs, mirrored hallways giving the place an incredibly open feeling, and there were two balconies, one off of the large living room, and one off of Derrick and DiAnna's room.

Our room in Kiev
Photo courtesy Nicole Weber



Our room in Kiev
Photo courtesy Nicole Weber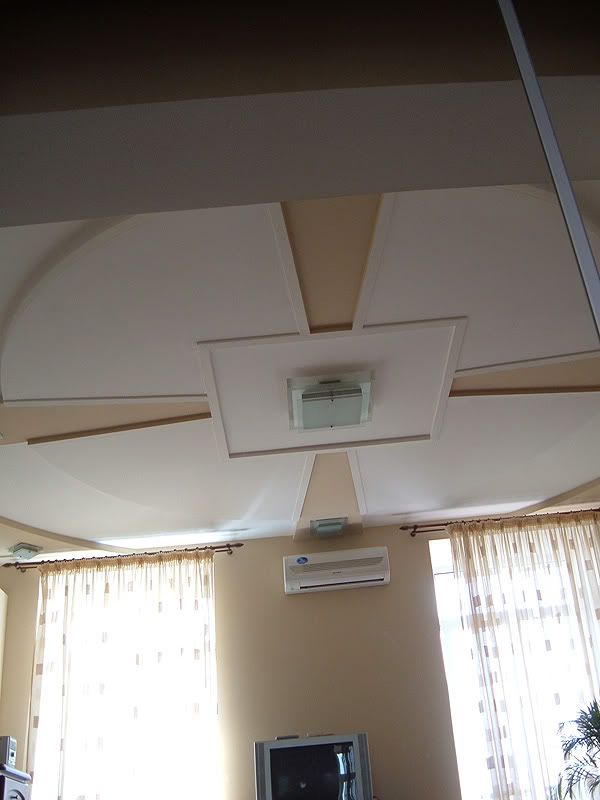 Our apartment in Kiev
Photo by Sam Sinke


We took some time to settle in and get unpacked, and eventually we got ready for a night out with DiAnna's friends who now live in Kiev. We would first meet up with the friend who worked at the TV Network, then meet up with some of her other friends who were doctors, and we would all head off to a restaurant a few blocks away.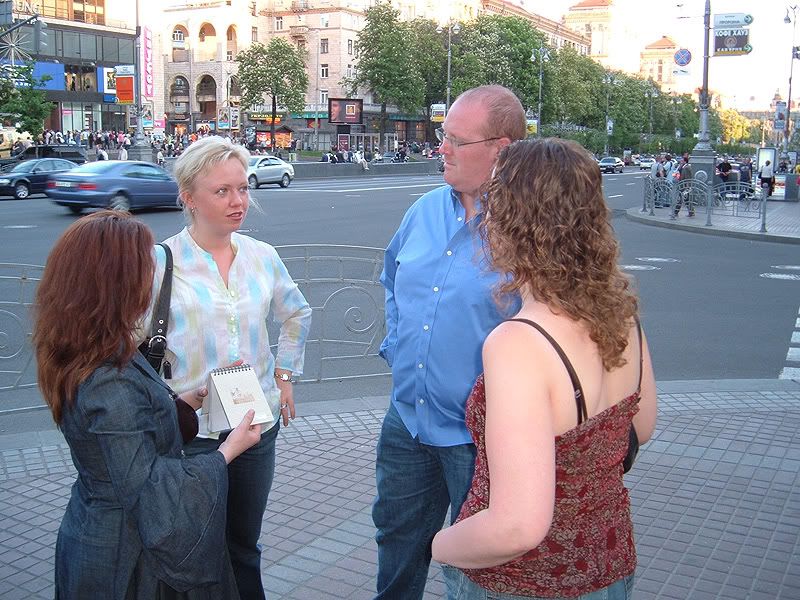 We meet up with one of DiAnna's friends who works for the TV Network in Kiev
Photo by Sam Sinke



Dinner with friends in Kiev
Photo by Sam Sinke



DiAnna and Derrick try a shot of Horilka!
Photo by Sam Sinke


We didn't have to wait too long, and when we arrived at the restaurant we were lead downstairs instead of the available outdoor seats. And this was fine, but it was as if the wait staff had dumped us into the back of the "American Room" because at any given point, there were always more Americans sitting in that basement room than locals. It was near the kitchen, the band they brought in was deafening, and I felt it was in a way the equivalent of being asked to sit in the back of the bus. I don't think any of my fellow travelers felt this way about our experience, but I often found that they were always focusing on what was ahead. That's not an oversight, it's actually very proactive and optimistic.
I do have to say that occasions like this were rare, and the real people of Ukraine, such as the people we were visiting with, were amongst some of the most outstanding people I have ever met. And they certainly made up for the situation by creating a fun, unforgettable evening.
One of the things I'd read about before we left, and wanted to try was the Ukrainian Vodka called Hrilka (pronounced Gor-IL-Ka). One of the versions of this infamous golden firewater is made by the Nemiroff company (which sounds strangely like the other Russian Vodka company called Smirnoff). It is made, in part, using very hot peppers and honey. And between Derrick, DiAnna and I, we took down two whole bottles. And the stupid part was that I had been forewarned by what I had read before we left on this trip. And, I remember distinctly DiAnna telling me, "Ohhhhh, you better be careful what you ask for!"
Travel writer Gary Shteyngart says of "Gorilka" that:
"The Russian cure for any ailment ranging from stomach ulcers to delusions of grandeur is 150 grams of vodka (about three shots). But for a cold this serious K. prescribed two bottles of Gorilka..."
Most people would read the above statement and quietly make a note to themselves to remember to never, ever drink such a thing. But curiosity had the best of me, and I just had to have some of this stuff. What Mr. Shteyngart neglected to mention is this firewater's ability to put a perfect relationship into despair.
He also didn't mention how Hrilka gives men the ability to do exactly the opposite of what women just told them not to do, something we are actually good at in the first place. Somehow this orange fluid heightens these abilities, and I believe that each shot gives the drinker a heightened level of trouble even though toasts are given to avoid this dilemma. I have not made all of my final calculations, but I believe the table looks something like this: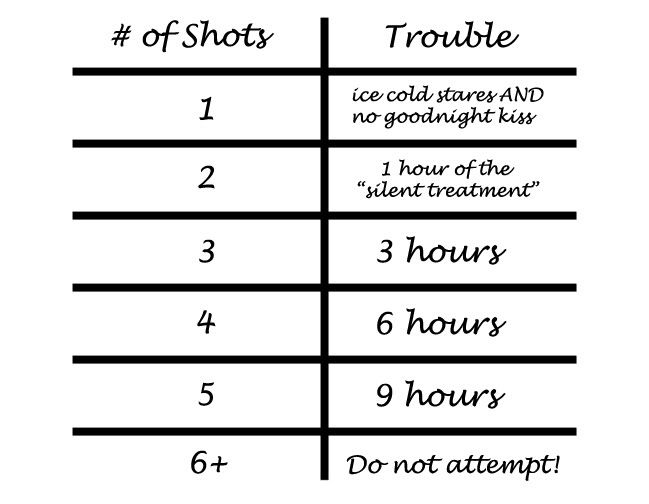 Chart provided by editors of Plastic Sled Quarterly
Chart has been cross-referenced with editors at badwhiskeyguys.com
And with the International Brotherhood of Scotch and Vodka Tasters




By the time we'd left the place, a couple of us were reaching the bottom end of this table.
Nicole claims the table is a bit too harsh, but I cannot claim to be the sole inventor of this table. It comes from the dutiful scorekeeping taken by master Scotch and Vodka tasters from around the world. They cross-referenced their findings with the angry wife consortium to come up with the table, and the reason Ukrainian Horilka continually scores so low is not due to any issues with the offended. Rather, the Ukrainian Horilka immediately (even after one shot) gives the drinker hot, stinky breath. At the lower end of the chart, the Horilka has been known to produce the morning dry heaves.
My experience was actually somewhat different from the chart, and I was lucky enough to experience the feeling of hot peppers leaving my body in the form of sweat. Yes, my skin felt like it was literally on fire.
This is a truely awful product, but I have gladly bought several bottles of it, so should you the reader ever wish to partake in this particular pain I will gladly serve up some suffering. And you will love me for it. As DiAnna told me before our trip, "Uh oh! Be careful what you ask for!"

One of the women we had dinner with is a reporter, the other two are doctors, and they brought their son, who at the beginning of the meal was helping me learn to count to ten in Russian. And I'm still working on that. They all find themselves in the professional class, but each struggle to have a comfortable living in Kiev, where the cost of living continues to skyrocket, and the cost of living in even a modest flat has gone past the price of a home and acreage in the American midwest. They are a hard-woking, fun, beautiful people and they have hope and determination that someday where their daily costs will start to flatten out, where the things they enjoy like universal healthcare and top-notch public transportation, and even the best hospitality in the world all become recognized for what they are, and the rest of the world beats a path to their door.
So many times I would notice looks from the people of Ukraine, wanting possibly to know if they still need to catch up to the rest of the world, perhaps just catch up to the west. They want to know what they have right, and what they have wrong. And while so much of the country is so much the old baba, or babushka, she is also the young girl who wants to belong, wants to be free, wants to be loved, and doesn't want to be subjugated like her dear old grandmother. And the new Ukraine keeps finding her way, taking the adorable parts and keeping them beautiful, yet knowing there are less-than desirable secrets about her that she won't allow to sink her.
Some of these dirty little secrets of Ukraine's past include but are not limited to a sizable arms and military stockpile. They were caught selling a nuclear radar system to Saddam Hussein a while back, despite a $3-Billion aid paycheck the United States gave them to get rid of its nuclear arsenal just 3-years before.
Ukraine had a munitions dump explode on them a few years ago, and a lot of their weapons that should have been locked down, melted, or otherwise secured by now are still popping up for sale in army-surplus sales in full-working order, and according to U.S. and U.N. troops sometimes even turn up on the streets of Afghanistan and Iraq, and will likely show up in the future days when U.S. leaders send our troops to Iran, the middle east, and even Africa, all of them the likely sites of our future wars and conflicts.
The reporter and doctors we ate with on this evening represented in many ways the best of the best Ukraine has to offer the world.
I started reading Long Way Round by Ewan McGregor and Charley Boorman, a motorcycle diary of a trip around the world. Their trip through Ukraine holds a few similarities, how they aren't too sure about their hosts at first, but have fallen deep in love with them by the time they leave. Boorman, as he leaves Ukraine and enters Russia, is asked twice to do a wheelie over the border.

At our dinner, I was introduced to Russian and more importantly Ukrainian folk instruments. Any musical instrument is always cause for me to stop and stare and want to find out how to make sound come from it. A lot of that goes back to my first music teacher, Mary Ann Bauler. She let us play everything, and taught us to love every kind of music. My mom pushed us to learn more music, from music classes, piano lessons, and since then I have learned to play more than nine different instruments. And I would love to learn more.
One of the instruments sitting in the corner of that restraurant is struck with a hammar or round mallet and looks a little like a harpsichord, the other looks more like a guitar or a mandolin, and has extra strings below the fretboard, which sweep out and turn what starts as an oval insturment into a more rounded one. I don't know much more about it, but I know I never saw anyone play one successfully. Someday, I intend to go back to Ukraine. And this will be my goal. It may seem like a simple goal, but I have a feeling I will need to find a more rural setting to find a really good player of either of these instruments.
During dinner, we talked about language, and I received a little more insight into how and why some people in Ukraine prefer you speak to them in Ukrainian, rather than Russian. And while both are accepted languages here, especially in business, Ukrainian is really the language of friends and family. Russian, on the other hand, is the language of business here and has a much harsher feel to it while traveling through Ukraine.
Ukrainians sometimes feel Russian is more abrasive and too formal for friends and family, and choose to speak Ukrainian. Shop owners visibly bristle at the sound of Russian, and relax at the sound of Ukrainian. And sadly, this is the only way English-only speakers will ever be able to tell the difference. For if your translator only speaks Russian or has trouble with Ukrainian, you will get a far different experience than if your translator knows fluent Ukrainian. There is not a huge difference between the two languages. But there is definitely a difference.
Everyone at our table at the restaurant that night spoke perfect English, and they worked really hard to keep speaking it even when they would accidentally delve back into their native tongue. This is a perfect example of the latest generation, and their newest strive to make visitors feel more comfortable than their parents before them. And this is one of the biggest reasons I will forever say Ukraine has hospitality that is to be envied by the rest of the world. For they wished for us to be comfortable more than they wished for their own comfort.
I know if I were them, I wouldn't be more comfortable speaking English. The language is so full of inuendo and double-meanings. And English speakers often fill their conversations with so many folk and pop-culture references, it's a wonder anyone anywhere in the world can learn the language.
We ate verenike and blintzies. We took turns taking the young lad at our table out for walks, because he wanted to go outside. I don't blame him, and I like what he and his generation are saying even at such a young age. I was trying to get some writing done, but it wasn't a good idea. I was clearly in a hole, and I just kept digging. Derrick and Nicole went outside to talk at one point during the evening, and it was about me and my behavior.
On the whole, I was enjoying myself. I spent a large amount of time talking to the doctors who were sitting close to me. We discussed different medications and diets, and I was trying to understand what they saw were some of the differences between western capitalist medicine and Ukraine's universal healthcare. One of them gave me a pen I easily identified as a pen given to doctors and their office staff with the name of a drug on it, and sometimes the latin name, or the name of the drug company. I asked them if they had an extra pen, because I wanted to bring one back to give to my doctor, and they gladly obliged. The pen came from Phiser, and the drug is Zoloft (a made-up name), but with a different name made to sound Ukrainian, and written in cyrillic.
I later took a walk outside with Michel (the boy at the table) and his father, and we continued to talk about diets, and healthcare, and what it's like to raise a child in Ukraine. And I hoped to impress on him how impressed I am by Ukraine doctors, the universal healthcare system, how despite their issues it is a better system, and how it better takes care of the people than the system in the United States. And I also told him that I believed they had done a great job raising their boy and how he is very inquisitive. That is so extremely important in young people. The boy always had a smile on his face while we were there, as did the parents, and I think they took some comfort in what I had to say, in a world where so many people want their country to be like the west.
They wanted so much to have another night together, but it just wasn't in our plans and we had too much to accomplish as far as sightseeing and meeting with other people over the rest of our time there. And I did my best to say this, but everyone there made me look like I was saying or suggesting the opposite. All I know is that I got back from our walk, the bill was settled, and we were parting company with the doctors and going somewhere else.
Add to all of this the place was loud, and I have trouble hearing in incredibly loud rooms, I kept digging deeper into trouble because I was being loud. At this point in the night, I was spent. But the night just didn't end. And we continued onto another place as the restaurant closed, checking out bars here and there, finally settling into a place where the buzz of the night's gorilka started kicking in. There were more drinks on the table. And this was ridiculous. I was still in charge of myself, but I wanted to go home a half hour ago and at this point wasn't sure if I was being a party pooper or if I was being requested or challanged to keep going until the bars close. I didn't like where the night was going. But I was sure I'd try to at least have some fun.
We went into one place, and it was just too loud. It had great ambiance and a good group of musicians, but the rest of the group wouldn't have it. They wanted to talk. So we wandered down a little farther and came across a bigger bar. We first tried going downstairs, and there was a horrible cover band playing crappy American tunes. But there was something awesome about it, and I wanted so much to stick around and listen to them. But I knew I was in trouble, and I knew speaking up at this moment would only get me into more trouble, make me look like a bigger jerk than I was apparently being.
The crappy band was imitating so much of what they don't understand, yet there is just something about how they spent all that time learning the tunes, the language, and they had spent all that time together trying to get tight as a band, practicing and playing 2-bit gigs like this just to sound so half-assed in the end.
I was drawn so much to this scene, like a moth to a cheap, glowing Star Wars toy. And I wanted to check it out in the worst way. But just as I started to actually say something, somebody decided we could go up two levels and probably find a good place to sit and talk. The second floor was full of people watching soccer games on several different televisions.
I took part in the conversation for a while, then excused myself to go to the bathroom. But I didn't go to the bathroom.



A picture of the sad, yet awesome Kiev Band.
Picture by Sam Sinke


I made my way down to the basement. The room was long, with a stage on one end and a bar on the other. Bar stools, benches, and little bar tables lined both of the walls.
There was one group of five sitting on one wall, and I sat closer to the band on the other wall. There was a bartender and one customer at the bar in the back. And after listening to a song or two, a young woman had come in behind me and seated herself at the bar in the back. She took out some drumsticks and was trying to rap out the rhythm on a wooden stool. It was proving to be a little annoying to some people in the room, but nobody was saying anything. I was fascinated.
She lacked a steady rhythm, and lacked some style. And she lacked a lot of charisma. But she clearly wanted so bad to be a drummer.
Before anyone went to try and stop her, I stopped her on my way out. I reached for her sticks and said, "Can I show you something?" I stuck out my hand a little further, and she handed me her drumsticks and smiled, understanding that I wasn't going to make off with her sticks.
I started tapping my foot to the 4/4 rhythm and counted: one, two, three, four... one, two, three, four... Then I added the tapping of the sticks. I handed the sticks back. She went about tapping, but had no foot tap. "Nyet!" I said. I put out my hands. She handed the sticks back. I counted with my fingers: one, two, three, four. She tapped again, and again she tried and failed to keep her foot moving.
I made the motions, but I was stressing that she had to have the downbeat. It was loud in there, and hard to get an idea of how much English she understood. I made a motion with my hand, stessing the downbeat, and said to her that the downbeat comes from the foot. And with rock and roll, the rhythm all comes from the base drum, played by the foot, not by the hands or the sticks. I repeated to her to tap her foot. I pointed at my foot, showing her the rhythm with my foot. It was like the lightbulb went off, and like a child riding a bike, she had figured it out.
I said "Das-Vi-Danya" and started to leave. She asked in somewhat broken English, "Are you a drummer?" "Yes," I said, and I waved goodbye as I went back up the stairs. A few songs had gone by, I had done some jamming with the band, with a wanna-be drummer, and been caught up in a moment that was so priceless it was near impossible to explain. Most likely I had been gone about 10-15 minutes, maybe more, but by the time I actually used the restroom and joined everyone else upstairs, they didn't even notice I had been gone for that amount of time. After talking to Nicole about this later, she had guessed I had done something like this. And it became more clear to me that nothing gets by her. I know how much she enjoys music, but it makes me wonder why I crave it.
Being around other musicians like that energizes and recharges my batteries. We don't even have to play together and I can feel it. And it doesn't just happen with any musician. Whether somebody is really good or really bad doesn't matter. But when somebody purely enjoys playing or singing or listening to music and can't wait to share anything they know, I can truely feel that joy. It's like living in a moment of truth and clarity. It's like living in a moment of non-judgement and living in pure, real love.
Some of the best moments I've spent with Nicole centered around music, and I enjoy moments with Nicole so much when and if they are centerted around music. This is partly because when we first met, we captured so many moments, flying up highway one in California, just passed Monterey, singing along to Phil Vassar who was singing about catching a girl's "Little Red Rodeo" and how her mom had a place "down in Monterey." The top was down on our convertible, Nicole's browned skin was glowing in the California sun, and she was so beautiful, mostly because I remember most singing along with her, watching her enjoy the act of singing and sharing a song with me. There is so much indescribable joy in a moment when two people sing together.
We crossed the bridge going into Oakland, singing John Mayer tunes. It is so much fun to see Nicole sing, and it is so rare, as if I'm the only one who has caught her doing it, and she was so carefree and open to the world she decided there was no harm in singing. In fact, she not only believed but knew that if she kept singing she was bringing joy and love to others. It was such a rare moment, and I'm so glad that each of those rare memories also happen to be vivid ones in my mind. When Nicole is down, I think of those times when she is so carefree and singing to me that it simply melts away the sadness before me. I want so much to share more of these moments with Nicole, but I'm aware that my musical tastes are much, much broader than most people. And even though I understand there is an audience for most music, I also realize that most people only choose to listen to 1% of the world's music. Nicole does have diverse taste in music, and that makes things easier.
I'm just weird when it comes to music. I cried when I heard Warren Zevon passed away. I stood up in the movie theater when I saw Elvis Costello and Burt Bacharach playing together in an Austin Powers Film. And I was horrified when an intern working with me at the last Iowa Caucus asked "Who is this loser, and why do we have to listen to him all night?" And I tried not to clench my teeth when I calmly answered that this was Hal Ketchum, that he actually isn't a loser, is widely known, and oh... that he was famous enough to be hosting the Grand Ole Opry the next weekend.
So I'm always too afraid that I might be dragging somebody too far into my fascination with kitch, or at least music that's outside of the mainstream or pop culture commercials.
That night, it was too much to ask even a few minutes of my friends to sit and listen to awful music in a basement in Kiev, Ukraine. Nobody got it. So I decided to steal my own moment for a few minutes. And I felt I had done so much wrong by doing this, and that I should have never gotten away with it.
And yet there was something familiar about all of this, in that you could have come across this crappy cover band at any small bar anywhere in the U.S. This was just different from all that, because these people were doing more than just imitating a bunch of songs. They were trying to somehow imitate a culture.
After I joined the group again, we stuck around for a drink or two, then made our way back to the apartment.
And while I would like to write an in-depth story about how the next 17 hours transpired, I'm in deep enough trouble. And this portion of the story will remain between Nicole, Derrick, DiAnna, and I. All I can say is Ukrainians have indeed invented a vodka fully capable of curing anything, but mostly capable of curing delusions of grandeur.
I will also say that I could have killed a hobo with my shoe the night before and have been in less trouble with Nicole. To my defense, everywhere we went it was loud, and I always have trouble hearing people in the midst of loud crouds. I would also say that even though I had a lot to drink, I was the only one functioning highly enough to be able to unlock the front door to the apartment. Derrick had issues with the lock while he was stone-cold sober.
I have totally missed the point, and I have missed it over and over again. And that's mostly because of one thing, one thing that women know but they just don't fully accept and give us men credit. That one thing is this: Men really aren't all that bright.
I can give you many examples. But I will not. I'll give you one. Look at Einstein. Brilliant man, couldn't manage to brush his hair or see a barber. If you need more, email me.
By the end of the night, I sat in the kitchen writing. Nicole had gone to bed, Derrick had gone to bed, and I had a chance to tell DiAnna how much I appreciated what she had done for us all, and I was literally brought to tears by the beauty of her country and its people. I hope she will always be proud to call Ukraine her home. And I told her that I want so much to come back someday. Maybe we can go to Crimea. And maybe we can listen to some music.

Independence Square
Photo courtesy Nicole Weber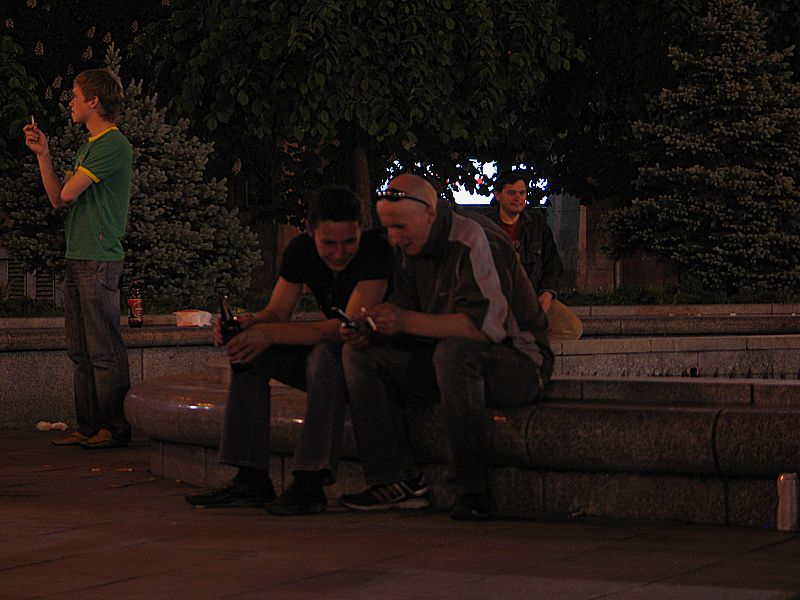 Independence Square
Photo courtesy Nicole Weber



Independence Square
Photo courtesy Nicole Weber


When Nicole and I finally ventured out again, I was able to see an example or two of an obnoxious, loud american. It reminded me of a mean neighbor from the town where I grew up. While I have never compained in such an outloud voice, I do have to admit I was loud at times.
And while I will openly admit to being a little bit wrong that night, I sure would appreciate the same from my better half every once in a while. I am a writer, and I like to research and find truth and tell about it whenever possible. And after coming to a better understanding from some recently uncovered and undoctored photos, I found a picture showing Nicole doing something that helped lead to my delinquency on the night in question. For with everyone's forewarned knowledge about Nemiroff Vodka (known as Ukrainian Horilka as I mentioned earlier), that such a liquid would most likely make me do stupid things, Nicole is seen pouring me a shot. She is almost literally caught orange-handed.

Nicole is caught... ORANGE HANDED!


I sure don't have the answers. But I know what happens when people bottle up their problems. Business people fail or go postal, politicians make career-ending blunders, parents scream at kids for no good reason, and lovers say things they will always regret.
When we finally hit the streets the night after the Horilka night, I had a great time. We moseyed here and there, taking in lighted churches and dark but not dangerous alleys of Kiev. We had delicious food from a restaurant I would guess is not in any travel guide.
We snuck in under the radar of many locals that night, experienced them as they are, drinking beer at Independence Square, drinking coffee at the local coffee shop, laughing, smoking, texting, hanging out and just enjoying themselves and each other's company.
Nicole sat snapping photos of all of this, trying not to be noticed as she clicked pictures of each group of young adults. We took in the humid air, getting some natural air conditioning from time to time. And that's when she walked into and out of our lives. She was the perfect example of what I needed to learn was a loud, obnoxious, drunk american. What she had to say that night was so stupid I had to let it go in one ear and out the other. She couldn't have been more idiotic had she said something like, "I would have driven there myself, but I had to get my hair done on Tuesday. Besides, gummy bears taste better than blue paint." Normal, intelligent people try to figure out what all that means and have a brain aneurysm. So I have figured out how to not only ignore those loud american voices. I have also learned how to make it all go in one ear and out the other. That comes from more than a decade in the television business. But again, I digress.
That night in Kiev, as we walked around, just the two of us, I experienced the Kiev I hoped I would get to experience. The weather was perfect, we had a great meal, and we wandered around without any direction yet saw an amazing number of things and people and saw a vast area of the city considering how we chose to simply walk around.
I was happy that we did get out that night although we spent the lion's share of the day under the shade of misunderstanding. I define the day as misunderstanding, mostly because I don't believe there was any malicious intent by either of us. And I know that with time and with patience, it is possible to work through issues, learn what we both are looking for in a trip, and learn what we hope for and expect from each other.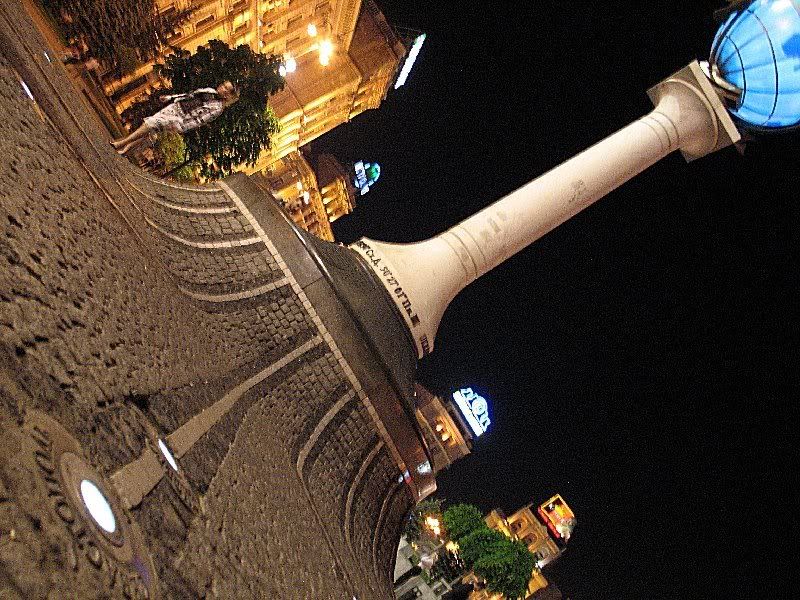 Monument of the Central Post Office marking distances to Capitol Cities around the world
Photo courtesy Nicole Weber



Monument of the Central Post Office marking distances to Capitol Cities around the world
Photo courtesy Nicole Weber



One of the large buildings at Kiev's Independence Square
Photo courtesy Nicole Weber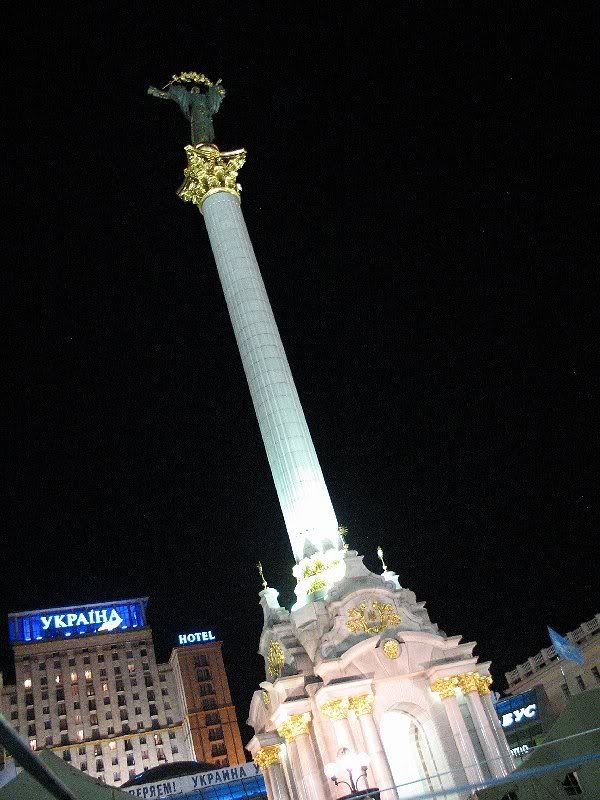 Monument of Independence, erected in 2001 to celebrate 10 years of freedom from Russia
Photo courtesy Nicole Weber

* I hope to wrap this up with Ukraine, part Six!
Join TravBuddy
to leave comments, meet new friends and share travel tips!