Ukraine, Part One...
Cherkasy Travel Blog
› entry 1 of 6 › view all entries
Ukraine
She sat poised with her back straight but not stiff. Her long, curly hair flowed down onto her shoulders. She had such class, holding herself like Helen of Troy posing for her sculptor. And yet she was crying. A tear streamed down her face from moment to moment, all the while feeling pain and confusion but never getting in the way of her grace. She cried, maybe not for what she had lost, but perhaps because reality had dealt her a hand she wasn't sure she wanted to try to play out for the rest of her life. I have never in my life seen a woman so beautiful. And I have never been more in love.
In that moment, I found myself in the middle of
Kiev
, Ukraine's capital city. Ukraine is so beautiful, so classy, so confused yet so full of love. She is the Motherland, a country with rich topsoil willing and able to feed the world if called to do so. She is independence, a country who thinks it should look to other places for guidance all the while unaware that the rest of the world looks to her for guidance. She is honored yet she is subjugated. And going to visit Ukraine is much like going home to see your grandmother. And as my cousin Wendy says, you don't have to
be
anybody when you visit grandma. You just have to be yourself.
As you visit Ukraine, you quickly start to realize that this country has a long,
long
history of being tread on, kicked around, dumped on, and despite every promise and wish, always forgotten. The motherland is a beautiful country, with rich soil and farmers who still break the ground with their hands and simple tools, just as it's been done since the ground was broken the first time, possibly back to the beginning of time.
Kiev and many of the communities in Ukraine are ancient, and for the last 15-Hundred years, this place has seen more war than any other country. They have lost more than any other country, with stone memories of the Roman Empire, the Mongolians, the French, the Nazis, and more recently even Nuclear mishaps.
She is an old babushka, a woman who has lost husbands and brothers in dozens of the world's most historical wars. Yet she is the same babushka who will mend your loose button, and tell you about how people used to care about how they looked in public. She will insult you and compliment you at the same time.
It has been said that Ukraine has suffered through things from which she would never survive and never recover. And yet she trods back to work, keeps herself beautiful, and becomes one of the real wonders of this world.
Nicole and I owe an incredible debt of gratitute to our two traveling companions for doing most of the work for this trip. We are also indebted to them for introducing us at their wedding, and we both see them as our best friends and were completely honored to be asked to travel with them.
Their primary reason for traveling to Ukraine was for Derrick to meet his father-in-law, aunt- and uncle-in-law, and some of DiAnna's friends. They decided to add a trip to Russia, too. The trip called for 16 days of traveling.
For the two of us, Nicole was supposed to be the primary photographer, but somehow I managed to get off the first photo. We were sitting in the airport bar, ordering my first vacation beer, and I took out my camera to get the ball rolling.
I know I'll be in trouble for this picture, but I'll embarass myself much more later. I promise!
Photo Courtesy Sam Sinke
Sometimes the one thing I think Nicole and I had always been searching for was the perfect travel partner. She has international experience and she tends to go as far as she can, trying to see as much as she can. While my travel style has been to explore every nook and cranny along the way, make as many friends as I can, and try to gather as much as I can from each and every experience. And while I don't believe we intended to let these two travel styles clash, we both found out after one fourth of the trip, that without good communication and a clear understanding, we both had the potential of polluting one another's trip.
Both of us left a lot to be desired regarding our preperations for this trip, and without the hard work of our friend DiAnna, we both would have been in a lot of trouble. DiAnna was our primary translator, paperwork and homework tutor, cruise director, trip and relationship counselor, and the only reason either of us would have chosen to visit Ukraine or Russia. Derrick, a very accomplished traveler himself, was also planning to make the most of this trip and see as much as he could and document as much as he could. Derrick has always been a perfect traveling partner. And he's always been there for me. So going on this trip, despite the poor timing for work, was truely a no-brainer and I knew we would all have a good time.
While DiAnna and Derrick actually both did almost all of the work of putting this trip together, Nicole is really my biggest inspiration for going on this trip. It took a lot to make it all happen, and I was willing and somehow able to put in a month's worth of work in twelve days, just before going on this trip. Of course, Nicole did the same and we both ended up being entirely exhausted by the time we were supposed to be packed and ready for the trip.
We spent the night before the trip doing laundry, catching up, figuring out what our travel plans were since neither one of us really had the time to go over anything before we left. Even though she says it was easy and she enjoyed doing it, Nicole did all the work booking the tickets. She initially kept in touch with Derrick and DiAnna, and then I tried to do the same when she went overseas for the three weeks prior to our trip.
Some of the jobs in my hectic schedule, days and weeks before the trip.
Photo by Sam Sinke
As scheduled, Nicole and I arrived in Kiev's Borispol Airport first, at about 11 a.m. on the 13th of May. We had a long line at customs, but the second stop at customs where you declare money and valuables didn't even have a line and we breezed right through. It turns out that they just want to know how much cash you're bringing in. And if that amount is anything less than 10-Thousand dollars, or doesn't even come close in our case, then they say "no problem" and send you on your way.
Our three flights came and went exactly the way a traveler hopes they will come and go. They were non-eventful. Of course, had anything happened, both Nicole and I would have easily slept through it all. We were still so exhausted from our schedules of the three weeks prior to our trip.
As my friend Donna Kleppe describes it, we were "sucked into the vortex," this 4th Dimension of work where the work just doesn't end. And I think in many of our cases this is largely because we always
look
for work to be done, knowing that an ounce of preventative medicine beforehand is often worth a pound of cure, we are always trying to get things done ahead of time so that we don't fall too far behind and never get caught up with work when we get home.
Nicole spent her time before vacation working overseas, and was fighting very hard to get ahead of the game before we left. I was forced to battle some of the worst road fatigue while trying to keep a chipper attitude around all of our clients. And I had to get a satellite truck ready for Marj, who... bless her heart... was going to do a couple of jobs for us while I was away.
Derrick and DiAnna were busy, too. They were taking finals before they left for vacation. But they also had a little more time to pack. Nicole arrived back in town on Thursday, giving her less than two days to get ready for vacation. I arrived on Friday afternoon, and had less than half a day to get my act together. And I'm not sure that I did. But both of us are very used to packing and leaving on a moment's notice. Work has trained us well.
I was starting to get a little frustrated, because every errand and every little thing I needed to do was taking two hours for every one hour it should have taken to accomplish. But luckily Nicole was running late, too. She had gone into work to hand in some paperwork and send messages that she was leaving for vacation. And when she arrived in Delano to pick me up at work, we spent some time with Kathy and Randy Johnson's new colt, Kooper. Then we took off for Brooklyn Park.
At this point, we both had to scramble. We hadn't eaten, we needed to do laundry and pack, and we were about to leave on a trip taking us halfway around the world. All we really had was DiAnna's schedule of events:
May 12 2:50 PM Leave MSP
May 13 3 PM Arrive to KBP
May 14 Cherkasy
May 15 Cherkasy
May 16 8:30 AM Car to Kiev
10 AM Prohovo & Lunch
3 PM Kiev City Tour
May 17 10 AM Caves Caves Monastery
3 PM WWII Museum
May 18 10 AM Chernobyl Museum
1 PM Andrew's Descent
7 PM dinner (Misha's)
May 19 2:05 PM Flight to S. Pete
5 PM Arrive to SPB
May 20 10:30 AM Hermitage
3 PM Canal tour-?
May 21 10 AM Register Visas
11 AM SPB City Tour
3 PM Russian Museum-?
May 22 10 AM Petergof Estate
May 23 1 PM Train to Moscow
9 PM Red Square at night
May 24 10 AM Novodev. Convent
10 AM Moscow City Tour
May 25 10 AM Kremlin Tour
May 26 10:30 AM Izmalkovo Market
May 27 9:15 PM Leave DME
I think it was noble, even impressive to have booked all of this stuff ahead of time. I can't imagine the time and effort DiAnna and even Derrick put in trying to piece it all together, from tourist books, online, from talking to and emailing her parents and friends, and even keeping us well informed while we were traveling all over creation.
I feared so much not being able to keep up with such a schedule, but since Nicole and I weren't exactly in a place to sit down and figure out what we wanted to do, much less read up on the countries, so we were really at the mercy of our tour-guide hosts and our hosts overseas.
We set aside enough time to get out the door and make a stop at the post office in town. They were letters of utmost importance, Mother's Day cards to her mom and my mom. We jumped in Nicole's Mini Cooper, took a couple of turns toward the post office, and were met by a naked man walking down the middle of the road. We weren't sure what exactly was going on, like we had been caught in some kind of Oliver Stone movie, and then we were very sure of what was going on, and by the time we figured that out we were passed by a family running down the road after him and a set of police officers coming around the corner at a good clip. That's such an odd thing to see on a Saturday morning, but it may have seemed a perfectly natural thing for a mentally challanged kid to do on a beautiful, sunny day. When I was younger I woke up to watch the cartoon Transformers and I'd eat a bowl of Frosted Flakes or Shredded Wheat. When I was a little older, I would go on a bike ride or work on my motorcycle. Who's to say that isn't just as weird.
Nicole and I made it to my sister Rachel's house in Savage, and she drove us over to the airport for our flight. Rachel was so happy to be driving Nicole's Mini, and I get the idea that she really loves the idea of having a sister-in-law. They are alike in many ways, and I sometimes get the idea that Rachel and my mom like talking to Nicole
more
than they like talking to me. In fact, I'm pretty sure of it and I've heard words alluding to that fact. But since I'm not the jealous type, I will simply be happy that they all get along. Rachel and my mom both think she is a sweetheart, and I'm so happy to tell them they are right.
We made it to the airport in plenty of time. We had breakfast, read a little bit of the paper, and had plenty of time to simply hang out in the large open area of the airport before being shoved into a little tube for the next 10 or 11 hours of flying time we had ahead of us.
Derrick and DiAnna had a similar pre-flight experience. DiAnna was sucked into "the vortex" when word got out she would be gone for over two weeks. She immediately started getting emails asking her to do something before she left. I guess if hindsight were 20-20, we would all hit the "send" button on that email as we walked out the door. I guess it's a lesson to us all.
Quite frankly, having one or two things to do before we left on vacation might be a welcome thing, since being busy always seems to make the time fly by. However, an email from practically everyone in the office always creates a landslide of requests, and it feels like you'll never get the work done that day.
Derrick had a similar experience, but was able to dodge the lion's share of the work by simply not going too deep into starting any new projects. We all have a lot to learn from him, methinks.
Somewhere over the Arctic Circle
Photo by Nicole Weber
Nicole and I made our two layovers, in Detroit and Amsterdam, and they were fairly short and easy layovers at both airports.
We arrived at Borispol in Kiev, Ukraine, and the plane pulled to a stop in the middle of the tarmac. Since there are no runways from the terminal to many of the planes flying into Kiev, we unloaded onto the ground and boarded a bus that took us to the back steps of the terminal. The first line to customs took a while, but the second was a breeze. The man basically wanted to know if we were bringing in less than 10-thousand dollars in cash, and when he saw that we were he said "no problem," and we were on our way. We spent a lot of time filling out our manifest of money, gadgets, jewelry, and anything else we thought was worth money so that we wouldn't be hounded about it when we tried to leave the country. So, at first it was thought to be a waste of time to fill out all the paperwork, but we figured it was better to be safe than be detained or have trouble on the way back.
Borispol Airport in Kiev is much like other airports in the world, meaning it is a complete organized mess. People were everywhere, rushing to their departure gates, dragging themselves off their arriving flights, getting money from bank windows and currency exchanges. Others patiently waited for their loved ones, and some were dropping off family and friends. And taxi drivers yelled at anyone who looked like a tourist. It appeared that the more American looking or european looking you were, the louder they yelled at you. It was as if as if everyone at the taxi company received a memo that Americans will all say no until you yell loud enough. Then they will say yes.
"You want taxi?
or
"I get you taxi."
are both common things to hear at the airport. Taxi technically translates to taxi in most places, but it makes you wonder why anyone bothers to learn the rest of the phrase when they spout it out to you in English. Just yell "Taxi!" and you get one. However, here in Ukraine you will basically agree upon the price before you leave, and that is the amount you pay the driver, and you don't add a tip.
We basically repeated "nyet" or "no" to everyone at the airport, and made our way to the other side to have a drink and eventually a bite to eat. Nicole and I sat down at the airport bar. I ordered bottled water for Nicole and a large (pronounced "Bol-shoy" in Russian, which means big, large, or even very much) vodka. Oh, and in a place that makes vodka, it translates too. In cyrilic it is spelled different for obvious reasons, but it's easy to remember BODKA no matter how it's spelled. It was delicious, and sitting there gave me a little time to get started on all the writing I needed to do on this trip.
We decided to seek out the restaurant, and discovered it was a climb up a few flights of stairs. We made it up the stairs, down a little wooden-floored hallway, and up to a little wooden door at the top of another little flight of stairs. Inside was an amazing little restaurant.
The restaurant wasn't busy, the wait staff was patient and unrushed, the food was excellent, and it was the first chance Nicole and I had to sit in a quiet place and talk. I don't know about Nicole, but after all the mayhem it was a little piece of heaven. And, as it turns out, a very good representative place for what we were to experience in all of Ukraine.
At some point, after we'd finished a snack and a drink, we both figured it was probably time to get back downstairs to see if Derrick and DiAnna had arrived. We paid the bill and made our way down the stairs, through the crowds, and found that our timing was perfect. They had just made it through customs, and Vladamir and Svitlana had not been waiting too long either. Nicole found them in the large crowd while I stayed with the luggage.
We all said our hellos, and it was so great to meet Vladimir and see Svitlana again. They had come up to Kiev from Cherkasy with a driver in a van big enough for all of us, and we made our way out to the parking lot to figure out how to get all of us and our luggage into the Volkswagen van. We somehow made it happen, and headed southeast to Cherkasy and our first few days of Ukraine.
Map of Ukraine, with Kiev and Cherkasy in the middle, following the Dnepr River
Photo Courtesy
www.Wikipedia.org
The highway was bumpy. And I'm not talking bumpy like a "clippity-clip" bumpy highway going through a large expanse of the midwest. This was a bone-jarring, kidney-shaking, head-slamming-into-ceiling kind of ride. It reminded me of mud-bogging experiences in high school and college. But this wasn't off-roading fun, where you get a break from the bumps once in a while. This was bumpy...
oh my god, when is this ever going to end...
for two hours. In my personal logs about the trip, I explain this road in a lot less words but a lot more explatives.
It now made sense to me why over in other countries it's very common to pull over to the side of the road for a while when traveling for a few hours. It makes sense why you stop to eat even when you're not hungry. Because over here, these people know better than to try to drive straight through.
During the trip, I worked on some Russian words with DiAnna and Svitlana. I really want to learn the language, and yet so much is so confusing. But both of them were very patient, and it was exciting to hear that I was actually getting some words right and pronouncing things correctly. I was getting better the more and more I immersed myself in the words and phrases, but I can tell it will be a long and bumpy road in learning the language, too.
We talked a lot about the area, its history and received a lot of insight on the people of the area from Svitlana. And while I don't remember a lot of what she told me that day because I should have written it down, I did go back to try to find out what she was talking about. There is a map to many world languages laid out on the website:
bartleby.com,
and it give you an idea of how languages progressed through time.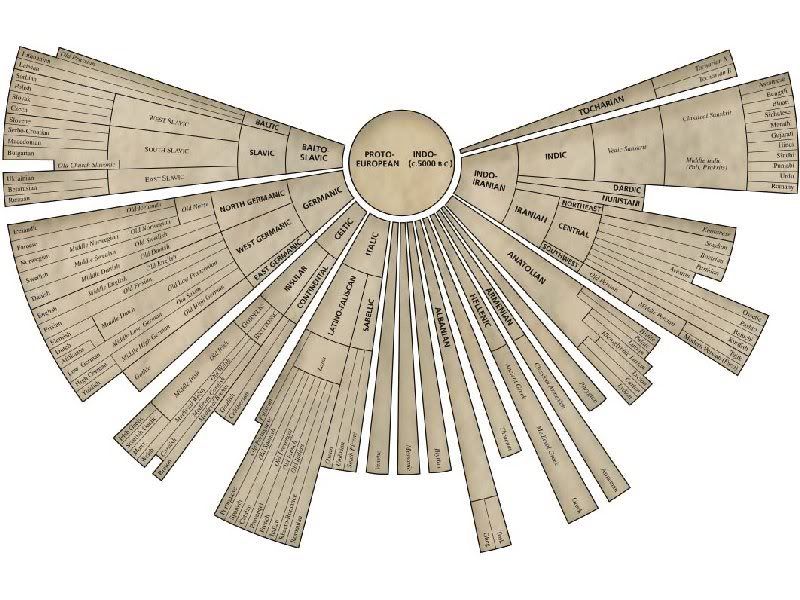 Map of the World's Languages
Photo Courtesy
bartleby.com
English, Russian and Ukraine all started as some type of proto-language, and came from some type of base or mix of languages. From there, they split off into Germanic (the basis of English) and Balto-Slavic (the basis of Ukrainian and Russian). The Balto-Slavic language turned into Slavic, then developed into East Slavic, and then split again into Ukrainian, Belarusian, and Russian. The people of all three countries share a lot of common words, and they often will all speak at least some Russian since their countries were part of the U.S.S.R. (CCCP in Russian) for so many years. But the fact is that all three languages are distinctly different.
According to these charts, the English language is in many ways closest to French. However, I'm sure that would make many a Frenchman very angry. For westerners, especially Americans, we all butcher the French language and allow deterioration to happen to almost everything they've given us. We even let the beautiful Statue of Liberty turn green. Can you imagine what Lady Liberty looked like as a shining copper statue?
Some of the best relationships come from rocky, bouncy roads. And some people, when asked to describe a troubled relationship, might choose to describe their significant other as "a few miles of bad road." However, in our case, we had a car full of people who were close despite being seperated by half a world. We were lucky to have each other, to enjoy traveling together. And as we passed farms as old as the practice of farming, markets where women and men sold products they pulled out of the ground that morning, we became increasingly aware of this new world we'd entered into. The place was victim to all of the globalization and American products like colas, cigarettes and gum. Yet at the same time the people sold vegetables picked that morning, and sold bread they baked that morning. It was sad to see that globalization, but eating something made from scratch, just minutes after getting off the plane was a great experience.
We'd traveled half-way around the world, and in a way we traveled halfway back in time. We came across very little fast food, and that was such a welcome sight. There were no mini-malls, no Walmarts, and very few 24-hour stores. Gas stations didn't sit on every corner, and even though drivers were fast, there wasn't a lot of heavy traffic. It was such a nice reprieve from what we see every day.
I really have to hand it to the people of Ukraine. And I'll tell you why. I hate cooked beets. They taste like red yuck. But whatever the Ukrainian people have done to it, they not only made it edible they made it completely delicious. I love borscht. And I am so thankful to the Ukrainian people for helping me to love the cooked beet. I believe that Ukraine has the best borscht. So while I was traveling here, I tried to eat it every day. I almost succeeded.
Ukrainian Borscht (it was delicious)
Photo Courtesy Nicole Weber
Our caravan came to a stop on our trip from Kiev to Cherkasy at a little roadside market with vendors on both sides of the road. We stopped to have a snack of cabbage sandwiches, little coffees in plastic cups, and a few other meat sandwiches made by a woman sitting at a little table just big enough to hold half a dozen sandwiches. Actually, we might just call it a square stool, but it was being used as a table. So I'll just call it a table. Everywhere we went, the driver would sit and wait patiently for us as if he had nothing better to do than drive his group of tourists and locals around. And we would always take our time, and were never rushed off whenever we decided to stop somewhere.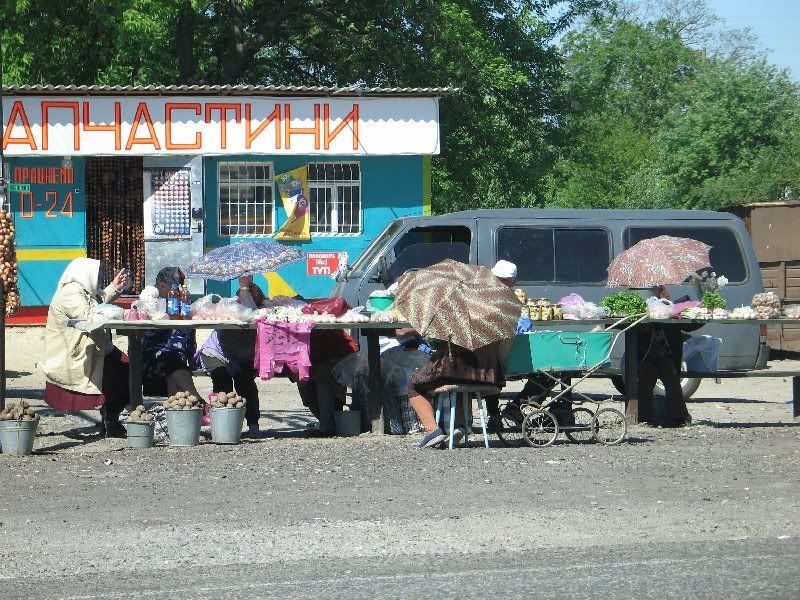 A Roadside Market, located between Kiev and Cherkasy
Photo Courtesy Nicole Weber
Our first driver was a generation older than the rest of us. He navigated the roads well, allowed other faster drivers to pass us and didn't do all that much passing himself unless it was absolutely necessary.
DiAnna and her mom Svitlana sat in the second row, Nicole and I in the third row. Derrick bounced around in the back row with all of the luggage, and Vladimir sat in the front with the driver.
When some time had passed, and DiAnna and her mom had some natural breaks in conversation, I would continue my Russian lessons and go over Cyrillic characters with DiAnna. The locals in all of Ukraine and especially the people of western Ukraine usually speak Ukrainian. And the people of the cities and the eastern part of Ukraine usually speak both Ukrainian and Russian. The language of business is usually Russian, and often is also English. And what that means in the long run for many people of this country is that many people here speak three different languages.
The languages blend together so well, and you can often hear people hear a question in Ukrainian, answer back in Russian, and then often translate again to English, French, German, or whatever other languages happen to be spoken in the room.
In addition to languages of the world, there are many other universal languages spoken in Ukraine. There is music, dancing, numbers and math, and even the language of gestures from simple smiles to the language of being really angry with someone. For the latter part of these universal languages, Ukraine has spoken them all. The pictures and people laugh and cry, share smiles and shouts of anger, they have feared and have escaped, and in some of this country's history, they have survived the most extreme forms of genocide, worse than most of the rest of the world can even imagine.
As we arrived in Cherkasy, we passed the University where Svitlana works, and where DiAnna spent a year studying before she came back to the United States. Cherkasy has three state universities and several private univesities. The City has about 300-Thousand people, and was founded at the last few years of the Byzantine Empire when the Cossacks were coming to power. It was founded in a wide part of the Dnipro River, and because of the closeness of its people to the Dnepro river, everything in the City and the area seems to be named after the River. And as we made our way through town, we were taken to the hotel where we were staying, the beautiful Hotel Dnipro.
The Hotel Dnepro
Photo Courtesy Nicole Weber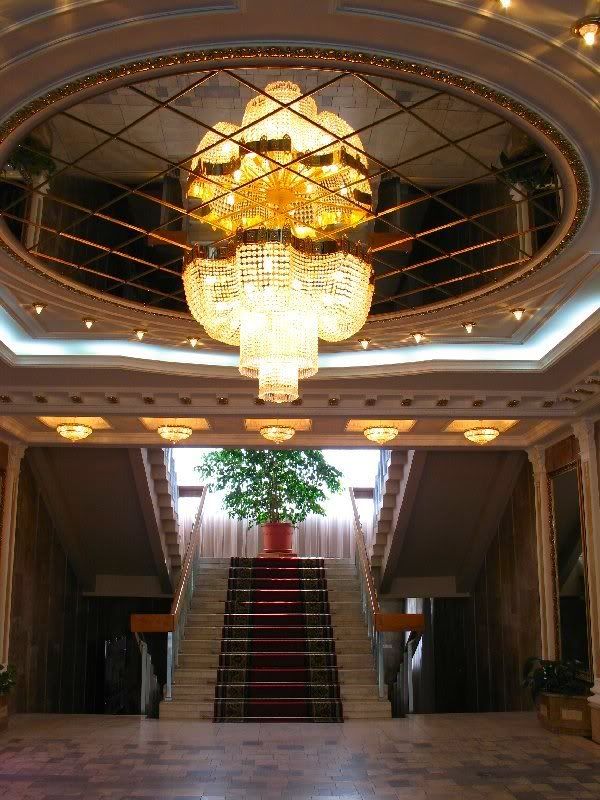 Inside the Hotel Dnepro
Photo Courtesy Nicole Weber
The place is breathtaking, and for American travelers like us, quite reasonable. And for DiAnna's dad Vladimir, it has been a 20-year journey of turning an old dormitory and officer's quarters into an amazing oasis in the middle of Cherkasy. The four of us went to our rooms to clean up for the night, and were scheduled to have dinner with Vladimir and Svitlana and DiAnna's Aunt and Uncle downstairs at the hotel restaurant.
We met our hosts an hour or so later, took a walk through the hotel's gardens, and then met up in a special "VIP" room in the back part of the hotel.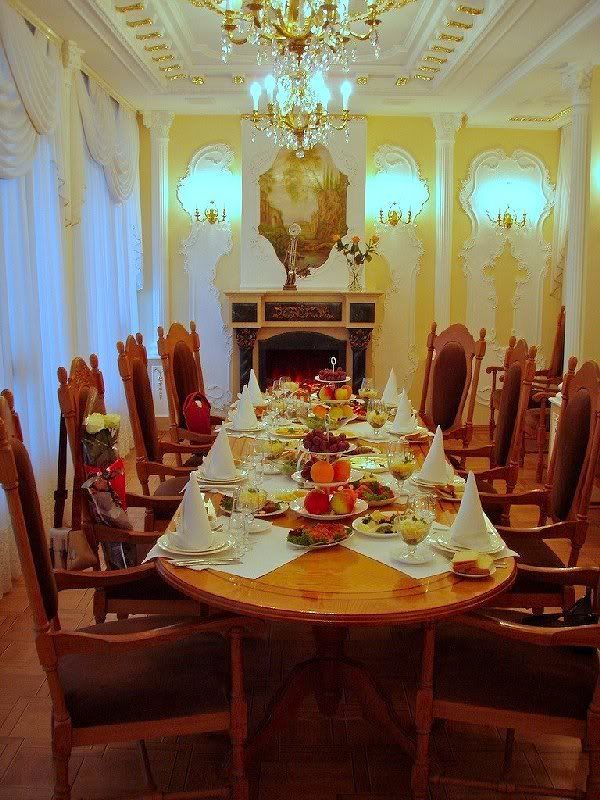 The amazing table Vladimir and Svitlana set for us
Photo Courtesy Derrick Sheller
A closer look at the banquet table
Photo Courtesy Derrick Sheller
Never in my life have I seen such a beautiful table and amazing spread of food. And never in my life have I been treated with such genuine, heartfelt hospitality. We were princesses and princes walking into a feast. DiAnna's Uncle Pete, her Aunt Raya, Vladimir and Svitlana all sat on one side of the table, and Nicole and I, Derrick and DiAnna all sat on the other side. DiAnna and Svitlana both sat at the same end, and they both translated for the rest of us. And they were smooth, in that the one would finish the sentence the other was starting. They would help each other out with words, and since both of them would interject what they were saying, it was often acceptable to look at the translator as she was speaking, something that is often taboo.
Some of the flowers from the garden in back of the hotel were placed in the room, and it is often common for the hotel to gather fresh fruits and vegetables from the garden to be used in the kitchen of the hotel. It is probably part of the reason that travelers not only rave about the hotel, but why they rave about the best restaurant in town, which happens to be the restaurant at Hotel Dnipro. The kitchen staff represent culinary genius at their best. And we felt at every moment that they had rolled out the red carpet for all of us. For the rest of my life, I will never forget that meal.
Oksana waited on us most of the night, bringing us some of the best foods Ukraine had to offer. There were blintzies, caviar wrapped in little, thin pancakes, there was vodka, champaignskie, wine, quiches, a variety of salads, salmon, different kinds of meat, sausage, fish bits fried in egg batter, salmon cooked in gelatin, and when we couldn't possibly eat any more we were offered a main course!
I've always been afraid of this, and I remember reading as a child that in parts of the world it's not uncommon to have a host offer up to 17 different meal courses, and here in Cherkasy we were all wondering when the courses would end. It was all so good and we all wanted to try everything, but we were stuffed to the gills. It was hard to stop eating, knowing something else really good was about to be served. And if we would have been willing and able, I'm sure that they would have offered a dessert course, a post-dinner snack to take back with us, and probably coffee, tea or a drink of some kind to top off the entire evening.
We had a visitor from time-to-time. A dog they keep around the hotel would sneak in the back door. And either Vladimir or Pete would coax the dog out with food, and the dog would come back because it knew where the food was coming from. It could have been Springfield, Illinois or Paris, France. It was a funny moment with pets that didn't need a translator. The beloved pet borrows a moment.
The best part about Ukraine, without a doubt, is how people who get together always toast each other. It's part of the unbeatable hospitality, and is a tradition that rises above all other traditions. It makes poets out of bricklayers and gardeners, it helps people to forgive years of guilt and pessimism. And on that, our first night in Ukraine, I heard some of the most beautiful words ever spoken. There were words of unspoken love for family and friends, of reaching out to new friends and welcoming each other to be a part of each other's family.
One of the moments I'll never forget was when DiAnna's Aunt Raya got up to give her toast (Vladimir said everyone had to give a toast before leaving the room.) A retired school teacher, she spoke of how coming from a rich country like ours, she was hoping we could find something redeeming from their humble little country and would find something enjoyable about the few things they had to offer. The words broke my heart.
Like a child, trying to understand a parent's love, we Americans didn't care what they did or didn't have. For what they gave us for a meal that night was beyond our wildest dreams. What they offered us for friendship and the feeling like we were home again was something we would never dare ask for in a new world where you can never go home. And beyond that, these people kept on giving. For they gave us unconditional acceptance.
Another thing Vladimir told Nicole and I was that he was so happy to see us holding hands and kissing. And he wished our kisses were "always so sweet." Vladimir is the king of toasts, and it is certainly his greatest talent and gift. He kept things going the entire evening, filling our ears with poetry, wishing us the best, and hoping we had the best time while we were in Ukraine.
There are really no set rules for giving toasts, but the tradition in Ukraine usually says that the host gives the first toast, and it often goes to the guests, everyone at the gathering, and to a significant other. Often the second toast goes to the host. The third is always given to women. And during this toast, the men all stand, and the tradition varies whether the women or the men or even both drink to the bottom. At some places we traveled, everyone drank to the bottom, but most places it was argued about who should drink to the bottom and why. That night, I believe women drank to the bottom. And they only did so because it was a great toast.
The fourth drink, which is a toast to men, often or usually comes with a lot less fanfare. Our first toast to men spoke of how we were to be a "stone wall" or even a "fortress" for the women in our lives. The stone wall and the fortress have a lot of meaning in Ukraine and deserve a lot more study by the Americans, most of whom in the male gender I would never call stone or relate to a wall. Nobody in America knows anything of a fortress, except when talking about Fort Knox or the C.I.A. and they're better examples of corruption or greed than anything else.
Talking with DiAnna's mom Svitlana always gives a person a great deal of information to study, and whenever I found myself with a question, she always gave me at least a good direction to start. It's certainly a mark of a great teacher, and it shows how much she cares for her family, friends, colleagues and students in how much she wishes and wants people to understand what she has spent her life studying. It takes a special person to teach, and when you ask her a question about language or history, she can give you a detailed enough description to make yourself believe that you need to read a book a little more often.
For most people, getting more of an answer than you'd originally planned on getting leads to a data overload and they might give pause and wonder why they bothered asking in the first place. But for me, it's this traveler's dream to be regailed on every possible detail. I don't even care if part of it doesn't soak in, I want it all! And when we are interrupted, since I come from a big, loud family, I am able to bookmark where we were and go back to that point, much to the chagrin of fellow travelers who interrupted in hopes that the long conversation with too many words would end.
The Hotel Dnepro has great views, of a city being rebuilt, of a river slowly bringing itself back from horrible pollution. And little by little, I think Derrick, Nicole and I slowly get to know DiAnna a little more by experiencing a tiny picture of her life. She really has amazing stories to tell, about living with her grandmother until she was six while her mom worked on her doctorate. She tells about fleeing Cherkasy in second grade when the accident happened at Chernobyl. She went to live with her father's mother for a while until everyone could get a better understanding about what had happened and what the risks were to the people of the area. It was discovered, by the way, that radiation levels were back to normal in the Cherkasy region after a week or so. But it took a while to get a difinitive test. And there are actually papers upon papers written by doctors around the world who believe that people who survived that disaster have actually been living longer. But medicine is definitely an area I don't know a lot about.
The story of the Zhabotinskas starts to come out on our journey, and yet so does the story of the people of Ukraine. Tear ducts have almost dried out from these people, from the Mongols' attacks in a more ancient time, to starvation and genocide by Stalin almost a hundred years ago, to the fall of communism and the need to completely rebuild the community every time one of these earth shattering events occured.
We made it to bed at a decent hour on this first night. It was such an amazing, fun evening. And we were so lucky for everything.
I know Derrick was concerned, of what his new father-in-law was going to think of him, but the more they were together, the more I could see how much they appreciated each other.
Derrick acts like he's paying attention while Nicole and DiAnna shop for scarves
Photo by Sam Sinke
DiAnna looking for scarves to wear inside Ukraine churches
Photo by Sam Sinke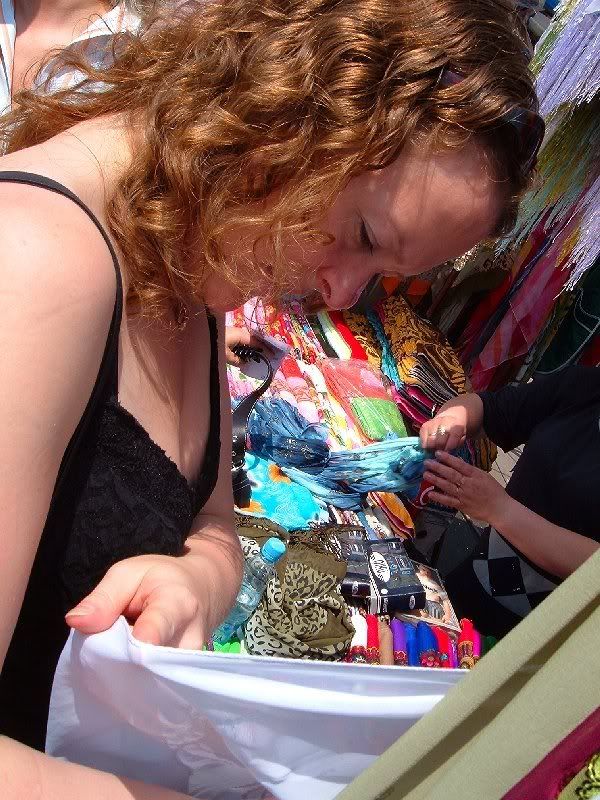 Nicole looking for church scarves (women have to have their heads and shoulders covered to go inside)
Photo by Sam Sinke
The next morning we all slept in for a little while, and eventually made our way downstairs to meet up and do some shopping down at the local market. Near the downtown, there is an open market area in Cherkasy selling everything under the sun, from bras and shoes to military surplus and beer. In America, this might have been called a flea market, but in this case it looked different, with vendor areas that looked like booths, held together with metal rods welded together in a tent-looking shape, all of them measuring about two meters by two meters. They were a little taller than two meters, but some vendor areas spilled into the next area, some vendors rented two or more spots for their goods, and some vendors used their extra cloth walls to shade between the walking alleys of the market to create a canopy effect and get the buyers out of the hot sun.
A nice bra collection
Photo Courtesy Nicole Weber
Dianna still shopping for scarves
Photo by Sam Sinke
Derrick, still prentending to enjoy shopping
Photo by Sam Sinke
Most of the things in the market are from the same places we buy things in the U.S. Goods are delivered by ship, then maybe train, then truck, often to a store distributor or wholesale distributor, then to a redistributor. And sometimes, depending on the whole process, goods that are overstocked, not the right style, or simply don't have enough value for a long shelf life in a department store, become auctioned off in large and small lots from just a few items to thousands of pieces for local vendors to sell on the street and in large open-air markets. So what you get at these places are a lot of goods, some of the items are crap and some of them the same quality you would find in department stores. You also get a mix of antiques, foods, and here in Ukraine, sometimes alcohol.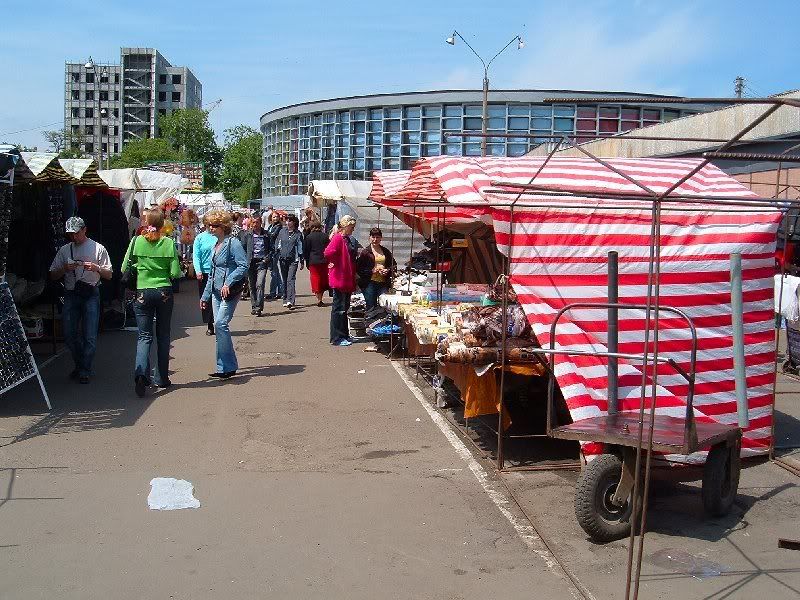 Establishing Shot of the Cherkasy Outdoor Market
Photo by Sam Sinke
In some markets, the same exact item for sale in a store is available on the street. And on the street, you can usually barter. You do have to know what the item is worth, and keep an eye on prices if you plan to buy anything. Because most vendors are trying to take you. Nicole and DiAnna started out looking for shoes. Derrick and I ended up finding some beer.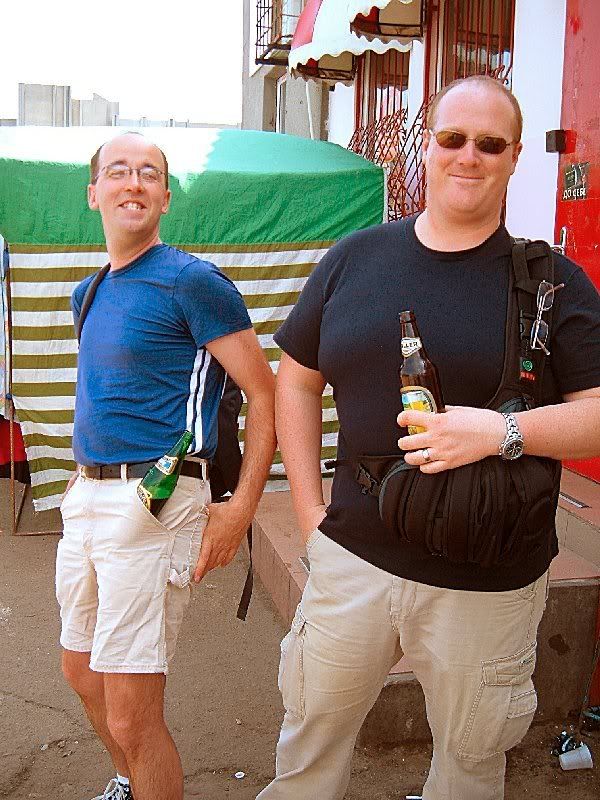 Sam finds beer, in his pants!
Unknown photographer, either Nicole Weber or DiAnna Sheller
Mixed in a bunch of Russian Medals was a Kansas National Guard Medal. Cool!
Photo by Sam Sinke
Vendor pushing his tent and wares through the street.
Photo by Sam Sinke
Beer, champagneskoe, and other alcohol is bought and usually consumed on the streets, and then because there are no trash receptacles the bottles are left wherever they were finished. So bottles sit everywhere, on park benches, on fences and walls, on the ground, in the grass, and in the middle of the sidewalk. The bottles are picked up not by garbage collectors but by street people or other people living under the radar of the government. These people collect the cans and bottles, and take them in for recycling money. It's a natural cycle, but takes a little getting used to when you're walking around. It looks like somebody left trash on the street or in the park. But somebody will come along in an hour or so and pick up the recycling. It's actually a pretty smooth and slick system, and works well in a country that never wasted anything in the first place. Where we are from, waste is something we don't think about because we don't have to think about it and we have the room for landfills. The very few who do recycle tend to wear it like a badge, brag about the little that they actually do, and reprimand others who don't appear to do as much as they do. And in truth, neither recycle or care as much for the earth as the people here, who have cared for this place for over seven times longer than we have cared for our land in America. In western states, it's up to fifteen times longer, and we are mere babies in the business of being stewards for the earth.
We couldn't leave the market without getting a picture of this inappropriate garment!
Photo by Sam Sinke
Lenin Building Piece (this is rare, most were torn down)
Photo Courtesy Nicole Weber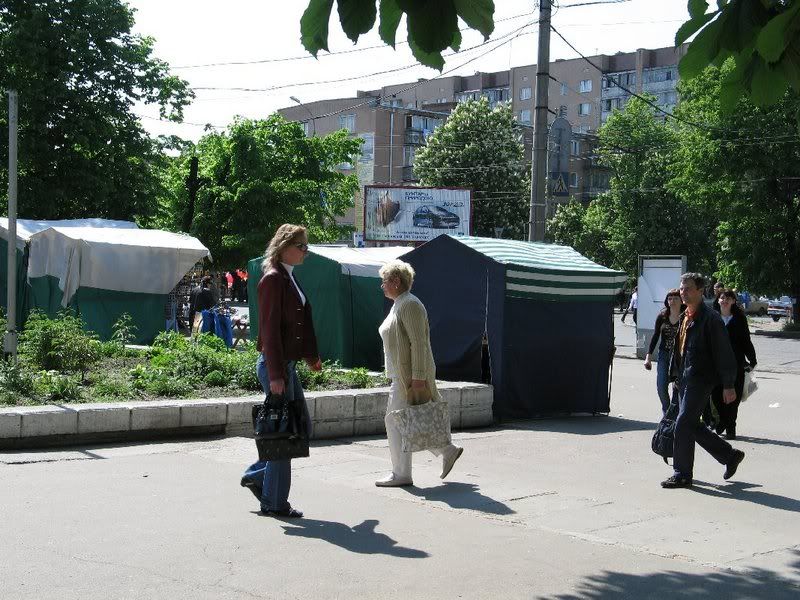 Downtown Cherkasy
Photo Courtesy Nicole Weber
After the market, we made our way over to a restaurant located just outside the soccer stadium called Tsentralnyi Stadion Cherkasy where the FC Dnipro Cherkasy soccer team plays. The food was great, including the borscht, and the service was that classic great Ukrainian service. They do seem to be much more lax during the lunch hour, and the wait staff at such restaurants don't tend to bother you with the check and rarely bother you to try to get you to buy extra drinks. It makes for a really relaxing lunch, but as you often sit alone during this time, it always makes you wonder how these places stay in business and why they bother to be open at all during the noon hour.
Chestnut Trees in Downtown Cherkasy
Photo Courtesy Nicole Weber
A City Bus in Downtown Cherkasy
Photo Courtesy Nicole Weber
Restaurant near Cherkasy Stadium
Photo Courtesy Nicole Weber
The restaurant had a courtyard, a fountain, open air seating inside, and large wooden tables. And like I said earlier, it was practically empty. It was clear that a lot of money was spent to keep the place nice, pay the employees, and pay the tax on the land. So it was such a wonder why the place was still in business. Maybe we all need to understand a lot more about the Ukraine culture to get an answer about this, for here at this particular restaurant the place is probably really hopping before, during and after soccer games. They probably make most of their money for the year during these games and during the soccer season.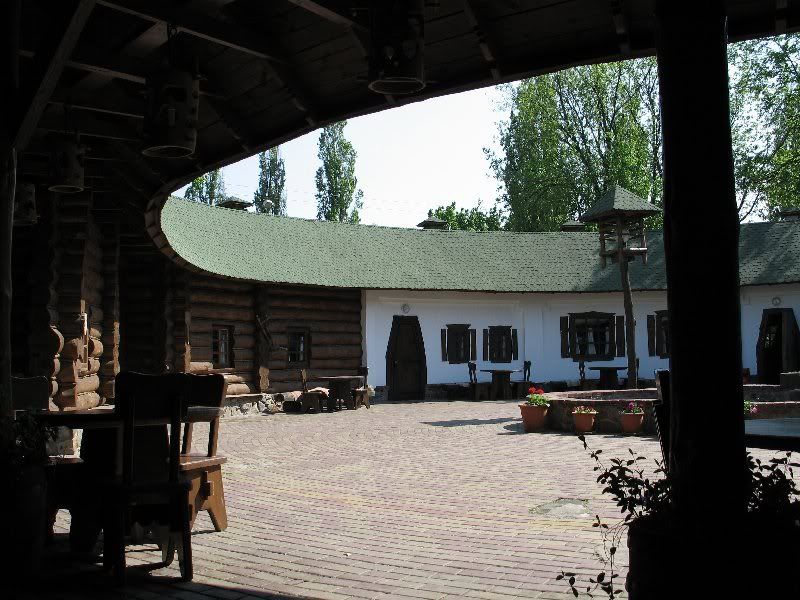 Restaurant near Cherkasy Stadium
Photo Courtesy Nicole Weber
There are other possibilities, like they could have a side business doing catering. They might make a lot of money as a bar on the weekends and most of their profits come from liquor sales. They might host a lot of weddings, or they might get a lot more business during dinner time and they just aren't busy at lunchtime. And maybe people order takeout. But we didn't see anyone ever get takeout from one of these restaurants.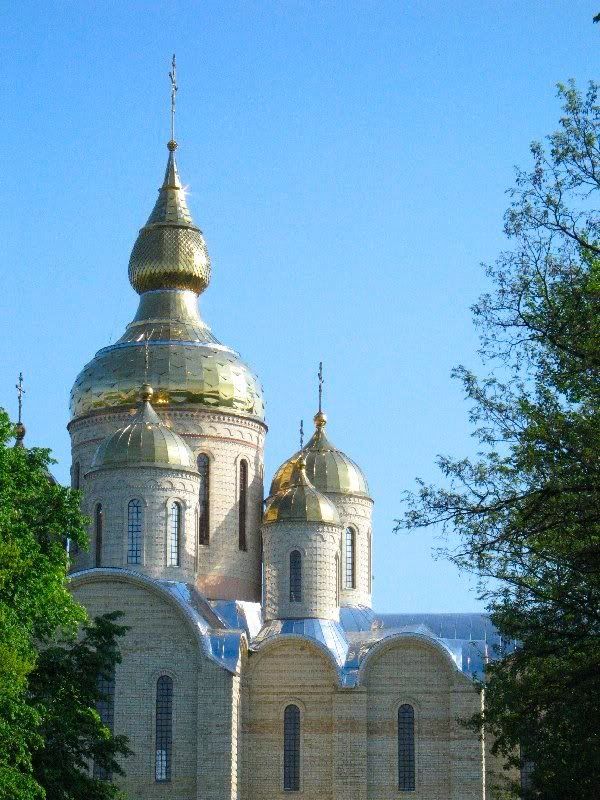 St. Archangel Michael's Cathedral in Cherkasy
Photo Courtesy Nicole Weber
St. Archangel Michael's Cathedral in Cherkasy
Photo Courtesy Nicole Weber
St. Archangel Michael's Cathedral in Cherkasy
Photo Courtesy Nicole Weber
We had a great lunch, then headed across the street and through a park, then under a small archway and into a courtyard in front of St. Michael's Cathedral in Cherkasy. Walking through the park was the first time I noticed young people practicing sports in the woods. Since trees are saved and not cut down to make parks, kids and young adults practice for sports in the trees. They dodge each other and they dodge trees, and when they practice playing soccer, they practice by kicking the ball through selected trees rather than goal posts.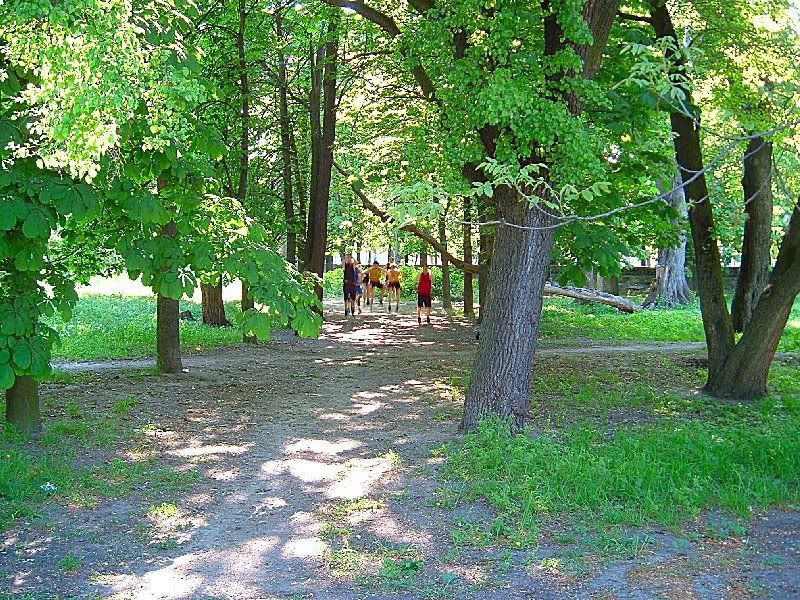 Young Men practice for sports amongst the trees in the park
Photo by Sam Sinke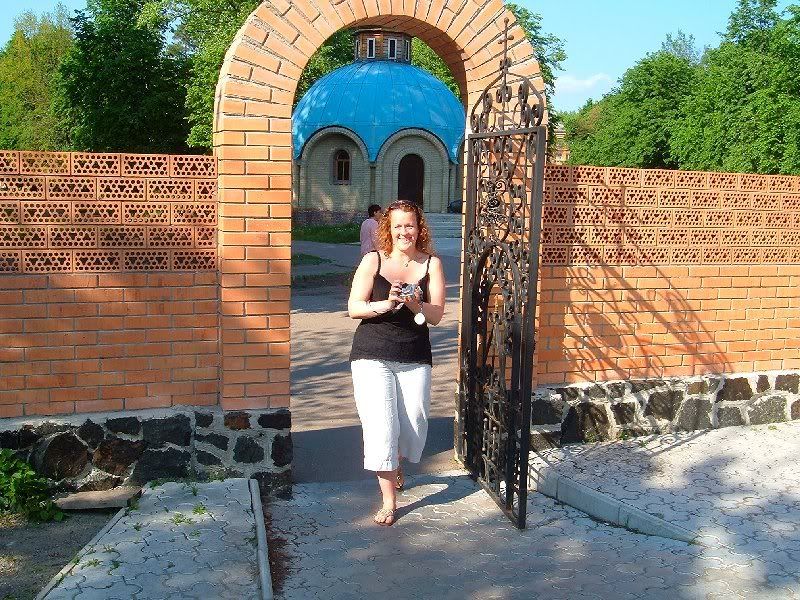 Nicole at the Gate to St. Archangel Michael's Cathedral
Photo by Sam Sinke
St. Archangel Michael's Cathedral in Cherkasy
Photo Courtesy Nicole Weber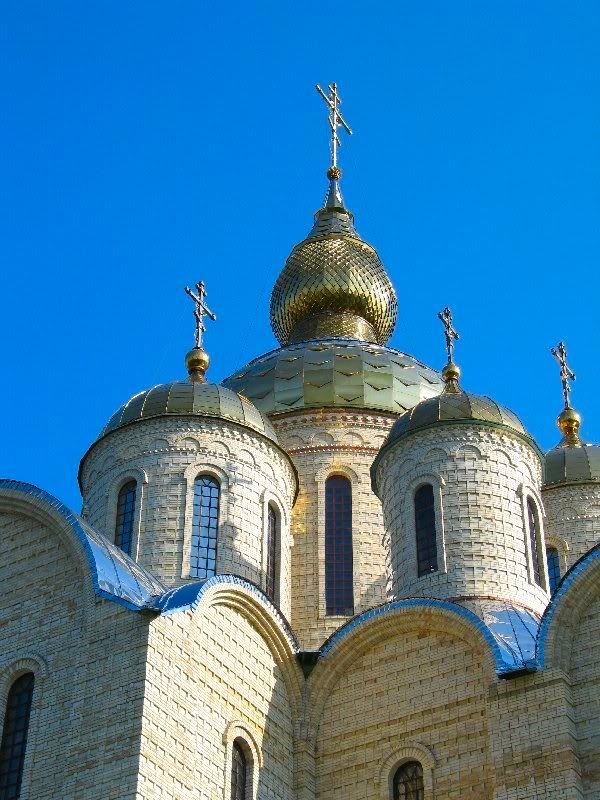 St. Archangel Michael's Cathedral in Cherkasy
Photo Courtesy Nicole Weber
Every park usually has a statue, archway, small memorial or building. And this park leading to the Cathedral had a statue of a saint and a broken bell. I wish I had more of a story than that. But I don't.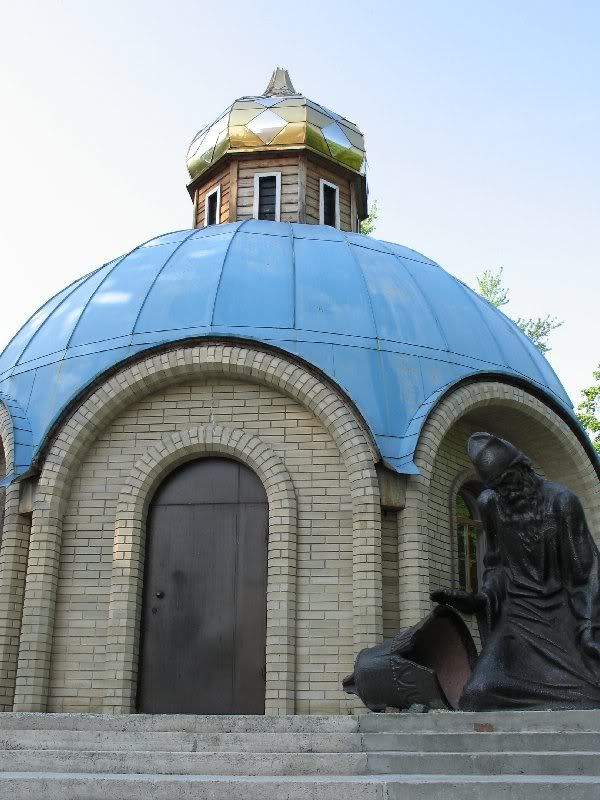 Dome and Statue of Priest outside of St. Archangel Michael's Cathedral in Cherkasy
Photo Courtesy Nicole Weber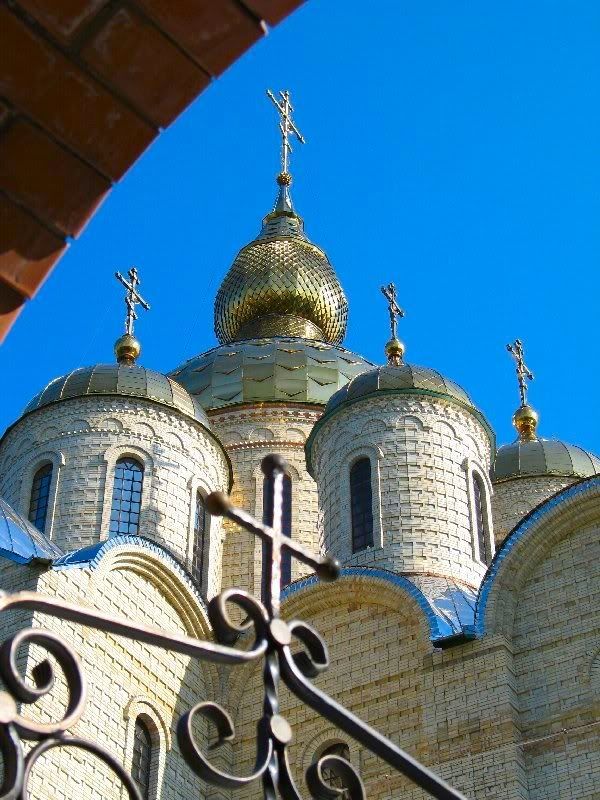 St. Archangel Michael's Cathedral in Cherkasy
Photo Courtesy Nicole Weber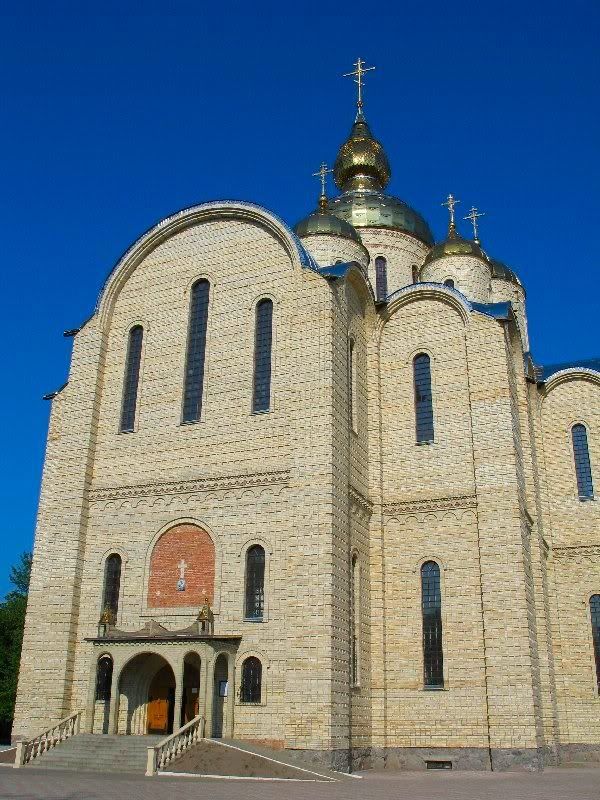 St. Archangel Michael's Cathedral in Cherkasy
Photo Courtesy Nicole Weber
St. Archangel Michael's Cathedral in Cherkasy
Photo Courtesy Nicole Weber
We made our way to the gates of the church, past the first of many beggars who make a living asking for various things they could easily work for, but seem to believe that work is for suckers. And what they don't realize is only a few people give in, but most see through them. A legless vet is certainly deserving, because they sacrificed. But it's hard to give money to a begger who drives a lexus.
Inside St. Archangel Michael's Cathedral in Cherkasy
Photo Courtesy Nicole Weber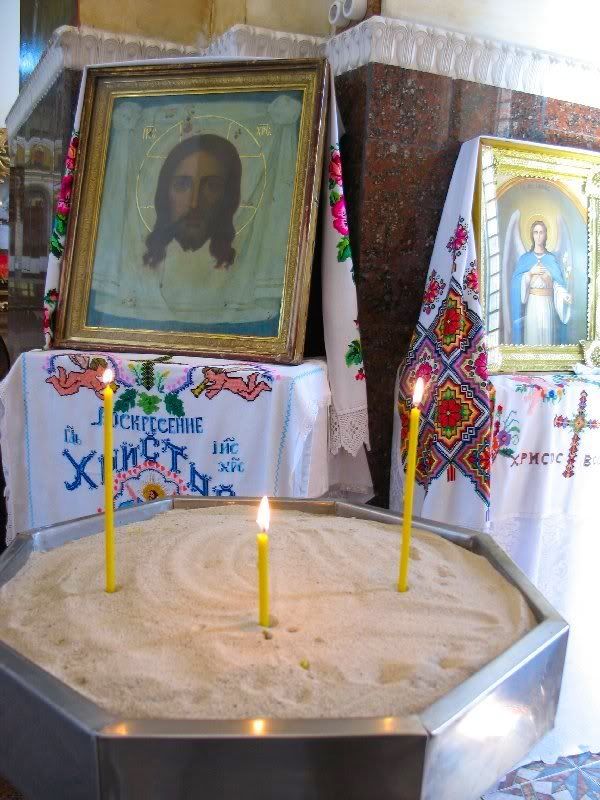 Inside St. Archangel Michael's Cathedral in Cherkasy
Photo Courtesy Nicole Weber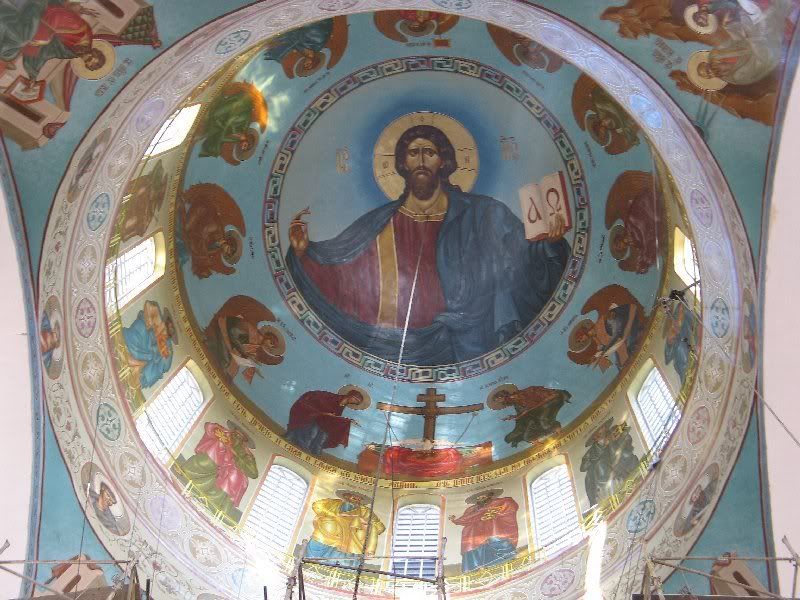 Inside St. Archangel Michael's Cathedral in Cherkasy
Photo Courtesy Nicole Weber
Inside St. Archangel Michael's Cathedral in Cherkasy
Photo Courtesy Nicole Weber
The Cathedral is like many churches in Ukraine and Russia, in that they want womens' heads covered, they don't want people visiting in shorts, jeans, and they don't want people taking pictures. But other than that, the church is certainly unique. St. Michael's Cathedral was finished in 1994, and is the tallest in Ukraine measuring 72 meters high. It was built in a style representative of the Byzantine eras that popped up and grabbed on to Ukraine during different times of the crusades. What basically happened, in a big way, was Christianity. Ukraine was still only a few hundred years old, and was becoming an entity upon itself even though it was largely on the edge of an unsettled area extending out into what we now know as Russia. From 800 AD to 1400 AD, different powers came and went through the area that is now Ukraine. And by the 1400s, the Mongols came in to deal a final blow to an ever-shrinking Byzantine Empire. And the empire never recovered. It was believed for a long, long time that the Mongols simply slaughtered everyone in site. But that just wasn't the case. A quite charasmatic people, they often convinced the people on the nation's frontier to come with them or they would destroy everything in site. In some areas, we even found Mongol statues glorifying the people. It must have been a strange time, with people trodding all over the countryside, constantly taking and losing power. A leader might be cruel, or kind, or wise, or stupid. And the generation of leadership might last a year or two, or could last a score or two.
Babuskas and Priest Inside St. Archangel Michael's Cathedral in Cherkasy
Photo Courtesy Nicole Weber
Handmade blanket Inside St. Archangel Michael's Cathedral in Cherkasy
Photo Courtesy Nicole Weber
Inside St. Archangel Michael's Cathedral in Cherkasy, Facing the Front Door
Photo Courtesy Nicole Weber
Inside St. Archangel Michael's Cathedral in Cherkasy, Facing the Front Door
Photo Courtesy Nicole Weber
St. Michael's Cathedral is certainly a fitting and beautiful tribute to all of this era, with beautiful marble and granite floors and walls. There are murals telling religious stories on almost all of the walls and ceilings, and it is clear that the murals are not finished here. Some walls are blank and white, other walls are being prepped for murals, and I would imagine that the murals are probably the most expensive parts of the church, for paint is often gold-flecked paint, they are meticulous and meticulously maintained, and yet they don't seem to want to show them off. They didn't want us taking pictures, or walking around, and DiAnna got a lecture about how she shouldn't live in the United States and that the Apocalypse was going to start there in New York and that it was not a good place. And that's an interesting perspective from somebody who has never been to New York, or even the United States. Of course, in a way, this type of thing happens in New York all the time, and that city is always rebuilding itself. So, in a way, the guy was right. However, it doesn't make for a pleasant feeling about a beautiful place when you have to deal with an unpleasant clergy.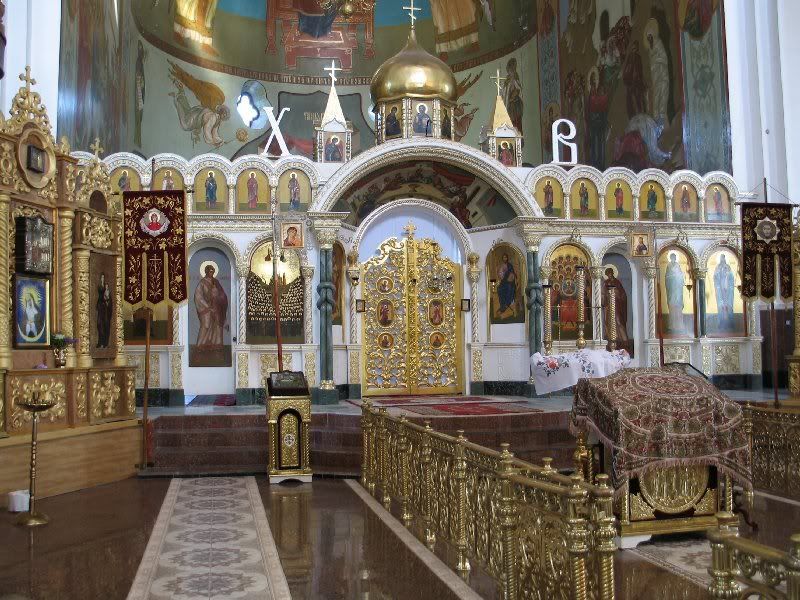 Inside St. Archangel Michael's Cathedral in Cherkasy, Facing the Altar Area. There are no pews or seats in the Cathedral, like most churches in Ukraine and Russia, and everyone stands during the service.
Photo Courtesy Nicole Weber
Inside St. Archangel Michael's Cathedral in Cherkasy
Photo Courtesy Nicole Weber
Inside St. Archangel Michael's Cathedral in Cherkasy
Photo Courtesy Nicole Weber
Derrick and Nicole snapped off quite a few pictures, we managed to light some candles (you say a prayer for someone when you light a candle and stick it in the sand), and then we eventually made our way outside. A short distance from the church is a big mansion or small palace just south/southwest of the Cathedral where the priest resides. I guess he gets a lot of guests and needs a big place. The car out front was an older model, but I'm told that like the beggars in the area, many priests also drive Mercedes, BMWs and the occasional Lexus.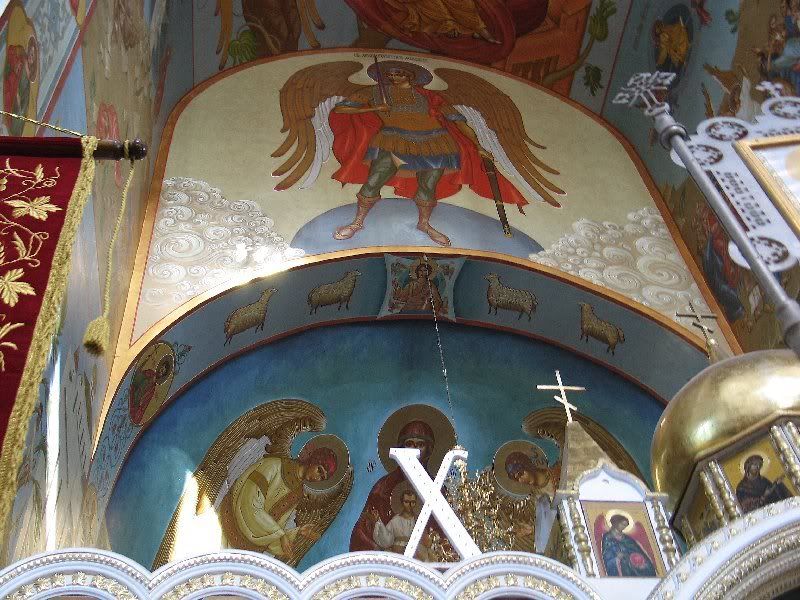 Inside St. Archangel Michael's Cathedral in Cherkasy
Photo Courtesy Nicole Weber
Priest home near St. Archangel Michael's Cathedral in Cherkasy
Photo Courtesy Nicole Weber
Nicole taking more pictures outside of Michael's Cathedral
Photo by Sam Sinke
After the church, we made our way over to the Trinity Church and the nearby Korsun Hill of Eternal Glory. The hill is a historic one for the city. On top of this hill originally stood the Cherkasy Castle, built for protection against invading enemies and eventually torn down by invading enemies. But the city was built around the castle, and when the castle was long gone, and they looked to build a memorial to soldiers killed in World War II, the Hill of Glory was put together as a park. Russia and Ukraine together with other Soviet states lost more soldiers collectively than any other country in the world. And the monument is beautiful, very reminiscent of the Vietnam memorial in Washington D.C.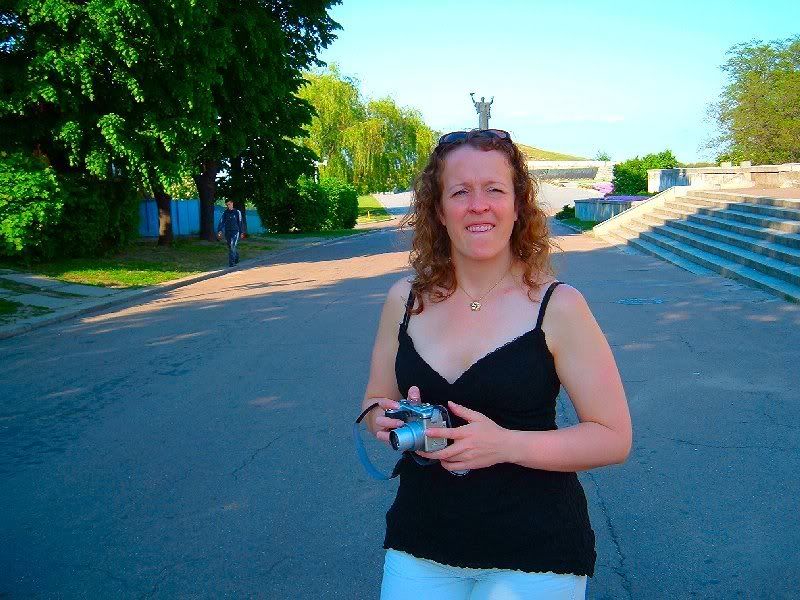 Nicole at the Trinity church in Cherkasy, and behind her is the Motherland Statue on the Korsun Hill of Eternal Glory
Photo by Sam Sinke
Church of the Holy Trinity near the Korsun Hill of Eternal Glory
Photo Courtesy Nicole Weber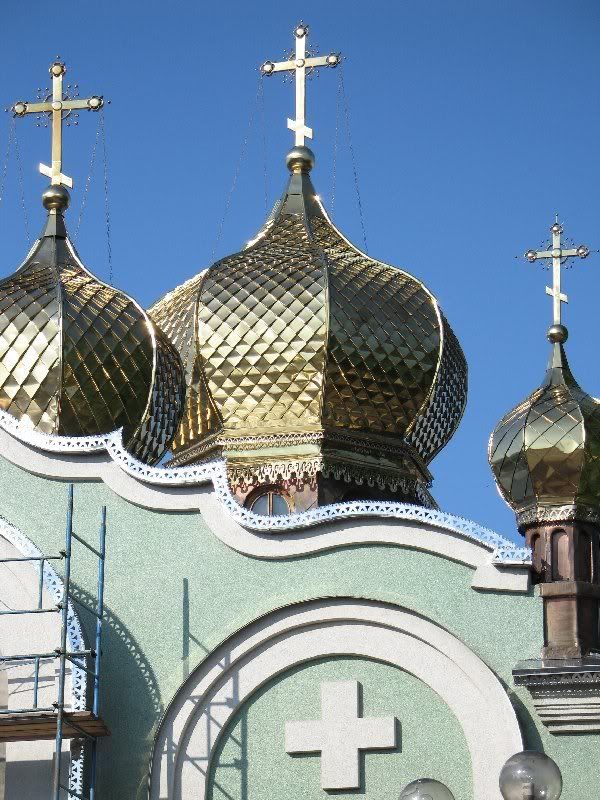 Church of the Holy Trinity near the Korsun Hill of Eternal Glory
Photo Courtesy Nicole Weber
Soldiers in this area died faster, in more cruel conditions, and died in greater numbers than countries elsewhere in the world. And the people of this area often fought in their own backyards, unlike the United States who only fought on their own soil in Hawaii. Sadly, graffiti stains some of the rocks and the giant iron woman, one of many "motherland statues" holding a flame over the monument, the city, and the area. Ukraine is the motherland, and the statue used to have an eternal flame. But the flame is now only lit on special occasions.
Church of the Holy Trinity near the Korsun Hill of Eternal Glory
Photo Courtesy Nicole Weber
Korsun Hill of Eternal Glory, the most famous site in Cherkasy, is a Giant Iron woman named the "Motherland Statue" holding a torch to honor war heroes from World War II. Russia (and Ukraine) lost more people during WWII than any other country in the world.
Photo Courtesy Nicole Weber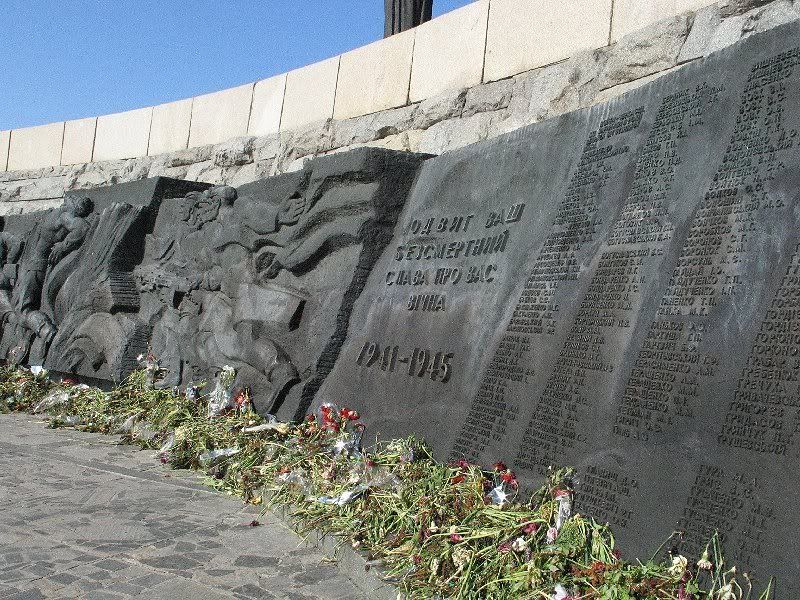 Korsun Hill of Eternal Glory
Photo Courtesy Nicole Weber
Cherkasy, the city, was once much like Kansas City, in that it was the gateway between civilization and the more rural areas. But now, the city has a much more collegiate flavor, and it appears that at times and in many areas that the national pastime is education. Some people here speak two, three, four or even more languages. And even though 3/4 of the people here are allegedly native to the area, there are also a lot of people who obviously aren't from here, and often come from the seven other countries bordering Ukraine. They look different, speak different, and often are treated different and brow-beat for not speaking original Ukraine.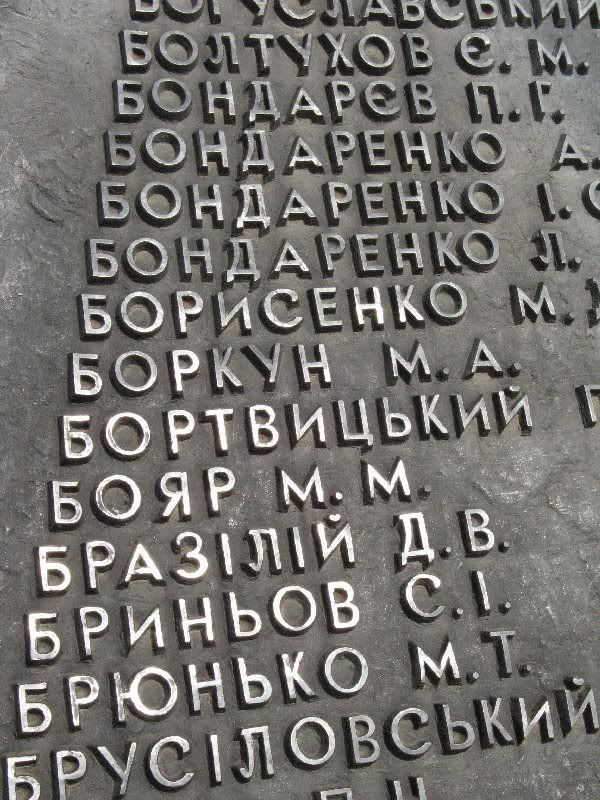 Korsun Hill of Eternal Glory
Photo Courtesy Nicole Weber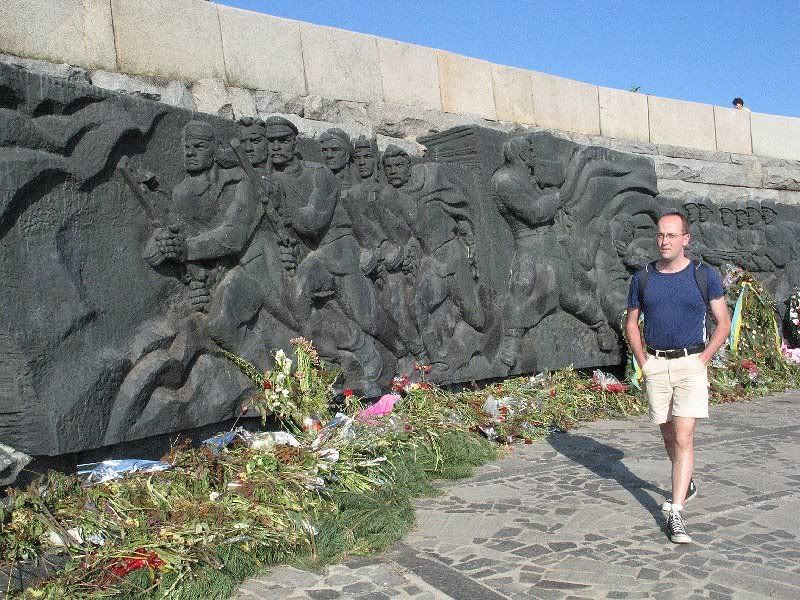 Sam at the Korsun Hill of Eternal Glory. The flowers, we were told, often come from weddings and churches and are placed here to remember grandparents and great-grandparents lost in the war.
Photo Courtesy Nicole Weber
War Memorial at the Korsun Hill of Eternal Glory
Photo Courtesy Nicole Weber
Motherland Statue at the Korsun Hill of Eternal Glory
Photo Courtesy Nicole Weber
From time to time we could all see that DiAnna was being treated different, too. She was often seen as that stereotypical Ukraine woman who moved away, married an American and changed. But the truth isn't just that she changed, because we all change all the time. Like it or not, the world is always changing too, and there is very little any of us can do about that.
View of Cherkasy and the Dnipr River
Photo Courtesy Nicole Weber
View of Cherkasy Park from Korsun Hill
Photo Courtesy Nicole Weber
Nicole and Sam at the Motherland Statue in Cherkasy
Photo Courtesy Nicole Weber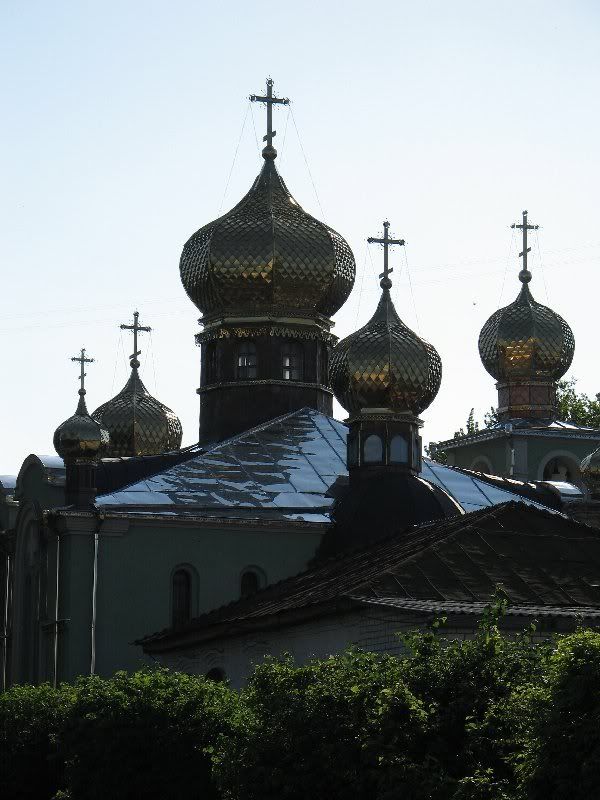 Church of the Holy Trinity, near the Korsun Hill of Eternal Glory
Photo Courtesy Nicole Weber
We made our way over to Vladimir and Svitlana's flat and our "evening snack" at this point. They live in a rather large building, not too far from the University and the Hotel Dnepro. DiAnna's Aunt and Uncle live nearby in the same complex.
We took the tiny lift, or elevator, up to their floor, and Svitlana met us at the door. The whole place is beautiful, with hardwood floors, tile, and some paintings and sculptures in the main living room or sitting area of the house.
Svitlana's office was just beyond that room, with books everywhere on almost every inch of shelf. She also adores stuffed Animals, which we've all come to call "little people." And she wanted DiAnna to have some of them, even though there just isn't enough room to pack them in the luggage. She gave Nicole one, and it's somewhere in Nicole's house, and made the trip with us back to the states.
We toured the guest bedroom (DiAnna's old bedroom) and we checked out the kitchen and balcony. And as all great family gatherings always do, we all ended up eating in the kitchen at the table.
What an incredibly important piece of furniture, the kitchen table. It is always the most used piece of furniture in any house, and yet it is usually the last thing people purchase or think about when planning a home and piecing a house together. It never matters how beautiful or old and junky a kitchen table is, because the table is always covered by something and what matters most is what is placed on the kitchen table, or the conversations that hover above the table.
At Vladimir and Svitlana's, their kitchen table is perfect. It was round, and it seated six. Enough for all of us, we had room to toast, room to stretch out and relax, and room to fit a ton of food. Vladimir took us through the round of toasts, but was easier on us by letting Derrick and I drink wine or Champagneskoe. Between the six of us, we spent the early evening talking and getting to know each other a little more, and Svitlana kept feeding us and feeding us, and seemed to be sure that her new son-in-law could eat more. Derrick fought her by covering his glass whenever she tried to pour, and by covering his plate when she tried to put something on it. He took his plate and held it under the table.
Derrick and DiAnna brought gifts, and this was one time that Vladimir and Svitlana parted with Ukraine traditions and opened their gifts right in front of the people who gave them gifts. It is usually saved for a later time.
The key gift for Svitlana was a wireless mic and a speaker for her lectures at the University, a set of items Derrick had been working on for some time. And another key gift was their wedding video, a DVD with all the highlights of the wedding. And since Vladimir wasn't able to make their wedding, it was obvious that night how much he appreciated being able to watch the video. It also goes to show how much talent Derrick has in putting such a video together, in how Vladimir could not take his eyes off the screen. I'm sure he will be watching the video again and again, and I hope that he is aware that it's hard to wear out a DVD (and if you do, it's cheap and easy to replace).
I'm also not sure if Vladimir has any idea how much time and effort Derrick put in to making the video, but I know from all my experience with video that it's more time than any person could ever describe. It means staying up half the night to get something right, or get something done. It means having to deal with it every day for months to get the video converted before you can even start working on the final edit. He also spent a lot of time with cameras, photographers, then logging all the footage, and eventually converting it back and burning the DVD. For Derrick, he's really gifted and has an incredible passion for shooting, editing and manipulating video, but the fact is that for all that talent it really means nothing if a person doesn't also put in all the time to create the final product. The hard work and determination is what I will always appreciate about Derrick. The talent he has is just a lucky byproduct.
It's things like that Vladimir will come to appreciate about his new son-in-law. He will watch that video over and over again, more than likely ask for another copy, and I also get the feeling that the next time these two men meet, Vladimir will know just a little more English. And Derrick will know just a little more Russian (or Ukrainian).
DiAnna was off with her mom doing something while the video was being played (she has seen it dozens of times by now), and we all got a thrill out of telling her of her dad's reactions that night. She was delighted.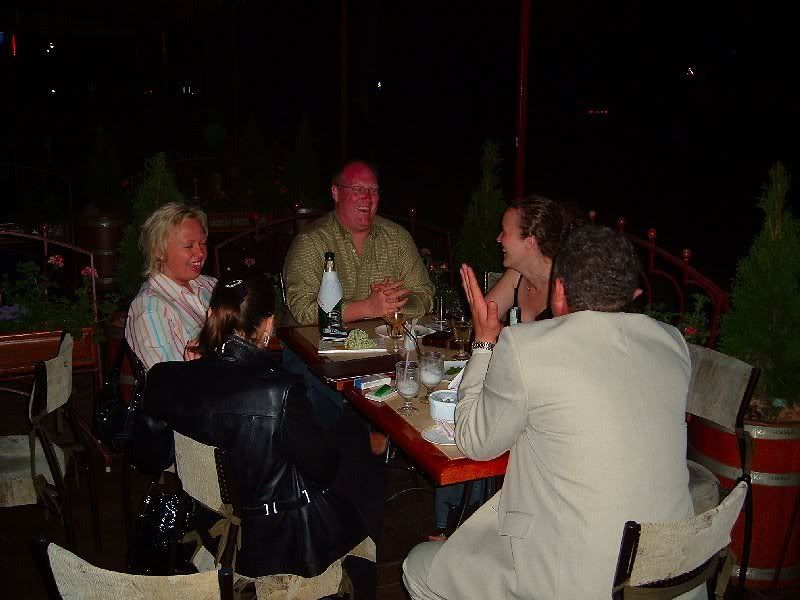 Out for drinks with friends
Photo by Sam Sinke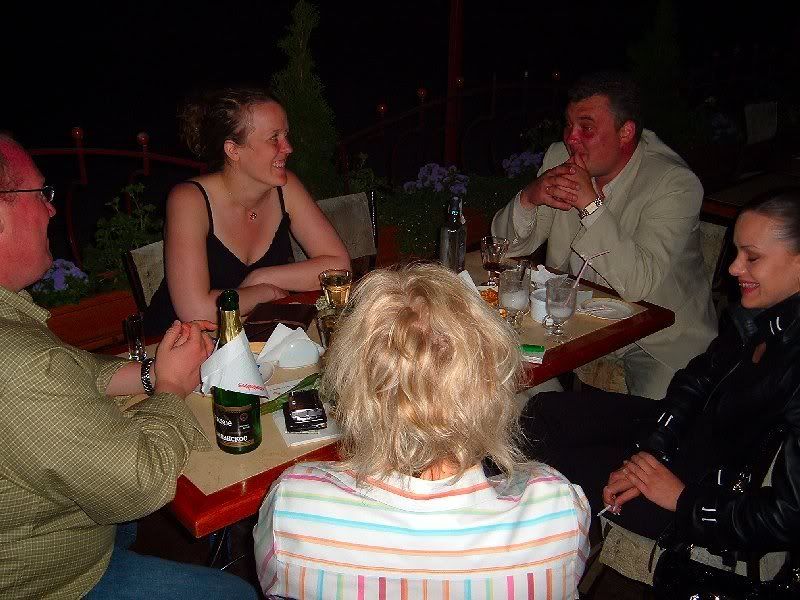 Nicole is so beautiful! Man, I'm lucky!
Photo by Sam Sinke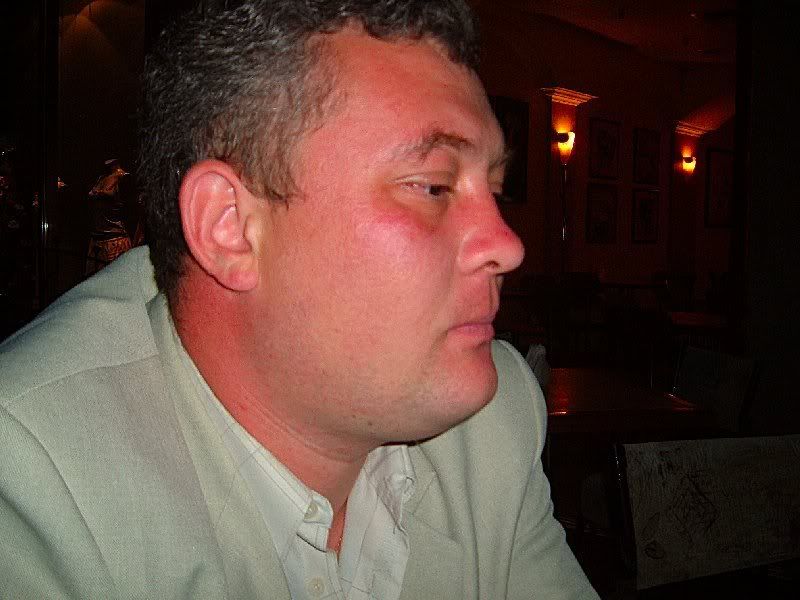 One of DiAnna's friends, he teaches English at University
Photo by Sam Sinke
We had one more stop that night, and we went out of drinks with a number of DiAnna's school friends. Most of them spoke fluent English, as well as Ukrainian and Russian, and it was a thrill for me to talk with two of her friends who actually teach English. They would often have problems with their students, who were trying to pronounce simple words, trying to get sentences in the right order, and trying to figure out confusing English grammar and punctuation.
"I want to go theeeer." They would say, rather than "I want to go there."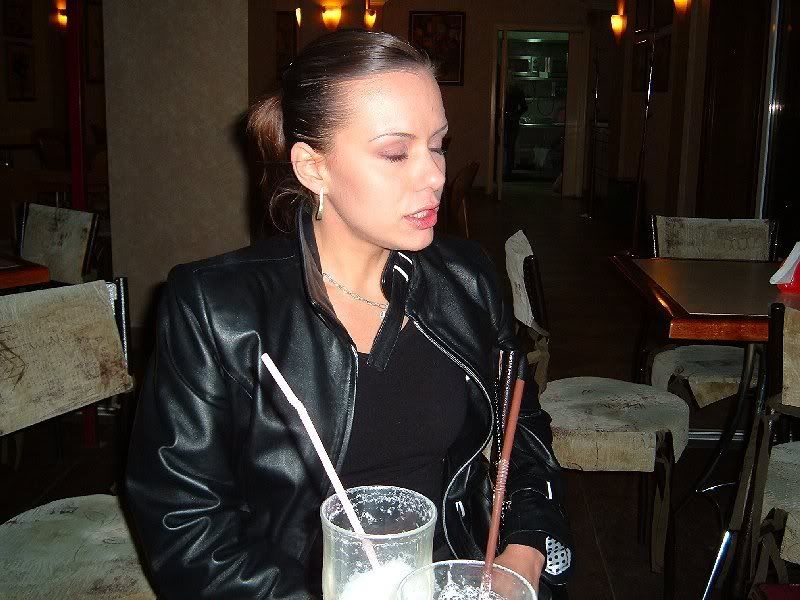 Another friend of DiAnna's, she used to be a dentist and now sells real estate
Photo by Sam Sinke
Derrick and Nicole
Photo by Sam Sinke
What a nice view!
Photo by Sam Sinke
We continued the toasting tradition, and Derrick and I put away a few shots with our new friends. The Vodka of choice in Cherkasy, and even in parts of Ukraine, is called "Hortitsea." The brand only opened its doors in 2003, and by 2005 had doubled its output to 40 million liters. Now it leads the market, selling a typical bottle for about $8 American, (about 40 Hrivnas). And they sell more than Nimiroff, the long-time leader in Ukrainian Vodka. Together, the two brands still only account for about a third of the vodka sales in Ukraine, and it just goes to show that it takes a long time to create brand loyalty and become the next Pepsi or Coke of the booze business. The only other claim that the Hortitsea brand can claim is that no other brand come close to its taste. Their recipe remains hard to figure out and knock-offs of cheaper brands at this point are basically non-existant.
Delicious, Delicious Hortitsea
Sam finds the best one in an aisle of Vodka
Photo Courtesy Derrick Sheller
It really is the best tasting, but I wouldn't say the most unique. The most unique goes to Nemiroff, and I will talk all about that firewater later, when we go to Kiev. The key to opening up to the rest of the world will be when Ukraine convinces the rest of the world that their Vodka is better than Russian Vodka. And all they have to do is offer up a taste test. Because there is no comparison.
Hortitsea goes down very smooth with very little or no burn (depending on what you're eating with the Vodka), and in the morning you will experience little to no hangover. It is a Vodka that should make this country proud.
However, as I mentioned before and I'll explain later, Ukraine also makes a really nasty Vodka, a pepper and honey Vodka known as Horilka (most Ukrainian Vodka is called Horilka, but this one is sometimes known as
the
Horilka). The company, Nemiroff should be proud of itself and yet also purely ashamed of itself for creating this insane firewater. And the company should put warning labels on the bottles. If I were in charge over there, the warning labels would probably have a skull and crossbones or maybe an 80s style "ick" sticker you use to put on bottles of poison that live under the kitchen sink. Then people would know and people would understand.
This night, we played safe and drank a lot of Hortitsea,
the good stuff,
and the men left the ladies alone for a little while to sit and talk about whatever it is they talk about when men leave. Maybe they talk about shoes, or about how they got a great deal on a mink or a jacket, but then again maybe they talk about politics or how they wish us guys were just a little smarter. I wouldn't put it past them, and I wouldn't blame them for doing any of these things.
To be honest, we really didn't care except to hope that they had a good time while we were gone. Sure, we'd like to fanasize about how they talked about how great we are, but let's be realistic. That doesn't happen. Guys don't think about classy things, either. We don't want to be clean, even though some of us clean up well. If it were up to us, we'd certainly rather be disgusting like pigs in mud. Drive by a muddy football game, and a lot of guys will wish they were playing, rather than driving to the store to pick out drapes. Some guys smoke, others fight, and Derrick and I go out and have a drink once in a while just because it's a guy thing to do. Add to that, I like to get dirty working on things from engines and electronics to gardening and carpentry. But I digress. All I can say is that work is never appreciated until it's over or it offers up something in return. Until then, I'm just a dirty disgusting pig. And you can either love me or not. When I'm in the middle of it, getting dirty, I just don't care!
My doctor Elaine has come to appreciate this kind of guy. And even though she would like a little bit of understanding once in a while, she comes to realize she also feeds on that yin-yang of her women's sensitivity which draws in a reciprocates with the sometimes stone-cold and reactivity of her husband Mark. Sometimes she doesn't want
more
sensitivity, she just wants to stop talking about it and get it done.
There are some things I see with Nicole where I will need to be a little more sensitive, especially the times when she needs to be the one providing the stone-cold action. And yet I can also see when she wants to turn that off and unwind, and when she doesn't want to be the one making the decisions or be the one who needs to figure out how to get something to work. If she doesn't turn that off, she might have trouble figuring out where she's at emotionally or just have trouble figuring out how she feels about something. You often have to seperate the two, or you will overthink it.
It is said of today that even a young child is forced to make more decisions in one day than a caveman made during his entire lifetime. This is an exhaustive process, especially in a time when we all have too many choices, and we are no longer trying to figure out what is better. And most of that work and stress is just a complete waste of time.
If you would have said, before this trip, that I'd be buying a cooked cabbage sandwich from a babushka on the roadside,
on purpose,
I think I'd have said you were nuts.
But I did, and I really loved it, without giving much choice or stressing over whether it might be better to take a few more steps to the next woman and get something else, possibly something I could better identify.
From the large billboards and cafes, down to the street vendors and peddlers, the worldwide products of G8 countries flood every corner of the world, offering lung damage from cigarettes, tooth decay from coke and pepsi, possible brain damage from cell phones and other handheld devices, addiction from prescription and non-prescription drugs, alcohol and gambling, not to mention the sex trade which filters on down to the things I mentioned before plus the cosmetics industry and even the seedier side of human vices which puts our children and young women in danger.
These devices with which we colonize the world are more frightening than anyone could imagine. And even though our efforts could have gone toward giving the world water to drink, better shelter to live in, or even a more dependable and reliable food source, we have instead brought the people of this country shorter lives, pollution, and even the stress of capitalism.
I hope that despite all of this, the people of the Motherland find their way to use their love of education to teach the rest of the world what they know. Sure, they have a lot of things from the west, but they also have universal healthcare, better education, and many other things they can do
while always doing so with less.
It was sure nice to meet all of DiAnna's friends, and I just couldn't get over the type of people she associates with, in that they are so kind, warm, and welcoming. They were pretty inquisitive, and fairly knowledgable about our history and even our pop culture. "Doh," a saying made famous by the cartoon character Homer Simpson translates perfectly and they understand what we are saying when we announce it. Some of them could associate Kansas with "Oz" as in "The Wizard of Oz." And sometimes the mention of Minnesota would bring up the American Football team the "Vikings." But then, of course, it would also start a discussion of which I can only agree that American Football isn't really football and that Soccer is really Football. And they are right. Because soccer seldom goes beyond the soccer mom, is usually the only reason Americans think they need minivans or S.U.V.s and became a word to describe what it is to be a upper-middle class pompous jerk, we don't often remember that it is also the most popular sport in the world.
Here, in Ukraine, kids and young adults practice soccer between trees in the park, for it is rare to find wide-open spaces in parks that are not full of young couples making out, or young adults drinking and hanging out. The young athletes practicing soccer dodge the trees and each other. Grass between the trees is never mowed, but the kids wear the grass down to dirt in most places anyway. They learn to shake off the pain when they trip over a tree root sticking out of the ground. And they never know anything different until they get to play in high school or college.
Part of the coca-colonization going on in Ukraine is a startling number of signs, t-shirts, bags, billboards, cars, buses, and endless list of other things with English or at least non-cyrillic alphabet characters. This leads to a little confusion when locations on maps read different than the signs when you arrive.
And this confusion leads to an interesting array of English sayings that don't make sense or are just plain wrong. T-shirts might say, "To the Mississippi, no, no, for everything NO! Mustang." Wow, I don't know what that means, and it sounds like something Mark Twain might say or write while experimenting with Crack. Whatever that saying started as when it came out of somebody's head clearly didn't translate right. And I'm totally unsure of how it went from somebody's head to the side of a t-shirt or canvas shopping bag, but it was clearly dilusional and it made me laugh. And this particular one caught my attention because the item had a riverboat and the word "Mississippi" on it, but on closer inspection, it was clearly a Faux-American product.
Back to our drinks with friends, we ended the night at about one o'clock or so in the morning, and we were the last ones to leave the bar. Ukraine businesses will often let customers, especially those who have purchased a lot of products during the evening, stay as late as they want, but they close doors, sweep up, clean off the tables and put the chairs up, making it very clear and obvious to the late guests that it's time to move on. That being said, the saying on many doors will almost always say something along the lines of "Open 11-Until the last customer leaves."
It was late, so we parted company and went back to the hotel. Nicole and I went up to Derrick and DiAnna's room to chat for a while and talk about our next day. We turned on the television for a little bit, hoping to see a weather map or at least something entertaining. And I guess we saw the latter: people stripping on an infomercial!
The women on the infomercial wore bluetooth headsets and were allegedly talking to callers, even though their voices were not a part of the audio on the TV. There were many different phone numbers being listed, in Arabic, Italian, English, French, Spanish, German, Russian and a few other languages. But the weirdest part was that it was basically being run like a shopping channel. They had a simple business, took credit card transactions, yet they went to the work of setting up operators to speak almost every language under then sun. A male voice, like a barker, announced what was coming up next, and the rest of the time there was cheesy music playing. It was really rather creepy and odd, but that late at night sometimes weird things really get you laughing. We all found it quite amusing. DiAnna, when she could stop from laughing, would try to translate some of the things being spoken or written on the screen.
Nicole and I left to go to bed, and we all met pretty early the next day. So needless to say we all didn't get a whole lot of sleep, but we were back downstairs enjoying a nice breakfast at the Hotel Dnepro.
I had no problems picking out items for breakfast, because I will pretty much eat anything and everything. And to make things even better, I so loved the Ukrainian people for perfecting borscht when I don't normally like or ever eat cooked beets. However, I am so glad I'm not on a low-carbohydrate diet, because while traveling in this country it would be really hard to stick to said diet. It would be worse for vegetarians, because there is meat, fish or fish eggs everywhere. And I'm not completely sure, but I think I was the only one who tried the small fish tail and bread sandwich being offered to guests, and sitting right smack dab in the middle of the table.
There were poppy seed rolls, with the freshest poppy seeds we'd ever tasted. There were cutlets, potato and meat or sausage-based rolls and flatcakes. And for the life of me, I couldn't figure out the coffee. And anybody who knows me at all knows that I just simply love coffee. I guess it was too early in the morning and I had far too little sleep the night before, but I saw a big old silver container with a tap on it, coffee cups stacked as far as the table went and I just figured... duh... coffee! I turned the tap and got a nice big splash of hot water. What the dilly-oh!?
So I sat down, and was just for the moment, completely defeated by a foreign coffee pot. As I looked up moments later, I saw a lady pick up a spoon, and then she scooped two or three spoonfuls of dark powder into the cup, a scoop of sugar, and then she filled the cup with the hot water, stirred it and went to sit down.
Aw MAN! Instant coffee!?
Why don't these people just kick me in the junk while they're at it! Curses to you, Nescafe, introducing your powdered awful to the world! No wonder why there are so few percolators, automatic drips, or even simple and romantic feelings around here regarding coffee. How is anyone supposed to get excited about the coffee when breakfast doesn't even smell or taste like breakfast?
Now, don't get me wrong. I
will
drink instant coffee. But it honestly tastes like arse, and is the only reason anyone should ever put a ton of sugar into a cup of coffee. Whatever Nescafe does in their process makes the coffee taste like it was incinerated, and the drinker is left to suck down the remains of what
used to be coffee.
And lucky for me, there are "Kofe Howz" bars everywhere. They are a sort-of Eastern Hemisphere version of Starbucks, run and owned, I believe, by the Carlisle group. You run across so many of these in the bigger cities, it does get rather annoying. But the service at these places is often excellent, and you get just a little less angry that they clog up so much real estate. And for weary travelers jonesing for a delicious mid-day pick-me-up, they are like a beacon of hope on the horizon.
The breakfast confusion was over, Derrick and DiAnna joined us, and we eventually made our way to a van waiting for us out in front of the hotel. Again, Vladimir had gone to so much effort to set up the day for us, finding the best driver, calling ahead to set up a good tour and guide for Sofia's Park down in Uman, arranging the best restaurant in town so we could sit and have a special meal that day, and at this point we really weren't sure about our day, only that we were going to a park. We really had no idea of the hard work and effort done before our arrival, and how many strings Vladimir had pulled to make sure we had the perfect day. But we were about to find out.
UP NEXT: Uman

AND: Journeys through Russia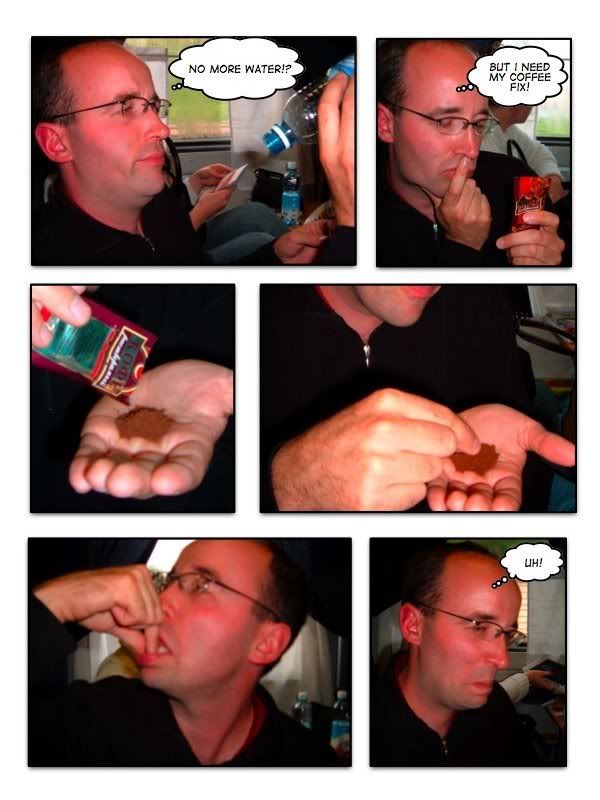 Adventures on a Russian Train
Photos by Derrick Sheller
Join TravBuddy
to leave comments, meet new friends and share travel tips!