No-whereville, PA
Meadville Travel Blog
› entry 19 of 41 › view all entries
Ok, there is really, NOTHING to do in this town. Thank goodness I was traveling with some fun people. We did actually find a nice Italian resturant right in front of the hotel. I think the highlight of our food experiences though was the chocolate lava cake from Applebee's. Woohoo! We were there for two weeks, and we took a road trip somewhere to New York to go skiing. That was alot of fun. My friend Jennifer actually made a funny little story out of our trip:
(Original date January, 2007 - as written by Jenn)
With a free evening on our hands we decided to use our time wisely and do a team building exercise.. With 2 novice skiers.. and 2 that have never seen the slopes.. we decided to hit the powder and teach our teammates to ski….. Please read the below story, because with every adventure in life is a valuable lesson to be learned.. Names have been kept the same to embarrass those involved but the story was altered for entertainment purposes…. So here is the Story. 4 DaVita teammates setout on an ambitious journey to be the best Ski Team the Village had ever seen..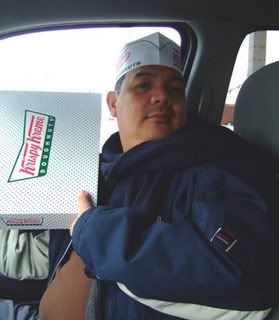 But with the release of the 2007 budget we knew Debbie Suit would not approved the purchase of Ski… Boots,.
..and well lets be honest . LESSONS… So we decide to put our minds together and come up with a solution…. (wanting to be part of the answer not the problem).. We told Ermie he had to get a second job… and off to work he went. But being part of a team we supported his new career choice…(it was -10 in this picture)
Soon the demands of two jobs got the best of him……he was found sleeping on the job and was "taken to lunch"
Not to be discouraged and not letting a small set back dampen our spirits we volunteered Ermie once again. ... we soon realize that KT was a 3 musketeer … not Robin Hood.. And a life of crime would not meet our core value of integrity, plus again bail money is not budgeted for.
.… so we gave him an A for effort and a F for fashion and started brain storming again.
We heard of an all you can eat hot dog contest in NY and immediately signed Jacqui and Rachel up….Ermie was tied of always being volunteered and we were hoping to use Jacqui and Rachel's good looks to give us a leg up on the completion … We realized that the Krispy Kreams we ate and the ski mask we bought Ermie for the earlier bank robbery left us with no gas money and we had to look for alternative means of transportation…(again -10 in this picture)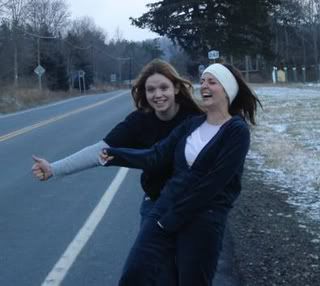 Once there we realized Jacqui had gotten in over her head….
But Rachel had it in the bag…
Rachel won 1st and Jacqui came in 2nd … Thank heavens there were only 2 people signed up in the competition.
And now the introduction of the Winning Wiener Twins….
With money in hand off went to be the best Ski Team the Village has ever seen…… We are going to make you proud Debbie.. After figuring out how to get our skis on… falling off the lift.. and have little children make fun of us … we soon realized we should keep our day jobs…
Debbie aren't you proud…lol.. After much bengay.. and few frost bitten toes.. we decided to hit the pub for a little warm up.
And we realized this….
No matter how many times our teammates fall down we are there to pick them up Even when the road is long.. cold and covered in ice…. We have each others backs.. We each have our own talents and skills, alone we are good… but together we are unstoppable The bottom of the hill… (the end of the road) the finish line is always there.. It is better to arrive last and together, than first and alone…….. And we realized alone the road is cold.. filled with hills and bumps … and a stray tree or two (and those darn little kids that keep laughing at us)… but with friends.. it is still just as hard … but filled with laughter… tears… hugs… and helping hands… Thank you Ermie, Jacqui and Rachel…. For helping make my journey a little more fun… And thank you team… for we are all on this hill together.. and when we reach the end ...I want to reach with all of you… Hope this brought a smile to your face and reminded you all that we are all in this together.. Even when we are looking good standing still.. or slightly confused and falling down..We are still a team... So here is to all of you... and Making it happen together... Jennifer
Join TravBuddy
to leave comments, meet new friends and share travel tips!